Get a seamless LG kitchen appliance installation or repair service in London
Your LG dishwasher or cooker can be working as new again by hiring a local specialist!
Certified technicians and Gas Safe registered engineers
Equipped with modern tools and original replacement parts
A 12-month guarantee on the repair work
Easy and fast online booking options
How the LG appliance repair or installation service works
1.
Request online your LG appliance repair or installation service by using our booking form or GoFantastic app
2.
A qualified and skilled engineer will arrive on the arranged day to assist you with your appliance repair or installation task
3.
He will bring various branded spare parts and modern tools to fix your LG kitchen or laundry device if needs be
4.
Upon completion of the job, the technician will test the appliance to make sure it's working properly.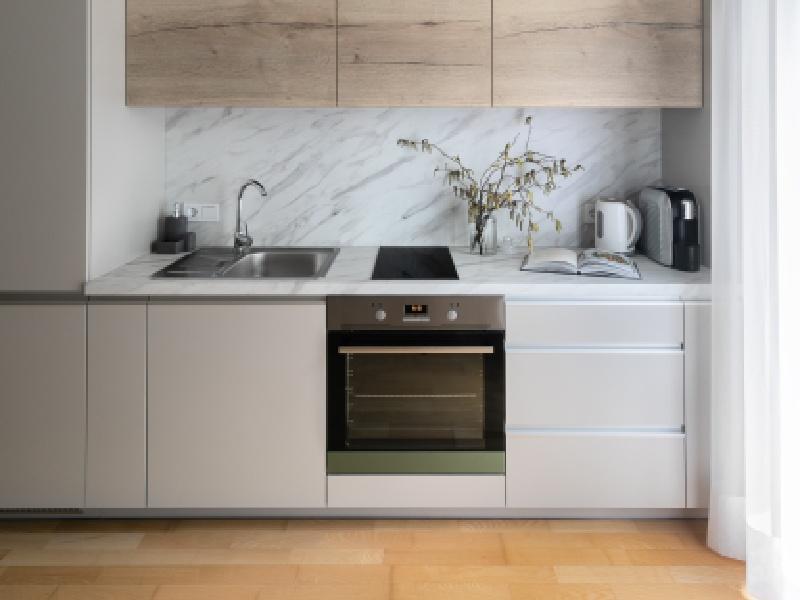 A range of LG appliances - installed or fixed for you by local specialists
The LG corporation was founded over 70 years ago in South Korea. The popular brand is famous for its electronic products in the IT, entertainment, household appliances, vehicle infotainment and mobile communications sectors. Furthermore, the innovative brand has spread its wings over recent years and has been developing a range of solar energy solutions, as well as energy storage and management technologies.
When it comes to LG kitchen appliances, the company stands by their quality, high tech products, which are loved by British people, as well. Hence, Fantastic Services has developed insured LG appliance installation and repair services, performed by certified technicians, based locally in London.
Here's an example of some LG appliances we can repair or install for you:
Ovens and hobs (gas and electric)
Range cookers
Why opt for our LG appliance installation & repairs in London
Professional LG appliance repairs
Fantastic Services counts on fully trained electricians and Gas Safe registered engineers, who have extensive knowledge of the LG brand and its appliance range. The specialist will investigate the issue and perform detailed diagnostics before diligently fixing your appliance. At the end, the professional will test the device to ensure it's working correctly.
*Note that your repair service is covered by a 12-month guarantee.
**Fantastic Services heating engineers are ready to lend you a helping hand should you need your old LG boiler to be repaired, serviced, or replaced.
Replacement parts and tools provided
The qualified engineer will bring original LG components and parts, as well as the right tools to repair your appliance. When a replacement part needs to be ordered additionally, he will organise its delivery, free of charge, and arrange a new appointment for you to complete the service.
Reliable appliance installation
Your newly purchased LG appliance will be installed efficiently and promptly, be it a fancy free-standing fridge or a state-of-the-art gas range cooker. Your device will be securely fitted, plumbed in and connected to the mains with our assurance that all instructions by the manufacturer will be closely observed. In addition, the expert will test your appliance, in order to determine that it functions as it should.
Suitable for both domestic and business clients
Regardless of whether you require an LG appliance installation or repair service for your home, or you need help fixing a piece of LG commercial equipment at your hotel, takeaway, office kitchen and so on, Fantastic Services can send a certified and experienced specialist to complete the job.
Common LG appliance problems that the technicians can repair for you
LG manufactures quality kitchen and laundry appliances with the promise of many years of service. Still, devices do break down eventually, of course. For instance, LG refrigerators have been infamous for their cooling issues, despite the brand's pledge that they can last up to 20 years.
Let's check out below some of the common LG appliance repair problems you may need assistance with:
LG cookers and ovens - gas stove burners won't light, the oven temperature is not accurate, the oven is not heating at all, your electric oven's control system is broken, faulty electric heating element (hobs), the oven door doesn't close;
LG dishwashers - the dishwasher doesn't dry the dishes, leaking issues with your dishwasher, the appliance doesn't drain as it should, clogged filter, the dishes come out dirty;
LG refrigerators and freezers - faulty freezer evaporator fan motor, issues with the freezer's drain tube, defective fridge linear compressor, the fridge is running but not cooling, clogged coils, fridge condenser fan motor failure;
LG tumble dryers - noisy dryer motor, power issues, error messages, faulty thermal fuse, vent issues, the dryer is not drying at all, tripping tumble dryer, overheating problems with your appliance;
LG washing machines - loose or broken drive belt, the spinning cycle doesn't start, excessive vibrating, the washing machine leaks, clothes don't get rinsed properly, the washer doesn't fill with water.
Frequently asked questions
Q: What is your availability?

A: You can book an LG installation service with us from Monday to Sunday anywhere within the M25 zone. Please note, though, that the repair team currently don't cover the DA 1-18, RH 1-20, RM 1-20, SL 0-9 and TN 1-40 post codes.

Q: Do you address LG gas oven leaks?

A: Yes. We work with Gas Safe registered engineers, who will diagnose and fix the health-hazardous gas leak issue promptly for you.

Q: Do I need to do anything before my LG washer gets installed?

A: Not really, but please, make sure that you've designated an appropriate spot, where your washing machine is going to be installed. The appliance needs to be fitted no more than 1.5-2m away from the water supply.

Q: My LG dishwasher is not draining properly. Can you fix it?

A: Absolutely. The trusted partners we work with have years of experience in resolving a number of LG appliance repair problems, so worry not, your dishwashing device will be looked at and fixed promptly.
All appliances we can repair for you
Get your expert LG repair or installation service in London today!