Washing machine repair in London done on the spot
The washing machine repair specialists near you are ready to fix any malfunctions
Repairing all models by all brands
Fully equipped and certified technicians
Sourcing replacement parts on site
1-year guarantee for all labour and parts
Restoring your appliance to its former glory in 4 simple steps
1.
Book a washing machine repair appointment online
2.
An experienced washing machine repairman will arrive at your address
3.
He will use suitable tools and spare parts to reliably fix the problem
4.
The engineer will perform a free appliance check at the end of the service
Washing machine and washer dryer repair prices
| Appliance Repair | Monday – Saturday |
| --- | --- |
| Appointments | 8 am - 6 pm |
| Freestanding and integrated washing machine | £85.00 |
| Freestanding and integrated combined washer dryer | £85.00 |
| Freestanding and integrated gas dryer | £108.00 |
- All prices are fixed and include the diagnostics, repairwork and the installation and supply of common parts provided by the technician. However, parts are charged separately. The services are not charged by the hour. No call-out fee.
- You will receive a written report upon service completion. If parts need to be ordered, you will receive a price quote for the order and a second visit will be arranged. The second visit will only include the cost of the ordered parts. There are no part delivery, supply, or installation fees.
- Prices are inclusive of VAT. Flat labour cost. Detergents are on top.
If you wish to cancel your appointment, please inform us no later than 5 pm on the previous business day before the start of the service.
Four reasons to contact the washing machine and dryer repair specialist near you
Repairs that are made to last
Each of the London specialists has carried out hundreds of washer and dryer machine repair sessions with varied difficulty. They are also officially certified by the City & Guilds of London institute, meaning that your appliance will be renewed in a safe and highly efficient manner.
Fixing models by any brand
Even the most complicated piece of washing machine technology is no match for the fully equipped specialist. Besides bringing over all crucial tools of the trade, the technician's van also contains virtually all common spare parts. Each part is exempt from supply and delivery fees.
Expert maintenance advice
The technicians don't just fix appliances – they also advise their clients on how to make the most out of them in the long run. Get in touch at any time to receive professional washing machine and washer dryer maintenance that is tailored to your needs and that of your specific model.
Guaranteed quality of work
The local expert runs a flexible schedule, so same-day and weekend appointments are more than available. In addition, this washer repair service near you also includes a 1-year guarantee.
Look your best with a properly fixed washer dryer or washing machine
A broken washing machine or dryer can often spell a real disaster in an organised household, especially if an interview, an important company event, or a wedding is looming on the horizon. That's why it's worth finding a responsible technician for your washer or dryer repair. Below are a few washing machine and washer dryer problems that you can have resolved in a day's work:
Washing machine
Appliance refuses to start;
Appliance refuses to spin;
No water is being filled;
No water is being drained.
Washer dryer
Appliance won't drain or is full of water;
Appliance won't spin properly or at all;
The spin cycle is louder than usual;
Your clothes are not properly dried.
Frequently Asked Questions
Q: My appliance just broke down – now what?

A: Check for any external changes that may have affected its performance (disconnected power supply/water supply, etc.). If none are found, look for leaks around the machine or holes in the door seal. If you cannot identify the issue, disconnect the appliance and contact a technician.

Q: When can the washer repair technician arrive?

A: Same day and weekend appointments are readily available with 4 hours arrival time frame. Your technician will call you 30 minutes before arriving. How much time the service will take will depend on several factors, for instance the nature of the problem and the type of part that needs to be replaced (a second visit is required to install additionally ordered parts, if any).

Q: Can you guarantee that your repairs will last?

A: For your peace of mind, all appliance repair services come with a 1-year guarantee period that is valid for all the labour and parts provided by your dedicated professional.

Q: Which areas in London do you service?

A: Our trusted provider currently services all areas within the M25 London area, except the DA 1-18, RH 1-20, RM 1-20, SL 0-9 and TN 1-40 post codes.
Washing machine and washer dryer repairs across London
Central London
East London
North London
South London
West London
View all areas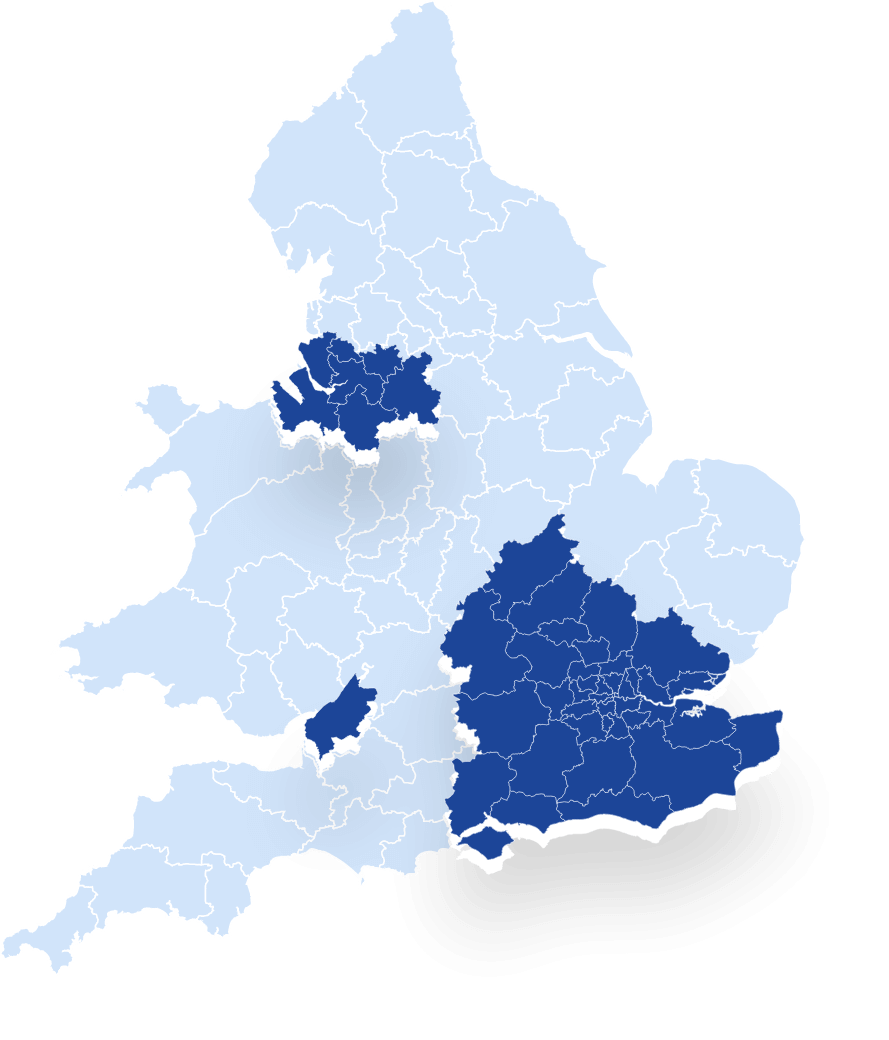 We can do much more than washing machine repair