Leave your appliance where it is – the fridge freezer repairman will come straight to you
Domestic and commercial fridge and freezer repair by experienced technicians
Free, post-repair appliance troubleshooting
All work guaranteed for a period of 1 year
Sourcing spare parts by official manufacturers
Reliable, City & Guilds-accredited engineers
Breathe new life into your fridge or freezer in 4 steps
1.
Schedule and book a fridge and freezer repair session online
2.
A diligent engineer will examine your appliance for faults
3.
He will fix the problem using suitable spare parts and tools
4.
The expert will thoroughly test the appliance after the service
Fridge and freezer repairs prices
| Appliance Repair | Monday – Saturday |
| --- | --- |
| Appointments | 8 am - 6 pm |
| Freestanding and integrated fridges | £85.00 |
| Freestanding and integrated fridge freezers | £85.00 |
| Freestanding and integrated freezers | £85.00 |
| Ice Machine | £120.00 |
| Wine Chiller | £90.00 |
- All prices are fixed and include the diagnostics, repair work and the installation and supply of common parts provided by the technician. However, parts are charged separately. The services are not charged by the hour. No call-out fee.
- You will receive a written report upon service completion. If parts need to be ordered, you will receive a price quote for the order and a second visit will be arranged. The second visit will only include the cost of the ordered parts. There are no part delivery, supply, or installation fees.
- Prices are inclusive of VAT. Flat labour cost. Detergents are on top.
If you wish to cancel your appointment, please inform us no later than 5 pm on the previous business day before the start of the service.
Things to expect from your local fridge repair service
Reliable work from experts of their trade
The specialist's City & Guilds certification guarantees that he will work quickly, efficiently, and in line with all official safety protocols. This also means that he can fix any model of fridge or freezer, including American fridge freezers, by any brand that is currently on the market.
1-year guarantee for repairs made by our trusted partner
Whether you've requested a fridge or a freezer repair service, all work done by the professional will be covered by a 1-year guarantee (includes both initial diagnostics and any replaced parts).
Supplying original parts for your appliance
Nobody wants their appliance to break down a few months after the repairs. Our provider works with many of the manufacturers and their representatives to ensure that each specialist carries the original spare pieces for your exact fridge or freezer model to deliver long-lasting results.
Serving domestic and commercial clients
The maintenance services have been designed with flexibility in mind. Each of the experts has the skills and the qualifications to help out not just private homeowners, but also provide commercial fridge repairs in London offices, food chains, hotels, coffee shops and more.
There is a lot your fridge and freezer repairman can do for you
If your fridge does not maintain cool temperatures, your freezer is frosting up or leaking, or none of them work at all, turn to the certified specialist for help. Our partner can fix the following:
Integrated and freestanding fridges;
Integrated and freestanding freezers;
Integrated and freestanding fridge freezers;
Commercial freezers;
Commercial fridges;
American fridges;
Ice machine;
Wine chiller.
Frequently Asked Questions
Q: How long will it take the ordered spare parts to arrive?

A: The estimated time of arrival for any part is 2 business days after you confirm the order.

Q: Which London areas do you serve?

A: You can spot the fridge repair technicians in all M25 areas in London, except DA 1-18, RH 1-20, RM 1-20, SL 0-9 and TN 1-40 post codes.

Q: When can you arrive at the earliest?

A: The professional can arrive for same-day and weekend bookings for your convenience. With 4 hours arrival time your technician will call you 30 minutes before arriving at your address.

Q: Do you provide any additional fridge and freezer services?

A: You can request expert maintenance advice that is tailored to your individual fridge or freezer model. This way, you can go to work knowing that your food is stored properly at all times.
Fridge and freezer repairs across London
Central London
East London
North London
South London
West London
View all areas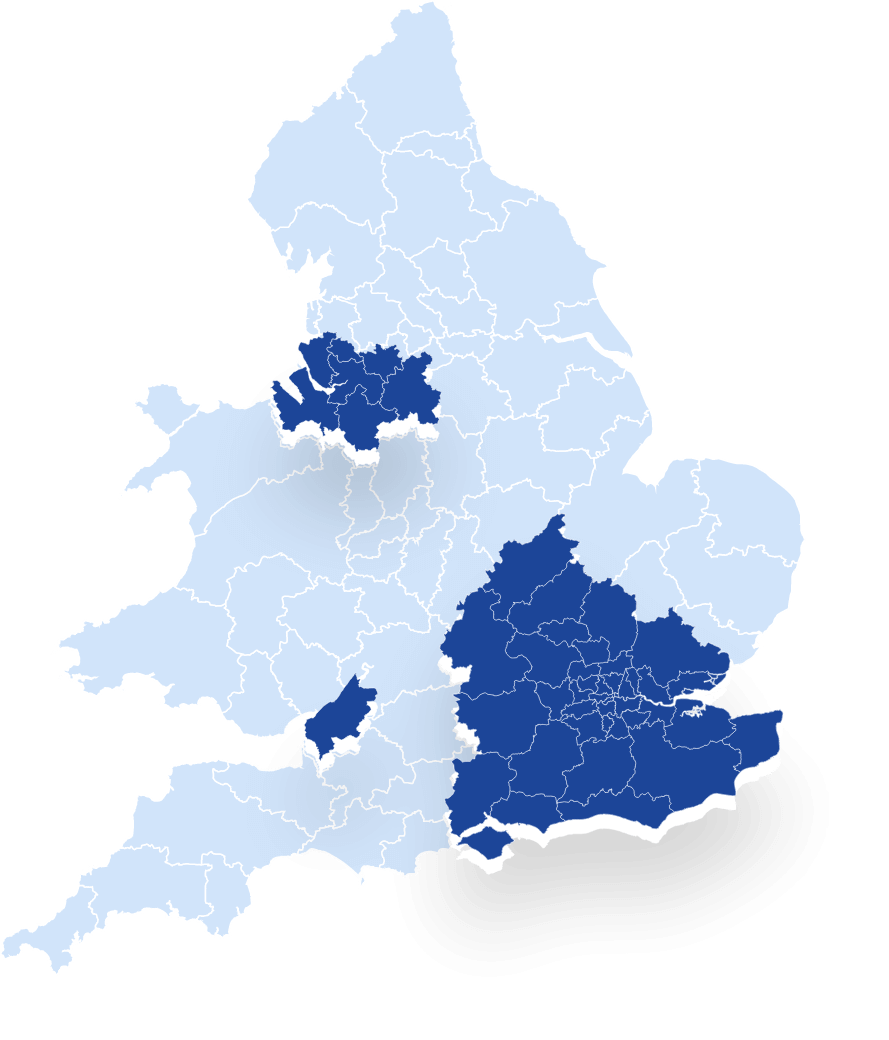 We can do much more than freezer repairs