Annual boiler service in London, done by proven experts
Ensure your safety by hiring a Gas Safe Registered engineer for your boiler service
Certified boiler servicing of any type (gas, system, regular, combi, etc.)
Qualified and experienced Gas Safe Registered engineers
Improved boiler efficiency and safety, and reduced energy costs
Guaranteed prevention of carbon monoxide poisoning

Price for Fantastic Club members starts from £86 instead of £116
Arrange your annual boiler service in 4 steps
1.
Schedule online your boiler servicing appointment
2.
A Gas Safe Registered engineer will handle the inspection and servicing
3.
He will perform all the necessary tests to ensure your boiler functions as it should
4.
Rest assured that your appliance will serve you optimally for the year ahead
How much does it cost to get your boiler serviced in London

As a member of the Fantastic club, you can get £30 OFF for 10 different services within 1 year.
Appointments
Monday - Saturday
8am - 4pm
Prices

Fantastic Club price

Standard price

Boiler Service

£86

£116
Boiler Service Plus

£98

£128
Boiler Service & Landlord Gas Certificate

£182

£212
Join the

Fantastic Club and get:
£300 in credits
Preferential member rates
Domestic cleaning from £13/h
Real-time arrival tracker
Priority booking & case handling
T&C and Minimum Charges apply. When we calculate the price, we also take into consideration the area's dimensions and the time of the appointment. All prices and deals are valid for areas within M25. Deals cannot be combined with any other deals and promotions. Prices are subject to availability. Congestion charges are excluded (when applicable).
Why choose Fantastic Services for your annual boiler service
Professional boiler service you can count on
Your boiler can stop functioning properly when you least expect it, hence, it's wise to consider investing in a professional boiler servicing at least once a year. This way, you'll be able to preempt unforeseen problems with your appliance and heating system that can inevitably lead to unnecessary expenses for repairs.
You can count on us to inspect and test your appliance with the help of qualified engineers, who will make sure that your boiler runs as safely and efficiently as possible for another year.
Reliable servicing of boilers of any brand and model
Regardless of what make and model your boiler is (conventional, regular, combi, gas, oil, system, electric), made by Valliant, Bosch, Ariston or Worcester, we can promptly organise your annual boiler service appointment and assign a specialist to inspect it.
The Gas Safe Registered engineers, we work with, apply comprehensively all relevant safety standards while performing the service. The experts are fully qualified, certified and insured to service all types of heating appliances. They boast years of experience and are members of CIPHE (Chartered Institute of Plumbing and Heating Engineers). The technicians are also Trustmark accredited tradesmen, so rest assured that your boiler will be tested and serviced in accordance with all the industry's best practices.
Timely annual boiler servicing to ensure your home safety
The key purpose of annual boiler servicing is that all health-hazardous risks, related to an underperforming or outright dangerous heating device, are eliminated in advance. Carbon monoxide poisoning is, unfortunately, a very realistic outcome when it comes to having a neglected leaking boiler, which has not been inspected and serviced on a regular basis. Worst of all, such a poisonous gas leak is practically undetectable, unless a special gas leak detector is used, as the substance is odourless and colourless. Thus, don't delay to call a professional and ensure the safety of your family and home!
Important note: Landlords are legally obliged to invest in annual boiler servicing to ensure that their property is in a rentable condition and in compliance with safety regulations.
Our availability
Fantastic Services operates all week round, including on public and bank holidays. We may be able to respond to your boiler servicing, repairs or installation needs on the same day or at very short notice, but this naturally remains subject to availability. Hence, we advise you to organise your boiler service in advance, rather than at the last minute, especially before the onset of the heating season.
Boiler and central heating cover plans
Getting the right boiler cover to protect your heating system from unexpected breakdowns and costly repairs can make all the difference and save you lots of money. As a homeowner, a boiler and central heating cover plan can save you the hassle of facing an emergency and searching for a local plumber. The landlord central heating cover plans will help you keep your rented property in optimal condition.
What to expect during your boiler service session
As we've established already, the key to maintaining your and your property's safety, as well as having a reliable and energy-efficient appliance is investing in an annual boiler inspection and servicing. The certified and skilled engineer will run various tests, in order to complete the service to the highest standard. These include:
Checking for leaks, due to corrosion;
Inspecting the body, different components and controls;
Seal replacement (if necessary), after careful inspection, to prevent flue gas leaks;
An ignition and heat exchanger detailed check;
Flue gas analyser (FGA) test to make sure that combustion and burner pressure are within the setpoint limits, thus, adequate.
Subject to additional request during the appointment booking process, the Gas Safe Registered engineer can also:
Check for leaks, due to malfunctioning valves to the radiators;
Drain the radiators of the old fluid and replace it with new, in order to ensure that the pressure levels are within the recommended range;
Test all the radiators to see if they are heating as they should.
So, just specify your individual boiler service requests and we will handle the rest!
Boiler service or boiler repair - opt for the right option
The main difference between boiler servicing and a boiler repair service is that the first often prevents the need for the second. Or in other words, your annual boiler service will help you extend the lifespan of your appliance, as well as reduce the risk of breakdowns and the need for unexpected repairs, at least for a year.
Of course, boiler repair emergencies can still happen out of the blue and we can respond to those in a timely manner, too. But the main point here is that by preempting such incidents during your annual boiler servicing, you will minimise the chance of needing a boiler repair service in the near future. After all, the technician's job is to perform numerous tests in order to detect potential problems with your boiler.
You will benefit financially, as your appliance will operate more efficiently, after it has been serviced. If you have an old boiler and you've had serious problems with it before, maybe you should consider replacing it with a new one. If this is the case, then, note that Fantastic Services also specialises in boiler installation services, so don't hesitate to seek our assistance when needed!
Boiler servicing vs. a gas safety check
Wondering what the difference is between the two? For a start, boiler servicing applies to all types of devices, including solid- or oil-fueled boilers. So, there is an obvious difference between the two options, as you can see. But if your appliance runs on gas, then, note that a gas safety check applies to all gas appliances that you have at home, including your gas oven, gas hobs and gas fireplace, of course. We need to make another point here, as well. A gas safety check is designed to only point towards an existing or potential issue with your gas plumbing system and appliances without any attempts to fix those, whereas boiler servicing may involve a seal or old fluid replacement, etc.
Frequently asked questions
Q: How can I change the date of my booking?

A: It's easy, just log into your Fantastic account and make the changes you need through the dashboard.

Q: Do you offer any special deals?

A: You can pay less for your boiler service if you join our popular Fantastic Club. Your membership will make you eligible to save money on any of our property maintenance services for a year, book with priority and benefit from other promotional deals.

Q: Is there anything else I need to know?

A: Please, note that any materials and replacement parts are charged additionally, whereas all taxes are included in the price of the service. Furthermore, if the engineer is unable to perform the service, due to conditions out of their control that you have failed to inform us about, you will be subject to paying a call-out charge (1 hour), as well as any congestion/parking fees, if applicable.

Q: When is the best time to have my boiler serviced?

A: Naturally, you should consider booking your annual boiler servicing just before the 12-months period runs out unless you notice some problems with your appliance before that point. And in general terms, it makes sense to service your heating device when you least use it, say, before the start of the heating season. Another important note to make here is that your boiler cover or warranty will become invalid if you fail to service your appliance every year, meaning any future repairs will be at your expense.
Q: Can I do anything myself to ensure the safety of my appliance?

A: Well, yes. You can invest in a carbon monoxide detector and a smoke alarm to improve your home safety. Also, you can regularly keep an eye on the water levels, pressure and temperature of your appliance, as well as ensure that the manufacturer's manual book is stored safe and handy so that you can give it to the boiler servicing technician when the time comes.

Q: What should I do if I notice a leak?

A: Make sure to switch off the lights and all electrical equipment, and open all windows and doors. Then, leave your property and call the National Gas Emergency Service phone line on 0800 111 999. Of course, afterwards, consider booking a boiler repair engineer with us, who will address and fix the issue.

Q: What is your coverage?

A: The boiler service is available to property owners and landlords located within the M25 zone.
Boiler service available across London
Central London
East London
North London
South London
West London
View all areas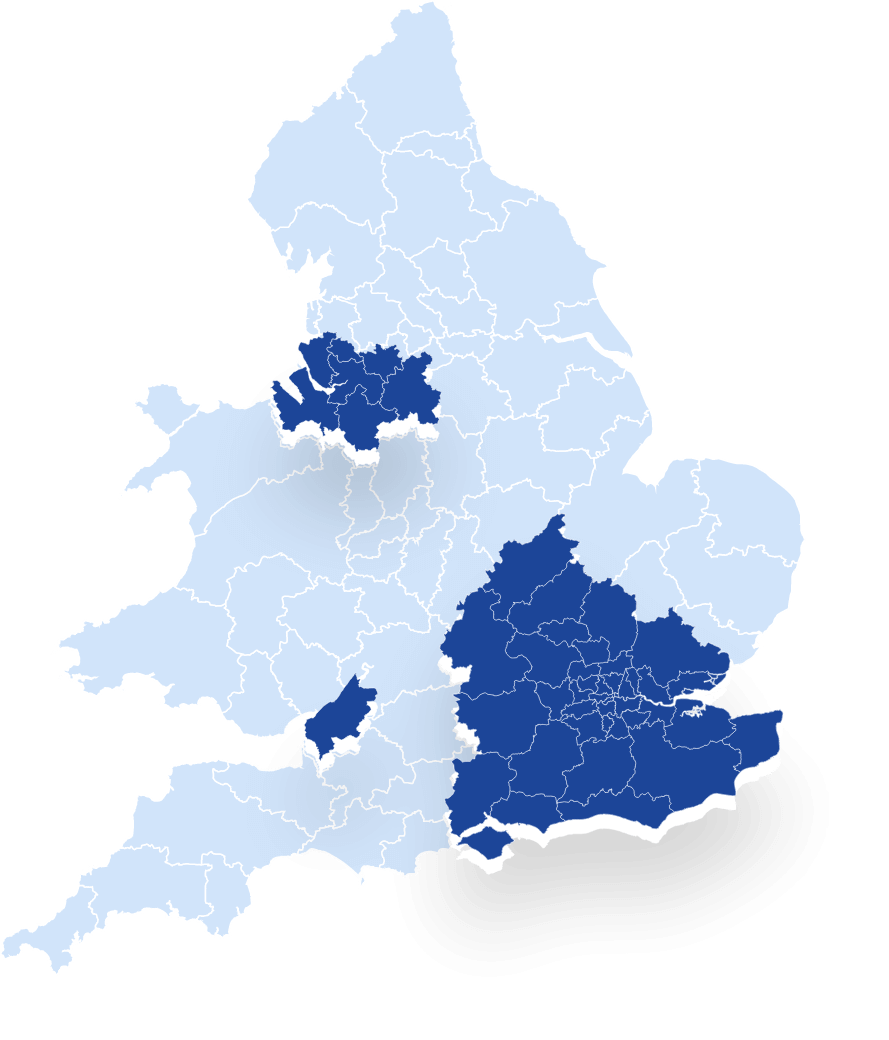 Stay safe and book your boiler service without delay!