Enjoy certified Baumatic appliance repairs or installation in London
Rely on quick and efficient Baumatic engineers to repair or install all types of appliances
Same-day and next-day repairs and installations available
All engineers certified by City & Guilds
Specialist expertise in all Baumatic appliances
12-month satisfaction guarantee provided as standard
Book your Baumatic appliance repairs or installation quickly and easily
1.
Choose your appointment time. We have an easy online tool which shows availability
2.
Wait for your Baumatic engineer to arrive. They'll do so on time - and warn you 30 minutes in advance
3.
Watch how the specialist handles the problem. One visit is usually all it takes
4.
Relax! You're only paying for time spent on-site and you're covered by full insurance.
Fantastic Services - your trusted choice for Baumatic appliance services
Baumatic might be one of the newest manufacturers on the block, having only been established in 1992. But the company has already garnered a formidable reputation for excellence, leading to it being acquired by the global brand Hoover in 2013. Yet for all its manufacturing excellence, Baumatic appliances are no more immune to breakdown or malfunction than any other. Nor have they yet developed the technology to let the machines install themselves!
When it comes to any kind of Baumatic appliance installation or repairs, call on Fantastic Services. We provide the highest standard of service, with certified engineers who are trained to install and repair Baumatic:
Why call us when you need a Baumatic engineer?
Appliance repairs in a single visit
It usually won't take more than a single visit to complete any Baumatic appliance repairs you need. Your engineer will have a ready stock of all of the standard spare parts on-hand. If there's a situation where they don't have the part, they will arrange a good time to return. This second visit won't cost you anything extra. All parts, labour and diagnostics are included in your price.
Genuine Baumatic parts
It's rarely a good idea to use third-party components if you want your appliance to last long into the future. That's why any Baumatic engineer we send to you will only ever use genuine parts from the original manufacturer.
Fully guaranteed expert installation
The Baumatic engineer we send to your door will be able to check that your new appliance has arrived in perfect condition. They will also be able to confirm that you've chosen the right sort of location for it to be situated. Once these checks are complete, your engineer will connect the power and water - if needed - and test that everything is working properly.
Baumatic appliance repairs for domestic and commercial machines
This service is used in both commercial and domestic properties by business owners, property managers, landlords, tenants and many others besides. You can have us provide Baumatic appliance installation or repairs for ANY device the manufacturer makes.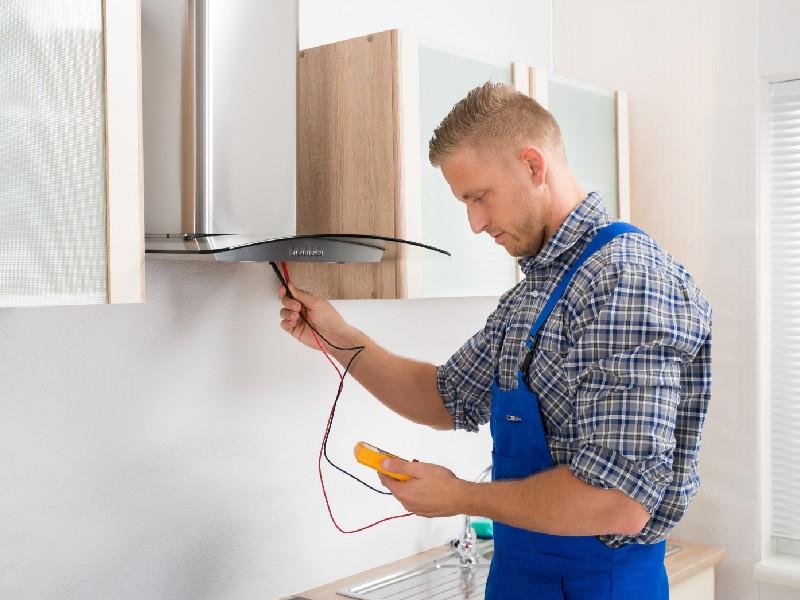 The most common Baumatic appliance faults we're called out to fix
You can rely on Fantastic Services to send an expert who will have fixed dozens or even hundreds of Baumatic appliances before. They will have full City & Guilders certification, not to mention full insurance protection. It doesn't matter whether you have a brand new or much older Baumatic appliance you need to have repaired or installed. We regularly handle problems including:
Cooker hobs - Baumatic induction hobs not working or hob ignition not working;
Cooker hoods - Baumatic cooker hood motor not working;
Ovens - Baumatic oven not turning on, heating up or an oven fan not working;
All kinds of problems relating to Baumatic washing machines, dishwashers, tumble dryers, fridges and more.
Frequently asked questions
Q: What does this specific error code on my Baumatic appliance mean?

A: The easiest way to find out will be to search your manufacturer's manual. Most user guides have a section dealing with error codes. Of course, you can simply give us a call and have your Baumatic engineer diagnose the problem quickly and easily.

Q: Which Baumatic model is best for my home?

A: There are a number of factors you will want to consider. How much space do you have available? Do you need it to perform any specific functions? We're often able to advise on things like hob configurations and placement within your kitchen. Do please give us a call if you need to find out more. There's no obligation to use us.

Q: How long will my Baumatic appliance repair service take?

A: Between one and two hours is the average timeframe for an appointment. Of course, this will vary a great deal depending on what specific fault you have and how easy it is to resolve.

Q: How long will it take for my Baumatic engineer to arrive?

A: We can sometimes have an expert with you in 4 hours or less, depending on availability and your location. We offer repair services six days a week, from Monday to Saturday. Your engineer will always give you a quick call 30 minutes before they arrive to confirm you're in.
Baumatic appliace repair services we can do for you
Having trouble with your Baumatic appliance? Book installation or repairs online 24/7!