Invest in a franchise with Fantastic Services
Leverage our know-how and expertise in building a sustainable, happy business in the cleaning, gardening, pest control or tradespeople industry.
Starting Investment: from £1,500*
*Funding options available.
The benefits of starting a business with us

Operate under one of the UK's biggest franchises

Leverage a decade of experience in building a business

Get a 24/7
call-centre support

Grow your business
as much as you want

Constant flow
of bookings

Memberships and
accreditation's certificates
We aim to build 1,000 seven-figure businesses in the next ten years
Fantastic Services has a very clear goal and vision to achieve it. We're firm believers that a business can be proven, profitable and pain-free.
That's why we've worked hard to develop systems and practices that are time-tested and proven. For the last decade, we expanded Fantastic Services from a small London-based cleaning company into a franchise operating on three continents spanning a wide service portfolio.
In less than a year our Area Developers in Reading increased the number of delivered services 14 times. From only one team, they are now sub-franchising to six franchise units. By investing in an Area Development franchise with us you'll receive award-winning franchise support, continuous help with business strategies, and marketing and automation systems that have been proven successful over the past decade.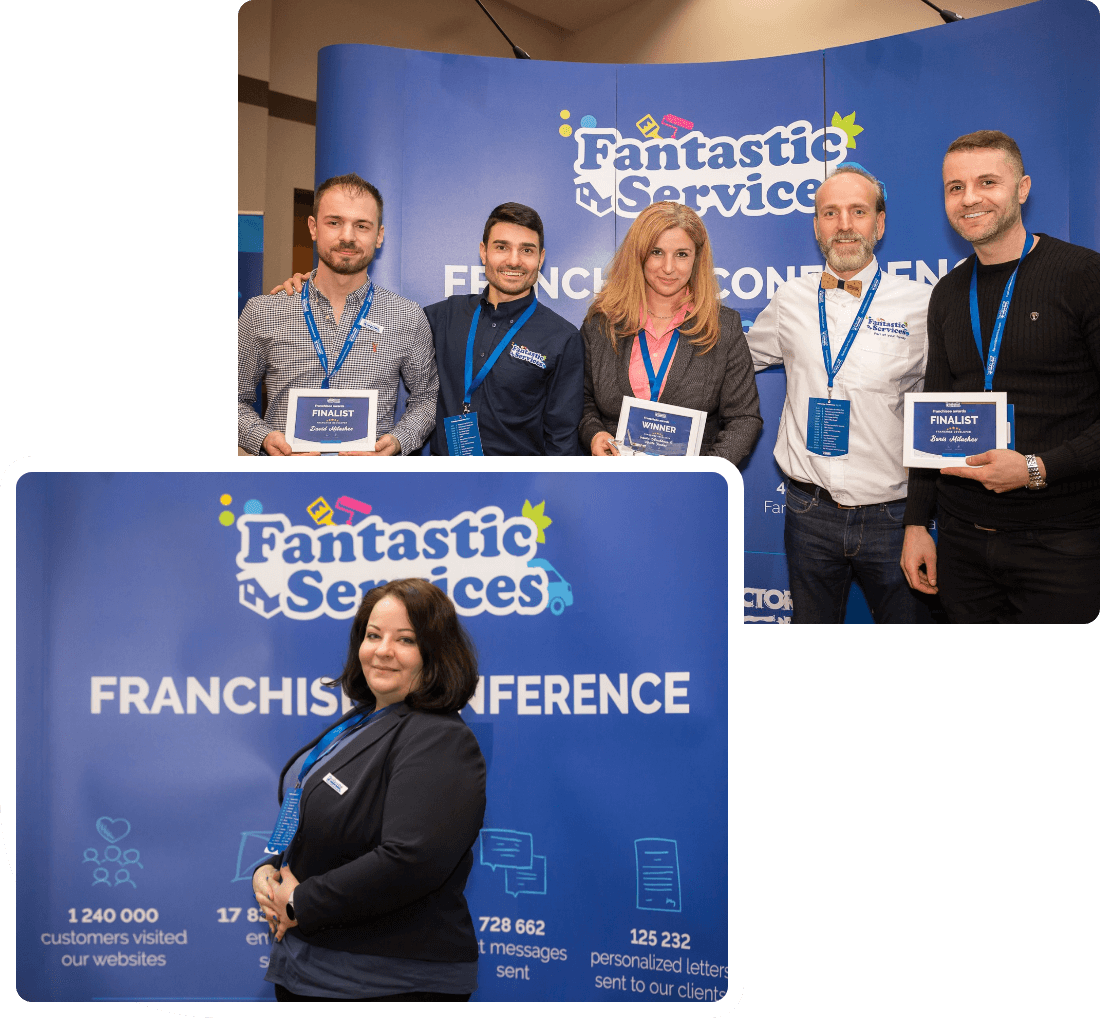 50 000+
monthly
customers
530+
franchisees across
3 continents
We've got flexible franchise opportunities
Fantastic Services supports a unique three-tiered franchise model allowing everyone to run their own successful business.
Working franchise

Focus on doing what you love We take care of the Marketing, Sales and customer services side of your franchise business

Area Development Franchise

Bring the Fantastic Services brand to your city or area and become part of one of the fastest growing franchises in the UK.

Master Franchise

Introduce our revolutionary franchise model to your country and change the way people book services.
Areas we cover across the UK
Fantastic Services is quickly expanding throughout the UK thanks to its ever-growing network of franchisees. Find out if we operate in your area:

Abbey Wood

Aberdeen

Abingdon

Acton

Aldershot

Aldgate

Alperton

Anerley

Angel

Archway

Artane

Ascot

Ashford

Aylesbury

Aylesford

Balham

Banbury

Barbican

Barking

Barkingside

Barnes

Barnet

Barnsbury

Barnsley

Basildon

Basingstoke

Battersea

Bayswater

Beckenham

Beckton

Beddington

Bedford

Belgravia

Belling

Bellingham

Belmont

Belsize Park

Belvedere

Bermondsey

Berrylands

Bethnal Green

Bexhill-On-Sea

Bexley

Bexleyheath

Bicester

Bickley

Biggin Hill

Biggleswade

Birmingham

Blackfriars

Blackheath

Bognor Regis

Bounds Green

Bow

Bracknell

Braintree

Brent

Brent Cross

Brentford

Brentwood

Brighton and Hove

Bristol

Brixton

Brockley

Bromley

Brompton

Burford

Burgess Hill

Camberley

Camberwell

Cambridge

Camden

Canary Wharf

Canonbury

Canterbury

Canvey Island

Cardiff

Carshalton

Catford

Central London

Chadwell Heath

Charlton

Chatham

Cheam

Chelmsford

Chelsea

Chessington

Chesterfield

Chichester

Chingford

Chippenham

Chipping Norton

Chislehurst

Chiswick

Clapham

Clerkenwell

Clevedon

Colindale

Colliers Wood

Coolock

Coulsdon

Covent Garden

Coventry

Crawley

Crayford

Cricklewood

Crofton Park

Crouch End

Crowborough

Croydon

Dagenham

Dalston

Dartford

Deptford

Didcot

Dover

Dublin

Dulwich

Dunstable

Ealing

Earls Court

Earlsfield

East Dulwich

East Finchley

East Grinstead

East Ham

East London

East Sheen

Eastbourne

Eastcote

Edgware

Edinburgh

Edmonton

Elephant and Castle

Eltham

Ely

Enfield

Erith

Fareham

Faringdon

Farnborough

Farnham

Farringdon

Faversham

Feltham

Finchley

Finsbury Park

Folkestone

Forest Gate

Forest Hill

Fulham

Gidea Park

Gillingham

Godalming

Golders Green

Grantham

Greenford

Greenwich

Guildford

Hackney

Hailsham

Hammersmith

Hampstead

Hampton

Hampton Hill

Hanwell

Haringey

Harlow

Harmonstown

Harold Hill

Harold Wood

Harpenden

Harrow

Hastings

Hatfield

Haverhill

Havering

Hayes

Haywards Heath

Hemel Hempstead

Hendon

Henley-on-Thames

Herne Hill

Hertford

High Wycombe

Highams Park

Highbury

Highgate

Hillingdon

Hitchin

Hither Green

Holborn

Holland Park

Holloway

Hook

Horley

Hornchurch

Hornsey

Horsham

Hounslow

Ickenham

Ilford

Isle of Dogs

Isleworth

Islington

Kennington

Kensington

Kentish Town

Keston

Kew

Kidlington

Kilbarrack

Kilburn

Kingsbury

Kingston

Kingston upon Thames

Kirkcaldy

Knightsbridge

Lambeth

Leamington Spa

Leicester

Leighton Buzzard

Letchworth Garden City

Lewisham

Leyton

Leytonstone

Limehouse

Liverpool

Longford

Luton

Maida Vale

Maidenhead

Maidstone

Manchester

Mansfield

Marlborough

Marlow

Maryland

Marylebone

Mayfair

Merton

Mile End

Mill Hill

Milton Keynes

Mitcham

Morden

Mortlake

Mottingham

Muswell Hill

New Addington

New Cross

New Malden

New Southgate

Newark

Newbury

Newcastle

Newham

Newington

Newmarket

Newport Pagnell

Norbury

North London

Northwood

Norwood

Notting Hill

Nottingham

Nuneaton and Bedworth

Orpington

Orpington‌ ‌

Orpington

Oxford

Paddington

Palmers Green

Peckham

Penge

Peterborough

Petts Wood

Pimlico

Pinner

Plumstead

Poplar

Portsmouth

Preston

Primrose Hill

Purley

Putney

Queensbury

Raheny

Rainham

Rayleigh

Raynes Park

Reading

Redbridge

Redditch

Redhill

Reigate

Richmond

Richmond upon Thames

Rochester

Roehampton

Romford

Rotherham

Rotherhithe

Royston

Rugby

Ruislip

Ruislip‌

Saffron Walden

Sale

Salford

Sevenoaks

Sheen

Sheerness

Sheffield

Shoreditch

Sidcup

Sittingbourne

Slough

Snodland

Soho

Solihull

Somers Town

South Benfleet

South Croydon

South East London

South London

South Norwood

South West London

Southall

Southend

Southend-On-Sea

Southfields

Southgate

Southwark

St Albans

Stanmore

Stevenage

Stockwell

Stoke Newington

Stratford

Stratford‌

Stratford

Stratford-Upon-Avon

Streatham

Sudbury

Surbiton

Surrey Quays

Sutton

Sutton Coldfield

Swindon

Swiss Cottage

Sydenham

Tadley

Tamworth

Teddington

Temple

Thame

Thamesmead

Thatcham

Thornton Heath

Tolworth

Tonbridge

Tooting

Tottenham

Tower Hamlets

Tufnell Park

Tunbridge Wells

Twickenham

Upminster

Upper Holloway

Uxbridge

Vauxhall

Wallingford

Wallington

Waltham

Waltham Forest

Walthamstow

Walworth

Wandsworth

Wanstead

Wantage

Wapping

Ware

Warwick

Waterlooville

Welling

Welwyn

Wembley

West Drayton

West Hampstead

West London

West Norwood

West Wickham

Westerham

Westminster

Weston-super-Mare

Whetstone

Whitchurch

Whitchurch-on-Thames

Whitechapel

Wickford

Willesden

Wimbledon

Winchmore Hill

Windsor

Winscombe

Witney

Woking

Wokingham

Wood Green

Woodford

Woodstock

Woolwich

Worcester Park

Worksop

Worthing

Hmm, it seems like we don't cover "" yet. Here's what you can do:

- Check if you spelled the area correctly.
- Try a different, nearby area.
- Check our Full area coverage page
The full suite of Fantastic Services
Fantastic Services has over 530 franchisees delivering 100 different services every day. You can choose which services to provide, how many teams to employ and how quickly to expand your service portfolio.
Specialised know-how and constant support
You get the best support staff in the industry
The team of 500+ marketing, sales, customer support and business development agents that have built Fantastic Services in the last decade will continuously support you throughout your journey. Furthermore, as an Area Development franchisee, you get individual coaching!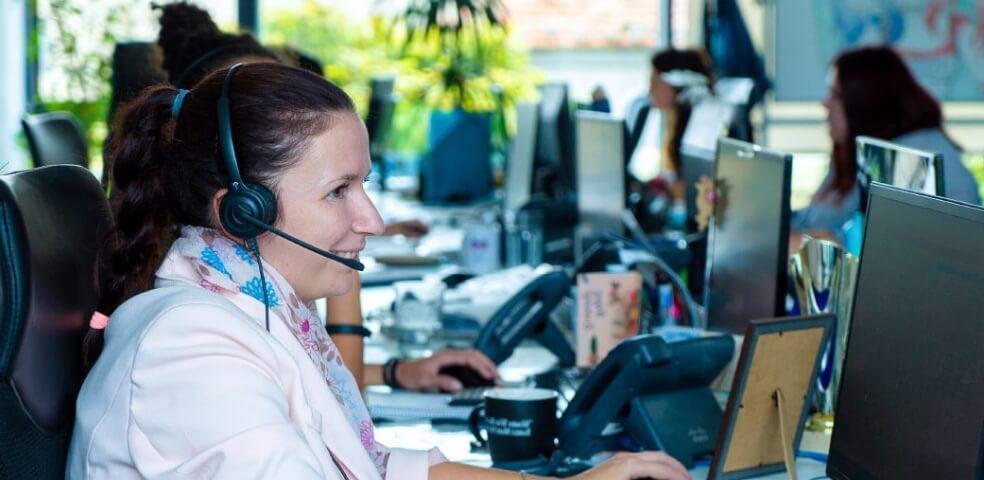 CRM system & Mobile Apps
Offline and online marketing and operations support
We've invested over £20 million in automation technology. Our custom-built software with two integrated mobile apps addresses the home services business's specific needs and is an all-in-one place to manage team and client communication.
Custom-built CRM to help you manage your bookings
Mobile apps both for customers and for your professionals
Seamless schedule management from your phone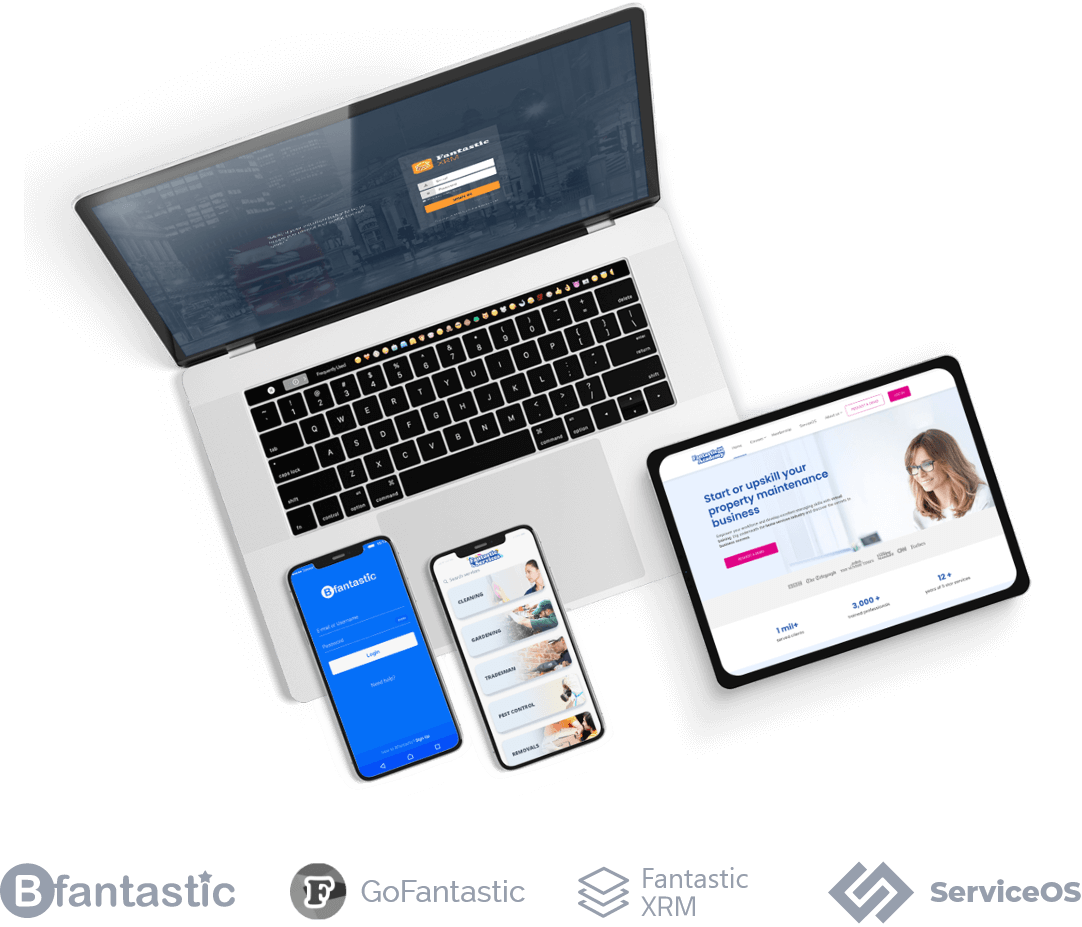 Free access to Fantastic Academy and our entire wealth of experience
Our franchisees have access to our internal training database where they can learn how to perform excellent services, hire and train professionals, and grow and manage a sustainable business. With Fantastic Academy you'll get:
Business courses


Courses that help you organise suppliers, recruit units, create and execute a marketing plan, grow your customer base and successfully develop and manage your business

Service courses


Courses on performing a high-standard professional service, on-site customer care, preventing and dealing with complaints, adding value and selling more services.

Visit the Fantastic Academy >>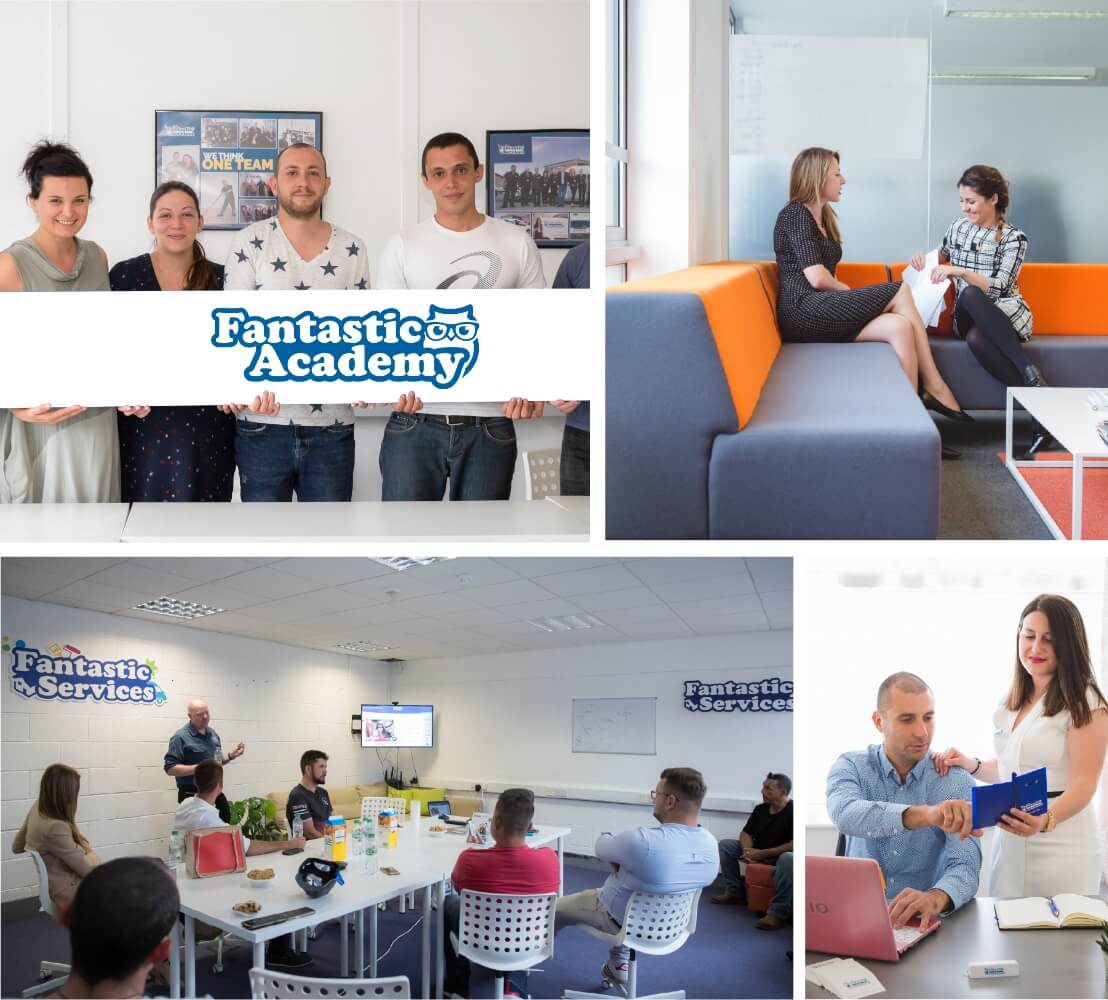 Frequently asked questions
Q: What rules of thumb do you use to value my business?

A: Franchisors normally share the basic rules of thumb in determining the sales price — i.e., what multiples of your gross revenue or cash flow you may be able to sell your franchise for.

Q: What's the process of starting a franchise with Fantastic Services?

A: Once you schedule a discovery call we'll get in touch with you. A Fantastic Services representative will get back to you in the next 1-2 days.

Q: How will I get clients?

A: You'll work alongside our marketing department! Our experience has taught us how to generate demand for your services quickly. By following our advice and your understanding of the area you operate in, you directly fill your schedule with work appointments. It is available online and easy to manage on your smartphone or computer at any time. It'll show you the jobs we've lined up for you for the following day.

Q: Do I need the experience to become part of the Fantastic Services franchise?

A: Previous experience is preferred but not required. To perform some services such as gardening and handyman you might need previous experience, but for all the rest you'll be off to the best start by simply having a strong desire to learn and the motivation and determination to succeed. All partners go through the same specialised training to deliver high-quality services up to the Fantastic Services Standard. Thanks to Fantastic Academy and the technician induction courses, you will provide excellent customer service in no time. Experience in managing people will be a good advantage for you to start your own business.
Recognised franchise model by the best in the industry
We've won the "Franchisor of the Year" award, as well as being ranked among the Top 10 best franchises in the UK.