Opt for premium, dust-free wood floor sanding in London
Restore the immaculate look of your hardwood floor by entrusting the job to skilled floor sanding experts!
Proven floor repair and restoration techniques
Experienced Bona-certified technicians
Professional dust-free floor sanding machines
Easy booking, FREE on-site surveys and quotes
How does the professional floor sanding service in London work?
1.
Use the online contact form or our app to book an on-site survey for any day of the week!
2.
You'll get a no-obligation quote, based on the type of floor you have and its current condition.
3.
On the day of your service, the wood floor sander will do the job with your utmost satisfaction in mind.
4.
Now, you can enjoy and show off your beautiful fresh-sanded flooring to friends and family.
Wooden floor sanding options you can choose from
Restoring the timeless and sleek look of your wooden floor is a smart move for plenty of reasons. It's easy to maintain clean and it's a great option for allergy sufferers, as triggers, like pollen and dust mites, don't stay long enough on it. Last but not least, solid wooden floors easily add value to your property, that's for sure.
During the sanding process, light imperfections, stains, dirt accumulation and old sealants are successfully removed. Have a look at the following restoration floor sanding services that can be tailored to your exact type of wooden flooring by taking into consideration the material and its unique properties!
Parquet floor sanding (hardwood floor sanding)- Sanding parquet floors requires attention to detail, the right equipment and using specific techniques, in order for the intricate floor pattern, made by the small wooden blocks, to look even and smooth as an end result.
Sanding floorboards (pine and oak) - Whether you require help with sanding your oak floor or such, made from pinewood, the job will be done skillfully with virtually no-sawdust equipment, so dust doesn't end up in the tiny gaps between the floorboards after the sanding process.
Engineered wood floor sanding- Sanding engineered wood floorings may also pose a challenge to the avid DIY-er, due to the risk of damaging the top real wood veneer layer. So, if you lack the skills or don't have the right equipment, leave the task to the trained floor sanding experts.
The complete process of wood floor sanding in London explained
Listed below are all the stages of a complete sanding and wood floor restoration service that you can take advantage of, depending on your specific floor repair or refinishing needs.
Regardless of whether you require floor restoration services for your residential solid wood floor or commercial engineered wood flooring, Fantastic Services can organise a seamless service with vetted and certified sanders in London. The presence of any microscopic dust particles in the air is practically brought to a minimum with the use of a special dust extraction machine to еnsure a complete dust-free experience.
Floor sanding preparation - Preparation is key with any job, of course. So, upon arrival, the team will, first, inspect the condition of your wooden floor and listen attentively to your requirements. During the on-site survey, the pros can help you remove all the furniture and any carpeting so that the room is ready for sanding the floor.
Wood floor sanding - The floor sanders will remove all imperfections and any old layers of varnish with the use of quality equipment with sanding belts of different grits. They are also equipped with edging sanding tools, perfect for corners and stairs sanding, and will even apply finishing sanding touches with a fine-grit sandpaper manually if needed.
Wood floor repair and restoration - If your floor needs some repairs, then rest assured that it will be fixed expertly and with high-standard results before the floor sanding job goes ahead. Protruding nails, loose or damaged floorboards will be first addressed. And if your hardwood floor happens to be beyond repair, you can always consider a new floor installation with the help of skilled floor fitters in London.
Gap filling - For an even smoother hardwood floor look, you can benefit from an expert gap filling service, designed to fill the gaps between floorboards with resin or specially cut slivers from reclaimed wood. This way, you'll prevent dust build-up in the gaps, minimise draft and the loss of heat, as well as reduce creaking noises when you walk over your floor. Which of the two methods is used depends on how wide the gaps are.
Wood floor staining- Staining your freshly sanded wooden flooring is an optional step if you wish to change its colour and bring out the wood grain before refinishing the surface with, say, clear varnish. The good news is that your service provider can test different shades of stain on a small area, so you can choose your favourite one more easily.
Wood floor finishing/refinishing- Your floor needs to be sealed in some way, after it has been sanded, to prevent scratches, marks and stains. A varnished or waxed floor is also easier to maintain clean, as well as ensures that your investment serves you for longer. So, feel confident that by ordering a specialised sealing and varnishing , or floor waxing, polishing and oiling service , complemented by expert buffing, you'll achieve the desired shiny or matte appearance of your hardwood flooring.
What do you get when entrusting the job to a reliable floor sanding company in London?
FREE on-site consultation and quote
Your service appointment will be made for a day and time that best suits you after your floor sanding contractor has performed an on-site survey, first. During their visit, you'll be able to discuss all of your requirements. The specialist will advise you on anything you might have concerns with. Then, within 24 hours, you'll receive an email with a FREE, no-obligation quote.
Suitable for all types of new and old wooden floors
Be it a newly installed oak timber floor or an old and slightly damaged parquet, the flooring experts we work with will ensure that you enjoy the beautiful finish of your investment, whatever refinishing and restoration steps they may need to take. No job will pose difficulties to the seasoned professionals, no matter if it involves sanding varnished wood and revarnishing it; sanding staircases or sanding old floorboards, made from engineered wood, before sealing them with the right product.
Premium dust-free equipment and edging tools
The flooring technicians work with advanced and modern belt sanding machines and edging sanders. In addition, they use a dust extraction unit, which removes simultaneously the sawdust. Frequent vacuuming, during the sanding process, also takes place to make sure that no dust particles are left behind between the floorboard gaps.
Certified and knowledgeable experts
Your floor sanding service in London is delivered by fully insured, Bona-certified and very experienced flooring experts, who are accredited members of the Wood Flooring Association. They have served both domestic and business customers for over two decades, so you can rest assured that your luxurious wooden floor will be in good hands.
Frequently asked questions
Q: How long does it take to sand a floor?

A: This will depend on the size and the condition of the floor and whether it will need some repair work, too. On average, the flooring in a medium-sized room will take a day to be sanded to a fine finish. To seal your floor with wax, oil or varnish will take another day, as this is done by hand. Of course, allow sufficient time for the floor to dry before using it again.

Q: Is the wood floor sanding process noisy?

A: Regarding noise, yes, the machine can be rather noisy, especially at first, when a coarse-grit belt is used. With the door closed, however, the noise can be significantly reduced.

Q: How messy is the floor sanding?

A: Our sanding machines have powerful dust extraction units that immediately remove the loose particles while the floor is being sanded. Of course, a tiny amount of the dust manages to escape but we assure you that it is easy to clean.

Q: What colour will the floor be after the sanding?

A: This will depend on the type of wood your floor is made of. For instance, the natural colour of maple and mahogany is darker than say, pinewood. But as you know, you can stain and varnish the surface afterwards to get the colour of your choice so that it matches the furniture or adds contrast to the whole room.
Q: How much does it cost to have a floor professionally sanded?

A: The floor sanding price varies depending on several factors. For instance, the square meter and condition of the floor, and how many stages of sanding are included in the process. For sanding only, the price starts from £12.00 per m2. But the final price will be calculated after arranging a FREE onsite consultation with an experienced floor sander who will give you a fixed quote based on your individual preferences.

Q: What if my wooden floor is too damaged to be sanded?

A: The flooring experts can easily spot if your floor is beyond repair. But in most cases, old wooden floors with some issues can be fixed and sanded to the surprise of their owner. Once the damaged old layers of varnish are removed, rusty nails are taken out and a broken floorboard or two - replaced, you'll be amazed how great the natural wood starts to look, ready to be stained or waxed.

Q: If I want to decorate the room, should I do it before or after the floor sanding?

A: Well, either way is possible, depending on the condition of your floor and walls. The experts advise that in any way, heavy prep work on your ceiling and walls (wallpaper removal, replastering) should be done before refinishing your floor. And if the latter needs aggressive sanding, first, paint the walls beforehand to avoid dust ending up on the walls. You can easily place a drop sheet to avoid paint splashes going on your restored flooring. Still, if modern dust-free technology is used for sanding lightly the floor surface, then you can paint the walls and ceiling before calling in the floor sanding experts.
Floor sanding services available across London
Central London
East London
North London
South London
West London
View all areas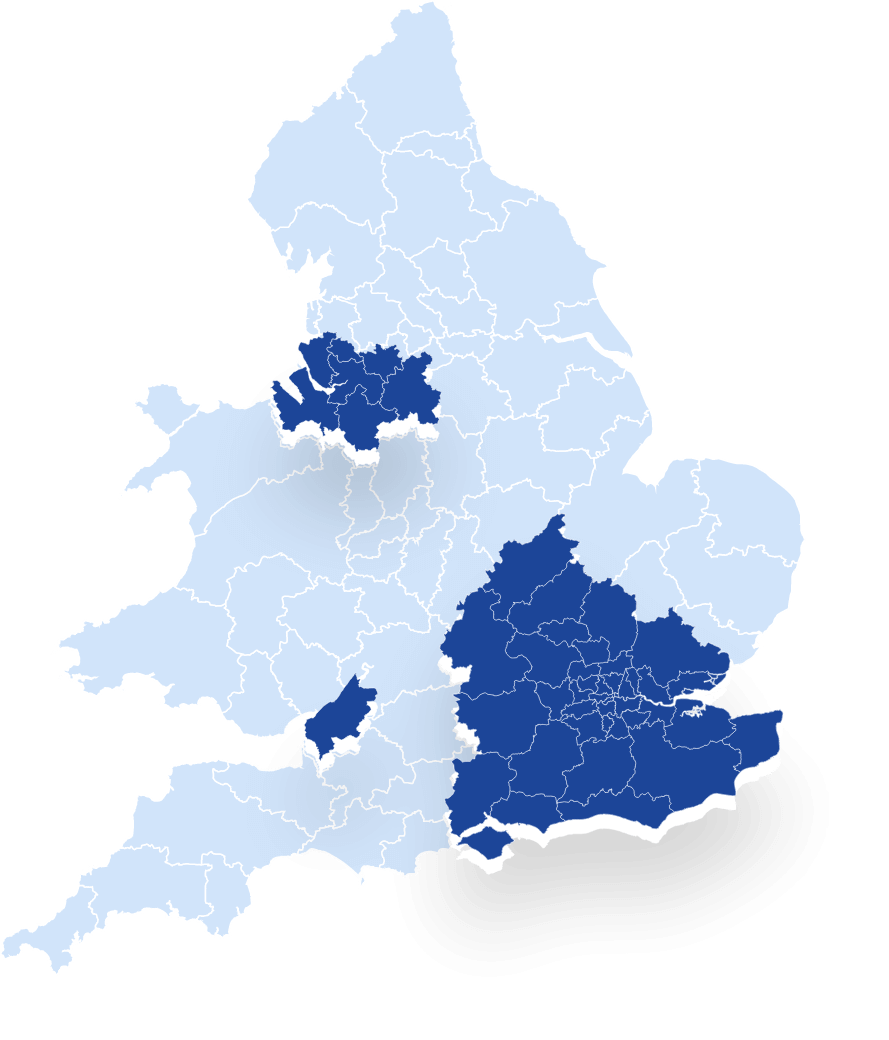 We can do much more than Floor Sanding:
Book your wooden floor sanding in London and restore its sleek look!