Hire professional tree surgeons in London from Fantastic Services!
Trees are the focal point of almost every garden and, as such, require special care. The tree surgeons at Fantastic Services can aid you with a variety of tree maintenance procedures in London and the UK, including branch pruning, crown shaping, and full tree removal in line with all safety regulations.
Tree surgery prices
| Team | Price |
| --- | --- |
| 2 tree surgeons | from £99 |
T&C and Minimum Charges apply. When we calculate the price, we also take into consideration the area's dimensions and the time of the appointment. All prices and deals are valid for areas within M25. Deals cannot be combined with any other deals and promotions. Prices are subject to availability. Congestion charges are excluded (when applicable).
Please tell us about your needs so we can design a better service for your business and give you an estimate.
Call 020 3746 1062 for a quote or contact us here.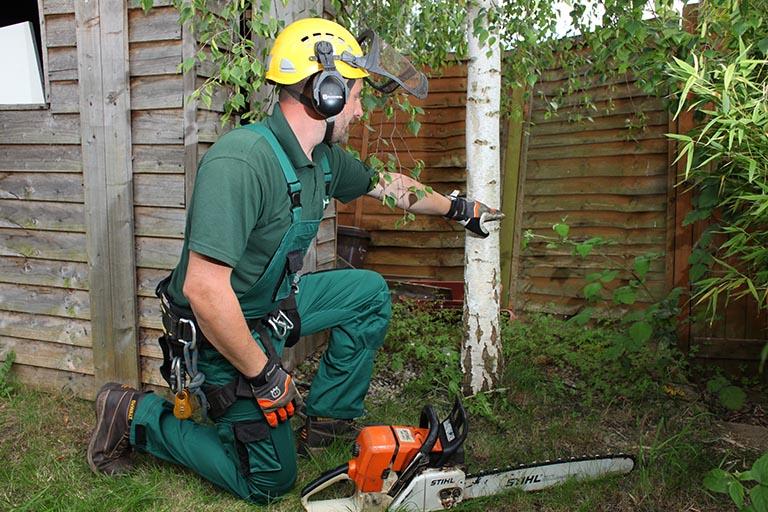 3 super simple steps to get a Fantastic tree surgery:
Step 1: Schedule an appointment and receive a detailed price quote, based on the description and images you've shared with our service representatives.
Step 2: A team of 2 tree surgeons will arrive and proceed with inspection of the tree in question. They will then discuss your individual requirements, and confirm your final price for the service on-site.
Step 3: The professionals will use reliable tools to shape or completely remove the tree in an efficient and safe manner.
Professional maintenance of all types of trees and your yard as a whole
The experts have mastered a wide variety of techniques to help any overgrown tree become one with its surrounding garden. For instance, they can prune or lope any dead or excess branches to promote healthy growth and a rich fruit harvest. If your plants feature large tree canopies, the dexterous specialists can also climb atop to restore their tidy appearance and help you avoid expensive rooftop and gutter damage. Should your trees reach a dangerous height or become affected by a stubborn disease, the team can also shorten their trunks to keep you and your neighbours safe from harm and protect your trees from further deterioration. Keeping the trees in shape is important, but you can also hire us to shape and take care of your lawn as well.
Get complete tree removal for dead or damaged trees
Fantastic Services offers full tree felling service for any tree that does not exceed 65 feet in height. To protect your property, garden, and any people in the area, the experienced tree surgeons will wear safety gear and use sturdy ropes to carefully lower all branches, stumps, and other natural debris down on the ground. If you need an overall clearance of overgrown vegetation for your garden we can help with that, too.
Please note: Some exceptionally high or old trees may be protected by law. Be advised that you may need to get a permission from your local council first before asking us to apply any tree surgery modifications.
Even more tree surgery (and not only) services
With the (regular) garden care and maintenance service we can prune back trees an shrubs that are up to 12 feet. With the tree surgery one, the arborists can take care of trees that are up to 65 feet in height. For an extra fee and at your request, we can also perform any of the following services:
Shredding: The tree cutting and removal technicians will use a powerful shredder to chip all leftover branches and green clippings to make the green waste take up less space.
Waste removal: Once the tree surgeons have performed tree crown cleaning to cut the extra branches and limbs, they can chop them into smaller pieces and put them inside durable bags to prepare them for disposal. For an extra charge, the team can also perform the waste collection themselves.
Stump grinding: This service is just what you need when you wish to remove an inconvenient, old stump that takes up space in the middle of your garden. To do so, the team will use a sharp rotating metal disc, called a stump grinder, to turn the stump into a pile of wood chips. You can then use those as free mulch to suppress weeds or to simply improve your garden's looks!
FAQs
Q: How do I get a price reduction on my tree surgery service?

A: You can book all our services at reduced rates for a year by joining the Fantastic Club. You'll benefit from plenty of other perks, as well.

Q: What is the best way to make changes to my booking?

A: The easiest way to manage all your appointments is through your Fantastic account, which will take you a minute to create.

Q: Is waste removal included in the price?

A: Yes, it is usually included in the overall cost of the project. However, if you don't select the waste removal service when booking your appointment, we can dispose of the green waste upon your request.

Q: How much time will the service take?

A: This service is not hourly-based and your price will be calculated based on the tree's height, the canopy's size, and your individual preferences.
Q: What tools and equipment do you use?

A: All tree surgeons are fully insured and have been trained to use a variety of tools and safety gear. Depending on the task, they can bring several types of chainsaws, safety clothing and ropes, climbing boots, ladders, shredders, stump grinders, and more.

Q: Do I need to reserve a parking space?

A: Fantastic Services kindly asks of you to do so as the experts will arrive in a van that carries heavy work equipment. In case the team cannot park near your property, they will find an unoccupied spot within walking distance instead.

Q: What is your availability?

A: You can make an appointment for any weekday, weekend, or bank holiday you choose. We do try to avoid Sundays, however, because the service is noisy. The tree surgeons can also visit you in both rain and shine.

Q: Is my presence required?

A: We advise you to meet the team on-site in order to receive a service that fully matches your vision. If that's not possible, please leave a detailed description of the tasks you need done.

Q: Will you send me an emergency tree surgeon because of storm damage?

A: Yes, we do offer emergency tree services, call us at 020 3404 3444 to learn more.
We can do much more than tree surgery:
COVID-19 UPDATE: Fantastic Services remains fully operational during the November lockdown.
Read more