Expert surface repairs and restoration by certified technicians
Save on replacement costs by having your hard surfaces repaired onsite with the use of high-tech technology
Using specialised colour- and texture-matching software
Onsite restoration of any hard surface with a 1-year guarantee
Accredited specialists and high-standard workmanship
Nationwide availability throughout the UK
Your hard surface repair service in 4 easy steps
Request your free quote and let us know what type of surface you need repairing.
2.
The skilled technician arrives at your property
The certified specialist will bring high-end equipment, tools and the right materials for the job.
3.
The repairs will be expertly completed
The professional will restore your damaged hard surface by using special software that can match the exact colour of the original material.
You will struggle to spot where the repair has been done, it's a promise!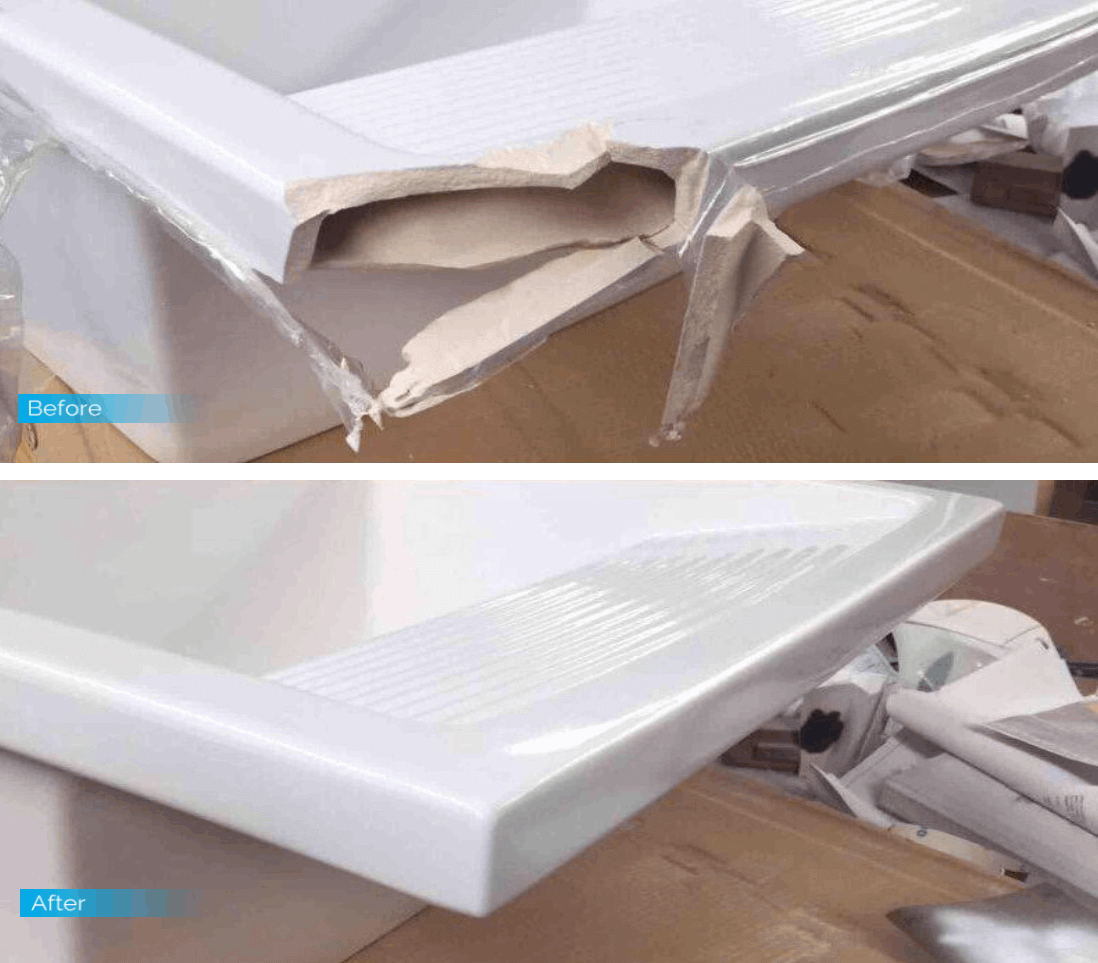 Why opt for an expert surface restoration and repair service
High-quality workmanship with a 1-year guarantee
Fantastic Services works side by side with trusted, experienced and skilled surface restoration experts, who deliver outstanding and immediate results onsite in domestic, commercial and construction environments.
The skilled technicians boast proven expertise in surface repairs that can be applied to surfaces, made of a wide range of materials: wood, ceramic, porcelain, glass, PVC, stone, brick, etc. They resort to the so-called SMART method, which stands for Small to Medium Area Repair Technology, suitable for repairing minor damage on hard surfaces. In other words, the item or surface is structurally intact and needs only cosmetic restoration. The repair service comes with a 1-year guarantee on the labour, so rest assured that you'll receive excellence as an end result.
Using colour-matching high-tech software and equipment
To ensure that one cannot discern the site of repair, the masterful restoration specialists use colour-matching equipment that eliminates the risk of human error. The same shade or hue of the filler's colour is carefully matched to that of the surface with the use of proven skills and high-tech technology. Furthermore, the experts employ French polishing techniques when appropriate to get that perfect finish of wooden surfaces.
Repairs, done by skilful and certified specialists
Your surface repair service is done by accredited, insured and qualified specialists, who have been certified by various relevant bodies and associations in the sector.
Constructionline Accreditation
CSCS (Construction Skills Certification Scheme)
CHAS (Contractors Health and Safety Assessment Scheme)
NVQ (National Vocational Qualifications) Level 2 Certificate
SMAS Worksafe Accreditation (Safety Management Advisory Services)
Environmentally friendly, time-saving and cost-efficient services
Choosing a repair service over any replacement or new installation options to deal with a damaged surface or item is for sure a course of environmentally friendly action, as you prolong the life of your belongings instead of discarding them to the landfill. Also, you'll be saving significantly on replacement costs, as well as on time. After all, a cosmetic repair can be done in a space of a few hours opposed to having installation technicians in and out of your property, removing damaged fittings and items and replacing them with new.
What types of surface repairs can the technicians do for you?
You can book the restoration service to fix damaged hard surfaces, made from various types of materials. Check the list below to see what types of repairs we can help you with:
The experts use professional fillers of the right colour and texture, as well as effective polishing methods to make your surfaces as new.
Frequently asked questions
Q: Will I be able to see the repair?

A: The equipment used ensures that the original colour of the surface is matched with precision for a start. Then, the experts apply various finishing techniques to make sure that the repair is hardly visible.

Q: What types of industry sectors can benefit from your services?

A: We provide surface restoration and repairs to domestic clients, as well as to customers in the facility management, hospitality, insurance, real estate, construction, retail industry sectors and more.

Q: What locations do you cover?

A: Our surface repair solutions are available anywhere in the UK.

Q: How long would the repair service take?

A: This will depend on the size and complexity of the job. For instance, a domestic client may enjoy their fully repaired item or fitting in just a couple of hours, whereas a repair service in a family hotel may take a whole day, due to the number of tasks involved.
Q: Can I get an estimate before the service?

A: Absolutely. What you need to do is to give us as many details as possible, including pictures of the damaged item or surface so that we can provide you with an approximate price for the job.

Q: Can you send a repair specialist at short notice?

A: We'll do our best to respond to your emergency surface repair request. Still, our service appointments are subject to availability, hence, do try to contact us in advance to reserve a convenient slot.