Professional oven cleaning service in London and the UK
Getting even those hard-to-reach places cleaned by local oven cleaners
Disassembly + deep cleaning + dip tank for parts
Prolonging the life of your cooking appliances
Deep kitchen antiviral sanitisation is available now
Strong detergents eliminating all types of bacteria and viruses
FREE Teflon oven liner with every oven cleaning service
How to book the Fantastic local oven cleaners in London
1.

Check our prices and availability by entering your postcode.

2.

Your cooker will be inspected, disassembled and cleaned on-site

3.

Finalise your booking and we'll make that cooker shine!
Oven cleaning prices

As a member of the Fantastic club, you can get £30 OFF for 10 different services within 1 year.
Appliances type
Fantastic Club price
Standard price
Single oven
(One door only)
from £28
£58
Double oven
(Top and bottom doors)
from £46
£76
Deep kitchen antiviral sanitisation
£25
£25
Oven shelf guard
£9
£9
Join the

Fantastic Club and get:
£300 in credits
Preferential member rates
Domestic cleaning from £13/h
Real-time arrival tracker
Priority booking & case handling
T&C and Minimum Charges apply. When we calculate the price, we also take into consideration the type of the appliance and the time of the appointment. All prices and deals are valid for areas within M25. Deals cannot be combined with any other deals and promotions. Prices are subject to availability. Congestion charges are excluded (when applicable).
Running a business? Let us design a better service that meets your needs perfectly.
Contact us for a quote or give us a call on 020 3746 1062.
Get an instant quote and check our availability in your area
Deep oven cleaning service with disassembly
As mobile oven cleaners, we bring everything necessary to clean your cooker on site. The technician who will carry out your professional oven cleaning service will inspect your appliance to determine if it is working properly. He will then disassemble all the removable parts and take off the oven racks. Everything is then soaked in a dip tank filled with a powerful cleaning solution (note that when you order a one-off kitchen cleaning the oven will be cleaned, but we won't use the dip-tank unless you request it). Meanwhile, the oven cleaning specialist will thoroughly scrub the rest of your appliance, making sure to remove all traces of greasy food and burnt leftovers. When all the parts are perfectly cleaned, the technician will assemble and test the oven. You can start using your cooker right away, after the service! This procedure is suitable for all types of ovens, as well as for AGA and other types of range cookers.
Why book а professional oven cleaning service?
There are many benefits of entrusting your oven to a professional cleaning company:
A thoroughly cleaned oven helps you save money on electricity bills as it heats up quicker and consumes less energy.
Professional oven cleaning specialists use strong detergents which not only kill bacteria but also harmful carbon residue.
Many oven manufacturers recommend taking advantage of professional cleaning in order to extend your appliance's life.
We at Fantastic Services not only inspect and clean ovens we also replace seals, glass, failed light bulbs, old filters and faulty parts if the spares are provided by the customer.
We are certified
Other cleaning services you can benefit from:
BBQ Cleaning - Gas, charcoal and hooded grills, smokers and spit roasters – you name it, we clean it!
Appliance cleaning - You can have all of your white-goods professionally cleaned. This includes washing machines, tumble dryers, dishwashers, microwaves and more.
AGA cleaning - Our AGA cleaners can make your cooker sparkly clean no matter what type it is. They use caustic-free cleaning products to remove burned food buildups and grease spots.
Range cooker cleaning - Take advantage of our professional range cooker cleaning service. Our certified technicians can clean any range cooker, regardless of its size or model.
Splashback cleaning – The technician can manually scrub the splashback using a detergent. This is suitable for inox, tiled, and glass splashbacks, and can be booked as a separate service.
Deep kitchen antiviral sanitisation - The treatment includes all kitchen surfaces, like kitchen tops, cupboards and appliances. The kitchen taps, floor, sink, splashback, light switches and doors will be cleaned using a non-hazardous and certified virucidal cleaner. Note that this service can be booked only as a part of the oven cleaning service.
Oven shelf guard - Reach out in your oven safely. We offer protective oven shelf guards, which will keep you safe from high-temperature burns. You can buy 1 Oven Shelf Guard at the price of £9.
Frequently asked questions
Q: Do I have to do something before and after the kitchen sanitization service?

A: Yes, all the surfaces should be cleared from cutlery and other kitchen items before the service. Detergents that we use are non-hazardous and meets EN 1276 certificate we only recommend that the kitchen be vacated within an hour so it can dry and to aerate upon your return.

Q: How strong is the detergent that you use?

A: The detergent we use contains Sodium lauryl sulfate. It practically kills all types of bacteria, viruses, fungi, protozoans and other microbial agents. It will completely disinfect the surfaces of your oven killing all harmful, disease-causing pathogens.

Q: What is an oven liner?

A: The oven liner is a protective mat with non-stick Teflon coating, which can be placed on the bottom of your oven, or directly on the oven shelves or BBQ grill when cooking. It will protect your appliance from food spills and splashes. It can be washed both by hand and in a dishwasher.

Q: How to use the oven liner?

A: Simply place your oven liner on the bottom of your oven, or on the BBQ grill plate. Mind that it stands on temperatures of up to 250°C, and shouldn't be used during self-cleaning oven cycles. The oven liner has to be removed and washed on regular basis. Fantastic Services cannot be held responsible in cases of misuse of the oven liner.
Q: How to use the oven shelf guard?

A: Push your oven shelf guard to fit it on the shelves. Just like the oven liner, the oven shelf guard shouldn't be used during self-cleaning oven cycles, as it only stands on temperatures of up to 250°C. Regularly remove your shelf guards and wash them in a dishwasher or by hand. In case of misuse, Fantastic Services cannot be held responsible

Q: I would like to make a change to my booking, how can I do that?

A: Just log into your Fantastic account, go to the Dashboard section and there you can easily cancel or reschedule the services you have booked.

Q: Do you clean the inside of the oven door?

A: Yes, we clean oven doors that can be disassembled. Unfortunately, some doors are sold sealed so we are unable to clean them.

Q: Should my oven be turned on and hot before the oven cleaning service?

A: No. Your oven should be switched off and cold when the technicians arrive. If you have an AGA cooker, it needs to be turned off at least 24 hours before the service.

Q: Can you perform the oven cleaning service if my cooker is not working or is disconnected?

A: As long as there is proper drainage and access to hot water, we can perform this service. However, we won't be able to check if your appliance is working properly after the oven cleaning is done. In this case, we can't be held responsible for any working problems with your oven afterwards.

Q: Do I have to provide you with access to electricity or a hot water source for the oven cleaning service?

A: Yes. We need hot water to remove all of the grime and grease off your oven. As for the electricity, it is necessary for the testing of the appliance before and after the service is done. This is just to make sure everything works properly according to our standards.

Q: Is it possible to replace the light bulb inside my oven or filter of the extractor fan?

A: The oven cleaning specialists don't carry spare parts with them on site and they can't supply you with any. Yet, if you have the necessary light bulb or extractor filter, we will gladly assist you if it's safe to do so. This will be free of charge and will be done as a complimentary.

Q: How long does it take to professionally clean an oven?

A: Well, it depends on the size and condition of your appliance. However, the technician will be able to give you a more precise time estimate once on site. The same applies to barbecue cleaning.

Q: Should I be worried about oven cleaner fumes after the cleaning service?

A: You should not be worried about the fumes, as long as you switch your oven on empty for 15 minutes after the cleaning. That will allow excess moisture to evaporate from your appliance.

Q: Do you have oven cleaners near me?

A: Yes, we probably have. We work with trusted service providers, located in almost every city in England, and area in London. To check if we have availability in your area, please use the "Check prices & availability" button.
Where can you find us across England?
We are growing! We are expanding! Thus, your oven cleaning needs will be handled fantastically and with great results if you are located in any of the following areas:
View all locations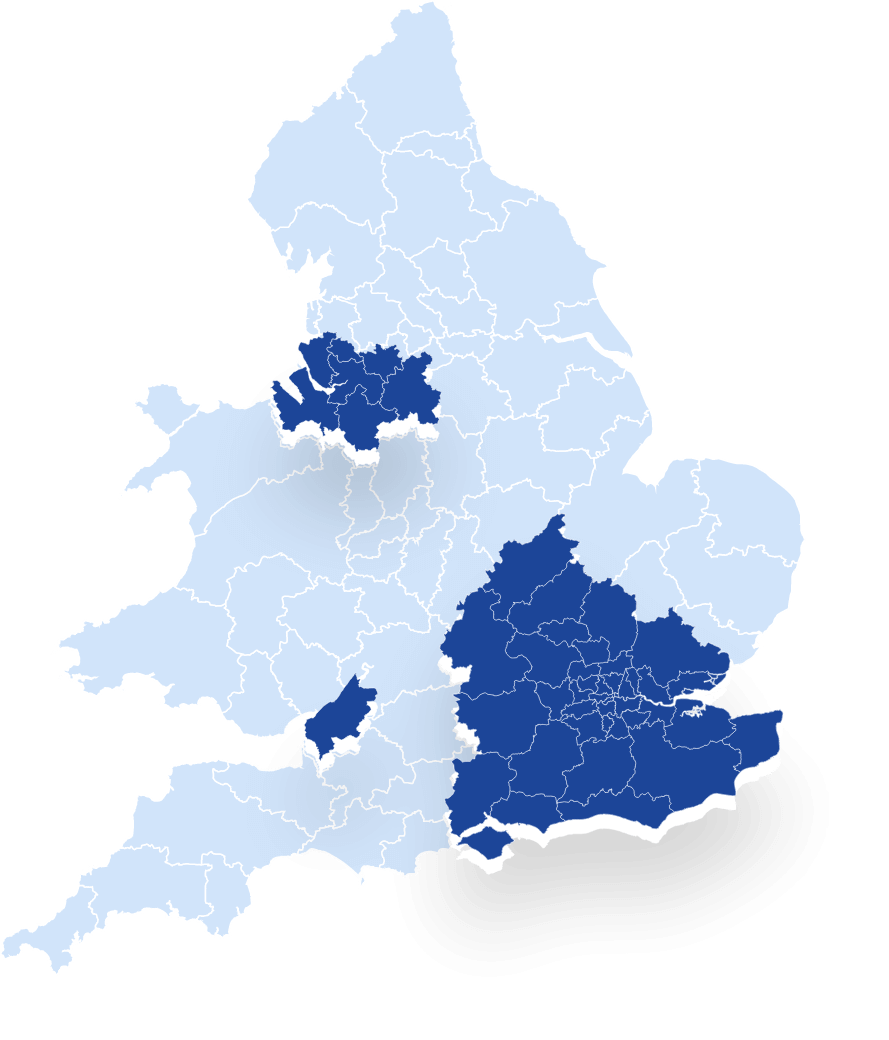 We are much more than an oven cleaning company:
Get ready for more delicious meals!