Reliable Oven Cleaning Services in Guildford
Say goodbye to grease, grime, and baked-on food with our comprehensive cleaning solutions.
Certified and knowledgeable local technicians
Real-time pricing and availability through online booking
Nature-friendly detergents and methods
Protective liner to capture dirt and grease
Effective fire hazard prevention


Hire a Local Oven Cleaner from Guildford in a Few Steps
1. Enter your postcode

Please provide us with your Guildford postcode. We will use it to locate available cleaners near you through our elaborate system.

2. Customise your service preferences

Follow the process outlined on the screen and customise the service elements to your liking.

3. Choose a suitable time slot

Choose a date and time most convenient for you, and finalise your booking.
What You Can Expect from Our Guildford Oven Cleaning Service
All cleaning technicians operating under the Fantastic Services brand follow the highest quality standards in the oven cleaning industry. The cleaning process goes as follows:
Once your oven cleaner arrives, ensure that hot water and electricity are available before taking them to your kitchen.
The technician will first inspect the appliance closely for any potential issues, alerting you to any they may find. They will use a drop cloth to protect the area around the oven while they clean it.
Next, each individual portion of your oven is carefully disassembled, with the assignable components such as racks, grill pans, oven door, trays and shelves removed. All these detached pieces are placed in a tank filled with a concentrated cleaning solution to soak.
The oven cleaner will continue by thoroughly scrubbing the main body of the appliance to remove burnt-on oil and charred food from its surface.
When all of these components have been cleaned properly, they are reassembled back in place. The last step is testing the oven to ensure everything works properly.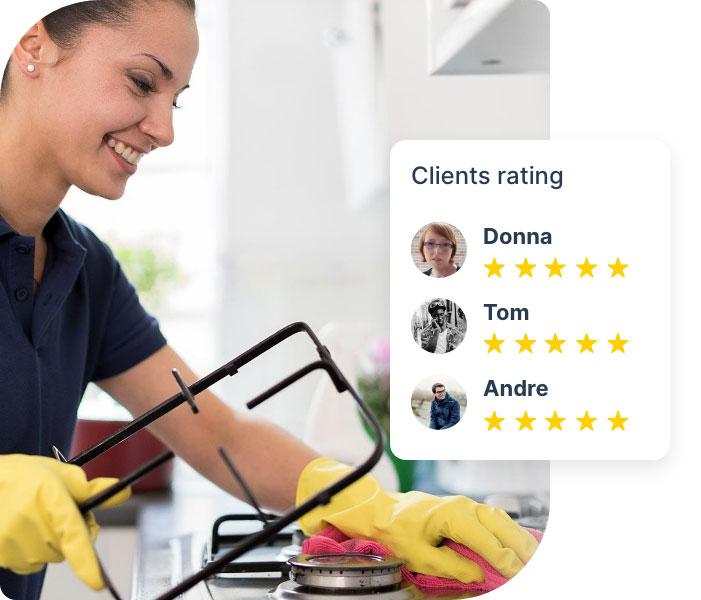 The Benefits of Our Guildford Oven Cleaning Services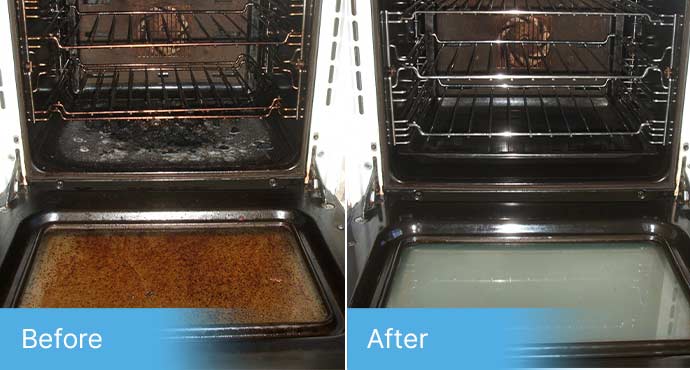 When you hire us to clean your oven in Guildford, you can take advantage of various benefits. We are a local favourite for many reasons. Here are a few of them:
Oven technicians with years of experience - No matter the type of cooker you have, rest assured that we have experienced technicians on hand to provide support when needed. They are skilled in working with all models and ardent in their commitment to helping you.
It's convenient and timely - You can count on our prompt arrival to take care of one of the most time-consuming household chores.
Astonishing results - You will be amazed by the results our oven cleaning specialists in Guildford achieve. The oven will look brand new and Instagram-ready.
Maintaining a tidy environment - The Fantastic professional places protective mats all over the floor so your kitchen stays clean during oven cleaning.
Easy to book and manage - Our oven cleaning service is available seven days a week, and you can easily book online 24/7. Please enter your postcode and follow the steps shown.
Teflon mat to capture dirt - With each service, we provide a Teflon cover as a gift. It will protect your oven and surrounding area from extra spills and dirt.
Our Oven Cleaning Experts in Guildford Can Do More
If you would like your kitchen to be even cleaner, we offer a variety of cleaning services in Guildford that can be combined with oven cleaning.
Extractor and hob cleaning - As an addition to your oven cleaning service, we can give your hob and extractor a good clean as well.
BBQ and grill cleaning - Our cleaning services include the disassembly and thorough cleaning of BBQs and grills.
Appliance cleaning - Besides ovens, the technicians can clean a wide range of kitchen appliances. These include refrigerators, freezers, microwaves, dishwashers, and washing machines.
AGA and Rayburn cleaning - Our cleaning experience includes AGA and Rayburn ranges. Count on us to restore your special cooker's shine properly.
Range cooker cleaning - Our range cooker cleaning service in Guildford is ideal for keeping your appliance running correctly and extending its lifespan. With this service, you can rest assured that your cooker will run as intended with no unexpected problems.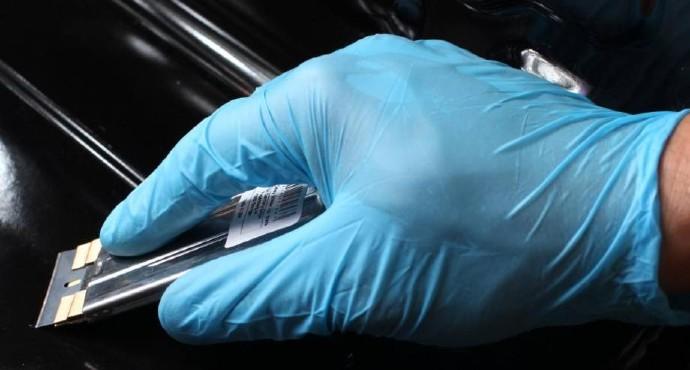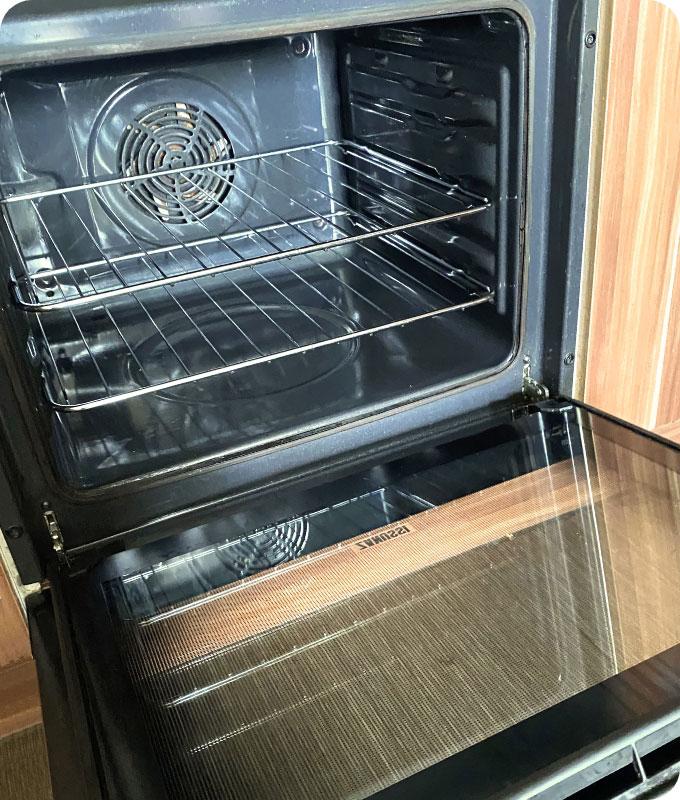 Before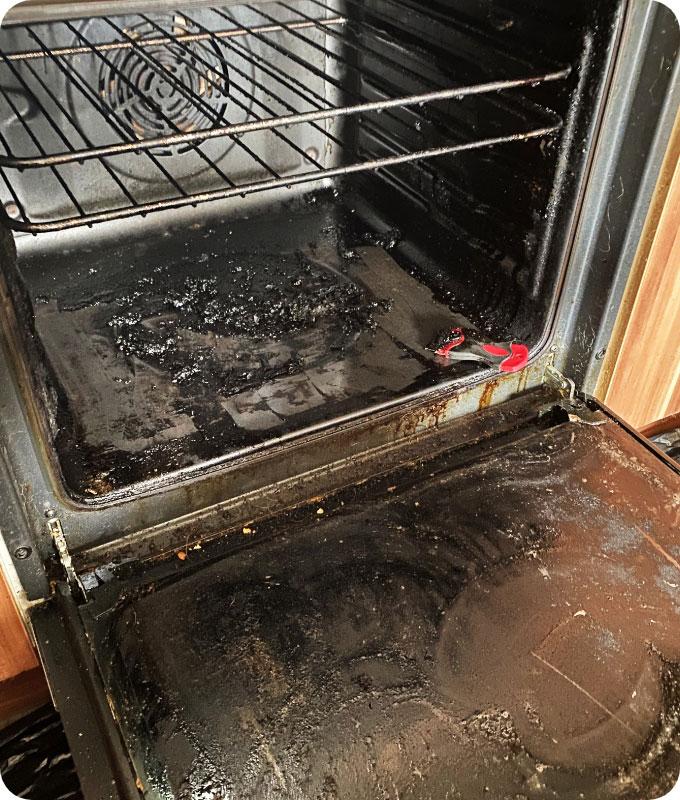 After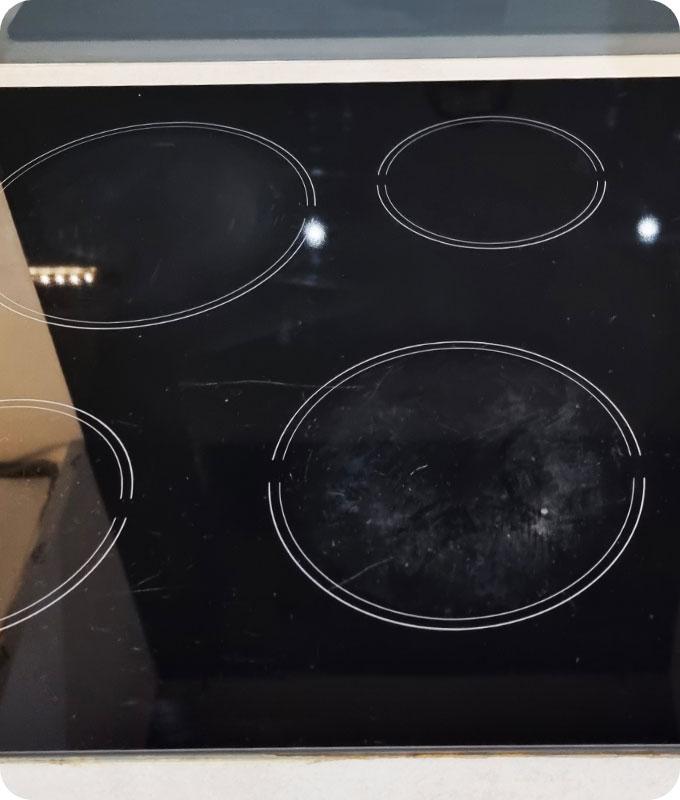 Before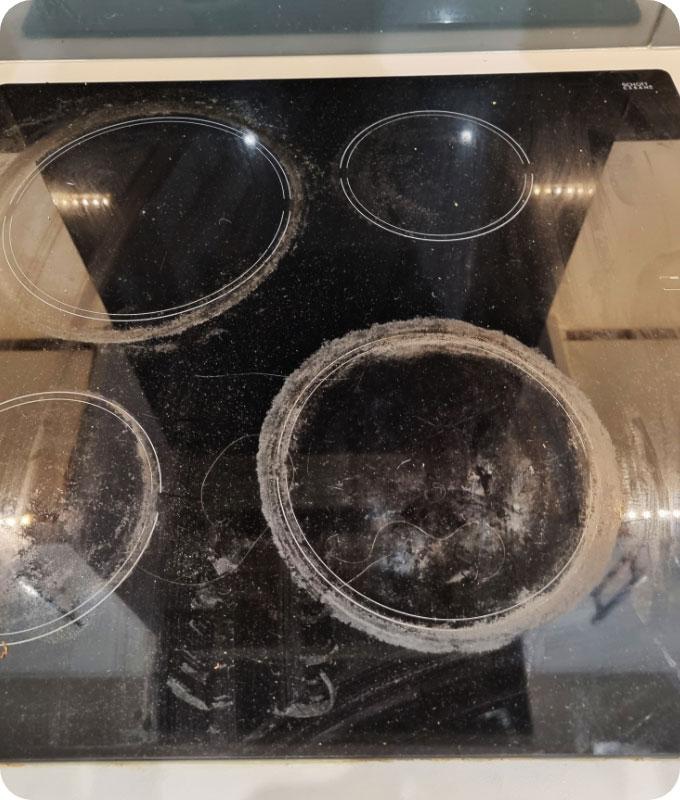 After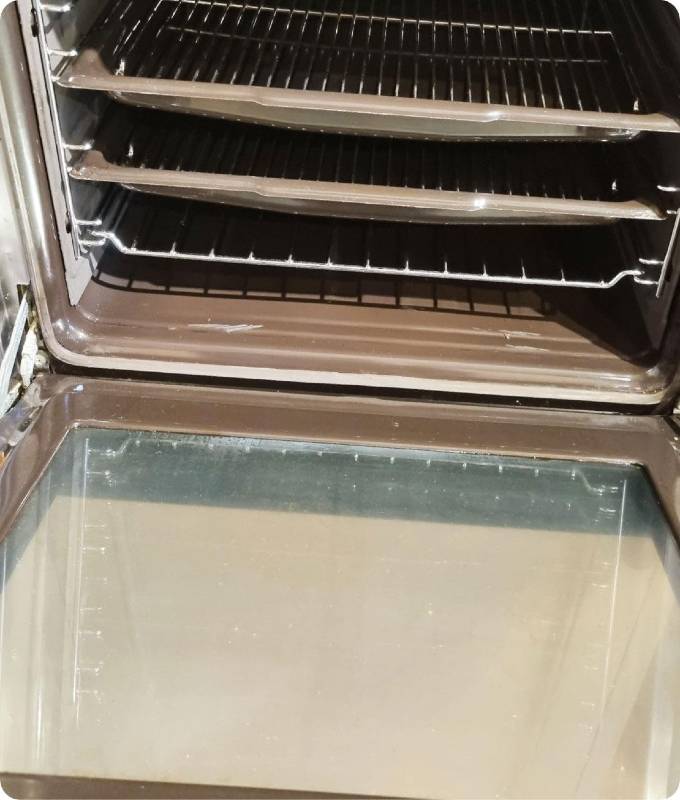 Before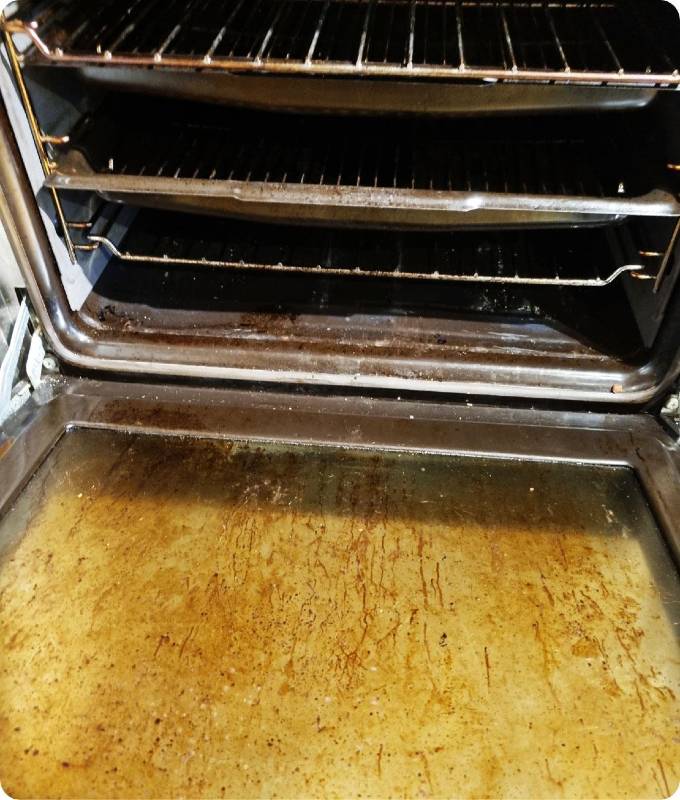 After
Additional Services With Fantastic Services
Frequently Asked Questions
Can I cook right after the oven is cleaned?
While you can start cooking right after the job, we recommend letting the oven work empty for 15 minutes. This will give you a chance to get rid of any excess moisture.
How long does it take to professionally clean an oven?
It takes about an hour to clean a standard single oven. However, the duration depends on the condition of the appliance, so your technician will inform you when he is on-site how long he will need.
Do you clean self-cleaning ovens?
Certainly. Even self-cleaning ovens require maintenance from time to time. In some cases, grease and grime can accumulate behind the liners. Also, considering that the self-cleaning panels may be damaged by chemicals or scrapes, you might want to leave the cleaning to the professionals.
How often do I need my oven professionally cleaned?
Depending on how often it gets used as well as how dirty it becomes, the standard is at least twice a year or once every six months. It is, however, recommended that you do it more often.
Is there a cancellation fee?
Generally, we charge cancellation fees if you contact us less than 48 hours before the appointment. If you call us at least 48 hours before your appointment, you won't be charged.
Is it worth it to get my oven professionally cleaned?
Yes, a professional clean means that we can get to every corner inside the oven and this includes all removable parts. A standard at home clean is not as thorough, so it is advisable to have specialists clean it form time to time.
How much does it cost to clean a dirty oven in Guildford?
A single oven price starts at £71. The hob and the extractor are cleaned by our professional team starting £24 each. Please get in touch for exact quotes for the size and type of your oven, as well as how much cleaning is required.
How do you clean the oven?
Our experts will dismantle the oven to be able to reach every hidden corner and clean it thoroughly.
What chemical do you use to professionally clean the oven?
The most effective organic compound to clean the oven is citric acid, which we use to clean the oven. All our products are safe, organic, and citric acid-based, which dissolves all grease effectively.
Can't find the answer you're looking for?
Visit our Help Center.
Enjoy a Sparkling Clean Oven with Our Oven Cleaning Service in Guildford!
FANTASTIC SERVICES FOR YOUR BUSINESS
With Fantastic Services, you can start your own cleaning business today
If you join us as a franchisee, you'll help make the world cleaner, brighter and healthier. You'll learn a lot and feel like you're part of a reputable company that has a lot to offer. With our training and support program, you'll be prepared for success as a business owner.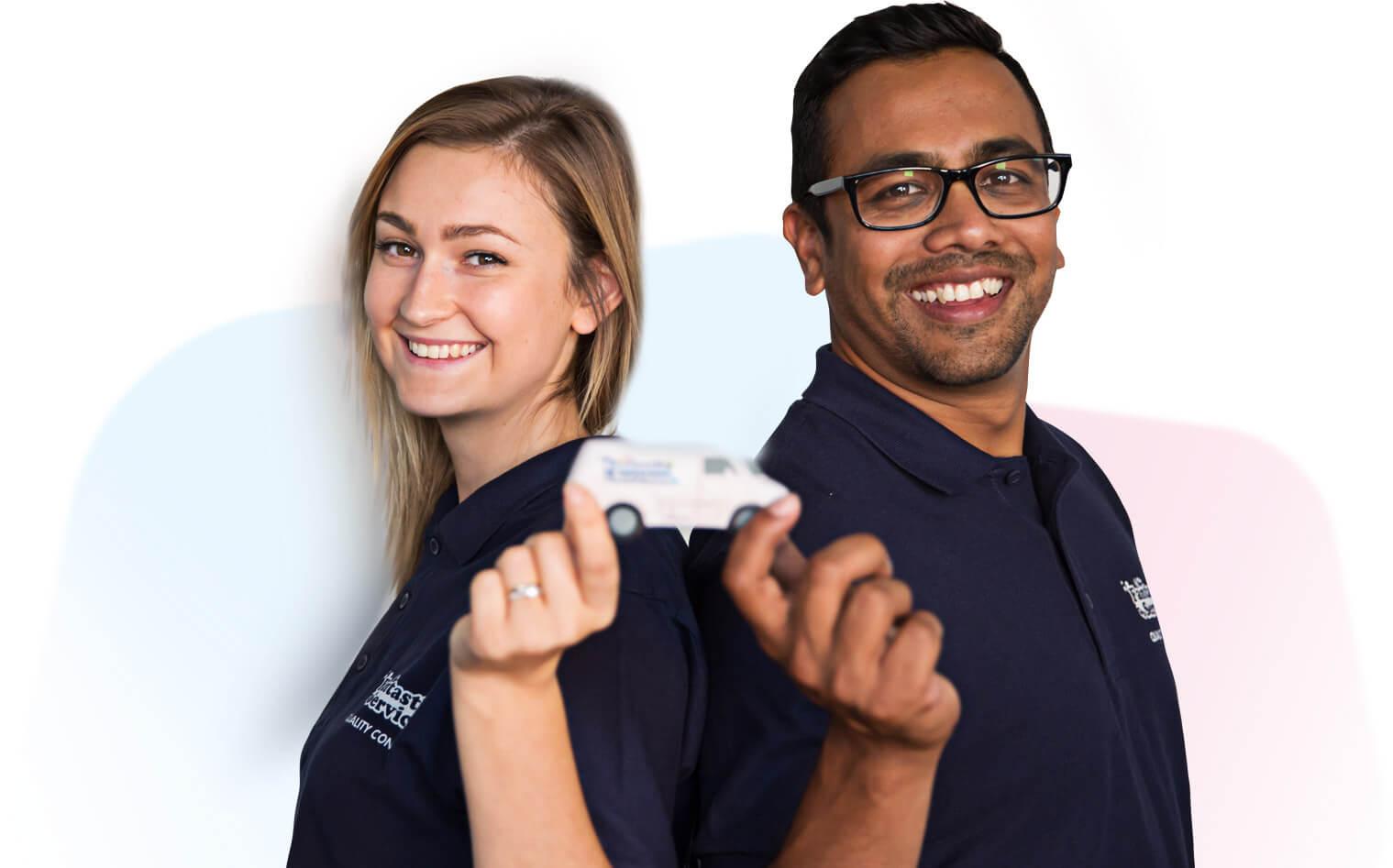 Jorge Santos
Jorge Santos is one of our successful franchise partners, who provides a range of services to local clients in several towns in Guildford. His dedicated teams of fully qualified and insured experts deliver stellar cleaning and handyman services all week round.