Pest control in Coventry from Fantastic Services
Protect your property from pest invasion with the help of experienced technicians near you, at your service 24/7. from

£45

for a pest inspection
Emergency services 24/7
Skilled & professionally trained experts
Health-safe and eco-friendly treatment methods
Unbranded vehicles for full discretion
Pest-proof your home in just 3 simple steps
Book your service
Book your local exterminator in Coventry easily online.
Inspection & Treatment
A technician will carefully expect your house. He will take care of the problem with the required methods.
Enjoy a Pest Free Home
Wave goodbye to those pesky troublemakers.
Here are our pest control Coventry services
Join our Fantastic Club and save a considerable amount of money from your service orders for an entire year!
Join our Fantastic Club and save a considerable amount of money from your service orders for an entire year!
Other services we currently provide in Coventry
Meet your local pest exterminator in Coventry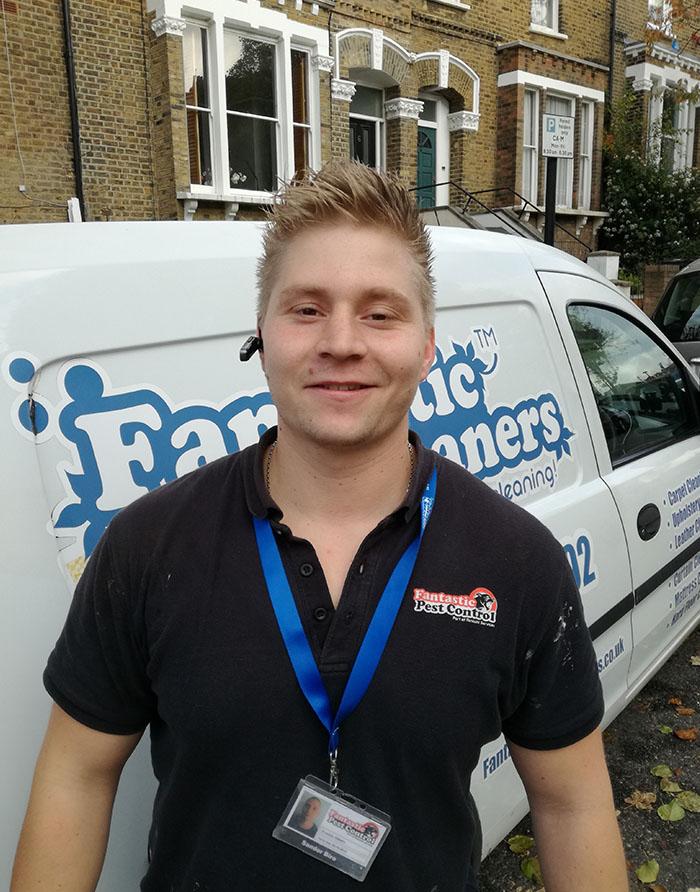 Samuel
Pest Control, Cleaning

Teams:

3

Franchisee since:

March

2018
Fantastic Services takes pride in our franchise recruitment program. Thanks to it we have the absolute pleasure of working with the top tradesmen in their field of work. With that being said, give a warm welcome to Samuel.
Samuel has been a part of the Fantastic Services family since 2018. His speciality is pest control. The expert has saved countless households with his bed bug treatments, mouse traps, and wasp removal methods. Equipped with a wide range of specialised products, professional equipment, and never failing battle tactic, there is nothing that can scare Samuel.
A methodical worker. Came in the property and immediately started to look for signs of pests. Efficient execution, I was back in the property in no time. Thanks! – O. Halton, M17
Fantastic Services holds the idea of helping local communities, like the one in Coventry, really close to heart. That's why we are always on the hunt for dedicated and skilled people like Samuel. By aiding the growth of small businesses like his one, we help build a happy and prospering community. Read more about our business opportunities.
Full coverage
Ready to get rid of the pesky critters?
Just enter your postcode to get an instant pest control service quote and check our availability in the Coventry area.
Working hours: Mon - Sun
Monday

9am - 5pm

Tuesday

9am - 5pm

Wednesday

9am - 5pm

Thursday

9am - 5pm

Friday

9am - 5pm

Saturday

9am - 5pm

Sunday

9am - 5pm
Close
Our coverage in Coventry:
Postcodes: CV1, CV2, CV3, CV4, CV5, CV6, CV7, CV8, CV9, CV10, CV11, CV12, CV13, CV21, CV22, CV23, CV31, CV32, CV33, CV34, CV35, CV36, CV37, CV47
Areas we cover within the city: Coventry, Kenilworth, Atherstone, Nuneaton, Bedworth, Rugby, Leamington Spa, Warwick, Shipston-on-Stour, Stratford-upon-Avon, Southam
Frequently Asked Questions
Q: What kind of properties do you treat?

A: Fantastic Services takes care of residential, public, and commercial properties. We treat hotels, restaurants, schools, hospitals, shops, warehouses, and many more.

Q: How do you charge for the service?

A: The service is not hourly based, meaning that your local exterminator will stay at your property until he is 100% sure that the job is completed.

Q: When should I book the pest control service?

A: You should call a pest control technician as soon as you spot any signs of unwanted house guests. The actual signs really depend on the kind of pest you are dealing with. If you detect any unpleasant smells, hear strange sounds coming from the walls, or have found some chewed up wires, book an exterminator as quickly as possible.

Q: I just saw a rat in my house, can you come right away?

A: Of course we can! We provide emergency rat control In Coventry for cases like these. Just give us a call and a pest control technician will be on your doorstep within an hour.
Q: Do you work on weekends?

A: Yes, the pest control service can be booked for any day of the week including weekends and public holidays.

Q: How and when do I pay for the service?

A: Fantastic Services maintains a transparent customer policy, which means we request payment only after the job is done and you can pay however you like - in cash, by card or with a bank transfer.
Other services available in Coventry:
UPDATE: We remain open for business during the national lockdown.