Wasp Control in London
Have the wasp nest treated safely by the experts
Same-day and emergency services
Done by fully equipped technician
Neutralising the nest within minutes
Quick, safe and efficient results

Price for Fantastic Club members starts from £75 instead of £105
How Wasp Control is Done
A surveyor comes to check up on the situation and the property. What the technician looks for: how big is the nest, how high it is, can the nest be easily reached and sprayed.
To treat a wasp nest the team sprays it with a powder which neutralises the wasps quickly. The exterminator wears protective gear so there's no danger of being attacked.
Wasp control usually requires a single visit only. You can request a follow-up visit if you're worried wasps may return to your property.
The exterminator will let you know some tips and actions you can do to protect your home from future wasp infestation.
Wasp Control

As a member of the Fantastic club, you can get £30 OFF for 10 different services within 1 year.
| Service Type | Fantastic Club price | Standard price |
| --- | --- | --- |
| Pest inspection | £15 | £45 |
| Wasp Control | from £75 | from £105 |
Join the

Fantastic Club and get:
£300 in credits
Preferential member rates
Domestic cleaning from £13/h
Real-time arrival tracker
Priority booking & case handling
The price rates are only valid for residential properties.
The prices are not affected by any extra fees besides parking and congestion (where applicable).
Upon examination, the technician can treat additional wasp nests found on your property on a discounted price of £35.
£50 additional charge on all night jobs (night job is considered between 8 pm and 5 am appointment time).
T&C and Minimum call out charges apply. When we calculate the price, we also take into consideration the area's dimensions and the time of the appointment. All prices and deals are valid for areas within M25. Congestion charges are excluded (when applicable). Note that prices may vary for areas outside of M25, call in for more details on your location.
Get an instant quote and check our availability in your area
Please tell us about your needs so we can design a better service for your business and give you an estimate.
Call 020 3746 1062 for a quote or contact us here.
Here is why you should leave the treatment of wasp nests to us
By booking a professional wasp nest treatment service with us you can benefit from:
A wasp control appointment for any given day, weekends and bank holidays included;
Special discounts on all pest control services if you become a member of the Fantastic Club;
Safe wasp extermination of additional nests on discounted prices;
All products and equipment used by the expert passed a thorough COSHH evaluation.
How to prepare for the arrival of your wasp exterminator
Make sure that what you are dealing with is a wasp's nest, not a beehive, otherwise, the service needs to be done by a local beekeeper! However, it is perfectly fine if you are not sure, the professionals will establish that for you. In case you are truly dealing with wasps, they can proceed with treatment. Remember to keep your distance and if you see wasps storming out of the nest and grouping together, it means you are too close and should get out of there as soon as possible.
Frequently asked questions
Q: How do I change my appointment for another day, if I need to?

A: Just log into your Fantastic account, go to the dashboard section and reschedule your booking from there. If you haven't got an account, it'll take you a minute or two to register and create one.

Q: How about getting a special deal on my wasp control service?

A: Well, of course, you can pay less for your service. Just join our loyal clients - the valued members of the Fantastic Club and never turn back! You'll be eligible for discounts on all services for a year and get tonnes of other benefits, as well.

Q: There is a wasp nest at my property. Can I tackle it myself?

A: You really shouldn't, especially if you don't have protective equipment and even more so if you are allergic to the stingers. The consequences might be very painful since the wasps will fight vigorously when provoked.

Q: What should I do, then?

A: Please resort to the services of a professional. A fully equipped and knowledgeable expert will be able to safely handle the situation.
Q: How many individual wasps are there inside the nest?

A: Well, it depends on the size of the nest. The larger ones could house nearly 10,000 adult wasps, but these are rare. Most nests shelter between 3000 and 6000 insects during the warmest summer days.

Q: Can the wasps build a nest indoors?

A: Yes, this can happen if the wasps find a way to enter inside the structure. The places that are most likely to be affected include garages, sheds, lofts and even attics.

Q: Can the wasp nest be in the ground?

A: Yes. They can use existing cavities in the ground (old rabbit burrows or mouse holes) and turn them into nests. This also applies to cavities in walls and other surfaces.

Q: Are wasps aggressive?

A: Only the female wasps are able to sting and they will resort to doing so if provoked. Note, however, that even approaching a nest counts as a provocation. To make things worse, the first wasp that stings will emit a special pheromone that will tell the other wasps to attack you.
Other areas in England we provide with professional wasp nest treatments
We are constantly expanding our coverage for more pest-free premises! Here is a list of the cities where we provide wasp control solutions for domestic and commercial properties.
View all areas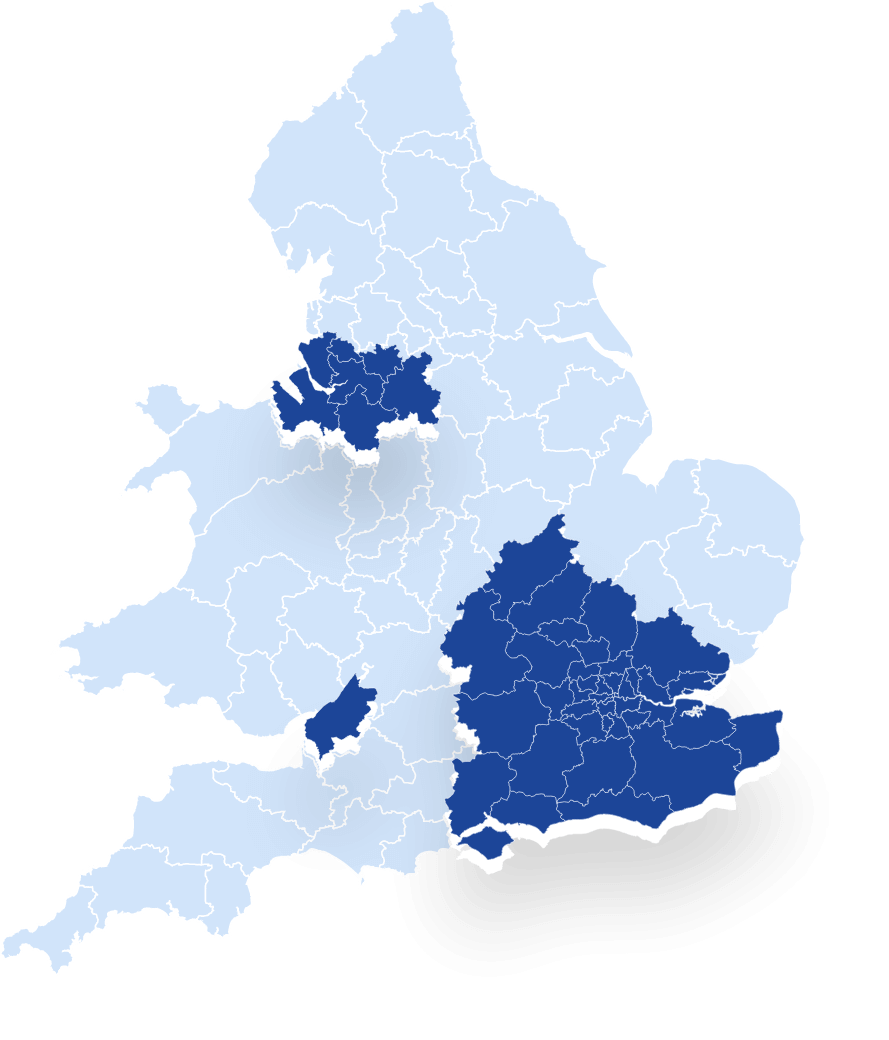 We will minimise the risk and remove all wasps