Mice Exterminators in London
Have your property professionally treated and proofed against mice
Same-day emergency services
Perfectly safe, agency-approved methods
Thorough mice proofing included
A discreet visit

Price for Fantastic Club members starts from £165 instead of £195
Mouse proof your property in 4 simple steps
1.
Book a mouse extermination service online
2.
A technician will come to inspect your place
3.
He will take all necessary measures
4.
Say goodbye to the pesky rodents
Mice Control Prices

As a member of the Fantastic club, you can get £30 OFF for 10 different services within 1 year.
Service Type
Studio/1 bed
2 bed property
3 bed property
Prices

Fantastic Club


Standard

Fantastic Club


Standard

Fantastic Club


Standard
Inspection

£15


£45

£15


£45

£15


£45
1-month treatment*

from £165


from £195

from £175


from £205

from £185


from £215
3-month treatment**

from £240


from £270

from £250


from £280

from £260


from £290
4-month treatment

Full treatment with extended guarantee.

Get the option to request up to 3 additional follow up visits within a period of 4 months from the initial treatment.

Book Now
Join the

Fantastic Club and get:
£300 in credits
Preferential member rates
Domestic cleaning from £13/h
Real-time arrival tracker
Priority booking & case handling
The price rates are only valid for residential properties.
The prices are not affected by any extra fees besides parking and congestion (where applicable).
*The 2 visits treatment is comprised of 1 main visit and 1 follow-up visit, carried out over the course of 1 month. Note that the follow-up visit is only done at your request.
**The complete treatment features 1 major visit and 2 extra follow-up visits, carried out over the course of 3 months. Note that any follow-up visits are only done at your request.
£50 additional charge on all night jobs (night job is considered between 8pm and 5am appointment time).
T&C and Minimum call out charges apply. When we calculate the price, we also take into consideration the area's dimensions and the time of the appointment. All prices and deals are valid for areas within M25. Congestion charges are excluded (when applicable). Note that prices may vary for areas outside of M25, call in for more details on your location.
Get an instant quote and check our availability in your area
Please tell us about your needs so we can design a better service for your business and give you an estimate.
Call 020 3746 1062 for a quote or contact us here.
What to expect from your mice control
The mouse infestation treatment is usually handled in one major visit from a pest controller. Keep in mind that this service is not hourly-based and the specialist will stay until he is done. Here is a breakdown of the process.
Inspection of the property

Before the actual treatment, the mouse exterminator will carefully inspect the property. Every pest control service begins with an inspection. The goal is to find all entry points that are used by the rodents. He will notify you if the mice have caused any substantial damage that might need to be fixed by a handyman.

Sealing all rodent-size holes

It is essential to block the cavities and holes that the mice are using. The specialist will patch them with expanding foam, wool wire and special sealants. Please note that only rodent-size holes can be sealed. Anything larger should be handled by a proper handyman.

Setting the baits

When the place is fully sealed and access is cut, there might be some mice that are now trapped indoors. That is why the technician will set a bunch of baits on strategic places and maybe leave a single way out for treated rodents to get out through.

We follow a similar procedure for the rat control service, as well.
A few extra reasons to hire a Fantastic Pest Control professional
Dealing with an infestation is stressful enough, without the complicated ways of booking a mice removal. Making an appointment with us is simple, and we also offer other benefits, such as:
Flexible work schedule - Weekend, bank holiday, and emergency mice extermination bookings are all available upon request.
Discounted prices - Benefit from special rates as a returning customer or by booking two or more services together.
Emergency availability - A certified operative can arrive within two hours to assist you, regardless if it's day or night.
Reliable professionals - Each pest controller is vetted, fully equipped, and his work is routinely checked by a supervisor.
Extensive coverage - The pest control professionals can service any property within the area coverage.
Fair pricing model - There are no hidden charges attached. Your card may be charged upon booking or before the service begins.
Things to do prior to your mouse control appointment
There are a few things that you can do in advance before the pest controller arrives to improve the end result:
Please remove any traps or poison that you may have placed yourself.
Make sure no food is left exposed within the property overnight.
Best practices to avoid infestations:
Regularly dispose of your household waste and keep the bins sealed.
Don't leave your garden and green spaces overgrown.
Frequently asked questions
Q: How do I go about making changes to my mice control booking?

A: We recommend that you create a Fantastic account with us, where you can manage all your booked services from the dashboard section.

Q: Can you help me if there are mice in the walls?

A: Yes, the mice exterminator will be able to pinpoint their location and take the necessary measures.

Q: Is this service safe for the people and pets within the property?

A: Yes. All anti-mice measures and products that are part of this service are perfectly safe for all inhabitants of the property (except the rodents, of course).

Q: What are some signs of a mice infestation?

A: Well, there are some telltale things that you can easily notice yourself, such as small cylindrical droppings, strong musky smell coming from the secluded areas of the property, gnaw marks on furniture, and more.
Q: How did the mice enter my property?

A: Mice are skilled interlopers that can easily enter through small holes and cracks in the property's walls. Other entry points include gaps in the windows and ceilings, bathtub and sink drains, sewer pipes, and even the gas system.

Q: What do I get if I subscribe to the Fantastic Club?

A: You'll benefit from various perks, such as priority booking options, as well as permanent discounted rates on all our services for a whole year.

Q: What are the most common mice hiding spots?

A: Due to their sneaky nature, mice prefer to stay hidden from view, coming out only when nobody is around. The areas where you are most likely to spot one are the attic, the basement, cellars, spaces behind kitchen appliances, behind and underneath furniture, as well as within wall cavities.

Q: Are mice dangerous?

A: Yes, actually. On the one hand, they can cause damage to your property. On the other, they can also transmit certain diseases through their droppings, which is why you should avoid coming into direct contact with the animals at all cost.
Mice took over your property and snatch food supplies? Don't worry, book a mice control service.
Fantastic Services provide professional mice control treatments in the areas listed bellow:
View all areas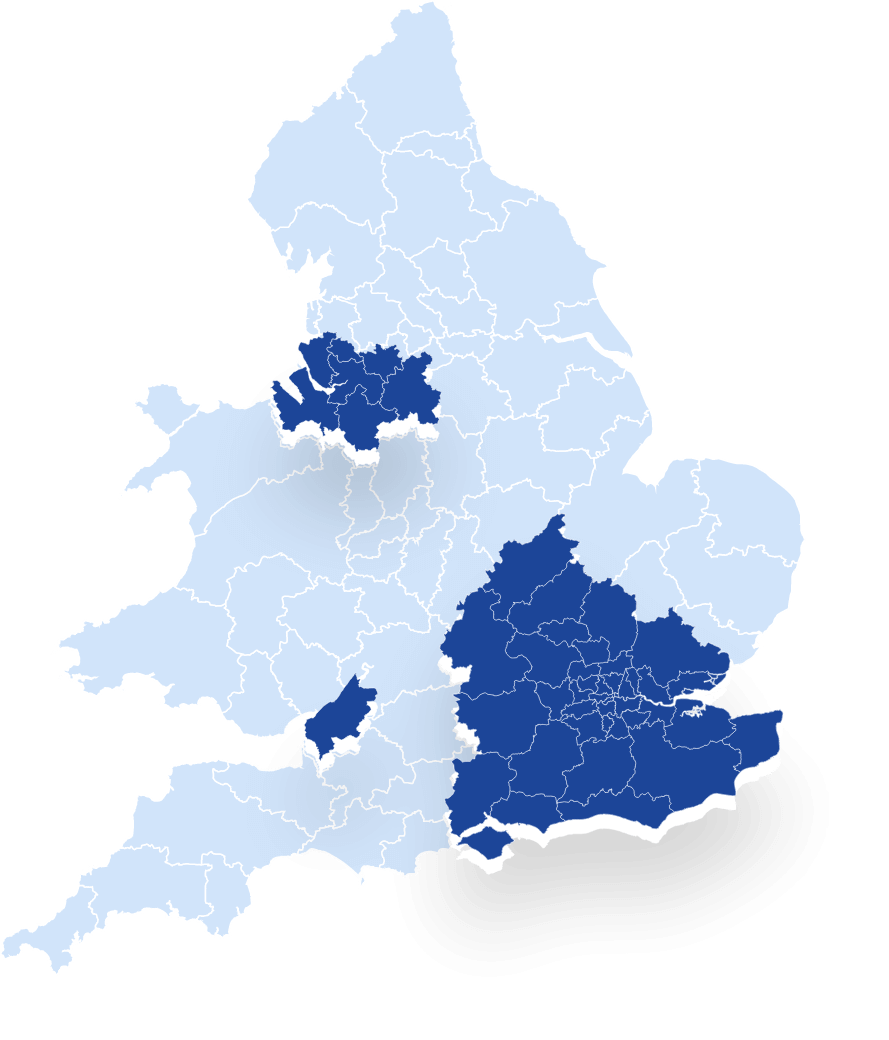 Stop the mice from coming into your house