Only 4 steps to get a brand new lawn!
2.
Meet the surveyor and discuss your ideas with him to get a quote
3.
The team will clear your garden & lay your new turf - real or artificial
4.
Enjoy your time outside on your newly laid lawn
How the experts install real grass?
The type of turf you choose mainly depends on your preference, and on your garden's climate conditions. Real turf is very toddler-friendly and is mostly preferred by families with children. It has many benefits, some of which are the ability to purify the air and to absorb noise and air pollution. This is the general approach of how to install real turf:
Clear the area. The professional landscapers always start with area clearance. They will remove every unwanted object, such as rocks, plants, pavement, deckings, old turf and vegetation.
Add and level the soil. If there isn't enough soil in the area that will be turfed, they will add such and level it with a compactor or lawn roller.
Apply a layer of topsoil. A layer of topsoil is going to be applied on top of the levelled area. This is a mixture of compost and soil. If needed the experts will add some fertiliser, too.
Lay the turf rolls. The turves are slightly overlapped, so that they can join together.
Edge the lawn.The new lawn will be properly edged so that the turf doesn't invade flowerbeds or other garden features.
Receive a detailed maintenance plan for your new lawn.
Depending on the soil, season, and weather conditions in the garden, your new turf may need more extensive watering. After a month the watering should be cut down to once or twice a week so that the grass' root system can establish deeper. After that comes grass cutting that should be done on the highest setting of the mower.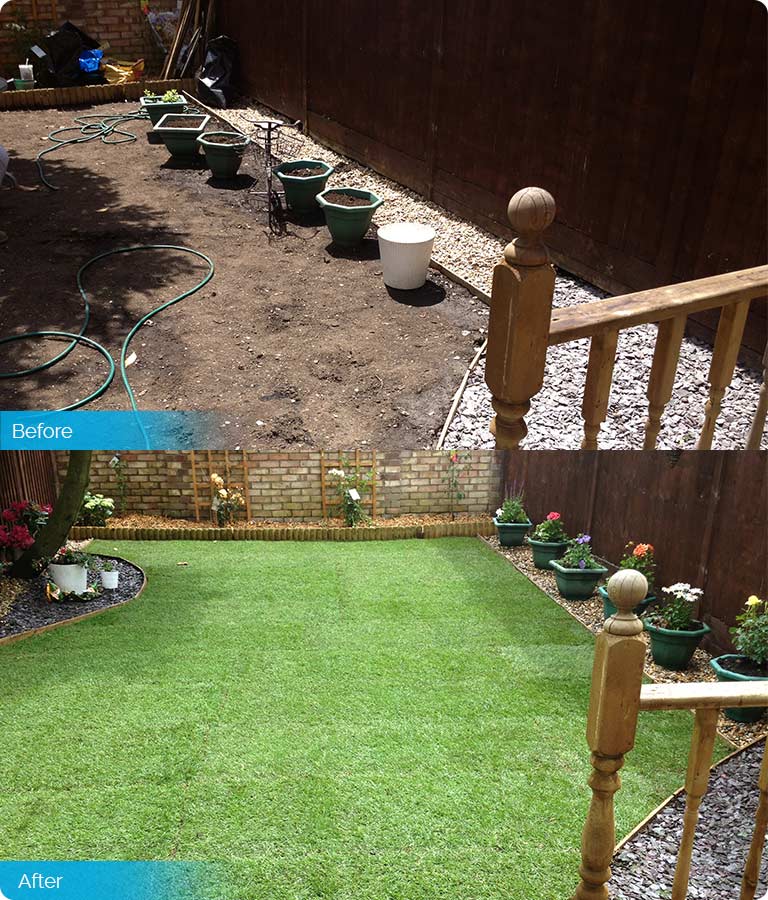 How we install artificial grass
Artificial grass is very appropriate for people who don't have the physical ability to mow, weed and take general care of their lawns. It is also a great low-maintenance solution for rental properties. Or for people who travel a lot during the year, but want to have a nice-looking garden when they come back home in London. This is how the installation process goes:
The artificial turf laying also starts with site clearance. All unwanted vegetation, rocks and other objects will be removed.
The area will then be levelled properly, by digging out or adding soil, and compacting it afterwards.
A layer of heavy duty anti-weed membrane will be installed to block weeds from growing through the fake turf.
A frame of joist will be installed for stability, after which it will be filled with sharp sand.
The artificial turf will be installed with adhesive, which can differ depending on the type of fake turf used. The adhesive is used to keep the lawn at its place. The experts may also need to brush silica sand on top of the artificial turf, but they will advise you on that during the survey.
Artificial turf can be laid on all kinds of surfaces. It is perfect for balconies, rooftop gardens, cafes, offices, playgrounds and for domestic properties. It is very pet-friendly and doesn't get damaged by the pets.
Just like real turf, artificial grass also has different varieties. The surveyor will advise you which one is best for your property during the viewing.
Frequently Asked Questions
Q: How do I go about changing my appointment?

A: You can make changes to your bookings easily through your Fantastic account. Create one at your convenience and manage your services in one place.

Q: How often should I water my lawn after the turfing?

A: Every customer of ours, who gets a new lawn laid or an old lawn re-turfed, receives a free maintenance plan, which depends on the type of turf.

Q: When is the best time of the year to lay a new lawn?

A: If you intend on real turf laying, then the best time to do it is between mid-autumn and late winter. The soil shouldn't be too wet, nor frosty.

Q: Can you work with customer's materials?

A: Yes, we can. You can supply your own materials. But, in case, you want us to buy and deliver the materials, we require a deposit of 50% of the prices 5 days prior to the service. For jobs over £5000 we require another 25% of the final prices on the first day of the service.
Q: If my garden is not perfectly levelled, can you guys do it?

A: Yes, we can. We offer all kinds of soil preparation services, such as rotovating, excavating soil and leveling. You can discuss all of these with the landscaping surveyor when onsite.

Q: Does artificial grass drain like real grass?

A: Yes, it does. It is absolutely porous on the backside and liquids can pass through it.

Q: Can you lay artificial grass on soil?

A: Yes, we can. Artificial grass laying can be done on any surface. You shouldn't worry about weeds growing in between the layers, either, as astroturf fitters always lay heavy-duty anti-weed membrane beneath the grass.

Q: How much does turfing cost?

A: The cost of your turfing project depends on the materials used and on the work load needed. Turfing prices are charged per project, no matter if you want real turf or artificial grass.

Q: Can I combine the laying of my new lawn with another service?

A: Yes, you can book turfing together with any ot the other garden maintenance and landscaping services we offer.

Q: Do you offer any lawn maintenance services for new lawns?

A: Yes, we do. We offer lawn mowing, lawn aeration, lawn scarification, as well as top-dressing, re-seeding, fertilizing and other treatments. You can also have an year-round maintenance plan prepared for your newly laid lawn.
Get a new lawn with a professional turfing service in your area!
Whether it's artifical or real turf, the professionals at Fantastic service will help you get the lawn of your dreams. Below you'll find where you can book our lawn laying service:
Barking and Dagenham
Barnet
Camden
Central London
East London
Greenwich
Hackney
Hammersmith and Fulham
Islington
Kensington and Chelsea
Lambeth
Lewisham
North London
South London
Southwark
West London
View all areas