Professional garden planting services in London
Get your all-year-round planting plan
Enjoy beautiful colours even in winter
Offering planting schemes even for the smallest of gardens
Sourcing all necessary plants, materials, and equipment
Various planting containers and bespoke window boxes available
Why do you need an all-year-round planting plan?
Why limit yourself to one planting design when you can enjoy а wide variety of colours and textures during all seasons? Here is what we offer:
A garden planting scheme which will feature variable plants and colours depending on the season. We can arrive to execute the scheme when the time comes.
A garden design which won't require us to come and plant different floral species every season. We can make a plan which will keep your garden green and colourful all year round.
No matter if you choose option one or two, we will take the time to come and discuss your ideas prior to creating the plan itself. For a complete and finished garden look, you may want your grass professionally mowed, as well. Well-trimmed lawn and colourful healthy plants always make a stunning first impression.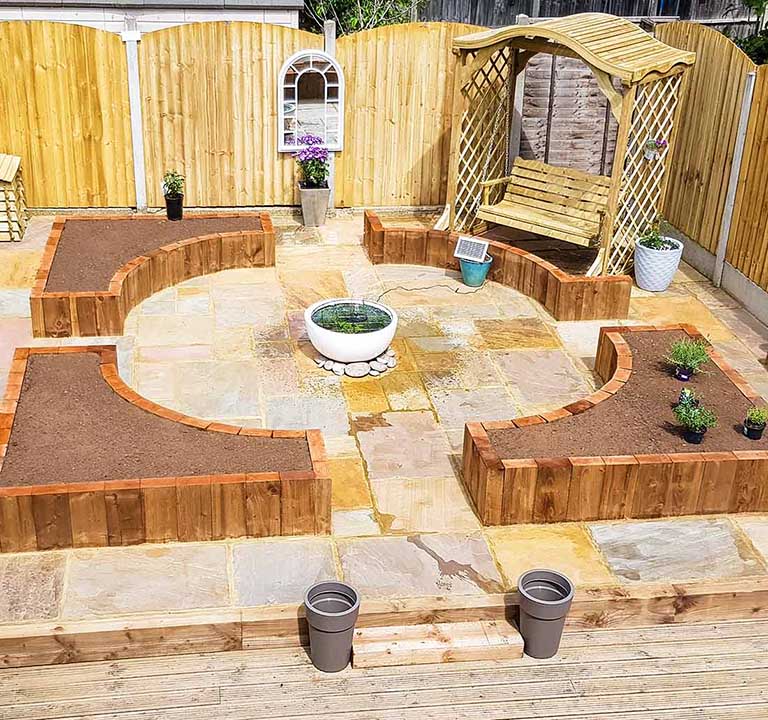 What can a garden planting project include besides plants?
Exterior planting doesn't have to be done in your garden only. We offer lots of other opportunities to greenify and add more colour to your yard, terrace or balcony, no matter how big it is. Here are some of the planting solutions we can help you with:
Building raised beds and all kinds of flower bed designs;
Container planting, including window boxes. We offer bespoke window boxes, too
Rooftop garden designs and terrace designs. We can help you with various planting schemes for your patios, decking, house facades, offices, cafes and more;
Landscape and planting designs for small and big gardens;
No project is too big or too small. We will lend you a hand even if you only need help with a few plants, or require a bush or a tree to be planted.
Note: Planting is our most booked service as it can be combined with every other garden maintenance and landscaping service we offer. And since every property needs a little bit of colour, it's suitable for everyone: homeowners, tenants, landlords and commercial venues.
Frequently Asked Questions
Q: Can I make alterations to my booking?

A: Absolutely. Cancel or change your appointment when you create your Fantastic account. It's the easiest way to manage all your services with us in one place.

Q: I don't want a whole planting plan since I only need to plant a few flowers and garden maintenance. Can you help me out?

A: Yes, we can. We do offer garden maintenance as a service, which is often combined by our customers with the planting projects they have ordered.

Q: Can you supply the plants for me?

A: Yes, we can. We can buy the plants for you, deliver them on site, and plant them in your garden. However, it is important that you send us a list of the exact types of plants and planters that you want us to use.

Q: How much does garden planting cost?

A: Every planting project is unique, with different plants and materials used in different quantities. In most cases, we can give you a quote based on your photos. However, you also need to tell us exactly what plant type and size you want, and whether you want any planters. Please note that, for bigger projects and planting schemes, we can only give you an estimate after a landscaping surveyor visits your property and evaluates the work that needs to be done.
Q: When is the best time to start planting flowers?

A: It all depends on the flowers you want to plant. Nevertheless, we always advise our customers to plan their planting projects in the spring so that, when the summer comes, they can enjoy their time out in the garden even more. However, there are floral species which can bloom and decorate your garden in the winter, too.

Q: Can you plant hedges?

A: Yes, we can plant a hedge, if that is what you need.

Q: Do you do indoor planting?

A: Yes, we do. Please contact us to learn more about the indoor planting service.

Q: Can you install and plant hanging baskets?

A: Yes, we can. We get requests for planting hanging baskets quite often. They are a good solution for smaller gardens, but can also be attached to sheds, fences and other garden features.
Areas where you can book our planting services:
Camden
Central London
East London
Greenwich
Hackney
Hammersmith and Fulham
Islington
Kensington and Chelsea
Lambeth
Lewisham
North London
South London
Southwark
West London
View all areas