Professional lawn mowing service in London based on your lawn's needs
We'll make your lawn neat and presentable by focusing on the smallest detail!
One-off and regular lawn mowing sessions available
Hourly-based service with two gardeners for maximum efficiency
Free disposal for up to 180l of green waste
Petrol-powered equipment and tools are provided
The easiest way to find a lawn mowing company in London
1.

Book your lawn mowing service online

Use our online booking form or GoFantastic app to schedule an appointment

2.

The gardeners will arrive on the scheduled day

The gardeners will arrive at the appointed time and will trim your grass according to the lawn's condition.

3.

Enjoy your precisely mowed lawn

The view and smell of a perfectly trimmed and neat lawn are some of the most delightful things about owning a lawn.

4.

Opt for regular lawn maintenance

Consult with the gardeners on how often you should have the lawn trimmed and schedule regular appointments.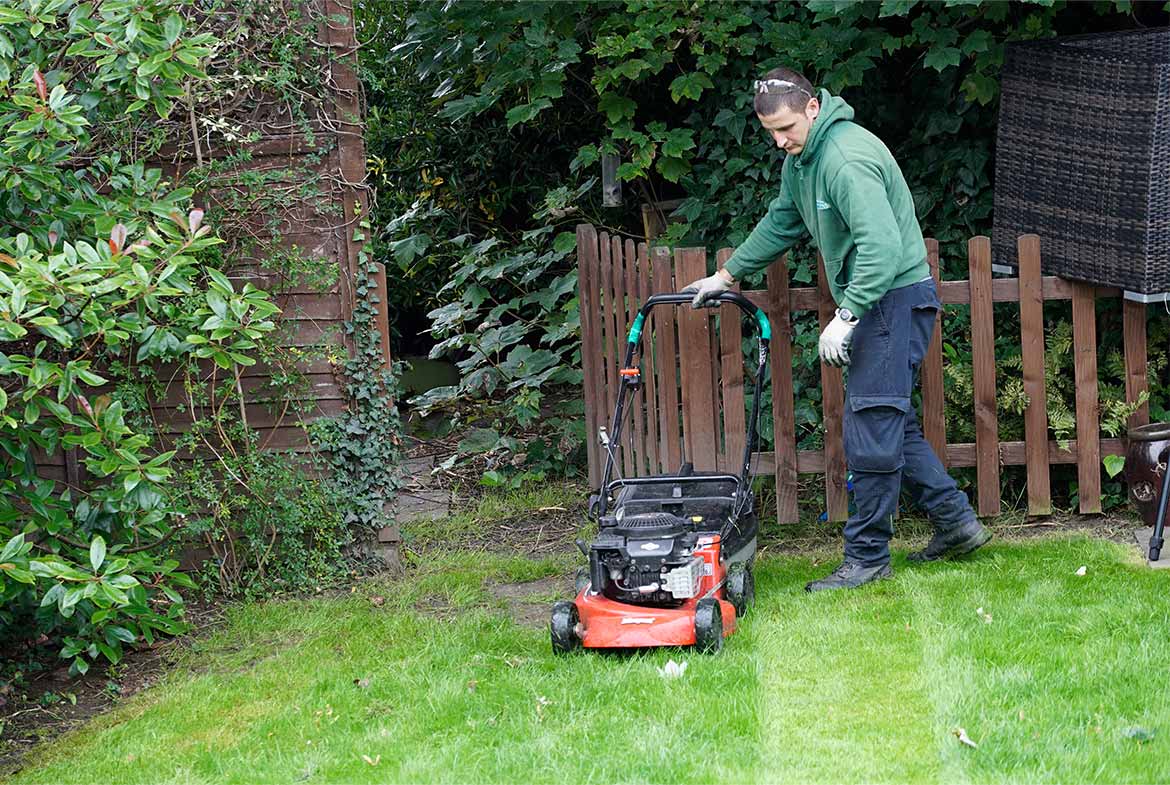 How our lawn mowing service in London is performed?
When the day comes, a team of two professional gardeners will arrive at your property to perform the lawn mowing service and exceed your expectations. Note that the gardeners will need a parking spot near your property, so they can unload their equipment, which can be very heavy. If you have a side or back gate, the service can be completely contactless.
Your grass mowing service will be performed by using petrol-powered equipment, so there is no need for you to provide the gardeners with access to electricity.
Lawn care experts will determine the grass type and evaluate its height and condition. Based on these factors, they'll get to know your grass's growing habits and decide on at what height to mow. Of course, if you have any grass height preferences, the gardeners will keep them in mind, as well.
Once all grass trimming requirements are specified and all the details are cleared, the gardeners will proceed to the actual lawn mowing service. There is a specific cut direction, which the gardeners will follow strictly and work back and forth across the lawn in stripes by overlapping them slightly.
What to keep in mind before the lawn cutting service?
For the best results from our lawn mowing service, we recommend:
Clear the area from anything that can deter the gardeners from working efficiently. These can be items, such as children's toys, various objects, and furniture. Consider removing, especially, damaging objects, such as hidden bricks/rocks. Otherwise, the gardeners will waste valuable time in clearing the area instead of mowing your lawn.
The noise from the mowing machinery can be loud, so if you have pets or toddlers, make sure to keep them at a safe distance.
Also, please make sure there is no pet faecal matter before the lawn mowing service, which can also hinder the gardeners' ability to mow your lawn properly.
To have a fully contactless service, please leave detailed information during the booking process and leave the side or back gate open, so the gardeners do not bother you.
Why hire a professional lawn mowing company in London?
Whether you want to have a family gathering in your garden or just a nice space for your free time, your lawn should look presentable and welcoming. But a perfectly trimmed lawn requires some specific skills and can be very time-consuming. That's why we recommend that you hire a lawn mowing company that will maintain your lawn on a regular basis and you'll get:
More free time for your family and friends;
Healthy-looking and lush green lawn with no dry patches;
Professionals, who know how much exactly to trim your lawn without damaging the grass;
Trimming your grass to the appropriate height preventing soil compaction and pest susceptibility;
Experienced gardeners, equipped with professional and high-end machinery;
Taking care of the green waste, generated during the lawn mowing service and arranging its disposal.
Professional advice on how to maintain your lawn and prevent diseases and pests;
Sending a team of two lawn care experts for maximum efficiency;
Option to combine your lawn mowing service with other gardening services from our portfolio and this way, save your time and effort.
Frequently Asked Questions
Q: My lawn is a bit overgrown. How long will the service take?

A: Worry not! We can tackle even the most neglected lawns and easily assess the work involved. Just get in touch with us and we'll give you an estimate reflecting the effort the job involves.

Q: My lawn looks patchy, can you fix it?

A: Yes, we can. Book a service and we'll take care. We do provide re-seeding, too.

Q: When should the last grass cut of the year take place in the UK?

A: That depends on the weather, but generally, the last cut of the grass should be in late November or the beginning of December. Note, however, that the ground shouldn't be too wet or frozen.

Q: When should be the first grass cut of the year in the UK?

A: When the temperatures reach 5 degrees Celsius and the grass's height is around 2.5 inches (6+ cm).
Q: Can you perform a lawn mowing service when it's raining?

A: Yes we can, but it's not recommended, as this can damage your lawn.
Book your lawn mowing service in London today!