Resin bound and resin bonded surfacing services
Get a stylish, low-maintenance driveway or patio
Even, stylish and long-lasting surface
Choose from a variety of colours
Durable, porous surface appropriate for driveways and patios
Experienced and insured technicians
Get a new resin driveway in 4 simple steps
1.
Contact us and schedule a survey.
2.
Meet the surveyor and discuss your needs with him.
3.
Receive your quote and schedule the resin bonding service.
4.
Have your new resin driveway or patio laid just the way you want.
How is resin bound paving laid?
Resin bound surfaces are a great choice for driveways and high traffic areas. The best about them is that they are extremely low-maintenance and porous. They allow water to pass through. Here is how a resin bound gravel driveway is laid:
As with every other landscaping service, the area is first prepared. This is the hardest part of the resin bound service as the job may include excavating, concreting, tarmacing, environmentally friendly disposal of unwanted materials, pressure washing, removal of existing paving, etc.;
The landscapers then mix the aggregate, usually gravel, with the resin;
The mixture is laid on small portions and spread with a trowel or a spazzle.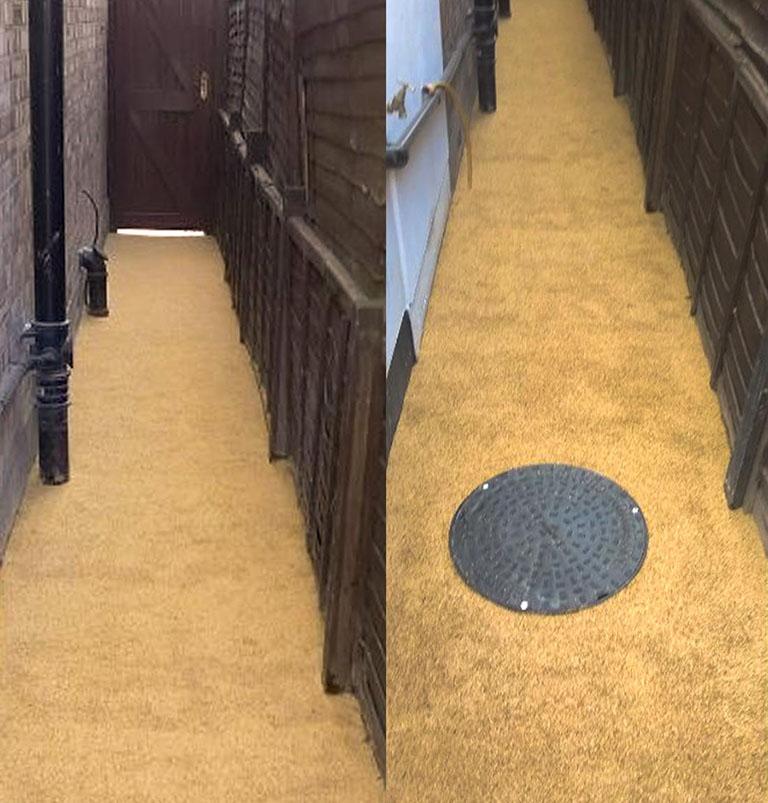 How is resin bonded gravel laid?
Although they sound like the same type of surface, there is a significant difference between resin bonded and resin bound surfaces. While resin bound gravel is porous, resin bonded doesn't let any liquids pass through. The process of laying is also quite different:
Тhe area gets prepared for the service. The above-mentioned preparation works might be needed for such jobs, too.

What is more important, though, is that the area has to be well-broomed from loose gravel and excess dirt.

It is then covered with a substrate, which blocks any remaining dust particles from interfering.
While the substrate is drying, the landscaping technicians mix resin and hardener together. After that, they apply small amounts of the mixture and spread gravel on top of it. As you can see for yourself, this surfacing process differs a lot from the resin bound methodology.
After the whole area is covered with gravel, the technicians will broom it carefully one last time to remove any loose bits of gravel.
The resin bonded gravel is mostly appropriate for pedestrian areas and for commercial environments. This is the case due to its rough surface that gives shoes a very good grip. Unlike resin-bound gravel, however, It is not as appropriate for driveways and patios. Avoid it as a patio surface if you have children, too, as falling on it can be painful. As time passes, loose bits of gravel may start to appear.
Frequently Asked Questions
Q: How can I change an already booked service if something comes up? Who do I need to contact?

A: What we can advise you to do is to create a personal Fantastic account and make any changes or cancellations yourself.

Q: Do I need a council permit for a resin bound or resin bonded driveway?

A: In most cases, you won't need a permit for a permeable driveway. However, some restrictions may apply in some areas, so make sure to check in with your local council.

Q: How much does a resin bonded or resin bound driveway cost?

A: The price of resin bound and resin bonded driveways depends on the amount of work that needs to be done, and on the quantity of the materials.

Q: Why do resin bound surfaces allow for good drainage?

A: In resin bound mixtures, the resin is mixed with gravel prior to laying. This way, every gravel bit gets covered with resin, which allows them to stick to each other when laid. However, it is the micro gaps that remain between the gravel bits that allow for liquids to drain.
Q: On top of what base can resin bound surfaces be laid?

A: Practically any monolithic base, such as mortar, tarmac, or asphalt is good for a resin driveway base, as long as the surface is even. However, in order to achieve the best possible result, your old base may have to be demolished and rebuilt again from scratch.

Q: How long after installation can I walk or drive on the resin surface?

A: You can start walking after approximately 6 hours, and drive after 16 hours. Please keep in mind, that during colder months, your new surface may need more time to dry.

Q: How long does a resin bound paving last?

A: A resin bound driveway may last between 15 to 20 years.
Small amount of the areas where you can book our service:
Camden
Central London
East London
Greenwich
Hackney
Hammersmith and Fulham
Islington
Kensington and Chelsea
Lambeth
Lewisham
North London
South London
Southwark
West London
View all areas