Professional Lawn Scarification Service in London
Let us remove the troublesome thatch and encourage a thicker and healthier lawn.
All the necessary tools are provided
Hourly-based and contactless service
Free disposal of up to 180l of thatch and moss
Team of two gardeners for maximum efficiency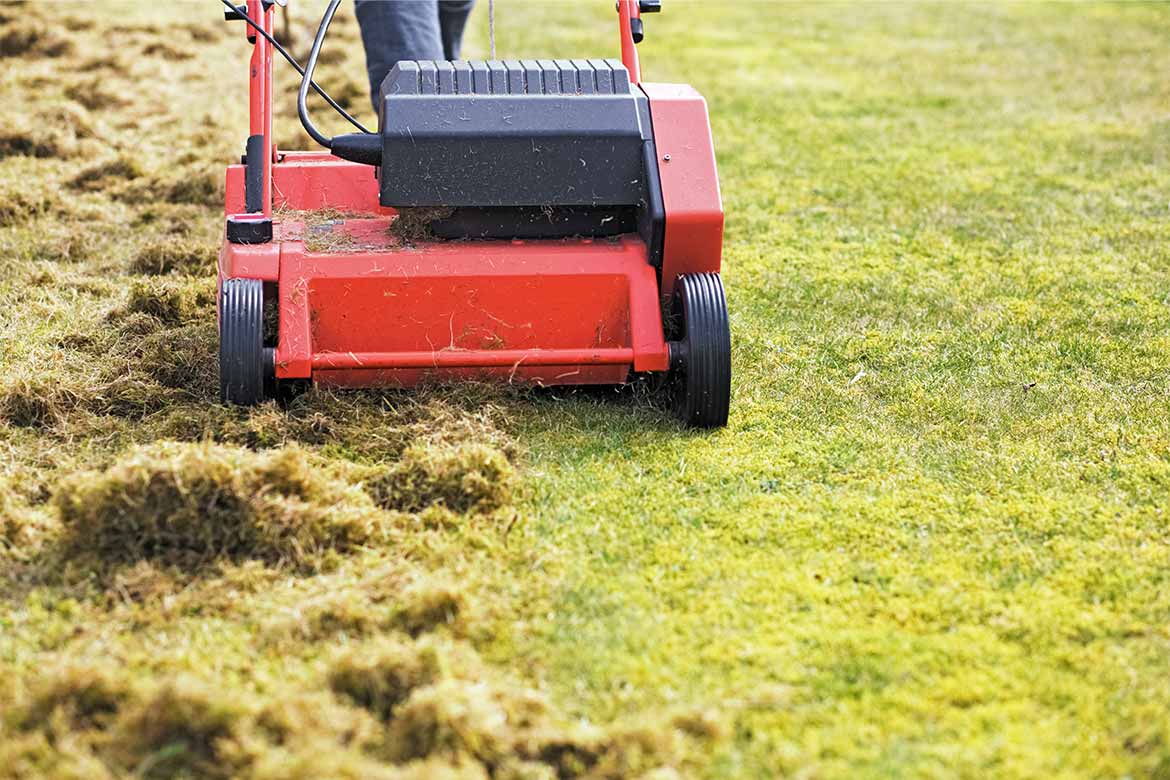 How our lawn scarification service in London is performed?
On the scheduled day, a team of two professional gardeners will arrive equipped with professional lawn scarifying machines suitable for the size of your lawn.
They'll decide which lawn scarification method to follow - heavy or light.
The heavy lawn scarification method can be performed in Autumn since the light one is recommended in Spring.
If the gardeners are about to go with the first method, they'll scarify your lawn several times at right angles to ensure that all the thatch and moss are out. In Spring, gardeners will scarify with a single pass, because the recovery of your lawn will take longer.
Since scarification generates a lot of green waste, the gardeners will clear up your lawn and even take care of its disposal upon request.
Note that it is recommended that your lawn is freshly mowed before the scarification service, so we can get more thatch out of the lawn. With us, you can get your lawn mowed and scarified on the same day.
What time of the year should I book a lawn scarification service?
If your lawn suffers from moss and thatch, then it needs good scarification to give the grass space to grow. But since scarification is an invasive process for the lawn, we scarify only when the grass is actively growing and when the weather is favourable.
Sometimes light scarification in summer days (during good growing conditions) can be very beneficial for your lawn, but undoubtedly Springtime is the best time to get your grass lightly scarified. Autumn lawn scarification is also recommended, as in this season the grass recovers quickly. Autumn scarification is usually heavy with a few passes through the lawn, in different directions.
Bear in mind that your lawn can look a bit patchy after the scarification service and we give our customers 8-12 week's recovery time. Just water your lawn regularly and after some time passes it will be healthier and lusher than ever.
To get even better results, we also recommend that you overseed and top-dress your lawn after the scarification.
Why choose us for your lawn scarification service in London?
You'll get a second-to-none service done by fully trained and experienced gardeners.
The gardeners will arrive equipped with the right tools and professional pedestrian scarifiers.
We always send a team of two gardeners for maximum efficiency.
The experts will be happy to advise you on your lawn's further maintenance.
You can combine your lawn scarification service with other lawn care services, be it lawn mowing, top-dressing or overseeding.
Your lawn's susceptibility to diseases and pests will be reduced to a minimum.
There will be no traces of thatch, moss or weeds, but only a thriving lawn with improved nutrients and water absorption.
Frequently Asked Questions
Q: Can I book lawn scarification during winter?

A: We usually don't do scarification in winter because winter conditions can damage your lawn if scarification is performed.

Q: Are lawn raking and scarification the same thing?

A: No, raking is carried out by using a small raking machine and can deal only with the moss. Scarification is done by using a manual or motorised machine with flails, usually made of steel. It's a rather invasive treatment to the lawn, hence the need of a recovery time. Using a scarifier helps eliminate the reason behind moss build-up, namely thatch.

Q: When can I book lawn scarification service with you?

A: You can book the lawn scarification service all-year round, but we usually carry this work during the out-of-season period (late autumn and early spring). This will allow your lawn to recover and be green for the active outdoor season.

Q: Do you collect the thatch after the service?

A: Upon request, we can clear your lawn and put the thatch onto your compost heap. We can also dispose of up to 180l of thatch for free. More waste can be removed for an extra fee.
Want a healthy lawn all year round? Book your lawn scarification service in London now!