Professional stump removal and grinding in London
Get unsightly stumps off your property with the help of the experts
Getting rid of stumps leads to fewer pest infestations
Improves your garden aesthetics and prevents the growth of a new tree
All professional equipment is included in the price
Local vetted and experienced tree surgeons

Price for Fantastic Club members starts from £69 instead of £99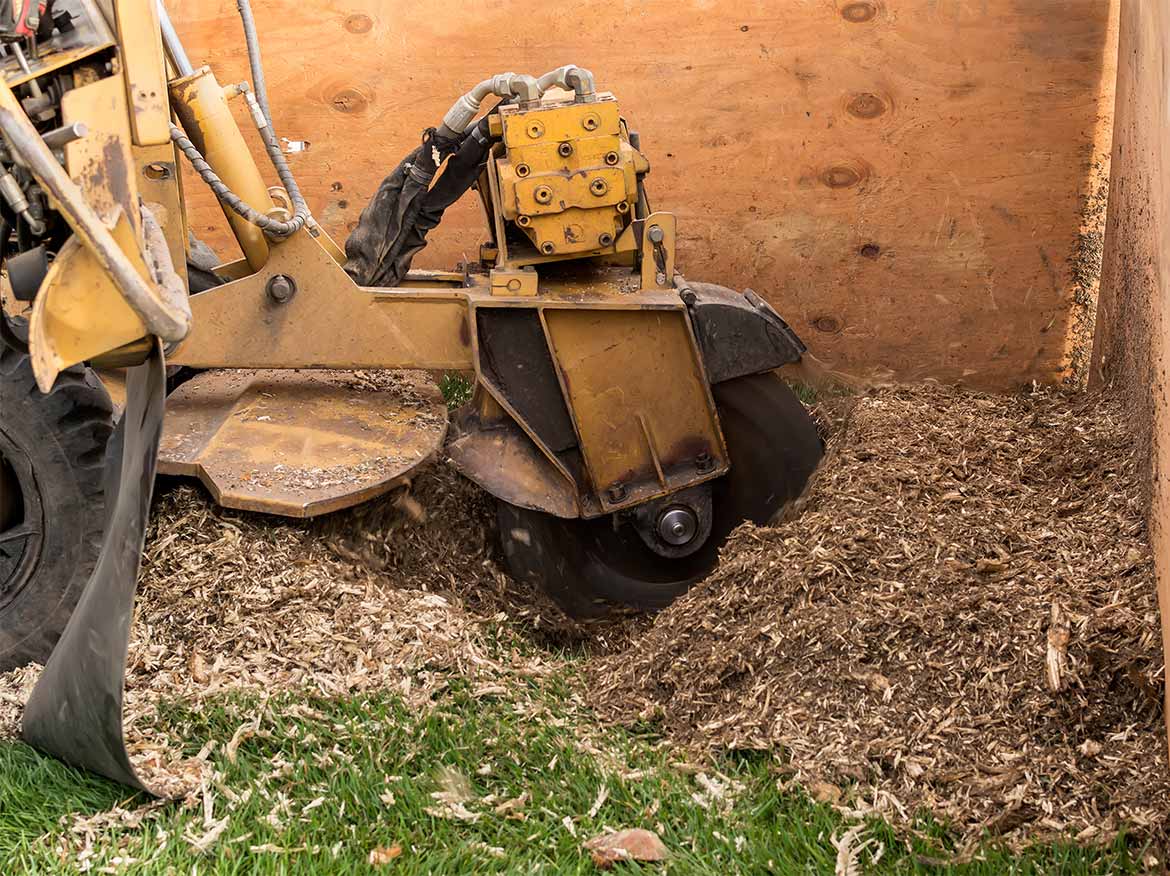 What does our tree stump removal and grinding service in London include?
We work with local expert tree surgeons in London and other cities, as well. With the use of modern equipment, the teams can cut and remove any size of stumps from your property. All teams use petrol-powered grinders, which can be used for stumps both above and below the ground. The machine cuts the wood into sawdust, which makes removing it extremely easy.
What is more, our tree stump removal service includes disposal of up to 180l of sawdust for free. We charge extra for any additional waste but rest assured that this amount is exceeded on very rare occasions.
The removal continues until the stump is completely gone. Also, keep in mind that this service is performed with minimal to no ground disturbance. Nearby trees, shrubs, and flowers won't be affected by the procedure.
Why and when you should remove a tree stump
The stump grinding and removal service can be performed at any time, it isn't limited to a particular season. You can book our service at any convenient time for you and we can remove it as soon as you wish.
Generally, we recommend that you do not leave tree stumps around for long. Whether you just moved into a new house and there were stumps in the garden already, or you've recently had a tree felling service and the stump is the only thing left, you should get it removed as soon as possible.
There are several reasons why you should hurry to get rid of tree stumps:
You, your children, and your guests can trip over small stumps in your garden.
Bigger tree stumps are unsightly and ruin the aesthetics of your garden.
A tree stump can lead to new tree growth in a place where you don't want a tree.
If the removed tree had a disease, the stump can be the reason it spreads to other trees and plants in your garden.
Tree stumps attract pests, such as woodworm and ants.
Common questions and answers about the service
Q: Can a tree grow back after the stump is ground out?

A: Usually, no. Most tree species do not re-grow after the stump has been removed. However, there are some more resilient species that do come back. If that's the case, we can always return to excavate the stump whenever you wish.

Q: Do you remove the whole stump?

A: Yes, we do. All teams have the necessary equipment to unearth the stump and its root system to remove it entirely.

Q: Can you also grind roots from the surface?

A: Yes, we can. Removing the roots above the ground eliminates any tripping hazards, so you can rest assured they will be gone, too.

Q: Is it possible to plant a new tree on the location of the removed stump?

A: There's no reason why that wouldn't be possible. You can plant anything you like in the stump's place.
Q: How long does a stump grinding and removal service take?

A: It depends on the size of the stump and whether we remove the roots as well. Smaller stumps can take up to 15 minutes to remove fully, while larger ones can take up to a couple of hours.

Q: Do you leave a big hole when you're done?

A: The tree surgeons will fill the whole with chips and other dirt before leaving your property.

Q: Do you remove the debris and waste from stump grinding?

A: We dispose of up to 180l of the sawdust from the stump for free. Any other debris and waste that are caused during the process can be removed by the team per your request at an additional charge.

Q: Can you leave the mulch produced by the stump grinding so I can use it?

A: Of course we can. Inform us or the team beforehand that you want them to leave the wood chips and debris behind. The mulch can work wonders in your flower or vegetable garden.

Q: Does the service cause any damage to my landscape?

A: Our stump grinding and removal service is done with the utmost care to your property and with minimal disruption. The equipment the technicians use doesn't put much pressure on your lawn and doesn't cause damage to it. The teams can also place special mats on any vulnerable areas.
Some of the areas where we offer stump grinding:
Camden
Central London
East London
Greenwich
Hackney
Hammersmith and Fulham
Islington
Kensington and Chelsea
Lambeth
Lewisham
North London
South London
Southwark
West London
View all areas