Professional Ivy trimming and removal in London
Our professional arborist will help you get rid of out-of-control ivy on your property!
All equipment is brought on-site
A fully contactless service
Certified, professional arborists, licensed to work at heights
Ivy dIsposal, available upon request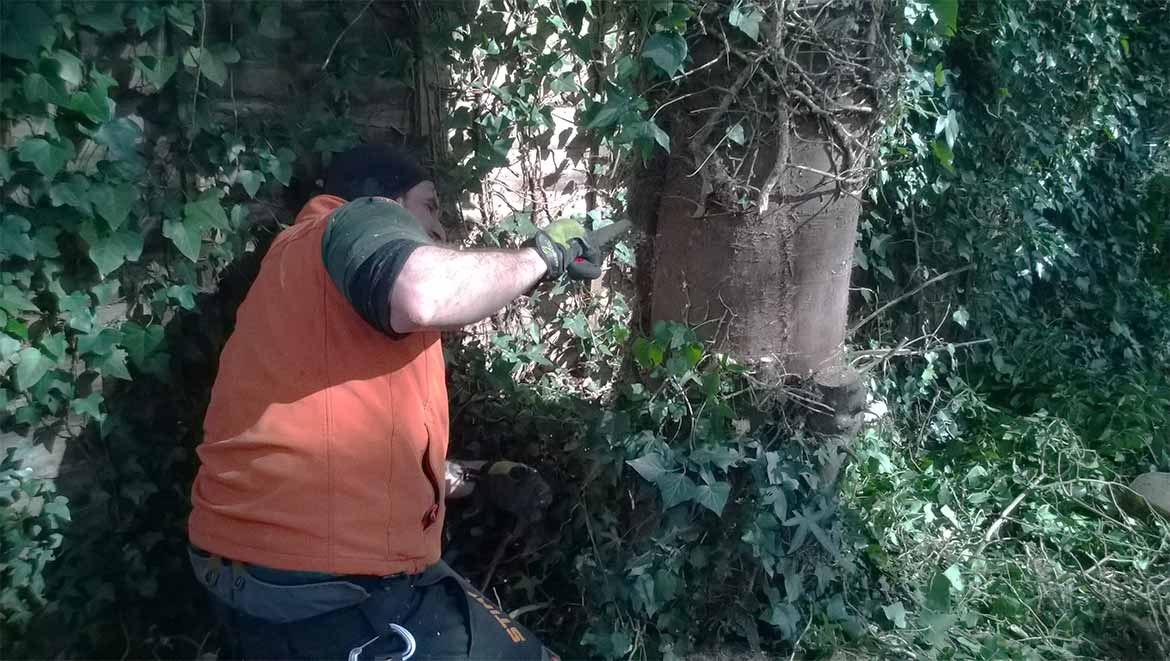 What does the ivy removal аnd trimming service entail?
At Fantastic Services, we know and understand that ivy is an invasive plant that needs special care. You can simply book your ivy trimming services with us or ask us to perform a full ivy removal service. Here's how it works.
The Fantastic Services arborists are certified professionals who are licensed to work at heights. They will come fully equipped and will wear the correct protective clothing in order to protect them from the oil that ivy secretes. The service will begin with a tree surgeon surveying your garden and taking note of all the ivy that needs to go.
If you have poison ivy, we also offer a poison ivy removal service near you. What's more is that we can help with our ivy tree service, too.
Our ivy service also entails complete removal of your climbers or simply a trim.
For trimming, the professional ivy trimming near you service, we send professional arborists over who will carefully prune back your ivy so that it's both aesthetically pleasing and poses fewer dangers.
For ivy removal, our ivy removal service near you will attend to the detachment from the surface on which it's growing and herbicide will be applied to its roots. This is done to make sure that the plant won't re-emerge. The removed ivy is packed up in two 90l black bin bags and disposed of legally.
Problems Ivy can cause
Ivy is an invasive, woody plant that is considered a climber. It has aerial roots that grow along its stems, which means that they climb upwards and outwards. Its tendrils, or roots, cling tightly to fences and walls. When it comes to ivy removal, these tendrils are left behind, creating a rather unsightly mess.
Some of the problems that ivy can make include that it:
Strangles other trees and plants
Provides a natural habitat for pests such as bugs and rodents
Damages wooden structures such as window frames and doors
Causes brickwork discolouration and damage to cement beds and joints
Compromises weatherproofing by lifting roof tiles
Can cause an allergic reaction on contact
Rendering becomes weak, cracks and sometimes falls off
The Fantastic Services professionals can help with complete ivy removal in London as well as ivy trimming in London. The experts can remove ivy from buildings, trees as well as plants. Problem areas are identified and the best methods are employed to remove the ivy or simply for ivy trimming.
Why choose us for your ivy-related problems?
Whether you have a residential or commercial property, the Fantastic Services arborists are professionals at what they do. Providing ivy trimming services in London for a number of years, our team of professionals is conversant with ivy and understands the process of removing it permanently. Whether you are seeking ivy removal services or ivy trimming, our specialists will provide you with an excellent service.
We also understand the damage that ivy can cause. This is why we not only remove ivy, but can also repair any damage caused by overgrown ivy on places such as fences, roofs as well as brickwork. All the removed ivy is collected and disposed of properly, leaving your property looking great again!
Frequently Asked Questions
Q: How often should my ivy be trimmed?

A: Pruning or trimming will depend on the growth of your ivy. It may need to be done every other year or as often as once a year.

Q: When is the best time of year to cut my ivy back?

A: It will ultimately depend on your needs. If you wish to stimulate new growth, then pruning in late winter or early spring is the best time.

Q: Does the ivy service include mowing over ivy?

A: Although mowing over ivy is possible, it is not a service that we offer.

Q: What other gardening jobs can I combine ivy trimming with?

A: Absolutely! Some of the gardening services that you can combine ivy trimming with include lawn mowing, hedge and bush trimming and anything else that needs attention in your garden.
Some of the areas where we offer ivy trimming and removal services:
Camden
Central London
East London
Greenwich
Hackney
Hammersmith and Fulham
Islington
Kensington and Chelsea
Lambeth
Lewisham
North London
South London
Southwark
West London
View all areas