Shed installation and repair services in London
Get a new place to store your belongings in or a small hobby house
Wide variety of shed models and materials available
Removal of your old shed can be done, if needed
Delivery of your chosen shed available upon request
Extensive shed repairs, including the roof
Have your new shed installed in 4 steps
1.
Pick a shed model in the store and call us to request a viewing.
2.
Discuss your idea with the surveyor on site.
3.
Receive your quote and schedule your shed erection service.
4.
We will deliver and install your new shed in line with your requirements.
How does our shed installation service work?
Our shed installation service is for people who have a lot of items in their garden and wonder where to store them. With a little bit of imagination, a shed can also become a cosy tea house or a place to practice your interesting hobbies. It is a great garden feature, and gives a very traditional British look to a garden. Here's how the installation process usually goes:
The service begins by clearing the area for the new shed. If there is an old shed, the landscapers can demolish and remove it, but it has to be empty of any belongings. They will remove any unwanted vegetation, too.
The area designated for the shed will be compacted and a base will be laid depending on the type of shed you've chosen. If you already have a suitable base in place, the landscapers will evaluate its condition and tell you if it's good to use during the survey.
The last step is the assembly of your new shed. The technicians will erect the shed and attach it to the base. And that's it!
If you want the shed painted, stained, or oiled, we can help you out with that, too.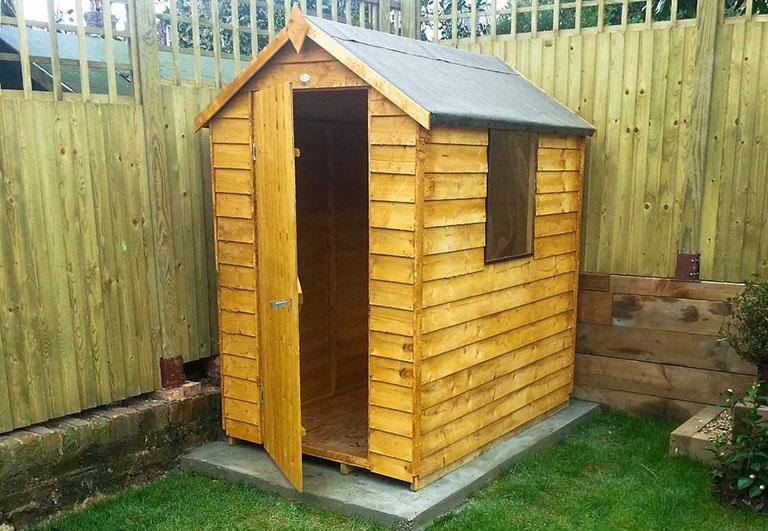 Shed repairs we can help you with
If your existing shed has rotten elements that need to be replaced, a broken window, or a leaking roof, you don't have to change the whole shed – you can get it repaired instead. Here's a short list of the shed repairs we can do:
Shed roof repair – no matter if the job requires roof felting or something else, we'll take care;
Replacing old rotten boards and/or planks;
Fixing broken windows or rotten window frames;
We can renovate your old shed and turn it into a hobby house. Or we can just sand, paint, or stain your old shed to restore its shining appearance.
We can also attach hanging baskets or other decorative features to your new or already existing shed.
Frequently Asked Questions
Q: Can you help me change my shed installation service for another day?

A: To save time, it's best if you create a Fantastic account with us and manage all your appointments yourself, whenever you need to.

Q: What should the base of a storage shed be made of?

A: It all depends on the type of shed you pick, and on the softness of the soil in your garden. There are different solutions with concrete, paving slabs, wood, or eze base. You can discuss them with the surveyor once he arrives on site.

Q: Do I have to maintain or treat my shed every year?

A: Yes, it is preferable to take regular annual care for your shed. You will preserve the wood in a good condition for a longer period of time and will prevent it from rotting. We do offer such services as well, so in case you need any, just get in touch.

Q: How much does building a shed cost?

A: The shed installation price will strongly depend on your project – how big and what type/from what material you want your shed to be, do we need to build a new base and, if so, what type of base, should we demolish an old shed, etc. You will be provided with a detailed quote after our extensive on-site survey.
Q: Is the wooden shed material treated?

A: Manufacturers usually treat the wood prior to measuring and cutting it for shed parts. So, yes, it is treated.
Some of the areas where you can book our shed installation service:
Camden
Central London
East London
Greenwich
Hackney
Hammersmith and Fulham
Islington
Kensington and Chelsea
Lambeth
Lewisham
North London
South London
Southwark
West London
View all areas