Professional paving services in London
Have your new patio laid by experienced paving experts
Hassle-free service – from clearance to pointing
Delivery of all needed materials can be arranged
Bespoke work done by experienced paving experts
We work with a variety of paving slabs, including Indian sandstone
Have your new paving area laid in 4 easy steps
1.
Contact us to schedule a viewing.
2.
Meet the surveyor and discuss your project.
3.
Receive your quote and book the paving service.
4.
Meet the experts and have your patio laid in no time.
How we do the driveway and patio laying
Every paving job is unique of its kind. There are a lot of things that can differ from project to project. That is why we always send a surveyor to your address. Upon arrival, he will take all measurements and discuss your ideas with you. After this process, we will be able to give you a quote and will proceed to perform the paving service. Here are a few key points of our work process:
The first step is to clear and mark the area for the new patio or driveway. The clearance may include removal of old paving, removal of vegetation, soil excavation, etc.
The area is then prepared for laying the base. The landscapers will level it and compact the soil to make it stiff.
A layer of heavy duty anti-weed membrane will then be laid to prevent weeds from growing in between the slabs. We highly recommend this step as it will save you a lot of hassle from future maintenance
A layer of MOT base is laid over the membrane and is well compacted to create an even surface.
When the surface is all even and stiff, the paving slabs are laid. When they dry, the paving experts will wash them and prepare them for pointing. You will be able to enjoy your new patio area as soon as the pointing is over.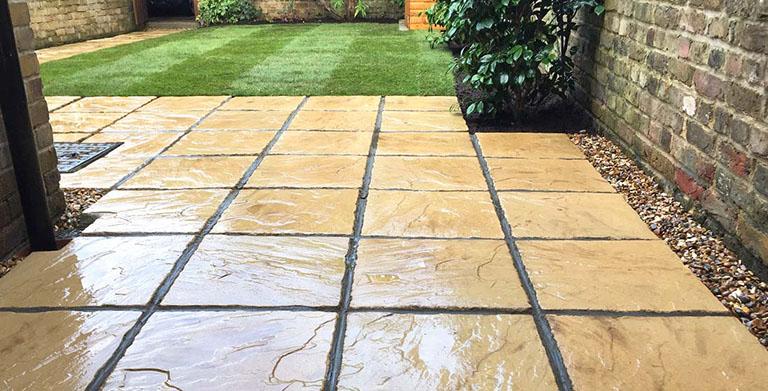 Other paving services we offer
In addition to the laying of paving, we also offer various maintenance and repair services for paved areas. Here is a short list of some of the things we do:
We do all kinds of patio, driveway, and path repairs. We can replace broken slabs or blocks, as well as re-pave damaged areas;
We do re-pointing and re-grouting of old pavings;
We do offer weeding, pressure washing and resin bound surfacing. The pressure washing service is done with water only, no chemicals added, and is extremely efficient at removing dirt.
Frequently Asked Questions
Q: What are the steps to make changes to my booking?

A: The most time-saving way to reschedule or cancel a service with us is to do it through your personal Fantastic account. Register today and login whenever you wish to update your booking.

Q: What type of paving slabs can you work with?

A: We can practically lay all types of pavings, but the most common slabs our customers want are limestone, Indian sandstone, block paving, and bradstone. The paving experts can also lay Victorian paving, if requested.

Q: How should I maintain my new paving area?

A: Patio and driveway maintenance can be easily done with a jet washing machine. We do offer a pressure washing service, which is only done with water under high pressure. We don't recommend the use of bleach and other strong chemicals to remove stains and dirt as this might damage the patterns of your paving and pollute your garden.

Q: Do I need a planning permission for my new patio or driveway?

A: No, you don't need a planning permission, because the materials used for paving are permeable. Even if they are not permeable, the drainage will be directed to a lawn or to another permeable surface instead.
Q: Will weeds grow in between the slabs?

A: As a reputable paving company in London, we always lay a heavy duty anti-weed membrane before we lay the base for the paving. It prevents weeds from growing in between the slabs.
Part of the areas where we offer paving services:
Barking and Dagenham
Barnet
Camden
Central London
East London
Greenwich
Hackney
Hammersmith and Fulham
Islington
Kensington and Chelsea
Lambeth
Lewisham
North London
South London
Southwark
West London
View all areas