Decking installation, repair, and oiling services
Create an outdoor space for your lazy evenings
Using durable, weather-resistant materials
Improving your property's value and style
Oiling and repair of existing deckings available
Garden steps and levels construction available
Install your new decking in 4 simple steps
1.
Book an on-site survey online.
2.
Welcome the surveyor and discuss your decking design ideas.
3.
Receive a detailed quote and schedule your service.
4.
Observe the team as they build your new decking.
Why get a wood decking?
Wood decking comes in two varieties – those made of softwood boards and those made of hardwood boards. The difference between the two is mainly in the tree material used, as well as in the post-installation maintenance. Hardwood decking requires more maintenance than its softwood equivalent. However, they both have similar advantages and your choice will mainly depend on your budget. Here are some of the advantages that a wooden decking offers:
It can be easily repaired or sanded if scratched or damaged in another way;
It is more budget-friendly than composite deckings, if you choose to work with softwood;
It can last between 15 and 30 years, if maintained properly;
It is completely environmentally friendly as it is produced from natural materials;
It has natural feel and traditional look.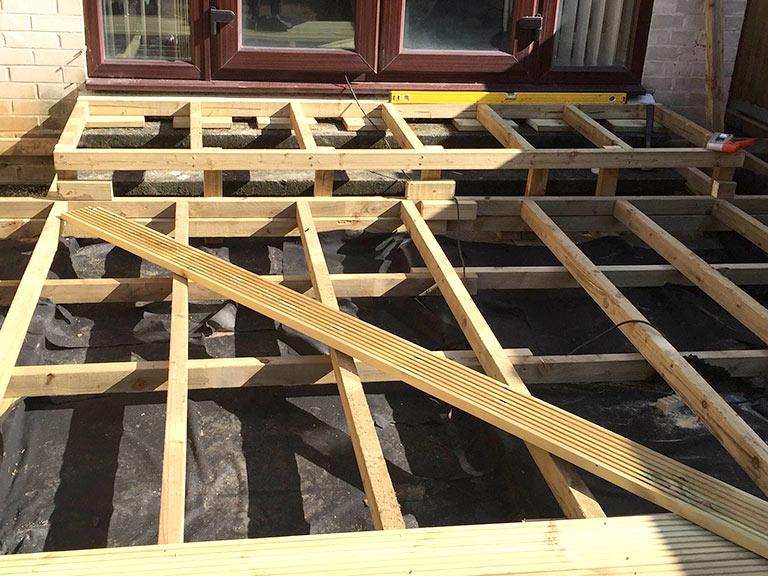 Why get a composite decking?
Composite deckings are usually made from a mixture of plastic and wood particles. The wood particles can be sawdust, wood chippings, or recycled wood bits. Some plastic can also be recycled. Composite decking boards are very popular due to the following benefits they offer:
Low-maintenance material, which only requires regular washing;
Doesn't rot, doesn't grow mould, doesn't need staining or oiling. It's also impervious to moisture;
The surface is not slippery when wet, which makes it very appropriate for families with children;
Lasts between 20 and 30 years if maintained properly;
Composite decking boards are more likely to have the same colour, albeit in slightly different hues.
Frequently Asked Questions
Q: How can I cancel or change the time of my booking?

A: Just log into your Fantastic account and follow the steps. If you haven't got one yet, it'll take you a minute to create.

Q: How long does a decking last?

A: Decking constructions are built from weather-resistant species of wood or composite materials, which ensure a longer lifespan. The minimum life cycle of a decking is around 15 years if maintained properly.

Q: Can you install a decking in a sloping garden?

A: Yes, we can. In fact, the decking is the easiest way to create a patio area on a sloping garden.

Q: Can you install lights in my decking?

A: Yes, we can. Garden lights can be easily embedded into a decking construction. You can choose between various garden light types and designs, including LED lights and other energy-saving solutions.
Q: Can you install a hot tub on my deck?

A: Yes, we can. We have done such projects already and can readily help you out with yours.

Q: Can you install a balustrade, parapet, pergola or another wooden construction to my decking?

A: Yes, we can. We can build all kinds of wooden steps, pergolas, arbours, balustrades, and parapets.

Q: What is composite decking made from?

A: Composite decking boards are made from a mix of wood particles and plastic.

Q: Will my decking boards differ in colouration?

A: Colour variations are something normal when it comes to decking boards. All trees are different in colour, and even composite decking boards may come with a different pigmentation.

Q: How much does a decking cost?

A: Every decking project is one of a kind. Therefore, we can't tell you what the price of your decking would be before a landscaper surveys your property.

Q: Do you do decking repairs and re-treatments?

A: Yes, we do all kinds of decking maintenance, including pressure washing, oiling, staining, painting, and sanding. We can change decking boards, too, if needed.
Part of the areas where we offer decking services:
Barking and Dagenham
Barnet
Camden
Central London
East London
Greenwich
Hackney
Hammersmith and Fulham
Islington
Kensington and Chelsea
Lambeth
Lewisham
North London
South London
Southwark
West London
View all areas