Fence installation and repair services in London
Complete service: quote + delivery + installation
High-quality materials, resistant to weather
Various fence types, boards and posts available
Experienced & reliable landscapers
Fence repair services available, too
4 easy steps to have a new fence erected
2.
Meet the surveyor on-site and tell him what you need
3.
Get a personalised quote
4.
Have a new fence installed or an old one repaired
How to choose the right fence design?
First of all, you should determine the purpose of your fence. Do you want to increase the privacy, the security or the aesthetics for your property? You can choose from a wide variety of fence types. You can discuss your needs with the landscaping surveyor when he is at your property in London, and he will give you a proper piece of advice. Here are some of the most common privacy and decorative fences that we install:
Overlap fences
Closeboard fences
Picket fences
Larchlap fences
Different types of screenings, such as bamboo and more
Variety of trellis designs are also available
Brick fences
The fence installation experts we work with can also install aluminum and wooden gates, and deal with all kinds of wooden constructions for your garden.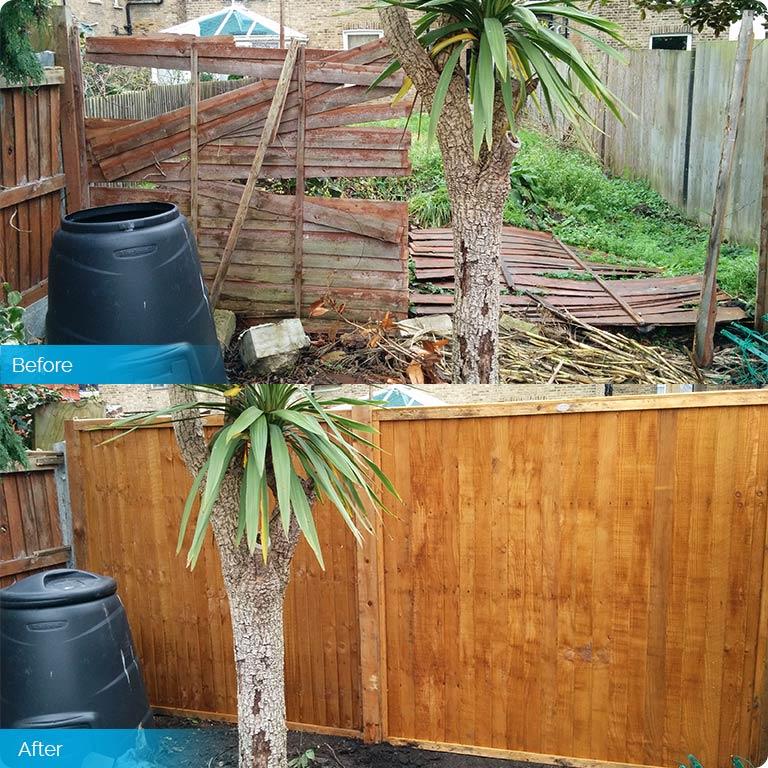 Here is a list with fence repairs we can help you with, too
Most of the times our customers only have parts of their existing fences that need repair. That is why the landscapers have also specialised in this services and are very good at it. They can help you out with the following procedures:
Fence post repairs and replacement, no matter if wooden or concrete
Fence panels repairs and replacement
Wooden gate repairs
Repairs and replacement of old trellis panels
Repairs of arbours, pergolas and other wooden structures in your garden
Staining, oiling and painting
Note: Please contact us via phone or e-mail and prepare photos for any emergency cases, such as fallen fences due to a storm. We might be able to quote over the phone and repair your fence on the same or next day, depending on our availability. We can also perform emergency repairs of sheds and other garden structures.
Frequently Asked Questions
Q: What should I do if I have to reschedule my appointment?

A: Just create your Fantastic account and make the changes you need at your convenience now and whenever you have to in the future.

Q: How high can the fence be without a planning permission?

A: The maximum fence height without planning permission is 2 metres. If you have a trellis on top of your fence, it should not exceed 2 metres again. However, we advise that you check the local planning permissions for your London area.

Q: Who owns the fence between two houses?

A: The ownership and responsibility of a fence depends on which property it was assigned to when the land was parcelled. There is no certain rule that a fence on the left or right is someone's responsibility.

Q: Can I repair a neighbours' fence that is falling into my garden?

A: You can repair it yourself, but only if you have their permission. Otherwise, your attempt to help will be considered trespassing. Another solution is to build a fence, parallel to the broken one, in your property.
Q: How long does it take to put up a fence?

A: Installation times depend on the type of fencing, complexity and quantity of work that has to be done.

Q: How much does fencing cost?

A: The fence installation prices are strictly based on each project's complexity and materials used. You will receive a detailed quote, with the price for fence panels, posts and labour separated, after an on-site survey.

Q: Does staining increase the life of a wood fence?

A: Staining is also called weatherproofing. It protects the fibers in the wood and the natural oils. If you don't stain your wooden fence, it will turn grey with time. All natural oils will get leached out by the sun and rain.

Q: How long should a wooden fence last?

A: Depending on the wood type, your fence should last between 5 to 12 years. We usually use pre-treated fence panels and posts.

Q: Do you have a guarantee for the fence installation and repairs?

A: We don't have a guarantee, apart from the manufacturers guarantee on certain products. However, we are a customer oriented company, and we always act accordingly to resolve any matters up to customers satisfaction. We usually organise an inspection and repair anything caused by faulty installation.
Where can you book professional fence installation and repair by Fantastic Services?
Keep intruders and noisy neighbours away with a new fence. Fantastic Services' staff will help you repair your old fencing or help you install a new one. Just check out where you can book the service and leave the rest to the professionals:
Barking and Dagenham
Barnet
Camden
Central London
East London
Greenwich
Hackney
Hammersmith and Fulham
Islington
Kensington and Chelsea
Lambeth
Lewisham
North London
South London
Southwark
West London
View all areas