Professional light installation & repairs services by a certified local electrician
All ceiling light fittings, socket rewiring and light switch replacement jobs, done with your safety in mind
Certified and qualified electricians near you
All jobs done in compliance with NICEIC regulations
No-hassle online booking within a minute
4 simple steps to your light fittings and fixtures working without fail
1.
Schedule your light installation/repair service online with a few clicks or swipes
2.
A local certified & fully-equipped electrician will arrive on the arranged day
3.
The pro will inspect the task at hand and fix, install or replace your light fitting or socket
4.
Light up your home tonight with your newly fitted or repaired light fixtures and switches
Light fixtures installation and repair prices

As a member of the Fantastic club, you can get £30 OFF for 10 different services within 1 year.
Monday – Friday
Saturday
Sunday

Appointments

8 am - 6 pm

6 pm - 10pm

8 am - 6 pm

8 am - 6 pm

First hour
£98
£116
£116
£134
Subsequent half hours
£46
£55
£55
£64
Daily rate
£528
---
---
---
Join the

Fantastic Club and get:
£300 in credits
Preferential member rates
Domestic cleaning from £13/h
Real-time arrival tracker
Priority booking & case handling
*Minimum time per appointment is 1 hour. After the first hour, we will charge on a half-hour basis.
**In cases where we need to purchase all the materials necessary for the completion of the job, shopping time and material costs will be added separately on the top of your bill. The standard hourly rate for shopping time is £48.
T&Cs and Minimum Charges apply. When we calculate the price, we also take into consideration the area's dimensions and the time of the appointment. All prices and deals are valid for areas within M25. Deals cannot be combined with any other deals and promotions. Prices are subject to availability. Congestion charges are excluded (when applicable).
Please tell us about your needs so we can design a better service for your business and give you an estimate.
Call 020 3746 1062 for a quote or contact us here.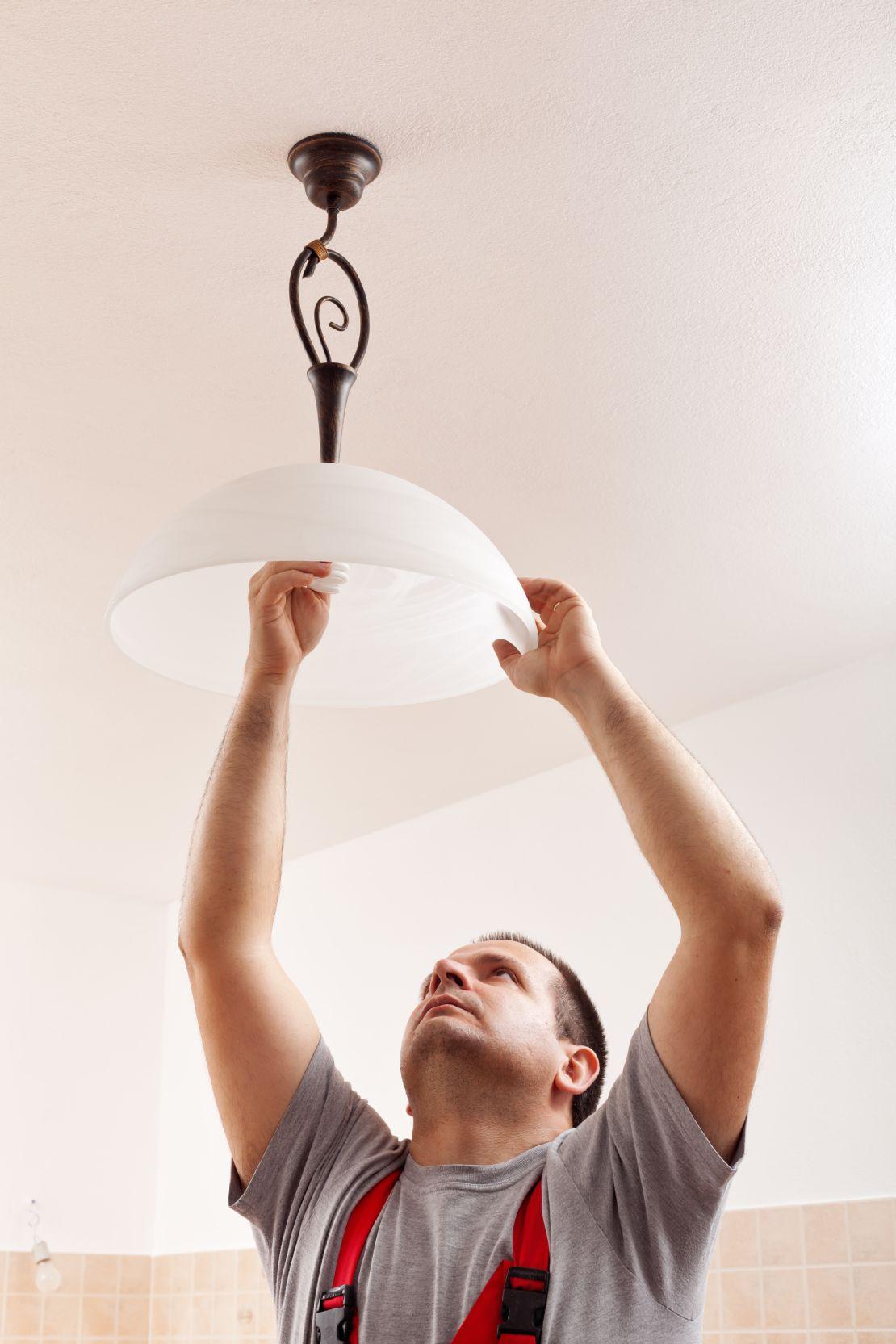 Why choose a Fantastic electrician for your light fixture installation & repair needs
Certified, skilled & NICEIC-approved electricians near you
Your and your property safety should never be underestimated when it comes to addressing your electrical repair and installation needs. With Fantastic Services in London, you can count on fully insured and safety-guaranteed electrical solutions at all times. The certified domestic and commercial electricians have their expertise credentials thoroughly checked to confirm that they work in compliance with all BS 7671 Wiring and Part P Building Regulations.
Professional and safe light fixture installation in London
A DIY approach to crossing any light fitting, repair and wiring tasks of your home chore list are simply risky. So, leave the screwdriver aside and entrust the job to a Fantastic pro. The licensed electricians can handle a variety of electrical jobs for you, such as ceiling light fitting; light switch installation and replacement; electrical socket replacement, repair and fitting; dimmer switch fitting and more. The service will be performed safely, efficiently and with your 100% satisfaction in mind.
Fast online booking
You can book online your light installation appointment or another electrical service in a matter of minutes by entering your full postcode and filling in the job details in the provided form. You'll be able to see our real-time availability and prices, so you can choose a slot that is convenient for you.
Pay less with our Fantastic Club
Get up to £300 in credits if you join our Fantastic Club. The one-time annual payment of just £79 will also give you the chance to schedule your services with priority and benefit from other perks and special deals.
What can you have installed, repaired, replaced and rewired?
The qualified electricians in London are experienced in dealing with various light fixture installation, light circuit wiring and socket replacement tasks.
Lighting - fixture replacement, repairs, fitting & wiring
From achieving ambient lighting in your living room or kitchen through expert ceiling light fitting or replacing of faulty fixtures with new modern lighting solutions to maximising your wall accent lighting options, the professional electricians can help you out. You can seek their advice, as well if you're unsure about what to choose, in order to meet your lighting needs. For instance, there are various under vanity and cabinet light designs for your bathroom or kitchen if you're after subtle task lighting options for when you use these rooms in the middle of the night.
So, depending on what the main purpose of a said room is and your specific requirements, you can have a wide range of lighting products fitted, fixed or replaced:
Pendants and chandeliers, wall sconces and wallchieres, track and recessed lighting;
Floor lamps, under cabinet lights, desk and swing arm lights;
Dresser lights, wall spotlights, bathroom mirror lamps;
Security garden lighting; led light installation.
To sum up, whether you need light fixtures installed or replaced, or lighting problems fixed, such as a loose wire in the socket, a tripped breaker and a blown fuse, as well as have circuit path issues addressed, we've got you covered. Don't hesitate to get in touch even if you require just a few light bulbs to be changed. The skilled and qualified electricians will assist you professionally and in no time.
How else we can improve your lighting at home
Our light bulb installation solutions
As simple as it sounds, changing a faulty light bulb is not always straightforward, due to possible issues with the light socket rather than with the bulb itself, as mentioned above. Therefore, if you feel out of your depth fixing a light bulb problem or you're fed up with the high energy-consuming traditional incandescent lighting in your home, get our seamless light bulb installation service. The Fantastic pro can replace/install, for instance, energy-saving (CFL), halogen or LED light bulbs, depending on what you feel is right for your place.
Fitting a light switch
As you know, problems with the lighting in your home could be due to faulty or old light switches. You can order our light switch wiring, repair and replacement solutions in London and restore the proper function of your lighting system effectively and safely. We can install, re-wire and fix:
Single-pole switches;
Dimmer switches;
3-way and 4-way switches;
Plug-in light switches.
Upon completion of the light switch installation/replacement or wiring job, the pro will test the fittings to ensure they work correctly.
Replacing or fixing an electrical socket
Always hire a certified electrician to change or repair your damaged electrical socket, be it a surface-mounted or flush-mounted socket fitting. Outweigh the risks of such a specialised electrical job and don't try to fix the problem yourself. This applies especially to landlords, who would breach the law if the tenants' health is jeopardised by unlicensed electrical repairs.
Important note: Prevent fire caused by an overloaded socket - if you regularly use an extension lead in a specific room or plug-in appliances that can exceed its maximum rating, it's for your safety to install a double socket. The experienced electricians will gladly inspect your sockets for signs of damage and give you advice on what you can do to stay safe at home.
Frequently asked questions
Q: How can I reschedule my light installation service?

A: Just contact us in advance or register a Fantastic account with us, where you can log in whenever you need to make amendments to your bookings.

Q: Are there any extra charges that I should know about?

A: The following additional charges apply - if any parking fees incurred, they would be added to the final price. We also charge £25 per hour should you need the expert to shop for materials on your behalf. Furthermore, if the pro determines upon his arrival that he cannot perform the service due to reasons that are out of his control, you'll be subject to paying a survey fee of £26.

Q: I find my service price a bit too high. Can I get a discount?

A: You can get a lower price if you become a Fantastic Club member. Also, you can benefit from many seasonal deals, special offers, and priority booking slots.

Q: What happens if the job is done faster than the booked time?

A: We have a minimum charge for 1 hour per appointment. Then, the service is billed on a half-hour basis. After the first hour, you'll be charged for the actual time it takes the electrician to do the job.
Q: Do you offer electrical repairs in the evenings?

A: Yes, we do. However, please note that extra charges apply if you book an after-8pm appointment. We advise that you avoid scheduling evening sessions for any electrical work during the winter months, when the days are shorter, as the pro may need to turn the power off and this will be inconvenient for both you and him.

Q: What is your coverage?

A: The electricians cover Greater London within the M25 zone.

Q: Do you check the background of the tradesmen you work with?

A: Absolutely. We always interview them in person to determine their qualifications, experience and credentials. Our consultants carefully check their licences and certificates. Also, we train the pros additionally at the Fantastic Academy, where they can learn about and embrace our Quality Standard and best practices.

Q: I am a business owner, can you help me with light fixture installation in the office?

A: Yes, sure we can help. The domestic and commercial electricians have the right qualifications and tools to complete your requests no matter it's a business building or a private home.
Light fixture installers local to you
We continually look to expand, bringing you more local electrical services, convenient booking options, and to save you a lot of time. So, find your nearby electrician and rest assured that he will meet all of your lighting needs.
Central London
East London
North London
South London
West London
View all areas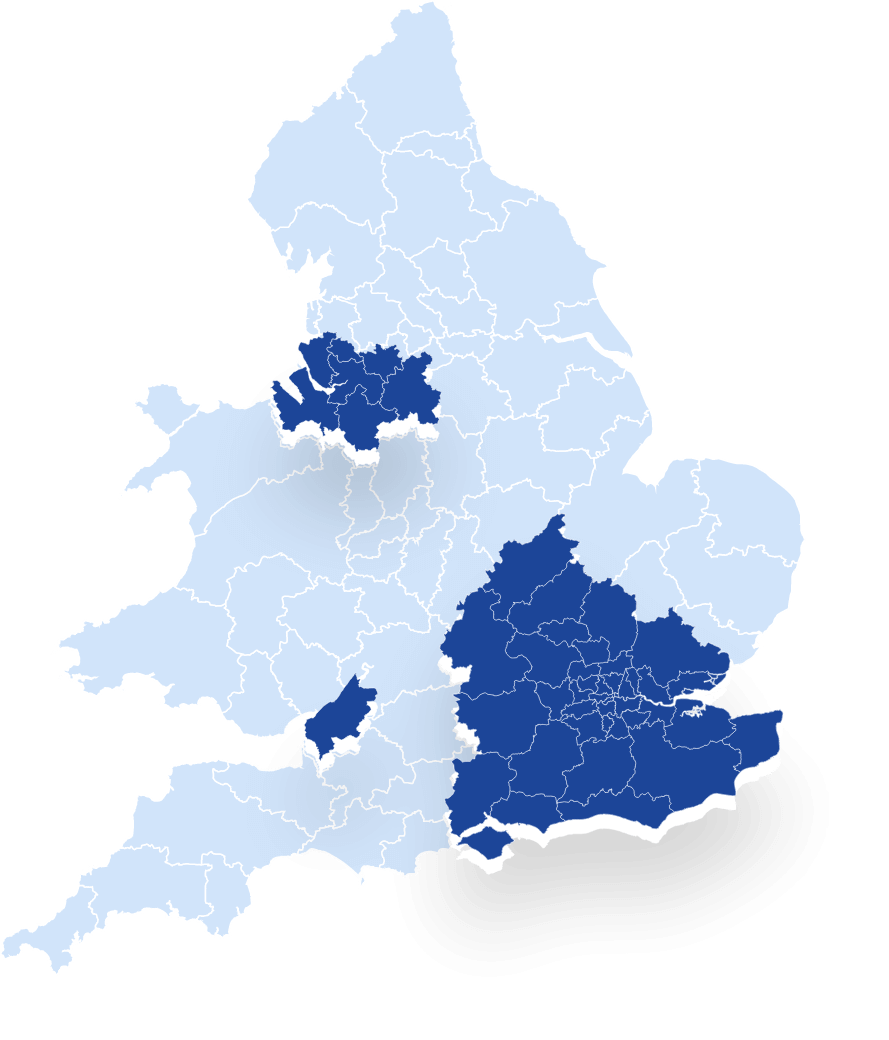 We can do much more than light fixture installation and repairs
Improve the lighting at your home! Book now!