Professional lawn top-dressing and re-seeding services in London
Improve your lawn's appearance and health with top-dressing and re-seeding, carried out by professional gardeners.
Professional quality top-dressing
Overseeding using seeds with a special coating
Teams of two experienced and vetted gardeners
Use of petrol-powered equipment, so no electricity is needed
How to book our lawn top-dressing service in four simple steps
1.

Book your top-dressing or overseeding service online or over the phone.

2.

Meeting or not meeting the gardening team is up to you. We offer a fully contactless service.

3.

Let the gardeners work their magic on your lawn.

4.

Watch your garden grow again. and this time more beautiful than ever.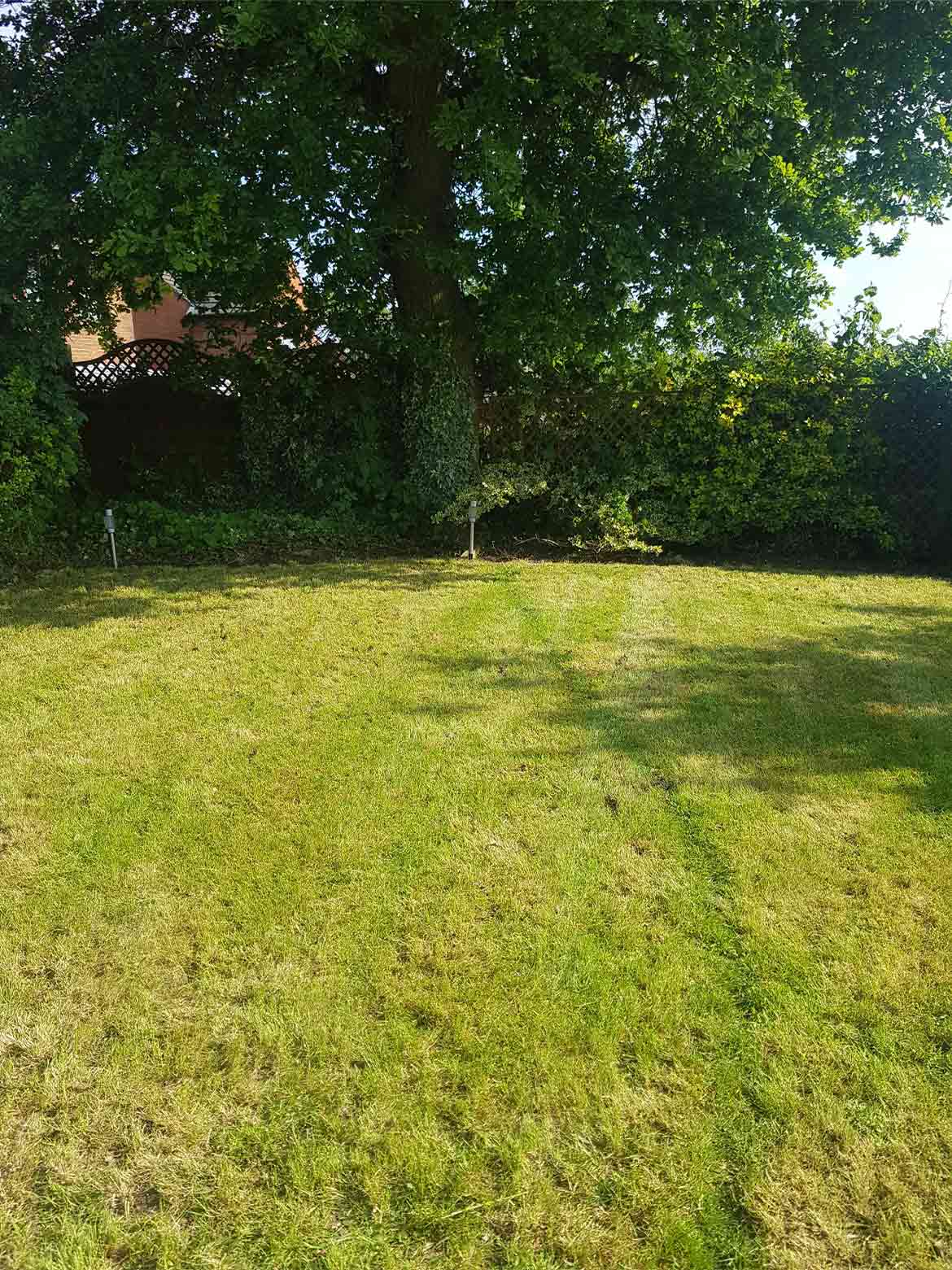 What our top-dressing service includes
For every lawn top-dressing job, we send a team of two experienced gardeners. They will come fully equipped with all of the necessary tools and materials to carry out the service.
If you don't want to interact with the gardeners once they arrive at your address, a contactless service can be arranged. You'll just have to let us know in advance how to access your garden, so that the team can get straight to work upon arrival.
During their initial visit, the gardeners will take a soil sample from your lawn. This will help us determine your soil's pH level, Phosphorus index, Potassium index, Magnesium index, and screen rate. Once we know what your existing soil's pH levels are, we'll be able to choose the right top-dressing for it.
The top-dressing we use will be of a high-quality and close in structure to your existing soil. This is extremely important, as the top-dressing we'll apply will at some point become part of your lawn's root zone.
All of the top-dressing we use has been inspected and treated for weeds. So, the chance of a weed popping up from our top-dressing is slim to none.
Everything you need to know about our lawn overseeding service
Our overseeding service is best performed during spring or autumn, as the average daily temperatures need to be right above 13ºC in order for the grass seed to germinate properly. In perfect conditions, it takes between 7 and 21 days for this germination to occur.
In order to get the most out of this service, we recommend you have us overseed your lawn once we've already spread some quality topsoil on it. This way the seeds won't be buried in too deep.
When it comes to the process of overseeding, we use specific spreaders that redistribute all of the seeds evenly.
As for the seeds, you can choose what type you want us to use. Our catalogue at the moment includes the following:
Special Coated Seeds – Intelligent Seed
Rye-Grass Lawns
Fine-Fescue
Shaded Lawn Grass
All of the above-mentioned seeds can be used for overseeding to improve the quality of your lawn.
Why choose a professional gardening company for top-dressing and overseeding
Top-dressing and overseeding are tricky gardening tasks that can easily be performed in the wrong way. That's why trusting an expert gardening company is usually the way to go when you need these two things done.
Booking a professional lawn top-dressing or overseeding service with Fantastic Services, for example, comes with a variety of benefits:
Experts know exactly how much top-soil to use and which type will have the best effect on your lawn.
The right topsoil for your lawn will help improve drainage and the soil's overall quality.
Top-soil and overseeding work great together, as top-dressing improves the results of overseeding, making germination and growth stronger.
Having your lawn overseeded by professional gardeners makes sure your lawn remains thick and dense.
Since we offer many other services, you can combine your top-dressing and overseeding service with other garden maintenance tasks.
We always send a team of two experienced gardeners to ensure maximum efficiency.
Aside from a quality service, you'll also get professional advice on how to take care of your lawn.
Having professionals do the hard work opens up your weekend schedule.
We offer year-round lawn maintenance plans, which include lawn aeration, mowing, scarification, top-dressing, fertilizing and other treatment (when needed).
Frequently Asked Questions
Q: Do grass seed need to be covered when overseeding?

A: Since the already existing grass provides enough cover and shade for the seeds, it's usually unnecessary to put on additional covers. However, in cases where the lawn is in very poor shape with many patches of exposed dirt, we will need to rake some soil over the seeds in order to cover them.

Q: What's the best time of year to put grass seed down?

A: When it comes to overseeding, we recommend you book us during fall, as there are many benefits to this. For example, in early autumn, the soil still has some leftover warmth to it from summer. Combining the moderate daily and cool evening temperatures with the warm soil helps encourage faster germination and establishment of recently sown grass seeds.

Q: What kind of fertiliser do you use for top-dressing?

A: In most cases, we use mineral fertilisers which are quickly soluble in water. These fertilisers include but are not limited to ammonium nitrate, urea, all potassium fertilisers, a solution combining ammonia and sodium nitrate (best for sugar beets), and superphosphate.

Q: What is the success rate of your overseeding service?

A: The success rate of our overseeding service is quite high. Once the service is performed, it takes around eight weeks to see a single grass sprout per every 3 inches of turf. As time passes this new grass will spread, in turn covering your entire lawn.
Some of the areas where we offer lawn topdressing:
Camden
Central London
East London
Greenwich
Hackney
Hammersmith and Fulham
Islington
Kensington and Chelsea
Lambeth
Lewisham
North London
South London
Southwark
West London
View all areas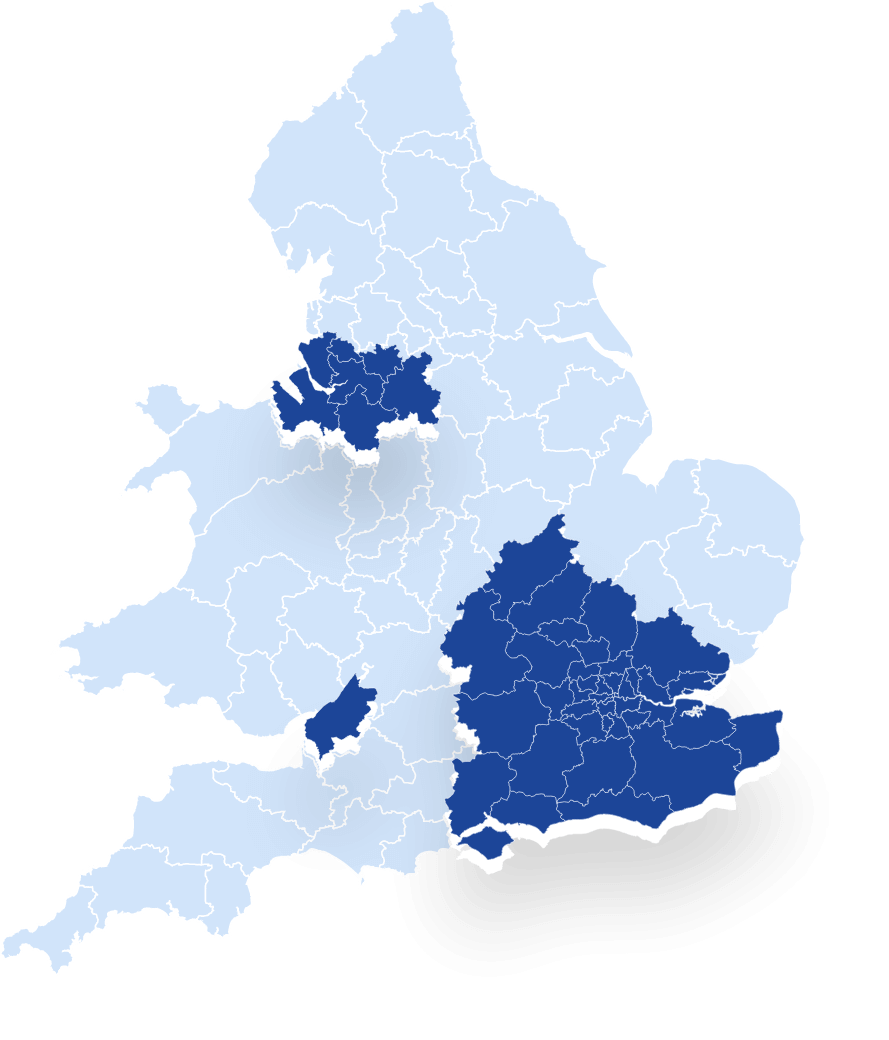 Bring your lawn back to its former glory with our top-dressing service!