Dry cleaning pick up and delivery services in London
Get your clothes dry cleaned and pressed, and ready to use in 24 hours
FREE collection and delivery every time
Fast turnaround in as little as 24 hours
No harsh chemicals, only eco-friendly products
How the dry cleaning service in London works
1.

Book online by choosing your collection and delivery times

2.

We'll send a driver to pick up your items. Arrival time of 3 hours applies

3.

Your perfectly clean clothes will be brought to your doorstep in as little as 24 hours

4.

Enjoy your neatly dry cleaned items minus the hassle
Your FREE pick-up & delivery dry cleaning service in London at a glance
There's nothing more dissatisfying than ruining your immaculate, dry cleaned and professionally pressed clothes by collecting them in a bag from your local dry cleaners in London. And all this, after finding the time to get to and back from the place, not to mention fighting over a convenient parking spot…
So, leave the whole running around and queueing to us by booking our time-saving and hassle-free dry cleaning pick up and delivery service in London today! Fantastic Services offers free collection and delivery to complement your dry cleaning service order, which will be completed in line with your expectations for quality and fast results.
The cleaners are using a CO2 dry cleaning solution, that is safe for the environment and yourself. Carbon dioxide is a non-toxic and naturally occurring gas, which in its liquid form has proven its qualities as a solvent. Even more, the use of pressurised CO2 gas as a solvent in dry cleaning has been acknowledged as a much safer and eco-friendly option. Once the washing cycle is finished the CO2 is collected and re-used. The process does not leave harmful chemicals on your clothes or in the environment.
We can assist with your dry cleaning needs anywhere within the M25 zone in London, Monday to Sunday. Just place your order online in less than a minute and we'll assign a driver to come and collect your items on a day that suits you.
Don't forget that as a member of the Fantastic Club you can get £300 in credits.
How does our dry cleaning pick up and delivery service in London usually go?
First of all, click on any of the pink buttons on this page and customize your order. Tell us what we'll have to pick up for dry cleaning and if there is anything specific about your garments we should be aware of. Set the day and time you want us to come, too.
A driver will visit you at the appointed time frame and pick your order. He will take your belongings to a trusted dry cleaner, where they will be quickly and efficiently cleaned to perfection.
The dry cleaning delivery driver will visit you again within 24 hours from picking up your order to deliver your clothes and other garments back - clean, fresh, and perfectly pressed.
As simple as that! You will have your garments collected, professionally dry cleaned, ironed and delivered back to your door within 24 hours. Thanks to this laundry pick up and delivery option you don't need to waste your time waiting on queues. Isn't that fantastic?!
Frequently asked questions
Q: Can you collect my clothes on a Sunday?

A: Yes, we work every day, except Christmas day and 1st of January.

Q: How do you charge for your dry cleaning pick up and delivery services in London?

A: The prices are based on the volume and types of items that you need dry cleaned.

Q: Is there a minimum charge?

A: Yes. A minimum order value of £20 applies.

Q: What is your cancellation fee?

A: You can cancel the dry cleaning pick up service free of charge, as long as you give us a 48-hour notice. If not, you can be charged 50% of your booking (or £50 top) as a cancellation fee.
Q: Who do I contact if I'm not happy with the dry cleaning service?

A: Please, get in touch with our customer service representatives, who will assist you promptly and resolve your issue.

Q: Do I need to separate the laundry and dry cleaning items, if I need both of the services?

A: Yes, please do. This will ensure everything will be processed as per your requirements. We strongly advise using a separate bag for each type of service you require (laundry, dry cleaning, ironing, etc).
Some of the areas where we offer dry cleaning services:
Barking and Dagenham
Barnet
Camden
Central London
East London
Greenwich
Hackney
Hammersmith and Fulham
Islington
Kensington and Chelsea
Lambeth
Lewisham
North London
South London
Southwark
West London
View all areas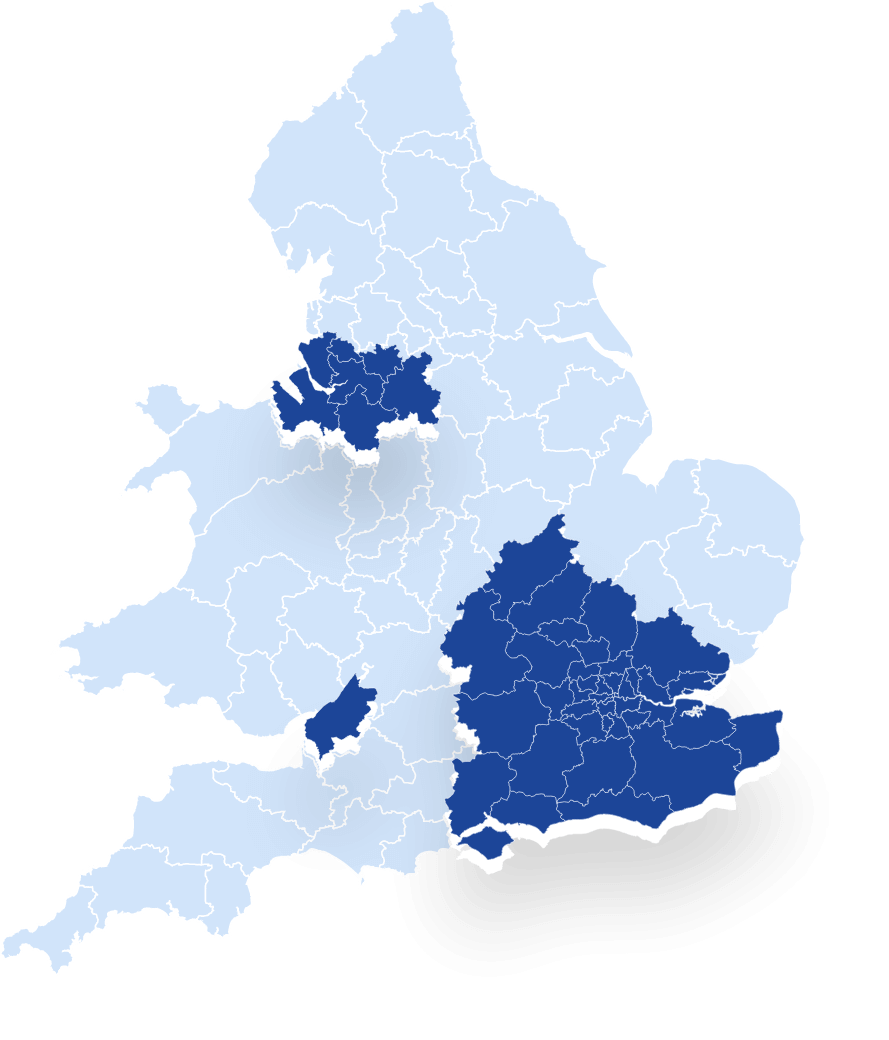 Get your perfectly clean and pressed clothes minus the queueing!