Local Cleaning Services in Bristol
Keep your property in the best shape with our professional Bristol cleaners
Schedule weekly or biweekly cleaning services
The Fantastic Cleaners bring all the cleaning supplies and equipment
Hourly rates, no contract required


Book your residential cleaning in easy steps
01
Enter your postcode
Create a Fantastic Account in a few steps and provide your local area code
02
Choose the cleaning service you need
Specify your cleaning requirements
03
Book date and time
Choose the time slot that best fits your schedule
How much does cleaning services cost in Bristol?
| Cleaning Services | Price | Member Price |
| --- | --- | --- |
| Regular cleaning | Starting From £19/h | Starting From £16/h |
| One-off deep cleaning | Starting From £19/h | Starting From £16/h |
Bristol house cleaning experts will take on your household chores.
You can easily arrange cleaning services for your home.
Bristol residents can count on Fantastic Services for reliable and efficient domestic cleaning services. Why the Fantastic cleaning team is the best:
They are vetted and insured.
They are very detail-oriented.
They are reliable and trustworthy.
Certified by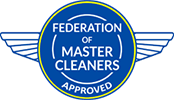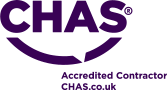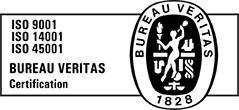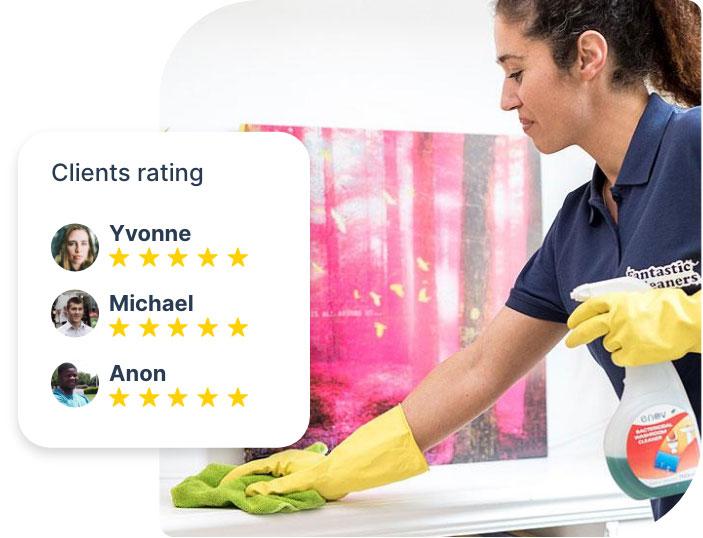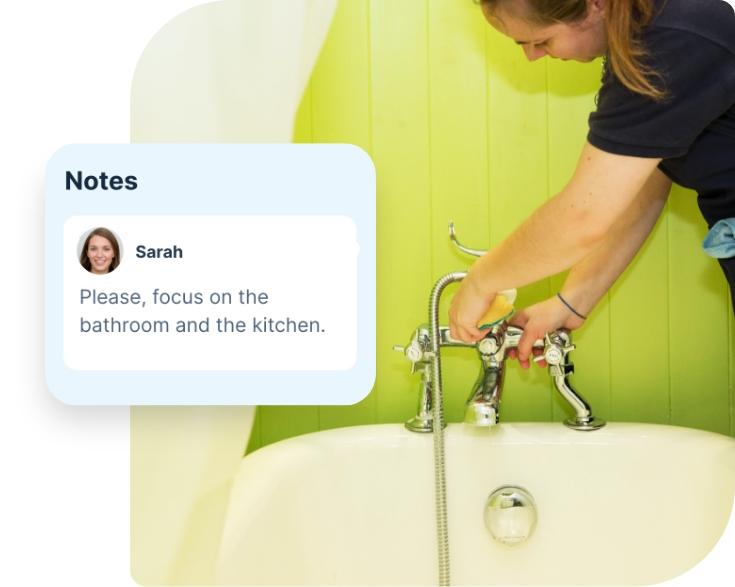 Professional Cleaning Company in Bristol
You will find a wide range of high quality cleaning services in Bristol
One-Off Cleaning

Regular Cleaning

End of Tenancy Cleaning

After builders cleaning

Window Cleaning

Antiviral sanitisation

Upholstery cleaning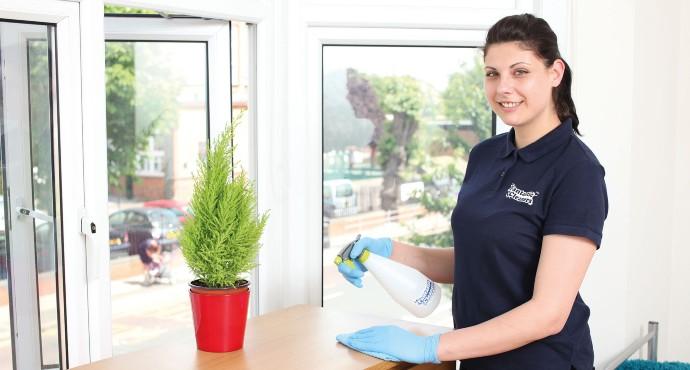 End of Tenancy Cleaning
Are you about to move out of your rental property and looking for end-of-lease cleaning? Your contract requires leaving the property in its original cleaning state to get your security deposit back. It seems overwhelming to undertake all the cleaning tasks yourself. Fortunately, we provide professional end-of-tenancy cleaning services in Bristol that can help you get your deposit back.
You can trust the experienced cleaners from Fantastic Services to clean your rented property meticulously, paying close attention to even the hardest-to-reach areas that often go unnoticed. You can count on us to take care of all cleaning tasks, from dusting and removing grime to removing all stains. We use an agency-approved checklist that includes bathrooms, toilets, and kitchens, including appliances, which are thoroughly cleaned.
We also use top-of-the-line cleaning equipment and supplies to deliver a thorough deep clean for your oven to guarantee a full refund of your deposit. Upon final inspection, the landlord or the leasing agent will be impressed by your property's spotless condition. If the job isn't satisfactory, we offer a 48-hour free redo guarantee to account for any missed spots.
The cleaning teams successfully clean hundreds of rental properties every month. The End of Tenancy cleaning service satisfies both landlords and tenants. The landlord receives a property in great condition, ready for the next tenants. And tenants avoid any disputes over the property's condition.
Starting at £139 for Studio Apartment
One-off and Regular Cleaning
The one-off cleaning service is ideal for people who want their property thoroughly cleaned without committing to a regular cleaning service. The service is customisable so you can discuss your needs with the cleaners and they will fulfil them.
If you're interested in more flexible cleaning schedule options, you can book a regular cleaning service weekly or bi-monthly. The professional cleaners will arrive at your house prepared with all the necessary supplies and equipment to handle every nook and cranny. They will carefully follow your instructions so that everything is clean to perfection.
The regular cleaning service includes all the essential cleaning tasks that will keep your house in excellent condition. You don't need to sign a contract and can pause or skip visits at any time. Enjoy more free time and let experienced and dedicated cleaners handle all the cleaning chores.
Starting at £19/h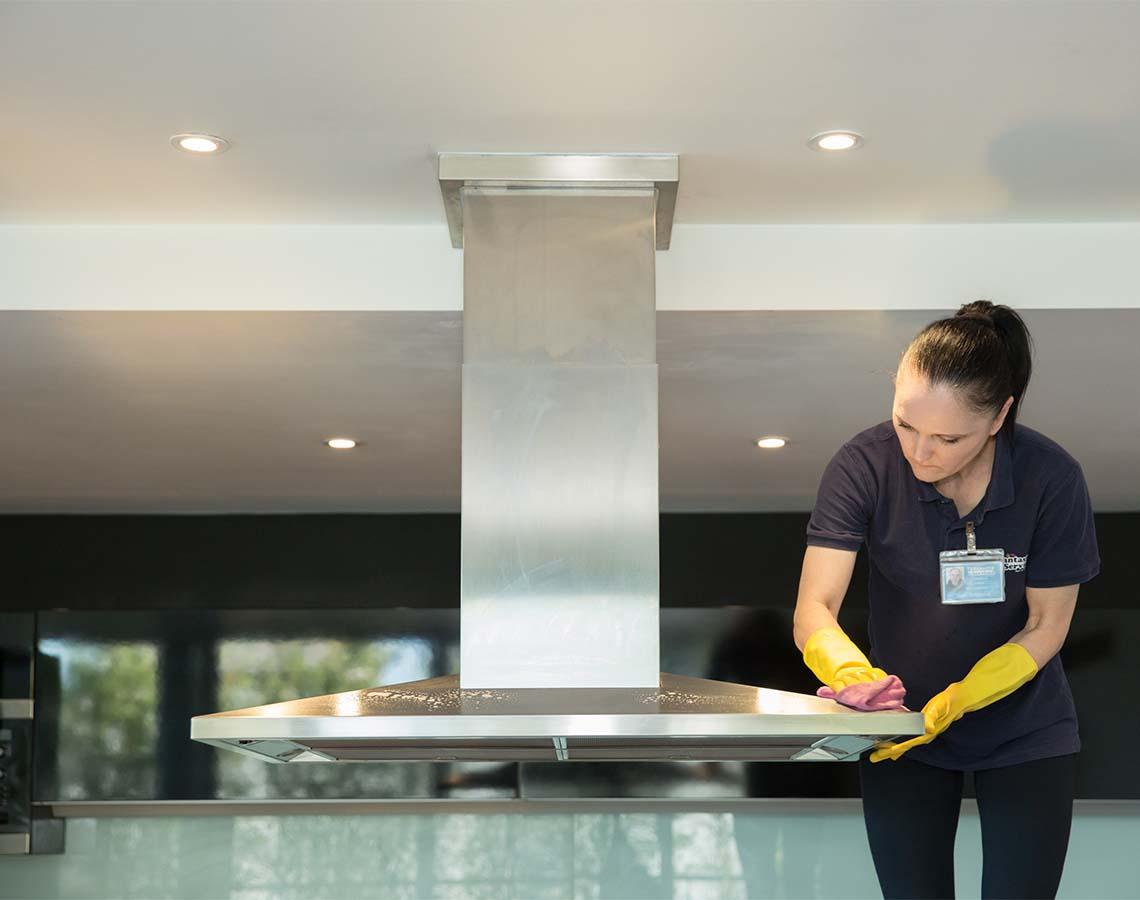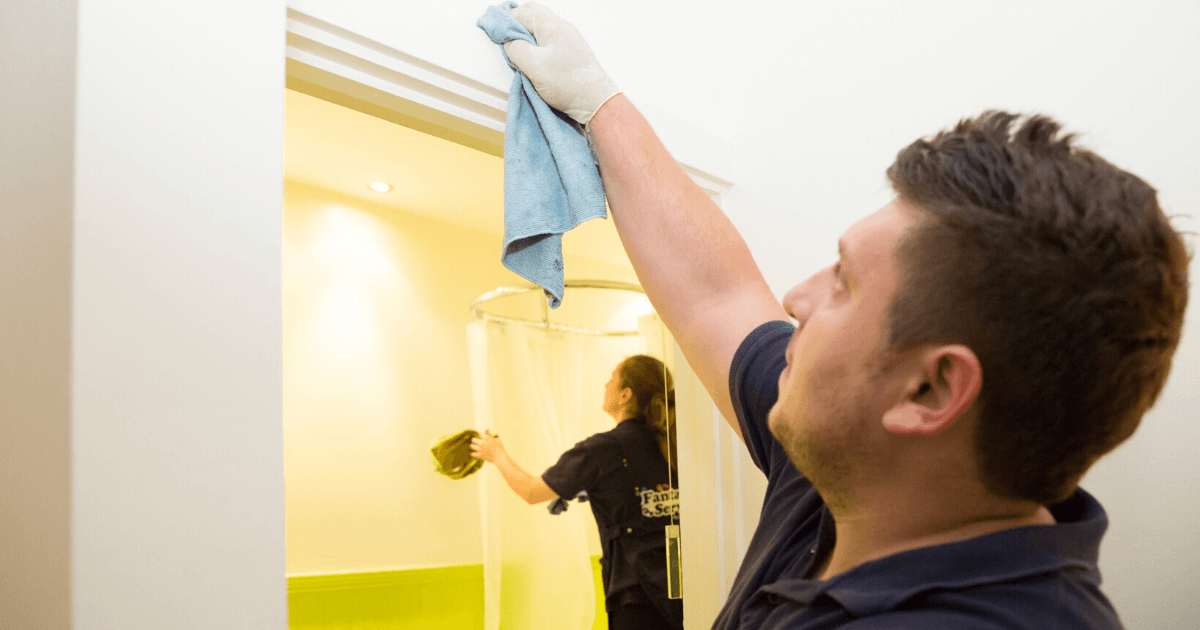 After Builders Cleaning
After Builders cleaning services refer to professional cleaning services you hire after construction or renovations. The cleaners carry out a thorough cleaning job to leave the property clean from any debris, dust, or residue left by the construction workers.
Our after-builders service in Bristol includes vacuuming and cleaning all surfaces, including walls, ceilings, floors and fixtures, and cleaning windows, glass doors, and mirrors to remove construction dust, fingerprints, smudges, or construction-related markings.
The cleaning team will leave all surfaces shiny and free from any construction residue by wiping and sanitising them. They will also clean and sanitise light fixtures, switches, outlets, bathroom and kitchen fixtures, sinks, toilets, showers, bathtubs, and countertops. Please note that the service doesn't include waster removal, lifting heavy objects, or repairs.
Starting at £29/h
Oven Cleaning
Cleaning ovens is infamously time-consuming and challenging. Luckily, you can now leave the tedious chore to trained professionals. Achieve outstanding results and save time and energy with our professional oven cleaning services.
Not only will our professional oven cleaning service restore the appearance of your oven but it will also extend its lifespan. The professional oven cleaners in Briston bring all the equipment they need for thorough cleaning. Ovens tend to accumulate stubborn grease, grime, and residue over time, so professional cleaning is crucial to maintain them.
The cleaners start by disassembling the oven and dismantling its removable components, like racks and trays, to soak them in a powerful cleaning solution. Meanwhile, the cleaning technician scrubs the oven's interior and exterior until they're spotless. Then, rinse the removable components and reassemble them. The final step is to run the oven for a test to ensure it's working properly.
Our oven cleaning services will relieve you of the hassle of cleaning it yourself. Let us take care of your oven and make it sparkle again. It will look pristine and become ready to use in no time.
Starting at £71 for Single Oven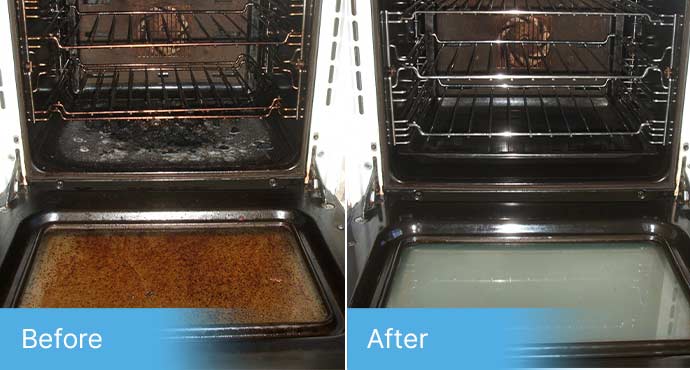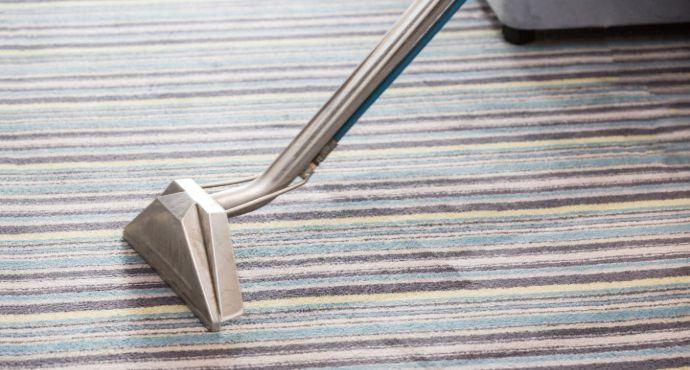 Carpet & Upholstery Cleaning
Our carpet cleaning services are for deep cleaning and rejuvenating rugs, carpets, and upholstery. Over time, carpets accumulate dirt, dust, stains, allergens, and odours, which are difficult to remove with regular vacuuming. We use specialised equipment and cleaning solutions and techniques that keep the carpets fresh, hygienic, and visually appealing.
The carpet technicians start by inspecting the carpet and identifying stains and spots to determine the best cleaning method. Then, they vacuum the carpet thoroughly to remove first, dust, and debris. Before deep cleaning, the high-traffic areas spots, and stains get treated with appropriate cleaning agents.
Hot water extraction, a more effective type of steaming method, is one of the most common and effective cleaning methods. The cleaner mixes hot water with a cleaning solution and injects the solution into the carpet fibres to loosen the dirt. Then, the water and debris get sucked out, along with the dirt and contaminants from the carpet. Then, the carpet technician conducts a final inspection to make sure all areas are clean.
Starting at £27 for Small Rug
Window Cleaning
Our professional window cleaning services cater to both residential and commercial clients. We use professional tools and equipment that leave the windows streak-free, spotless, and crystal clear. The Fantastic window cleaning team can handle hard-to-reach windows, song with glass windows, skylights, and glass doors.
For best results, the cleaners cover the interior and exterior sides of the window. Scheduling a regular window cleaning is a great way to keep your windows consistently clean, visually appealing and with an extended lifespan.
The window cleaning team will deliver superior results, ensuring the windows are sparking and clear to fill your space with natural light. The service is convenient and highly effective, saving time and money. And the cleaners will clean windows as high as the 4th floor. We use eco-friendly cleaning methods, which helps us stand out from other services.
Moreover, we avoid harsh chemicals that are damaging to your windows or harmful to the environment. The cutting-edge technology we employ allows us to use filtered water only.
Starting at £62 for a Flat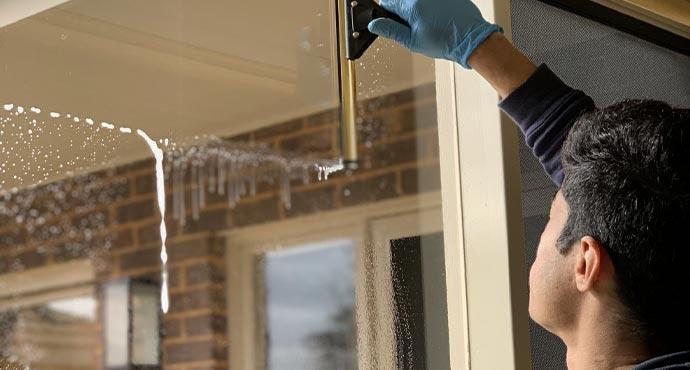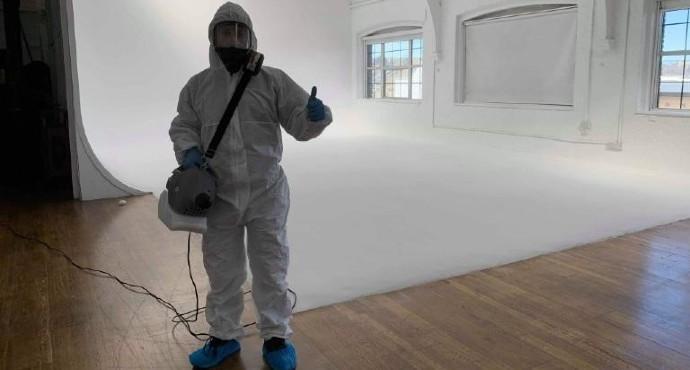 Antiviral Sanitisation
Our antiviral sanitation services keep your home or office hygienic and safe from germs. We effectively disinfect the surfaces and the air to reduce virus spreading.
Our professional sanitisation processes provide a safe and clean environment for everyone. The specially formulated sanitisation services used by our team effectively target and eliminate harmful pathogens. Additionally, we bring advanced equipment that disperses the sanitising solution in microdroplets, reaching all surfaces, crevices, and corners.
The sanitisation methods we use ensure all surfaces are disinfected and germ-free; a comprehensive approach that creates a healthier environment. The sanitisation experts at Fantastic Services deliver outstanding results while adhering to the highest industry standards. We understand that a clean and germ-free environment is essential to promote health and well-being. That's why we strive to provide an exceptional antiviral sanitisation services.
Frequently asked questions
How much does cleaning services cost in Bristol?
Our regular cleaning rates are starting from £19/h with no addons. Please get in touch for a free exact quote.
Do I have to sign any contracts or documents to use your services?
No. There is no contract signing and no obligations. You are always in control of what services you receive.
I booked a service but I would like to make some changes, how can I do that?
Log in to your Fantastic Account, go to the bookings sections and make any changes as you wish. We advise making changes at least 48 hours prior to the cleaning appointment to avoid any extra charges.
Do I have to arrange a parking spot near my property?
Yes. We use heavy-professional cleaning equipment as part of some of our services. So, our cleaners need a parking spot for the minivan containing all the machines.
Do you guarantee the quality of the work done?
Yes. Fantastic Services boasts high cleaning standards. We are one of the best-reviewed cleaning companies in the UK!
How many cleaners will arrive to complete the service?
This depends on the type of service you have booked. We provide 1-4 cleaners, depending on the service and the property's needs.
What is the going rate for a cleaner in Bristol?
Prices differ depending on the type of service you will book. Our starting rate in £19/h in Bristol.
What can a cleaner do in 3 hours?
There are several tasks our cleaners can achieve in 3 hours, yet it depends on the size of the residence and how complex the cleaning required is. Usually what will be done is full vacuuming, bathroom cleaning, kitchen cleaning, removal of bins and trash, tidying up, and mopping.
What do you charge per hour?
Rates per hour start at £19/h without any addons for regular cleaning services. Other services can vary in price, so please contact us for a detailed estimate.
What will a cleaner do in 2 hours?
For a small apartment, in 2 hours a cleaner will be able to vacuum and mop all floors, wipe down all surfaces, clean the bathroom, clean the kitchen, and tidy up the living areas.
How often should a house be cleaned?
The average rate to clean your home is weekly or biweekly according to your schedule and overall cleaning needs.
How long should it take a cleaner to clean a bathroom?
A thorough cleaning of a bathroom in order to make everything shining and germ-free would take from 20 to 45 minutes. This includes cleaning the entire bathroom and disinfecting vulnerable places to germs.
Can't find the answer you're looking for?
Visit our Help Center.
For a sparkling home, book Bristol professional cleaners
Meet our franchise partners in Bristol

Vanya and Hristo
Meet Vanya and Hristo, who have been serving local clients in Bristol. for 5 years. They run several teams of 30+ insured and vetted experts near you, who deliver a wide range of property maintenance solutions, including cleaning services and gardening.
Become a franchisee of Fantastic Services
What if you could start your own professional cleaning business?
Join the Fantastic Services family today! By becoming a franchisee, you can profit from Fantastic Services' proven business model. Become part of the cleaner, brighter future we are creating!