Protect your property from costly water damage
Get gutter cleaning done quickly from ground level
A one-month guarantee for no blockage
Done with high-reach equipment from the yard/street
Protecting the house roof and basement against leakage
Reducing the risk of mould growth & pest infestations
Before' and 'after' cleaning pictures of the guttering
Gutter clearance is quick & easy with Fantastic Services
1.

We send a fully equipped technician

2.

He inspects the condition of your gutters

3.

The gutters are cleaned with effective modern equipment

4.

Your property is protected from water damage with a one-month guarantee
Gutter cleaning prices

As a member of the Fantastic club, you can get £30 OFF for 10 different services within 1 year.
Property type
Terraced
End of terraced
Semi-detached
Detached prop.
Prices

Fantastic Club


Standard

Fantastic Club


Standard

Fantastic Club


Standard

Fantastic Club


Standard
Ground floor

from £16


from £46

from £36


from £66

from £36


from £66

from £56


from £86
First floor

from £36


from £66

from £56


from £86

from £56


from £86

from £76


from £106
Second floor

from £56


from £86

from £76


from £106

from £86


from £116

from £96


from £126
Join the

Fantastic Club and get:
£300 in credits
Preferential member rates
Domestic cleaning from £13/h
Real-time arrival tracker
Priority booking & case handling
T&C: All mentioned price rates are strictly limited to cleaning. To deliver the cleaning service, we require access to the property's power outlets, as well as unlimited access to the building's front and back entrances. If the property features gutters with guards or downpipes below the ground level, we will not be able to unclog the drainage system. Each gutter cleaning service comes with a minimum booking cost starting from £16 for new Fantastic Club members. When we calculate the price, we also take into consideration the area's dimensions and the time of the appointment. All prices and deals are valid for areas within M25. Deals cannot be combined with any other deals and promotions. Prices are subject to availability. Congestion charges are excluded (when applicable).
Get an instant quote and check our availability in your area
Please tell us about your needs so we can design a better service for your business and give you an estimate.
Call 020 3746 1062 for a quote or contact us here.
Here's how the gutter cleaners do it
Just book gutter cleaning online and leave the rest to the professionals. Thanks to the advanced equipment used by the technician, he is able to clean your rain gutters safely from the ground level. This eliminates the need of high ladders, as well as the risks of falling or causing damage to your property. Here's how the service usually goes once the technician is on site:
Inspection:

The guttering expert technician will take a good look at your guttering system to determine its condition. In case he notices that it is in need of repairs, he will make sure to warn you. You can also schedule a gutter repair service right away.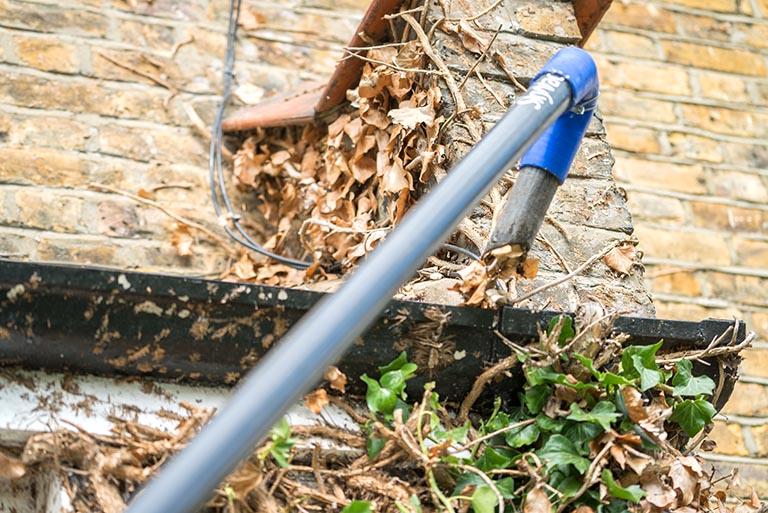 Cleaning of gutters and downpipes:

A special wet vacuum cleaning machine with a telescopic pole is used to clean gutters from the ground. It can reach up to the 4th storey of any building. With time, all kinds of debris, such as leaves and twigs, can end up in the gutters, but the machine will easily remove them. Also, the pole has a tiny camera attached at the far end, which the technician will use to take pictures of your gutters.

Reporting:

When the job is done and your gutters and downspouts are free of obstructions, the technician will be happy to show you 'before' and 'after' pictures so you can see the results for yourself.

Guarantee:

When the service is over, you have a one-month guarantee that you won't experience any blockages in the cleaned areas. If you have downpipes, the guarantee is only valid, if we clean the downpipes, too.
Frequently asked questions
Q: Can I make changes to my bookings?

A: In order to manage your current bookings, you need to log into your Fantastic account. If you don't have one, you can create a new profile really easy. Once you've registered, head over to the dashboard section. There you can apply any changes to all of your service appointments.

Q: What kind of benefits does the Fantastic Club provide?

A: As a member of our Fantastic Club family you'll have the opportunity to use priority booking for our most desired slots, seasonal deals, major service discounts and many other awesome perks.

Q: Do you clean the downpipes too?

A: Yes, the equipment we use allows this, but only if they are above the ground level.

Q: Can you repair or install gutters?

A: Our trusted partners can assist you with gutter installation and gutter repairs withing the M25.
Q: Do I need to provide the technicians with anything?

A: Yes. We will need access to electricity. If you want us to clean the downpipes as well, the gutter cleaning expert will need access to running water.

Q: Are there gutters you can't clean?

A: Yes. This service is not appropriate for gutters that have guards and downpipes that go into the ground due to accessibility issues.

Q: Do I need to be present while the service takes place?

A: Not necessarily, our company provides key pick-up and delivery as well.

Q: How is the pricing formed?

A: It depends on many factors, such as the type of the property, number of downpipes, additional gutters on your garage or conservatory.

Q: Is bad weather or rain a problem for you?

A: It all depends on how heavy the rain is. The gutter cleaning experts will evaluate the situation on the day of your appointment. If performing the service is not possible, you will be able to reschedule your booking for another day.
Fantastic Services in UK
Fantastic Services provides gutter cleaning service in all of the Greater London and other cities in UK as you can see below:
View all areas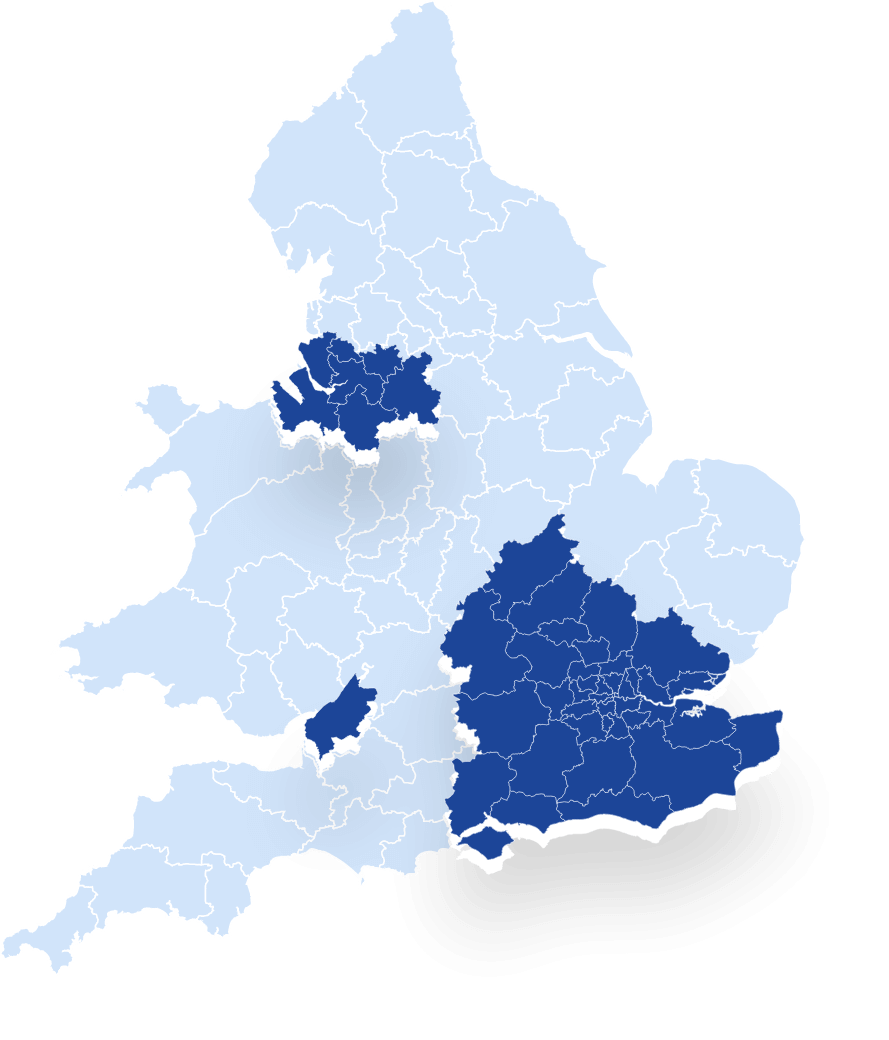 We can do much more than gutter cleaning:
Protect your property from water damage!