Expert pest control services in Wimbledon
Create a pest-free environment with our efficient pest control services
COSH-certified controllers
24/7 customer support
Booking slots available throughout the whole week


1. Book your appointment online

Schedule your pest control service via our online booking form or the GoFantastic app. Everything will be organised in seconds for the day and time convenient for you.

2. Say hello to the exterminator

Time to meet up with the scheduled professional. You can greet them either at your property or arrange a quick key pick-up from a close-by location.

3. Sit back and relax

Enjoy a pest-free property. After the job is done you can inspect it to make sure that everything is good.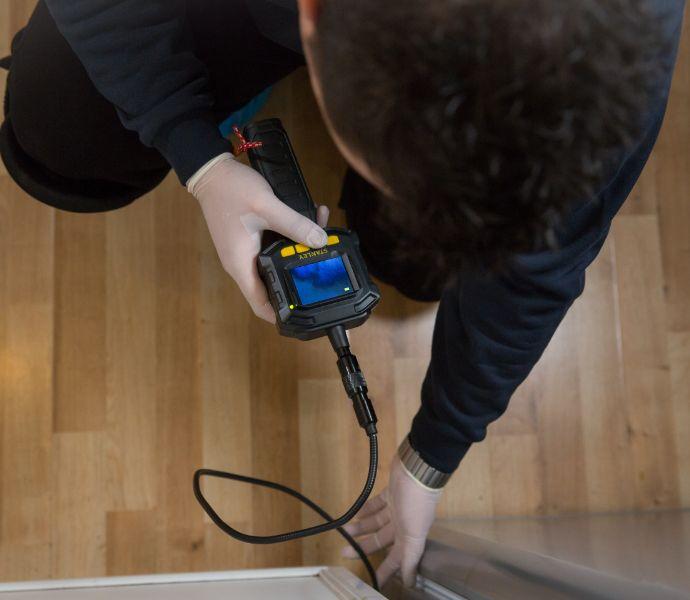 Take advantage of our Wimbledon pest control services
At Fantastic Services, we help you eradicate pests from both commercial and residential properties:
Safe and effective pest control methods;
A comprehensive pest control inspection before each service;
Pest control services are done in a discreet manner.
Experienced professionals you can count on
Why are the Wimbledon exterminators the best?
We work with one of the most experienced technicians in the Wimbledon area:
Proven background in the pest control industry;
Execute an inspection with endoscope cameras;
Provide professional pest prevention advice.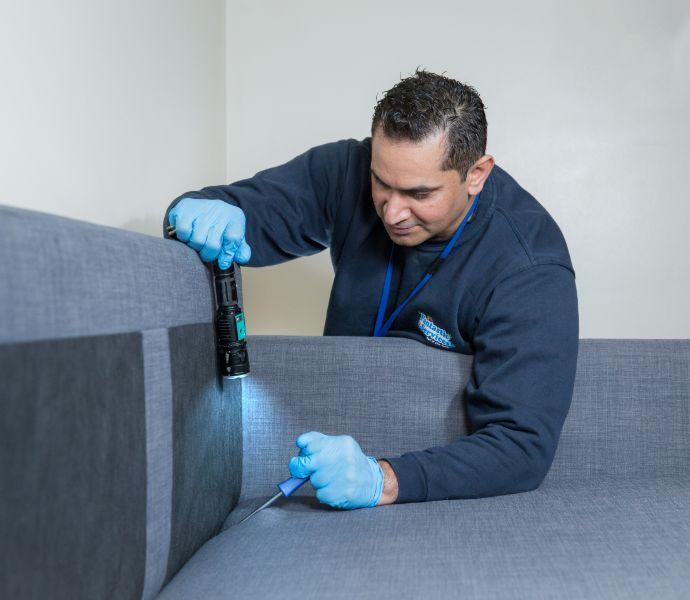 Wimbledon pest control services you can choose from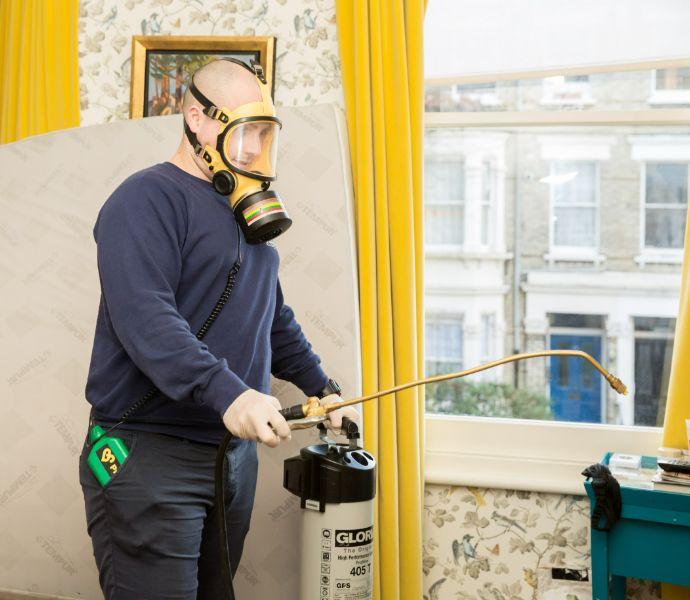 Rodents control
Having a rodent infestation can be a huge hassle. Unchecked, rodents can cause structural damage, spread disease and even poison your food. Therefore it is essential to take the proper steps to deal with them appropriately. We offer professional mice or rats control services in Wimbledon to help you solve this problem quickly and efficiently. The exterminator will conduct a detailed inspection of your property to determine how many entry points there are. Following this assessment, they will apply the most appropriate treatment and then follow-up visits will be arranged to verify that the intruders have been eliminated.
Bed bugs treatment
No need to let a bed bug infestation escalate. We offer an extensive bed bug treatment plan that can address the problem quickly and thoroughly. After assessing the severity of the situation, our technicians will recommend either a powerful pesticide or heat treatment to eliminate them.
Cockroach extermination
Few things can be more unwelcome and unpleasant than finding a cockroach infestation in your home. Not only are cockroaches unpleasant to look at, but they can also spread disease, so it's crucial to seek professional help. At Fantastic Services, we offer a reliable solution for those living in Wimbledon. Our experienced team of professionals will come to inspect the premises and apply a specialised gel that will effectively deal with this problem right away.
Other related services that will help against pest infestations
Regular cleaning
A clean and tidy environment is essential in preventing the infestation of common household nuisances. Rodents, cockroaches and ants are all attracted to food remains, mess and moisture, so it's best to ensure proper hygiene levels by enlisting the help of a professional cleaning crew.
Garden clearance
Pest infestations often arise in your garden, as clutter such as tall hedges, stacks of wood, or old furniture can be perfect hiding places. To help protect your property from pests, we offer a garden clearance service to keep your outdoor areas clean and tidy. Our experienced gardeners can ensure all potential nest sites are removed and minimise the risk of any further pest problems.
Mattress cleaning
Upholstered furniture, including mattresses, can be a hotspot for bugs. From bed bugs to dust mites and fleas to carpet beetles, these pests often reside in our beds without us knowing. Don't let them lay eggs or spread their reach further than necessary - instead, enlist the help of a professional cleaning service to sanitise your bedding thoroughly.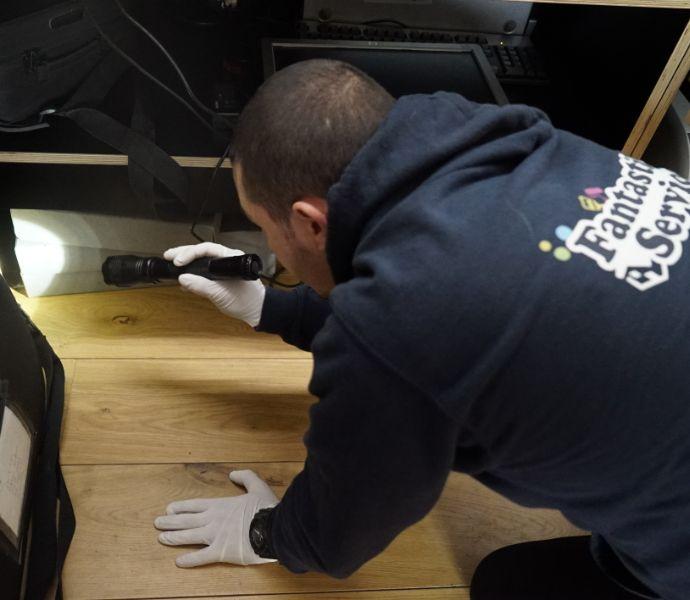 Check our pest control services
Pest control coverage around Wimbledon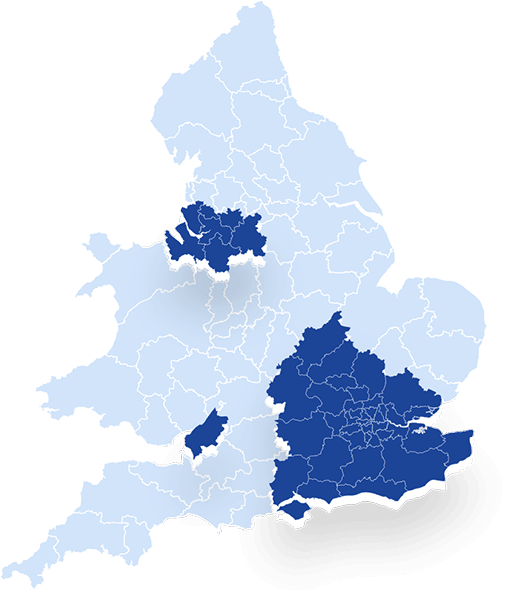 Frequently asked questions about our pest control services in Wimbledon
What do I get if I become a member of the Fantastic Club?
You'll benefit from various perks, such as priority booking options and permanently discounted rates on all our services for a year.
Are you available for pest control on the weekends or after hours?
Weekend services are provided at no extra charge; however, after working hours, services are available for an additional fee.
Can I reschedule my appointment?
You can either log in or create a new Fantastic account. This is the most convenient way to arrange and track all the details of your upcoming appointments.
Do you provide pest inspections for commercial premises?
Yes, we offer pest control surveys! The pro will inspect the property, assess the seriousness of the infestation, determine the best treatment and provide a quote.
Can you remove rodent carcasses if you find any during the pest inspection?
Yes, we can. What you have to do is to schedule a dead animal removal service after the inspection.
How do I get rid of pigeons on my roof?
We can help get rid of pigeons from your roof. We install nets, spikes, meshes, and wires for bird proofing to restrict them from the preferred location.
Can't find the answer you're looking for?
Visit our Help Center.
Book a professional pest control services in Wimbledon and enjoy a pest-free home!
START YOUR BUSINESS WITH FANTASTIC SERVICES
Join the family today!
Starting a pest control business can seem daunting, but it doesn't have to be. Investing in a franchise is an excellent way to launch your venture without taking on the risks of doing it yourself. With more than 500 satisfied owners, this tried-and-true model will ensure you always feel supported.