Handyman Project in Lewisham: TV Wall Mounting
Job summary
Hours: 2.5

Location: Lewisham

Number of handymen: 1

Cost of materials: £60

Total price: £237
Before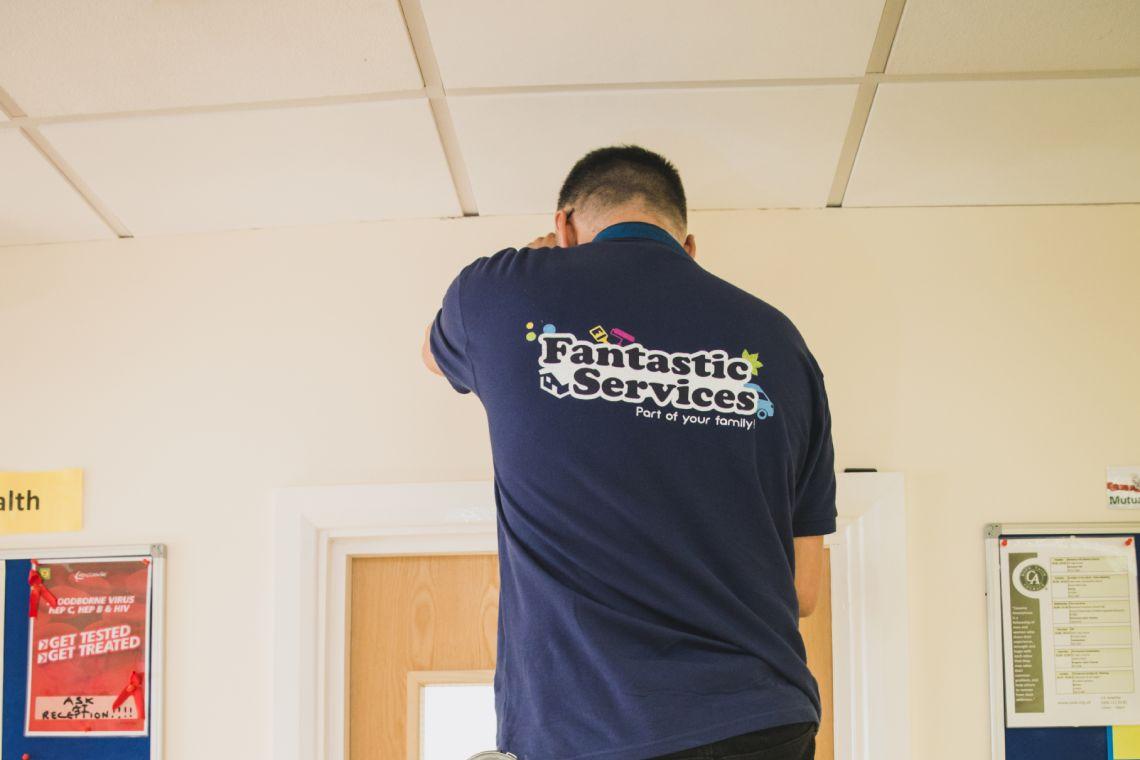 After
A Lewisham based charity organisation requested from us to help them with the installation of a 32-inch TV onto a wall. The TV was supposed to be mounted in the reception area where it would keep customers up to date with important changes and health advice. The company had the TV but lacked any fixtures/fittings and skills to install it safely.
A locally based Lewisham tradesman was charged with the task to purchase, prepare and install the bracket as well as chase the cables. Prior to the booking, we organised a survey in order to inspect the situation onsite and make sure the job will go smoothly.
The TV wall mounting project was a little more challenging than usual for the local technician due to the fact that the TV has to be mounted above a door and it was a corporate premises.
Please, keep in mind that the total price depends on the size of the TV and the type of the wall. To learn more about the TV installation service and how the handyman professionals in Lewisham can help you, visit
our TV wall mounting service page.
What's been done: step by step
As the friendly people from the charity centre explained their needs and the purpose of the TV, the local tradesmen helped them find the right place to hang the TV. The client wanted an easy way to provide vital information to the people when they visit the facility center in Lewisham.
The TV wall mounting specialist measured the space above the door and marked the areas where the holes for the brackets had to be drilled. For this simple job he used a measuring tape.
The Fantastic handyman located the studs in the wall that had to hold the TV. The holes were drilled and the mounting bracket was securely attached to the wall. Without this step done the right way, the TV may fall by accident. This is a key step of the process that requires certain equipment and experience, so the TV can be securely mounted on the wall. Luckily, the technicians we work with are skilled and experienced to provide a flawless service, so the whole process went smoothly.
As this was a new TV wall mounting, a cable chasing was required. For a clean and tidy look, the cables were trunked along the back side of the door. A surge protection outlet was installed for extra security in case of a power outage.
The local technician attached the TV bracket to the unit itself and then to the previously placed wall bracket. He made sure it was all well-placed in a secure and stable way.
After the TV mounting service was completed, the entire system was tested. Thanks to the devoted work of the Lewisham handyman, the charity centre now have a professionally mounted TV and the visitors will be presented with important information from now on.
Find other handyman projects near you
Other services we offer in Lewisham