Electrical Installation Condition Report (EICR) from certified electricians in London
Get your EICR - safety inspections, testing and electrical certification issued by NICEIC-registered professionals
NICEIC-certified, experienced and insured electricians
Expert testing & detailed reporting, in compliance with all regulations
Easy booking for a stress-free experience
Satisfactory Electrical Safety certificates are given on the spot

Price for Fantastic Club members starts from £120 instead of £150
How our EICR service works
1.
Book your EICR appointment easily online or by phone
2.
A certified and experienced electrician will come to your address
3.
The qualified engineer will inspect and test your electrical installation and provide you with an Electrical Safety Certificate
4.
Rest assured that your property will be safety-checked for its compliance with all electrical standards
Prices for Electrical Installation Condition Report (EICR)

As a member of the Fantastic club, you can get £30 OFF for 10 different services within 1 year.
Fixed Prices
Prices

Fantastic Club price

Standard price

1 bed property

£120

£150
2 bed property

£135

£165
3 bed property

£160

£190
4 bed property

£185

£215
5 bed property

Request a quote

Request a quote
Smart Home

Request a quote

Request a quote
Additional consumer unit

£55

£55
Additional circuit

£35

£35
Join the

Fantastic Club and get:
£300 in credits
Preferential member rates
Domestic cleaning from £13/h
Real-time arrival tracker
Priority booking & case handling
What is an EICR report?
An Electrical Installation Condition Report (EICR) is known under different names, with Electrical Safety Certificate being the most commonly used. EICR, which has in effect replaced the old Periodic Inspection Report, involves a thorough inspection and testing of the electric installation in your property before a detailed report on its condition can be issued.
As with time, electrical fixtures and wiring can deteriorate, they need to be inspected and tested at regular intervals, which may vary based on what type of property you have. The engineer's job is to confirm that your electrical installation is safe and meets the BS 7671 standard of the Requirements for Electrical Installations ( IEE Wiring Regulations). This is the national safety standard for electrical installations, which all homeowners, landlords and business proprietors need to observe.
Why do you need an EICR?
Electrical inspections and EICRs aim at confirming that your property is electrically-safe for those who occupy it or use it. Various faults with your electrical fixtures can occur that can pose a life-threatening risk to people, such as a fire hazard or an electrical shock. A certified electrician can prevent this by performing regular tests on different components and fittings of your electrical installation. EICR determines that everything is installed and working as it should. In the case of any fault findings, the electrician will detail out all the recommendations for improvements and remedial work that is required in the report.
Therefore, regardless of whether you are a business owner or a homeowner, you'll need to periodically check the condition of your electrical installation and get an Electrical Safety Certificate. On that note, an EICR is called-for every time when there is a change of occupancy in view, meaning new tenants are expected in your rental property, your home is put on the market or you're about to buy a new house and the owner hasn't got a recent electrical safety certificate. Other than that, the law requires that electrical safety inspections are performed at set regular intervals, which are different, depending on the type of property or on how the installation is being used.
Commercial EICR
Commercial electrical testing is required on commercial buildings for safety and efficiency, after a few years the usage on commercial buildings can be hard wearing on electrical installations and can cause damage and deterioration much quicker than in domestic buildings due to demand.
With more electrical appliances being used in offices, warehouses and other commercial properties it is more important than ever to make sure your electrics are meeting standard regulations. The testing that we carry out can be used for offices, restaurants, shops, bars, hair salons, communal areas, doctors or dentists surgeries, vets, etc.
What happens in an electrical inspection?
Electrical circuits will be checked and tested to confirm that they are safe and there's no risk of overloading or overheating of the entire system;
The certified engineer will identify if any malfunctioning electrical works have been installed;
Equipment will be tested for issues that can lead to overloading or overheating your electrical installation;
Areas of electric shock will be also flagged to prevent any risks of injury and fire hazards;
Issues with wiring, consumer units, outdated fuse boxes, electrical fixtures and fittings, outdoor electrical outlets, as well as any general deterioration, wear and tear in your system, will be identified during your electrical inspection;
The electrician will also look for and safety issues with the bonding or earthing of equipment and installations;
Visible and adequate notices/indications should also be present, so the technician will check for those, too;
The professional will determine if any changes in use or occupancy have caused damage or deficiencies in your property's electrics.
In addition, statistics show that:
Faulty wiring can pose a serious risk to people. More than 12,500 domestic fires and 750 grave accidents are registered each year. Source: Fire statistics
Almost half of the residential fires (over 20 000 a year) are caused by electricity. Furthermore, approximately 70 people get killed and 350 000 are seriously injured, due to electrical accidents at home. Source: UK Parliament
What to expect from your electrical inspection?
As mentioned already, periodic testing of your electrical installation will flag any faults with the wiring, electrical circuits, various electrical fixtures and the system as a whole. Malfunctioning components and units will be identified precisely and all observations and recommendations for repair work will be recorded in your EICR. On that note, these findings will be detailed out under different codings, such as the listed below.
Code C1 - C1 stands for an existing danger that requires remedial work straight away, as otherwise, occupants and property users will be at serious risk.
Code C2 - C2 indicates that components of your electrical installation require attention and improvement, as they can become faulty, and pose risk and real danger to users in the near future.
Code C3 - C3 means that confirmed deficiency in your electrics does not pose an immediate risk, however, improvement work will significantly contribute to the electrical safety of your property.
How to prepare before an electrical inspection in London
Here's our checklist with steps to follow before the certified engineer arrives to perform your EICR:
Inform us in advance should the engineer need to bring a ladder, in order to access a hard-to-reach fuse box, for instance!
Make sure that your electrical system has not been turned off by your service provider and electricity supplier!
Remove any items and obstacles so that the engineer can access unobstructedly various components of your electrical installation, in order to perform the EICR!
Switch off and unplug all electrical equipment!
Ensure the presence of proper indication and correct labelling of your consumer unit to avoid the risk of having issued an unsatisfactory EICR!
Be prepared to show any previous Electrical Installation Condition Reports to the certified electrician!
Note: Although this may not result in issuing an unsatisfactory report, beware that we may not be able to perform a full electrical inspection should any of the above requirements have not been observed.
Why choose Fantastic Services for your EICR?
Certified, experienced & NICEIC-certified electricians near you
Fantastic Services works with fully accredited and NICEIC-registered electrical engineers. They have years of experience in testing fixed wire installations and identifying issues with domestic and commercial electrical systems. You can confidently entrust your EICR to the Fantastic electricians, who will expertly carry out the inspection and record any issues that do not meet the BS 7671 standard.
Increased electrical safety of your property
Regardless of whether you are a homeowner, business proprietor or landlord, your property's electrical safety is in good hands with us. As you now know, regular EICRs ensure that the condition of your electrics meets all legal requirements, prevents the risk of fire hazards and electrical accidents, as well as are often prerequisites for the validity of your property insurance. Last but not least, EICRs include recommendations for improvements and repair work, which can be expertly completed by our certified electricians for your convenience.
Convenient and flexible booking options
Request your EICR service by entering your details in the online booking form, downloading our GoFantastic app or via phone! Our online booking process takes no more than a minute or two and gives you the chance to check our real-time availability and rates in London. Just choose an appointment slot that is convenient for you! In addition, we may be able to offer short-notice electrical inspections, subject to availability.
Get £300 in credits when you join our Fantastic Club
All our new clients get £30 off of their EICR service if they join the Fantastic Cub during the booking process. In addition, our Fantastic Club members enjoy many other perks, like priority booking, real-time arrival tracking, access to deals from our partners, as well as extra credits for referring your friends to our services.
Electrical safety certificates for landlords
Landlords are responsible for making sure that their properties are electrically safe and tenants are not exposed to any electricity-related risks. HMO (House of Multiple Occupation) property owners are legally required to have an EICR, carried out by a certified electrician, every 5 years or whenever a change of occupancy has occurred. This also applies for non-HMO landlords before any new or renewed tenancy. As we've established already, periodic inspections ensure the safety of the electrical installation in their rental property.
PAT is also recommended for most landlords with furnished or partially furnished properties, where those who operate under the HMO licence may be legally required to have regular Portable Appliance Testing carried out. In any case, all electrical appliances should be safe for use and properly labelled with the CE marking, which ensures that the devices meet all electrical standards. To note, landlords' responsibilities and obligations are governed by the Landlord and Tenants Act (1985), as well as Health and Safety at Work Act (1974). Failure to follow any legal electrical requirements may result in hefty fines.
Is there a difference between PAT testing and an EICR?
PAT stands for Portable Appliance Testing and involves a check for issues with portable electrical appliances (dishwashers, washing machines, refrigerators, small kitchen appliances), which are plugged in fixed wire installations. PAT can be performed together with EICR and should be requested separately.
As already mentioned, the purpose of EICR is to identify and record issues (if any) with fixed wire installations, electrical units and fittings.
How often an EICR should be carried out
IEE (Institution for Electrical Engineers), now part of IET (The Institute for Engineering and Technology) advises on the following maximum periods of time between electrical inspections for different types of properties:
Homeowners should have their property tested every 10 years or when there is a change of occupancy;
Landlords must have an electrical inspection in their rented residential property every 5 years or every time that there is a change of occupancy;
Commercial properties should be inspected for their electrical safety every 5 years or again, in the case of a change of occupancy;
Industrial installations must have an EICR performed every 3 years or if a change of occupancy has occurred;
Commercial installations near water, such as swimming pool facilities, require annual electrical inspections.
Frequently asked questions
Q: How long does an electrical inspection usually take?

A: An EICR service can take anything from 2.5 to 4 hours, depending on the size of your property.

Q: What are your coverage and availability?

A: We serve both domestic and business clients, located in London, within the M25 zone. Our services can be booked for any day of the week, including weekends.

Q: How much does EICR in London cost?

A: All our prices are fixed and applicable for one consumer unit and up to 10 circuits, as well as include VAT. The inspection of additional consumer units and circuits is subject to extra charges. Charges for congestion and parking fees also apply.

Q: When do I receive my EICR?

A: Providing that the condition of your electrical installation does not have any serious problems, the electrician will issue your detailed Electrical Safety Certificate, there and then. If his recordings include recommendations for remedial actions, you can request a quote from us for the repair work any time and schedule an electrical service appointment.
Q: What is the legal requirement, regarding EICR when it comes to buying/selling a property?

A: You are not legally required to have an EICR before selling your property. Of course, if you have one, this may speed up the process of selling up. In the case of purchasing a property, you should ask the owner if they have a recent Electrical Safety Certificate. If such is not available, consider negotiating with the seller to carry out an electrical inspection in their property, the cost of which can be split between the two parties. After all, about a third of home buyers encounter various electrical issues that can cost thousands of pounds in repair work, just because they weren't aware of them before signing the deal.

Q: What should do if my EICR proves unsatisfactory?

A: Again, we recommend that you address immediately any urgent electrical repair issues that have been flagged during the inspection by scheduling an appointment with a certified electrician. Fantastic Services can handle both emergency and non-vital electrical repairs for you.
Electrical services across London
Central London
East London
North London
South London
West London
View all areas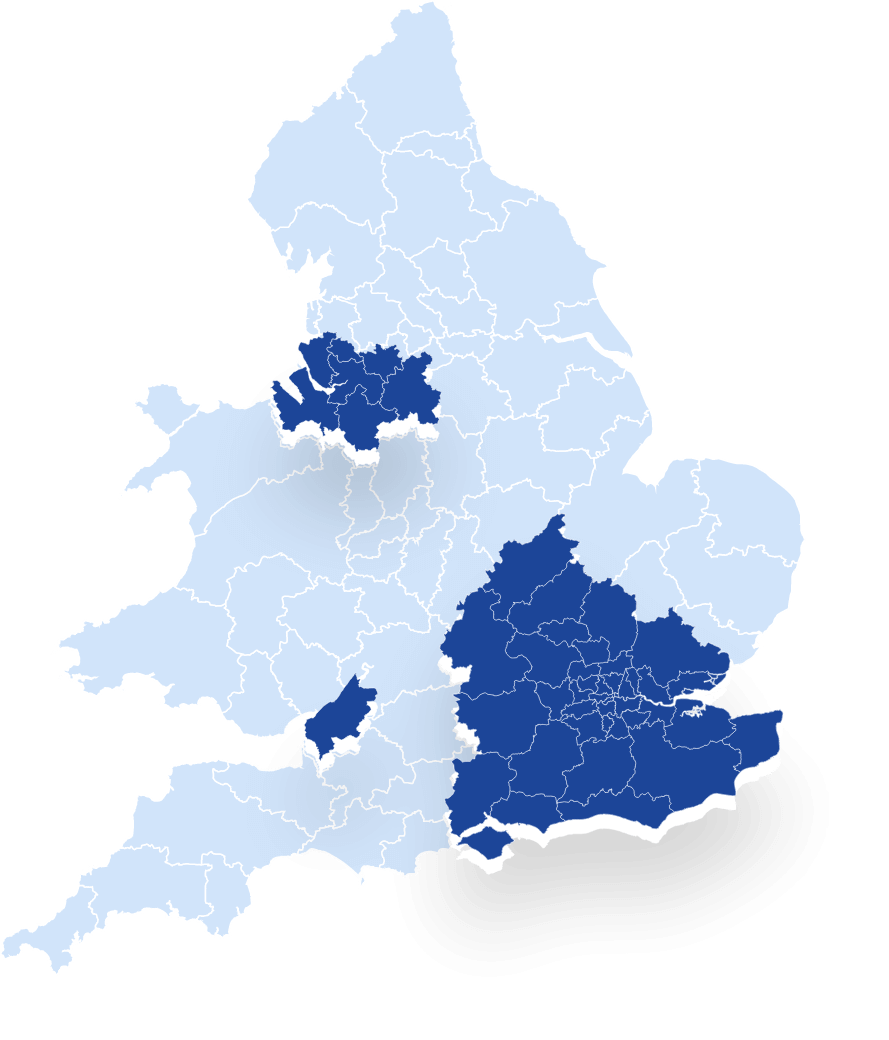 Book your electrical installation condition report today!