Reliable dry cleaning services in Chesterfield
Give us your laundry to-do list and relax while the trustworthy dry cleaners take care of the rest.
Quick service performed in under 24 hours
Washing and ironing of up to 8kg of clothes
Track your dry cleaning service easily online
Tumble drying and folding included

How the dry cleaning in Chesterfield works
Let us know what you need
Provide us with your postcode and let us know the quantity and types of items you need dry cleaned, so we can get you in touch with a reliable dry cleaner in Chesterfield.
Book your dry cleaning service
Check our schedule online and choose a time and day that works for you. Add all the needed details and book your service securely using online payment.
Have your dry cleaning delivered in less than 24 hours
On the day of the service, a cleaning specialist will pass by your home and take your dry cleaning. Everything will be returned clean and folded in less than 24 hours.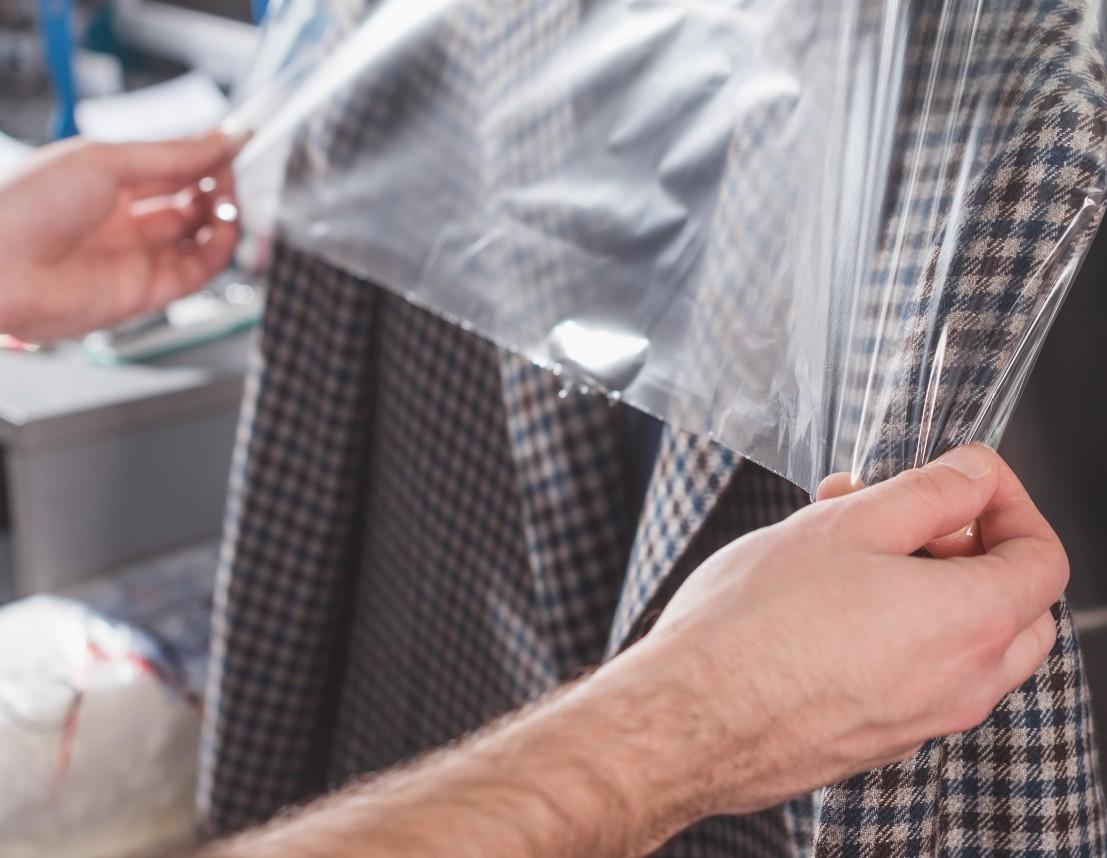 Your options for dry cleaning in Chesterfield area
There are two main services we offer - laundry and dry cleaning. For both of these, we offer free pick-up and delivery and everything takes less than 24 hours altogether. Once we pick up the items from the customer's address, we take them to our cleaning facility where all the magic happens. Then, we deliver the clothes clean and folded back to the customer within 24 hours from pick up.
The whole process is streamlined to be as convenient for our customers as possible, especially now that many can't leave their homes. And to top things off, it's also very affordable.
Our next-generation laundry and dry cleaning service with delivery is something that everyone can take advantage of. You can say goodbye to wasting time taking your dirty clothes to the dry cleaners, as we'll do it for you.
Here's a short list of items that are eligible for our dry cleaning and laundry service:
T-Shirts
Shirts
Suits
Trousers & Shorts
Pants
Dresses & Skirts
Tops & Jumpers
Suede & Leather
This service can be booked either online through our site or app, or you can just give us a call.
1570+
kg of laundry washed
1250+
kg of laundry ironed
1310+
kg of laundry folded
*Data has been extracted from our internal database for the past 12 months
You can become a member of the Fantastic Club today and take advantage of all the amazing benefits that come with it, including discounted rates and special offers.
Dry cleaning in Chesterfield - quotes for the local customers
£78
Evening dresses and a suit
Chesterfield
Sep 17, 2020
Hi, What would be the price for dry cleaning of three evening dresses and a two-piece suit? Thanks.
Service: Dry Cleaning
Chesterfield
Jul 28, 2020
Hi, We are looking for someone to do the washing and ironing of our bedding, on a regular basis. It is a 4 bedroom house. Can you provide me with a quote, please?
Service: Laundry and Ironong Services
Chesterfield
Mar 20, 2021
Hi, how much would cost the washing and ironing of all my summer t-shirts? I have about 20 shirts.
Service: Laundry and Ironing Services
What is the cost of dry-cleaning in Chesterfield
Our dry cleaning services in Chesterfield cost £45 on average.
45% of the people who use us for regular domestic cleaning in Chesterfield tried our dry cleaning service out.
37% of customers who book one-off cleaning also book dry cleaning.
78% of our customers who have tried our dry cleaning service, now have it performed on a regular basis.
*Data has been extracted from our internal database for the past 12 months
Fantastic Services in Chesterfield - coverage and local information
Local line: 0114 395 0149
Email: chesterfield@fantasticservices.com
Working hours
Monday

8am - 7pm

Tuesday

8am - 7pm

Wednesday

8am - 7pm

Thursday

8am - 7pm

Friday

8am - 7pm

Saturday

8am - 7pm

Sunday

8am - 7pm
Our Chesterfield dry cleaning services in action
Other services we provide in Chesterfield
Entrust your dry cleaning and laundry in Chesterfield to certified cleaning specialists.