Expert trampoline installation services in London
Get all the fun a garden trampoline offers without the hassle of building it yourself!
Assembly of all kinds, including above ground and sunken trampolines
Quick installation, carried out to the highest standards
Teams of two expert fitters, fully equipped with the proper tools
Labour and equipment included in the service
Express trampoline installation in 3 simple steps
1.

Book your trampoline installation survey

Use the GoFantastic app, online booking form, or call us to schedule an appointment.

The surveyor will arrive on the specified day and determine the type and amount of work needed.

After the survey, you will receive a quote based on your specific needs and you can arrange the service

4.

Enjoy your new trampoline

Within a day or two, you'll have a brand new trampoline and endless fun for the whole family!
What type of trampolines can we install?
Trampolines are great for the entire family - they encourage kids to play outside more and offer just as much entertainment for the grown-ups! They can make your garden much more fun and can be a great starting point for a small play area.
The problem is, assembling a trampoline can be a long process that some of us just don't have time for.
That's where Fantastic Services comes in! We work with professional trampoline installers who can tailor the service to your schedule. Your garden trampoline will be put up promptly and professionally, making sure you can enjoy hours of fun with none of the stress.
The expert fitters we work with can assemble and set up most types of trampolines. From simple, round trampolines fit for the whole family, to performance trampolines for the trainee gymnasts - we have you covered!
We offer in-ground trampoline installation, too. A sunken trampoline can be a striking addition to your garden. Plus, they can be a safer choice for kids. The professional installers are qualified to handle the whole process. From dealing with the landscaping to fitting your trampoline and cleaning up, rest assured we will take care of it all!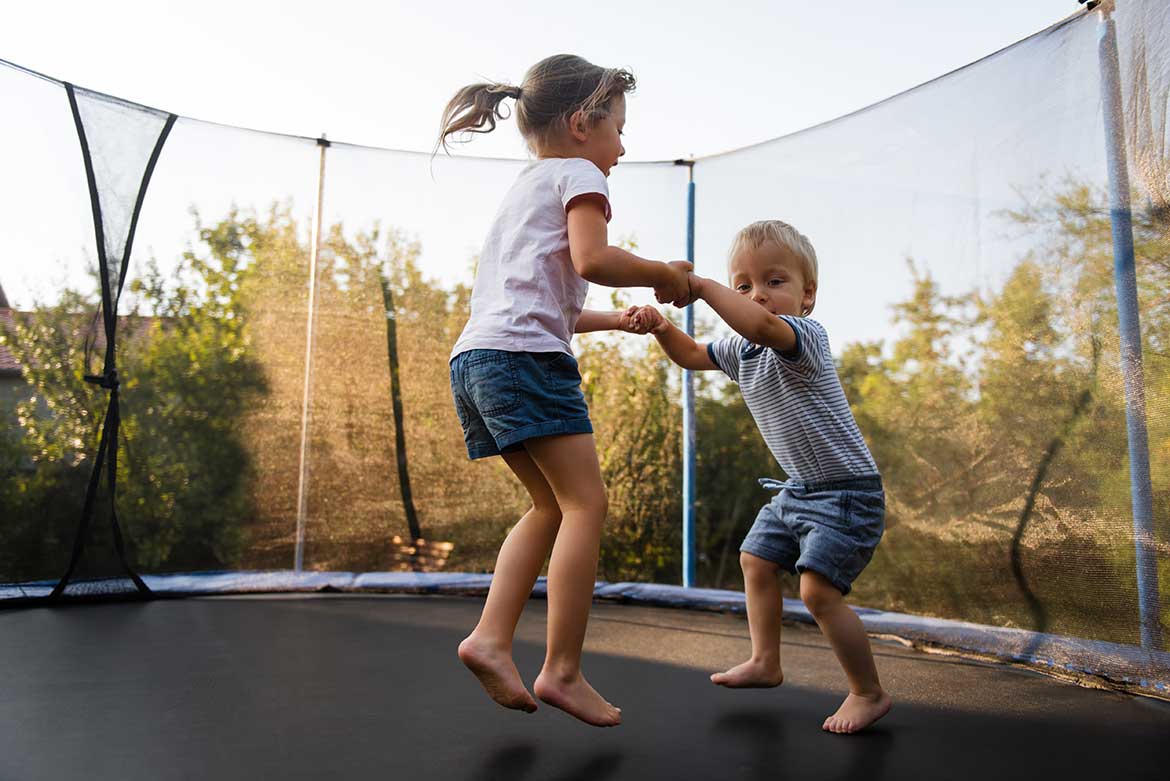 How does our trampoline installation service work?
Having your garden trampoline installed by Fantastic Services is a breeze!
First, you'll need to schedule your landscaping survey. You can quickly do this using our convenient online booking form or GoFantastic app. If you'd rather talk, simply give us a call! When booking, let us know exactly what you're looking for - whether it's an above-ground trampoline, a sunken one, or a performance one, we've got you covered.
After you arrange the appointment, a surveyor will arrive at your property. With your requirements in mind, the surveyor will examine your garden to determine the work that needs to be done. If you'd like to have an in-ground trampoline installed, there are some extra specifics, such as drainage and proper ventilation. So, the expert needs to inspect the area more thoroughly to determine whether it is suitable. Within 5 days of the survey, you will receive a quote for the service based on your needs and the condition of the area. This price includes all labour and material costs
If you're happy with the quote, you can go ahead and arrange the installation service. On the scheduled day, a team of two expert trampoline installers will arrive, fully equipped and ready to tackle the job. They will get right to work and, after 1 or 2 days (depending on the size of the job), you can start enjoying your brand new trampoline!
Frequently Asked Questions
Q: What size trampoline should I get?

A: The right size will depend on the space you have available and the form of your garden. If you have more room in your garden, you can opt for a larger trampoline.

Q: How long does it take to install an above-ground trampoline?

A: While it's not a complicated task, the time it takes will depend on the size of the trampoline. Generally, the bigger it is, the longer it will take to assemble and install.

Q: Can you buy and deliver the trampoline for me?

A: Absolutely! However, you have to specify your requirements when booking your appointment.

Q: How much does trampoline installation cost?

A: The final price covers all labour and the cost of the trampoline. This price depends on the size, type, and shape of your trampoline, so it can vary from one job to the next.
Book your trampoline installation in London today and enjoy hours of fun!