Improve your property curb appeal with bespoke green wall installation in London
The perfect solution for small urban gardens to green up your outdoor space even more!
Customised living wall designs to meet your vision
All green wall components provided and delivered
Trained specialists, who are certified to work at heights
Expert eco-wall maintenance services, upon request
Why consider having a green wall installed in your London property
1.
Reduces CO2 emissions & the heat island effect
Living walls purify the air and diminish the adverse effect of the urban heat island (UHI).
2.
Provides insulation & reduces noise
The thermal and sound insulation properties of green walls are proven to be remarkable.
3.
Improves your mental state & property look
Biophilic designs have a positive impact on our well-being, as well as increase property curb appeal.
What are the requirements for living wall installation?
Living wall systems are a great addition to any outdoor space. But they are particularly suitable for small urban gardens, which lack the room for growing too many plants and flowers. In addition, if you live in a flat in London, creating a vertical garden on the balcony can do wonders for greening the exterior of your property and turning your outdoor space into a little paradise. Some requirements, however, are a must before our green wall installation service can take place.
Let's see what they are:
Permitted construction: Although green walls and roof gardens generally fall into the category of permissible building, it's always a good idea to check with your local council, first. Some older houses may be unsuitable for living wall installation, due to the possible burden of the extra load that the system can cause. Hence, it's best if a preliminary survey of the area is carried out. Also, sometimes, the approval of your neighbours is needed, so do check with them if they have any issues with your green wall construction plans.
Water source: Your vertical greenery will require regular watering unless you've gone down the path of using artificial plants for the construction of your green wall. So, make sure that there is a water supply close by that can be easily connected to the irrigation system. Your living wall will benefit from being irrigated with fresh water, which has not been additionally softened.
Room for the irrigation system: The installation of the irrigation system also requires space. How big that is will depend on the size of the green wall, of course. Although we'll do our best to adapt to the available space, keep in mind that floor space with the following dimensions - 1200mm x 900mm - is generally required for the successful installation of an automated irrigation system.
Drainage: Not all watering systems require a drainage outlet for the water to run off (recirculating irrigation systems, for example). But in most cases, a drainage point should be envisaged to avoid the risk of unwanted water build-up on the ground that can lead to structural property damage and even flooding issues.
Electricity: The irrigation system needs electricity, of course, so an electrical outlet (240V) is required in close proximity to the watering installation. And if you plan to adorn your living wall with lights, those will also need an electrical supply, located not too far away. Our technicians will confirm on-site all other technical lighting requirements, as well.
Note that when it comes to the plant life of your living wall system, no pre-growing of foliage plants or flowering varieties is required.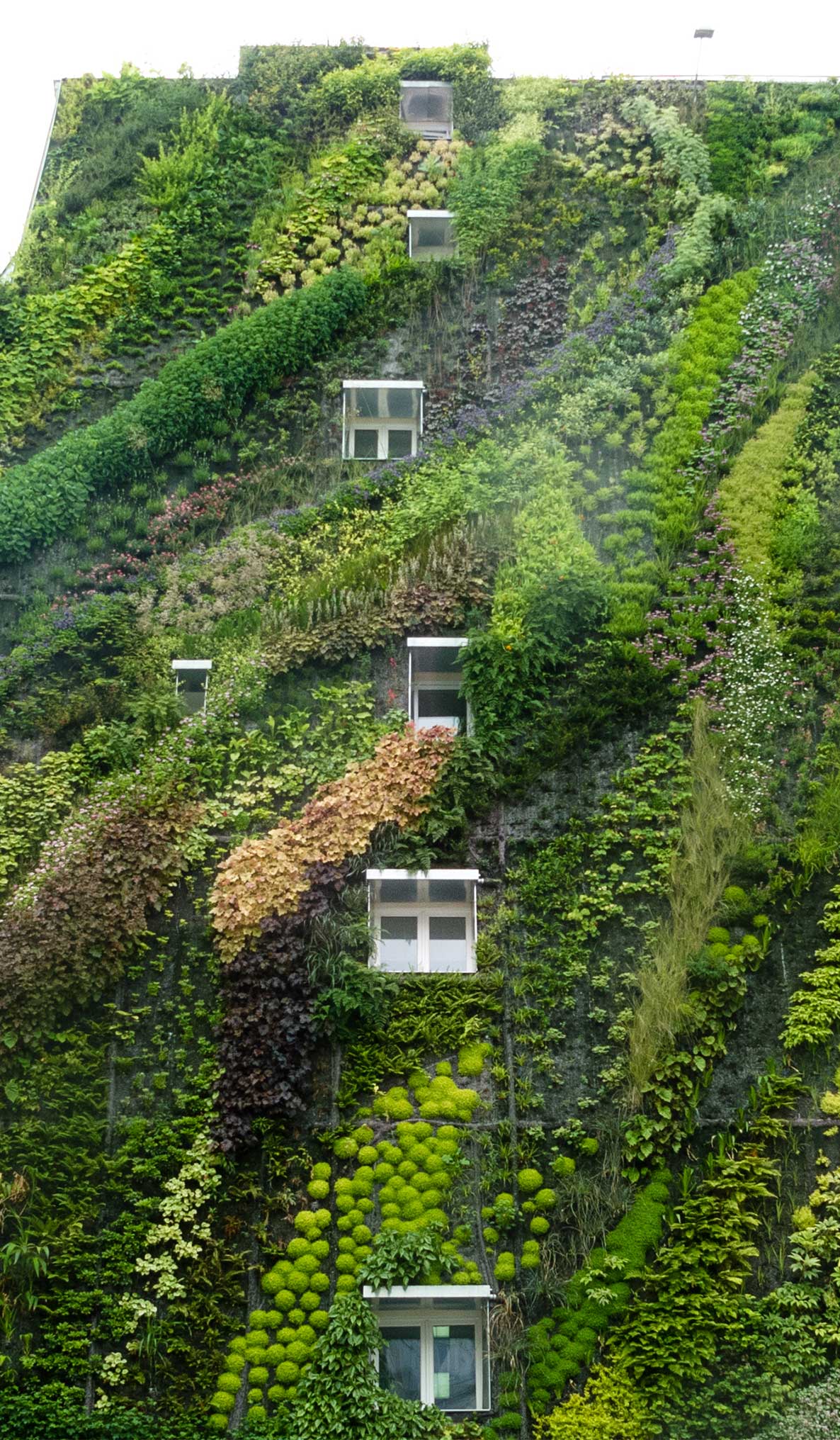 How our green wall construction service goes
Regardless of whether you wish to green up the front wall of your London house, install a living wall system on your balcony or have the opportunity to design a roof garden on your property, we've got you covered. Fantastic Services counts on proven specialists in this field, who work in teams of two or more experts. The crews consist of experienced horticulturalists with vast plant knowledge and expertise. In addition, we assign to the job IRATA-certified technicians (L1 and L3), who are qualified to work at heights. This means that any tasks that require rope access will be completed expertly and safely.
Here's what you can expect from our living wall installation service:
The design stage - We'll send the design team, first, to discuss your project and consult you further if needs be. We can customise your service to meet your individual eco-wall installation needs. From choosing the type of plants and say, have an evergreen or moss wall installed for you to enjoy all year round, to selecting a preferred type of irrigation system, the team will embrace your vision and concept, and come up with the right green wall design for you. You can trust their professional advice at all times, too.
Green wall components supply - We will provide all the materials and components for your bespoke vertical garden. Note that the entire system will comply with the BS476 Part 6/7 standard, which means that your wall will be fire-resistant and safe. The type of plants you have on the wall will be entirely up to you, whether you want berries and herbs to grow, or you wish for some foliage plant varieties to be incorporated in the system.
The installation stage - On the day of your appointment, once all technicalities have been cleared up during the on-site survey, the team of experts will arrive with all the materials for your wall installation. The wall construction process is easy and involves fixing a steel or timber frame to the support wall. The living system will be hung from a steel rail and the plants will be planted and integrated into the wall structure there and then. Finally, the technicians will install the irrigation system and test it to ensure that it works correctly.
Living wall maintenance - The health of your newly fitted living wall system depends on the right maintenance, done regularly and by a team of professionals. So, do consider using our assistance in the future, in order to make sure that plants are thriving and the whole living wall is in good condition. You can book the Fantastic experts to check on potential feeding and irrigation issues, trim overgrown foliage and remove any spent leaves, as well. Don't forget that some of the maintenance tasks are done at a certain height, so don't risk using a ladder but leave the job to the trained and certified specialists!
Frequently asked questions
Q: Green walls improve air quality. Is there a way to measure this somehow?

A: Yes, and we can assist you with this. We offer fresh air monitoring system installation, so don't hesitate to discuss this option with the team during the preliminary survey, or in other words, the design stage of the service.

Q: I've got my own living wall design ideas. Can the specialists accommodate those?

A: Absolutely, we understand fully that each vertical garden project is unique. So, your reliable service providers will listen carefully to your ideas and ensure that they realise your design concept with your expectations in mind.

Q: I worry that various insects may get attracted to my green wall. Can I use fake greenery?

A: Yes, we can construct your vertical green feature by using artificial plants, which, of course, won't need feeding, watering and expert regular maintenance. Note, however, that such a wall won't do much for the biodiversity in your garden, nor would it be able to offer you the air-purifying and UHI-reducing benefits a living wall system would.

Q: Can you install a vertical garden on any type of walls?

A: Generally, yes. The team will inspect your support wall during the on-site viewing and let you know if the service can go ahead. They may also be able to suggest alternatives if you happened to have a non-standard property exterior wall.
Q: Will my green wall suffer in the winter months?

A: We always consult our clients on the most suitable plant varieties that will thrive in a said local climate and go dormant in the cold weather without getting damaged. In addition, as mentioned above, your living wall can incorporate various evergreens for an all-season stunning display and enjoyment.

Q: What is your coverage?

A: We serve both residential and commercial clients, located in Greater London, within the M25 zone. Please, contact us if you reside elsewhere to see if we can still help you out.
Part of the areas where we offer living walls installation:
Camden
Central London
East London
Greenwich
Hackney
Hammersmith and Fulham
Islington
Kensington and Chelsea
Lambeth
Lewisham
North London
South London
Southwark
West London
View all areas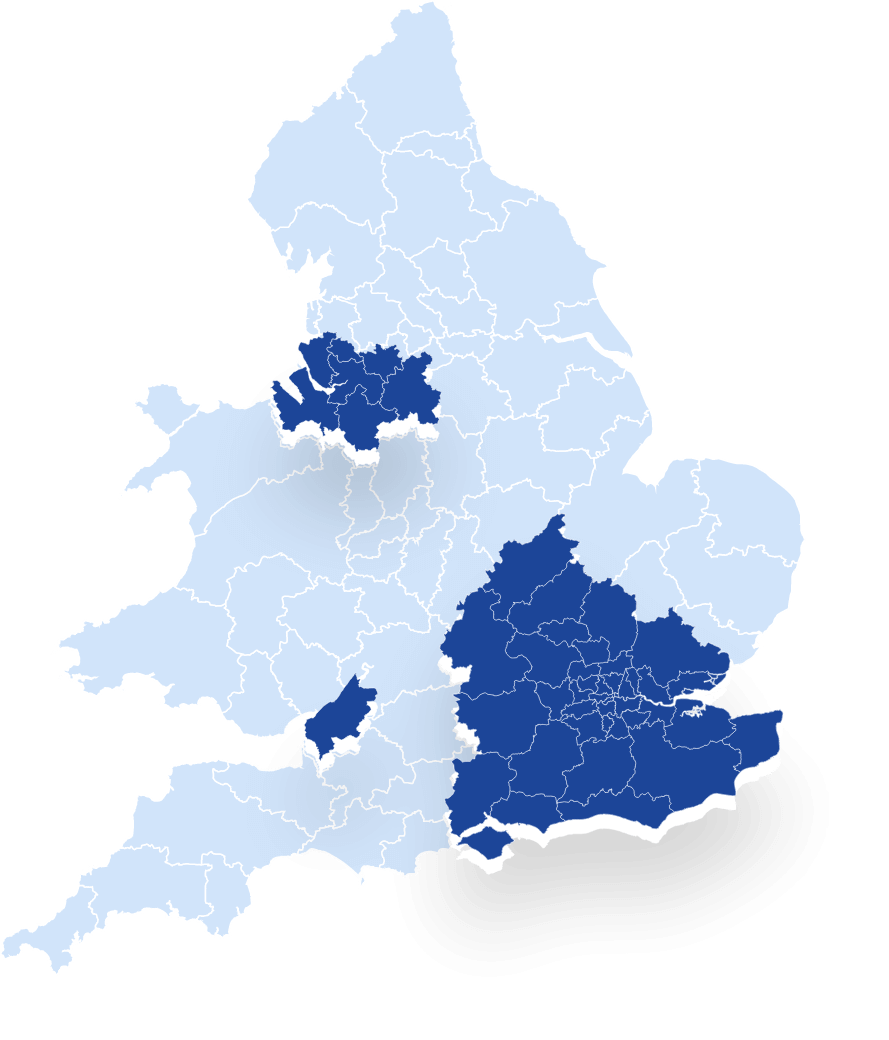 Enjoy an enhanced outdoor space with our green wall installation in London!