The easiest way to book reliable plumbers in your area
2.
We'll send a qualified plumber to your place
3.
He'll determine and fix your plumbing issues
4.
Enjoy a job well done!
Plumber's prices
Plumber
Monday – Friday
Saturday
Sunday

Appointments

8 am - 6 pm

6 pm - 10pm

8 am - 6 pm

8 am - 6 pm

Prices

Fantastic Club

Standard

Fantastic Club

Standard

Fantastic Club

Standard

Fantastic Club

Standard
First hour

£92

£102

£108

£120

£108

£120

£124

£138
Subsequent half hours

£43

£48

£51

£57

£51

£57

£59

£66
Daily rate

£473

£526
---
---
---
Join the

Fantastic Club and get:
10% off all 25+ services
20% off domestic cleaning
Other exclusive deals
Premium booking slots
*Minimum time per appointment is 1 hour. After the first hour, we will charge on a half-hour basis.
**We charge an hourly rate of £48 shopping time for the delivery of all necessary supplies & materials upon your request. Materials costs and "shopping time" rate will be added separately on the top of your service bill.
T&Cs and Minimum Charges apply. When we calculate the price, we also take into consideration the area's dimensions and the time of the appointment. All prices and deals are valid for areas within M25. Deals cannot be combined with any other deals and promotions. Prices are subject to availability. Congestion charges are excluded (when applicable).
To give you an estimate and design the best service for your business, we need to know more about your needs.
Call us for a quote at 020 3746 1062 or contact us.
Done by efficient, dedicated professionals
The specialists who we send out are professionally trained to work with precision and attention to detail. They will handle each task quickly and efficiently, solving your plumbing problem in the shortest amount of time possible without causing a mess at your place.
Health and safety come first
We've got a strict Safety Policy that serves to protect both the professional and the customer. All technicians are fully insured. Moreover, we provide gas safety inspections of all gas-powered appliances to ensure that landlords are observing the Gas Safety regulations and the property is perfectly safe for the tenants.
You only pay for what you get
As our payment system is hourly-based, you only pay for the actual time it took for the specialist to fix your plumbing problem. There's a minimum call-out charge for the initial hour; after that you are charged on a half-hour basis.
Bringing all tools & equipment
The specialists operate with their own instruments, so we got you covered there. Plumbing repairs often require the replacement of certain parts, which is yet another thing that the specialists can take care of for you as they can readily supply everything on site (the costs will be added to your final bill).
Your satisfaction is guaranteed
The performance of every plumber is diligently monitored by supervisors. That's how we ensure that their work is done at the highest professional level. Our ultimate goal is to bring you complete satisfaction with the services you get, thus your feedback is always welcome.
Awesome perks with the Fantastic Club
Now with the Fantastic Club you can get a major discount on your bookings, including your plumber service! For a single payment of £59, you get to benefit from special deals, priority booking options, and major discounts on our whole service range for an entire year. It's the perfect opportunity to save some money, while still getting to book every service your property needs.
Types of plumbing installation services & repairs that the experienced local specialists can do for you
Even if you are not exactly sure what is wrong with your domestic plumbing, the specialist will be able to determine the cause of the problem and fix it in time. We can cover all sort of plumbing repair services across your home and office. Here are some good examples of common plumbing maintenance duties the specialist can do for you:
Pipe leaks or bursts
Detection & repair of indoor and outdoor pipes
Fixing dripping taps
Washing machine and dishwasher installation
Shower faults & repairs
Drain unblocking
Sump pump replacement
Radiator valves changing
Toilet repairs and installation
Sinks and basins fitting and replacement
Fitting replacements
Insinkerator or saniflo repair and replacement
Waste disposal installation, removal, replacement and repair
Frequently asked questions
Q: I need to make some changes to my booking. How do I do that?

A: Just log into your Fantastic account and go to the dashboard section. From there you can reschedule, cancel, or add details to you current bookings.

Q: Can I get a discount on my plumbing service?

A: You can get a lower price on our whole range of services by joining the Fantastic Club. If you become a member, you also have the chance to benefit from cool perks like priority bookings and seasonal deals.

Q: Is there anything else I need to know?

A: Prices are inclusive of all taxes. Material supply and delivery costs come on top of the service cost if applicable. If the Plumber arrives and is unable to complete the work due to conditions you have failed to provide, there is a call-out fee of 1 hour and the cost of parking/congestion (if applicable).

Q: It's an emergency! Can the plumber come right now?

A: We'll do our best to send the nearby plumber as soon as possible. In the meantime, you can just turn off the main water supply.
Q: How fast can the technician arrive?

A: Same-day appointments can be arranged if our schedule allows it. If all slots are currently booked, the professional will make sure to arrive on the next day the latest.

Q: Do you have all the necessary tools and equipment?

A: Of course, your plumber in London will bring everything required to complete the job.

Q: What is your coverage?

A: This service is available for properties within the M25 London zone.

Q: Do you charge for a quote?

A: We can suggest of how long a service may take, however the final quote is given on site by the plumber. We do charge for site visits and inspections.

Q: Do you guarantee a quality service?

A: Yes, the specialist will be happy to test whatever has been repaired or replaced to ensure that everything works as intended. In case you notice something unusual, please contact us and we'll send the expert back to fix it for free.

Q: Can the dripping tap wait?

A: Actually, fixing a leaky tap or other common plumbing repairs should be done as soon as possible, no matter how small they may appear. Waiting too long to stop the leak could not only add to your monthly water bills. It can potentially lead to major plumbing issues and cause a large number of possible losses, such as structural and water damage that costs a lot.

Q: Help! My toilet won't flush, what to do?!

A: It's one of the most frequent problems that every household encounters sooner or later. Some of the main culprits for a toilet being unable to flush are clogged pipes, not enough water in the tank, a warped or bent rubber flapper, something's wrong with the lifter chain, etc. You don't have to do the dirty work yourself. Book a plumber in your area to fix the toilet as soon as possible.
Plumbing coverage around London and beyond!
Get your plumbing tasks completed by experienced professionals with years of industry experience. We can help you handle all plumbing issues around your home and office in the following locations:
View all areas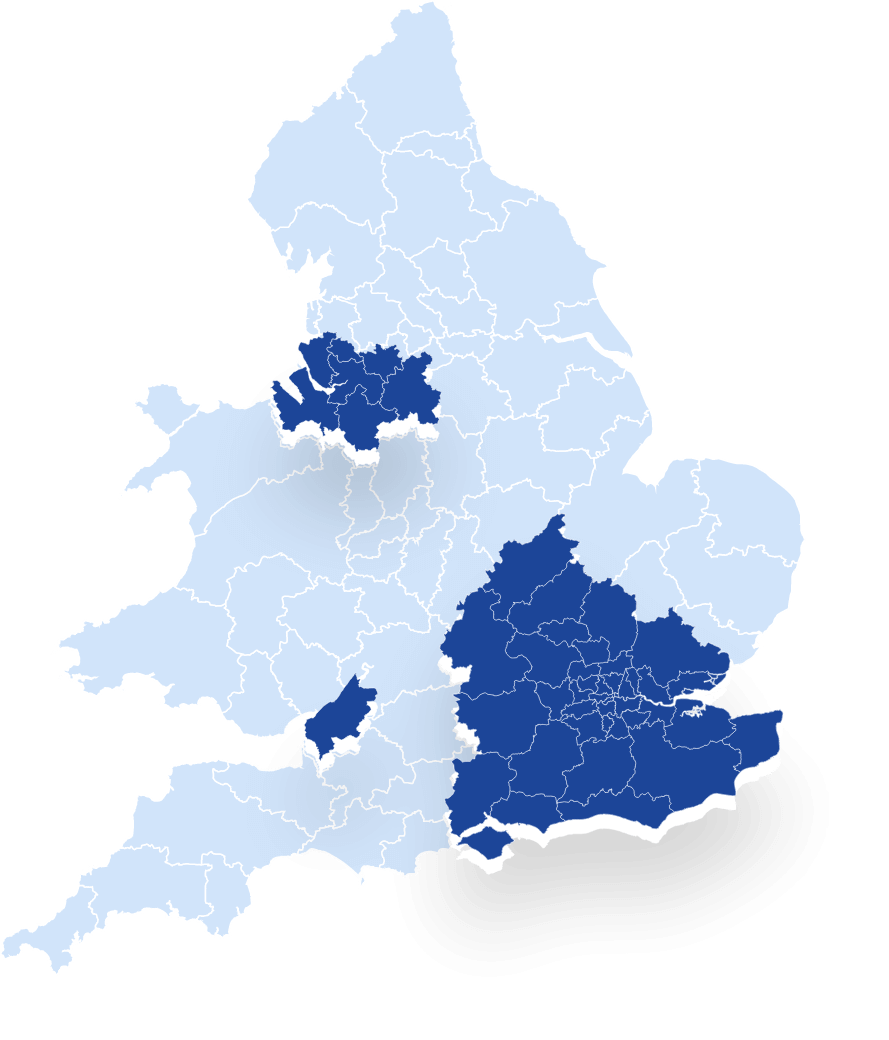 We can provide much more than plumbing services: