Treat your skin with a rejuvenating facial conveniently at your home in London
Eliminate the signs of stress or ageing with a professional facial treatment! Your skin deserves it!
A range of facial treatment procedures for a glowing skin
Fully qualified and insured mobile beauty therapists near you
Using dermatologically tested skin products from leading brands
Easy-to-schedule appointments in a few taps online
Check Prices & Availability
Your skin rejuvenation is 4 steps away
1.
Pick a women's or men's facial treatment
Choose from purifying or anti-ageing mobile facials for women and gents, which are all-inclusive of a face massage.
Enter your postcode in the provided online booking form to schedule your appointment.
3.
Schedule a day and time
Set up your mobile facial session for a day and time that fits best your busy schedule.
4.
Enjoy your younger-looking skin
Your spa-quality facial will leave you with firmer and amazing-looking skin.
An array of facial treatments to improve the condition of your skin
Purifying Facial
Stressed and dull-looking skin that flakes and dries out too quickly? Or clogged-up pores and oily-looking forehead and chin? No problem. A purifying facial is what you need, which includes a cleansing steam, exfoliation to remove dead skins, extraction to address blocked pores, a soothing purifying mask and a relaxing massage. Let your skin breathe again after this unmissable 60-minutes therapy session!
Anti-Ageing Facial
Using an advanced anti-ageing system for both your face and neck that includes 90 minutes of nourishing procedures, multivitamin complex and a variety of cleansing and firming products, which will leave your skin feel and look smoother, more hydrated and truly glowing. You can also enjoy a blissful face and neck massage as the ultimate stress-reliever that will inevitably minimise the signs of tension and ageing.
Men's Anti-Ageing Facial
Specially designed for gents, the men's anti-ageing facial therapy you can take advantage of is a 90-minutes skin-rejuvenation session, which includes the use of effective dermatologically tested facial products, enriched with powerful vitamins and minerals. Stop the signs of time on your face with this advanced anti-ageing system and why not add an extra 10-minute facial massage for that 5-star spa feeling?
Men's Purifying Facial
Although men rarely pay attention to the adverse effects of urban pollution on their skin, many have become wiser and don't miss the opportunity to cleanse their face professionally on a regular basis. So, take advantage of this men's purifying facial treatment at home that includes a cleanse, exfoliation, mask and more for an invigorated and fresh-looking skin. Again, only top products are used from reputable and leading brands.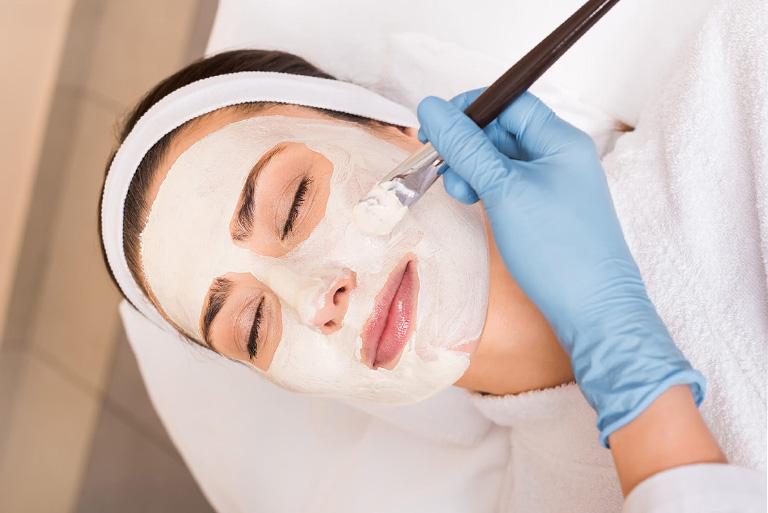 Why your mobile facial treatment will exceed your expectations
Fantastic Services works with trusted partners, who have developed the most convenient mobile beauty therapy treatments, delivered directly to where you are by experienced and insured beauticians. And skin-rejuvenation therapy is no exception. Below, you can see what you can expect from your mobile beauty salon service for your face:
Specialist consultation - The visiting beautician will, first, ask you a few questions to determine your needs and then, you'll be advised on the most appropriate products for your skin type and condition before going ahead with the facial therapy of your choice.
A variety of rejuvenation facial treatments - You can combine a couple of facial therapies or go for a single one, be it a purifying or anti-ageing skin treatment, designed for both men and women. Tailor your service by skipping or adding a particular element, such as a soothing face and neck massage.
Skin products from premium brands - Your beauty skin therapist will use high-end products from leading brands, such as Decleor, Neil's Yard, Dermalogica and more. The specialist will bring a massage bed, a steamer and everything needed for you to enjoy the results of a multi-step facial in the comfort of your own home, hotel room or even at your workplace.
Professional and insured facial therapists - The mobile skin therapy experts are fully vetted for their skills and expertise, as well as their experience and gained qualifications. So, feel confident that you'll receive a second-to-none at home skin-conditioning and beautifying treatment.
Frequently asked questions
Q: How long does a facial treatment take?

A: The facial treatments we offer can take between 60 and 90 minutes, depending on what type you choose and whether you add any extras, such as an additional relaxing 10-minute face and neck massage.

Q: How should I prepare for a mobile facial treatment?

A: Please, provide a comfortable area for your beauty therapist to work in, where they can fit a massage bed near an electrical outlet.

Q: How do I know if my skin type is suitable for one of your facial treatments?

A: The answer to this question is related to what the condition of your skin is rather than to what type it is. Or in other words, any type of skin will benefit from purifying and anti-ageing facial therapies. Of course, if you have allergies or a specific medical skin condition (ex: eczema), please consult your healthcare provider, first.

Q: How often should I have a professional facial treatment?

A: We all try to take care of our skin at home but nothing compares to a professional deep-cleansing facial or anti-ageing skin treatment. Once every 6 weeks is ideal to purify the skin of your face with the help of an expert in this field. You can also learn more about this during your first-time consultation with them.
Q: Do you offer mobile facials throughout London?

A: Absolutely, we can send a mobile facial therapist from 7 am till 10.30 pm, anywhere in London, within the M25 zone.

Q: What is the protocol if I have a problem with my facial treatment?

A: Please write to us and explain why you are not happy with your facial treatment at home and we'll carefully review your concerns before getting back to you.
Your spa-quality mobile facial treatment is a click away! Book today!