We bring the mobile nail salon to your home in London
Your nails, done and taken care of in the comfort of your home.
Skilled, vetted and insured mobile nail technicians near you
A variety of nail treatments for men and women
Saving you travel time by coming to you
All-week round availability & complete London coverage
Check Prices & Availability
4 steps to your perfectly polished nails
1.
Choose your at-home nail treatment
Nail extensions, express gel manicure, nail art or male pedicure, you name it - we do it!
Just enter your London postcode to find the nearest mobile nail technician and follow the next step!
3.
When is it best to come?
Select the time and date to secure your mobile nail service and leave the rest to us!
4.
We can feel your excitement
No more anticipations! Your visiting mani & pedi technician is here to give you a second-to-none spa nail treatment.
What nail treatments you can have at your home, office or hotel in London
Gel Mani & Pedi
Enjoy a full spa or express Gel/Shellac Mani & Pedi treatment for long-lasting results of up to 2 weeks! Your nail technician will use quality products from well-known and much-loved brands. The service is totally customisable, so you can skip or add extras, such as have your nails only shaped and painted or go for an extended hand and foot massage during a preliminary spa nail treatment. Also, you can have old Shellac or nail extensions removed, or opt for exquisite nail art treatment for the ultimate fabulous look.
Spa Mani & Pedi
What's the point of polishing your nails on dry-looking hands with cracked or peeling cuticles? Take advantage of our full spa nail, hand and foot treatment that comes with a soothing soak, followed by foot scrub, warming hand and foot massage to improve your circulation, and of course, filing, cuticle work, buffing and classic or gel polish. Tailor your Spa Mani & Pedi treatment the way you want to and get that rejuvenated feel and star look for your hands and feet.
Express Mani & Pedi
Do you have an important meeting tomorrow? Or a blind date? Then, the Express Mani & Pedi treatment can easily save the day! Again, you can tailor the service to your needs and have the following treatments, proficiently done: file, shape and polish with nail varnish of your choice or long-lasting gel/Shellac. With that said, you can benefit from only-polish to change your nail colour (especially if you've recently enjoyed a full spa and varnish nail treatment) or go for a nail strengthening treatment for optimum results.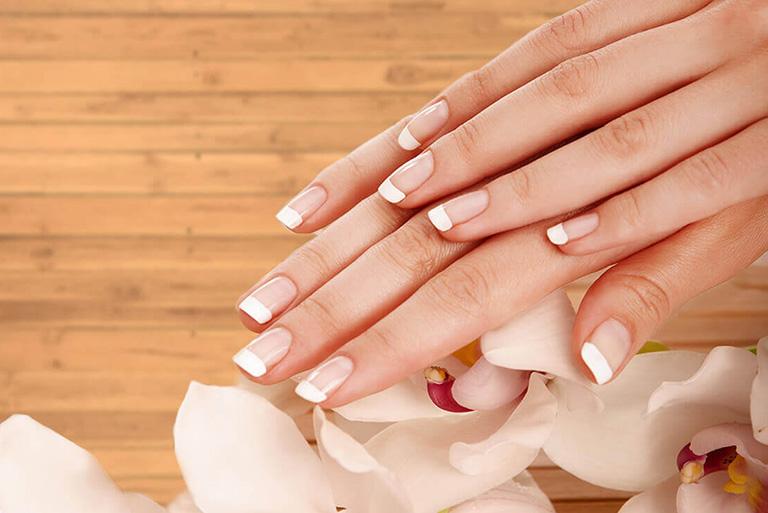 Nail Extensions
Short, brittle nails that never seem to grow the way you want them to? No probs. A mobile acrylic nail technician can resolve this in zero time. Your nail extension at-home treatment includes filing and buffing, expert cuticle work and acrylic or sculpting gel extensions application, followed by applying a standard or gel/Shellac polish. And for an extra stellar look, add nail art to your hand beautifying treatment. The nail extensions service renders long-lasting results of up to 4 weeks with the right care (acrylic overlay tips). Note that gel extensions may last less than a month but are softer and gentler on the nails.
Nail Extensions Infills
Like anything, your perfectly applied nail extensions could do with maintenance, in order to extend even further their life. This is where the Nail Extensions Infills treatment comes into play. Book a mobile nail technician to top up your acrylic or sculpting gel nail extensions easily to conceal natural nail growth or simply to prolong their life. The latter is especially applicable to gel nail extension tips, as they may need reinforcing and extra care sooner than acrylic nail overlays. In addition, you can book a visiting nail technician with us for a single nail repair and have an infill applied to a damaged nail.
Male Mani & Pedi
Gents can also benefit from a complete hands, feet and nails grooming service with our Male Mani & Pedi spa treatments. You can expect a specialist hand and/or foot massage, a revitalising soak and scrub, cuticle work, file and buff at your home, workplace or even if you're visiting the capital and staying in a hotel in London. If you wish, skip the spa mani/pedi element and just have your nails taken care of, or on the contrary - get an extended foot or hand massage - it's your choice. Choose the perfect at-home male pedicure or manicure treatment (or both) to get that clean and well-groomed look!
What does your mobile manicure & pedicure treatments entail?
Fantastic Services works with trusted partners in London, who believe in excellence, convenience and a stellar customer wellness experience. Here's what you can expect from your at-home nails service every time:
Skilled and insured mobile nail technicians - All nail beauticians have the skills, experience and right qualifications to take care of your needs. They are fully vetted and comply with all hygienic and safety standards.
Professional consultation - Your nail treatment at home begins with a short consultation so that the technician understands your requirements and gets an idea about the condition of your nails.
Using products from leading brands - You'll enjoy only quality products from brands, such as O.P.I., Essie, Oribe, Shellac, Jessica, etc. Your mobile nail technician will arrive equipped with all the tools needed, as well as with a vast selection of nail polish and gel colours.
A wide selection of nail treatments - From spa mani/pedi services, inclusive of hand and foot massage procedures, a soothing soak and scrub, cuticle work, file and buff, for gents and ladies to a variety of complete or express mobile manicure/pedicure treatments, nail extensions and nail art, we've got you covered.
Guaranteed results - Boosted confidence, an immaculate star look, rejuvenated hands and feet, as well as a groomed and clean appearance, these are just the few benefits you'll experience after a convenient, at-home nail service.
Easy-to-customise mobile mani/pedi services - You can tailor your nail treatment service and add various extras - sculpting gel extension/acrylic infills, nail repair work, removal of gel polish and extensions, extended foot and hand massages, just specify your needs.
Frequently asked questions
Q: What is the vetting process of the mobile nail technicians?

A: We rely on our trusted partners' discretion to thoroughly check all the relevant qualifications and certifications of the nail beauticians. Don't hesitate to ask for the same nails treatment specialist, once happy with their work.

Q: How long do gel/Shellac nails last?

A: Gel/Shellac application is superior in durability than standard nail polish and can last up to two weeks if you take good care of your hands and nails.

Q: How long does a nail treatment take on average?

A: The duration of the services differs, depending on the type that you have booked (a single treatment or a package) and on the extras that you might have added. For instance, an express gel mani application will take about 25 minutes, whereas when combined with a spa mani/pedi treatment, your session may take a good hour and a half.

Q: Do you cover the whole of London?

A: Yes. You can book a mobile nail treatment service anywhere in Greater London, within the M25 zone.
Q: What can I do if I'm not entirely pleased with the results?

A: Please, explain in a written form why you're not satisfied with your nail treatment and include photos if you can. We'll review your case and get back to you. Note, however, that we ask the nail technicians to take pictures of their work for quality control purposes, as we cannot be held responsible for your dissatisfaction, due to incorrect post-service care of your nails.

Q: Can I book an express manicure treatment on the same day I contact you?

A: We do offer same-day and next-day services, subject to availability and location. Note that the mobile nail technicians operate 7 days a week, from 7 am till 10.30 pm.
Book a trusted mobile nail technician in London, wherever you are!