Enjoy convenient mobile waxing at your home in London
Convenient mobile waxing services with diligent and vetted beauticians!
Professional home waxing services for women and men
Fully qualified and experienced mobile beauticians
Using high-quality and safe body hair removal products
All-week-round availability and full coverage of London
Expert waxing at home, done in 4 easy steps
1.
Select the right hair removal service
Let us know what type of mobile waxing treatment you need, which will be done in the most professional manner.
2.
Feel free to add extras
You can request add-ons to your main hair removal service, too, be it a brow or underarm waxing treatment.
3.
Choose your location and a convenient day & time
Enter your location online and pick a day and time that suit you the most, Mon - Sun, from 7 am till 10.30 pm.
4.
Feeling happy with your silky skin?
We thought so. Enjoy the lasting results of your at-home hair removal service and don't forget to contact us again whenever you need to.
What waxing-at-home services can the beauticians perform in London?
Ladies' Waxing
Women's mobile waxing treatments come in a full range that covers all body parts that may commonly require hair removal. With your ultimate comfort in mind, the trained beauticians will perform the service with high-quality results by following all safety and hygienic standards in the comfort of your home in London.
Half Leg - Your legs, from the knee downwards, will be treated by applying the strip or hot waxing method.
Full Leg - Choose to silk-up your legs from top to bottom and feel confident wearing your favourite little black dress or short skirt.
Full Arms - Opt for a half or full arm waxing treatment to have smooth-looking arms for weeks to come.
Intimate waxing - Available waxing options, including bikini area, Brazilian and Hollywood wax treatment.
Men's Waxing
Popular among the gents, too, our mobile body hair removal services can save you time and the hassle of visiting female-orientated establishments like beauty parlours and salons. So, no need to feel self-conscious any longer about unwanted bodily hair, when you can easily book a trained waxing specialist, who will visit you at home or your hotel room anywhere in London.
Choose from Full Back or Chest, Full Arm and Full or Half Leg wax treatments and feel free to add extras, such as underarm or brow wax to have your unique hair removal needs met completely and in the most unpainful manner possible. Your convenience and high expectations for quality service are of our utmost importance!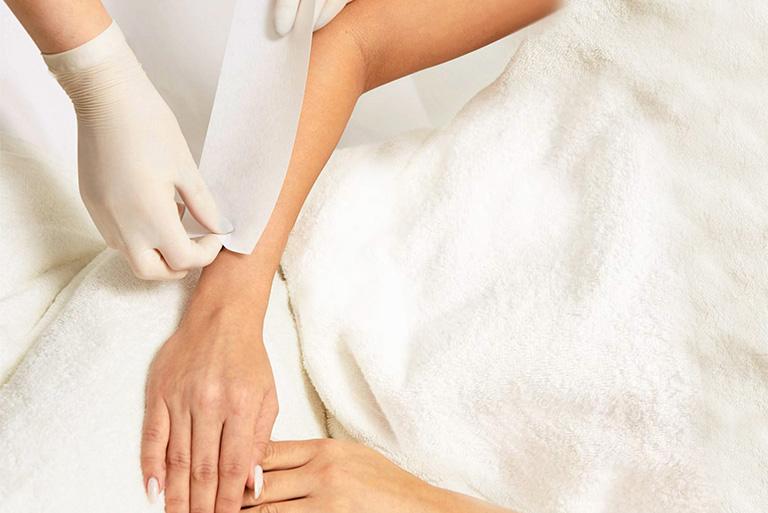 Your mobile waxing service in more detail
Home waxing may not be the experience of enjoyment and relaxation you're looking forward to, however, everyone would agree that it is far more convenient and comfortable than getting the treatment in a beauty salon. Designed to fit your busy schedule, at-home hair removal services are worth booking, when the result is a smooth and silky body to show off, say, during your summer holiday on the beach. Or they can be a perfect fit to get the most out of your dream spray tanning treatment.
Expect only the highest quality of your waxing service that includes:
Professional consultation - Your mobile waxing therapist will carefully listen to your requirements and will explain to you how the hair removal process will go. They will happily advise you on the most suitable waxing methods used, depending on what body parts you wish to be treated.
Fully equipped, insured and vetted mobile wax therapists - The mobile beauticians go through a strict vetting process, designed by our trusted partners we work with. The background-checking protocol involves the evaluation of all the specialists' credentials. The visiting waxing experts use top-quality hot or strip waxing products, as well as soothing after-treatment lotions for your utmost comfort and pain-free experience. Note that a massage bed is provided if needed, as well.
Complete mobile waxing solutions - Suitable for both women and men, the waxing service range can satisfy all types of body hair removal needs. Additional waxing solutions are also available (brow, lip or underarm wax), which you can easily opt for along your main selected treatment. The waxing therapist will strive to cause you as little discomfort as possible and will ensure that any mild redness on your skin is soothed by applying a special lotion with anti-inflammatory properties.
Frequently asked questions
Q: Is there anything I need to know before I schedule my waxing treatment?

A: Please, make sure that your skin is freshly washed just before the service and gently exfoliated, the day before. Ensure that hairs are at least ¼ inch long. Do not apply oils and gels on your skin before the treatment. Your skin should be in healthy condition, free of cuts, wounds, inflamed areas or eczema. Also, note that waxing is not recommended for at least 24 hours after sunbathing, swimming, sunbed sessions, sauna, sports activities or self-tanning application.

Q: Are there any aftercare tips that I need to apply after my waxing treatment?

A: As you'll be having the treated area covered in a soothing lotion, avoid using any other beauty products on your skin that might cause unpredictable reactions (cosmetics, fake tans and more). Again, in the next 24 hours, do not engage in activities that involve heat, water and physical exercise (ex: sauna, sunbeds, sunbathing, gym, hot baths, etc.)

Q: What is the difference between hot wax and strip wax?

A: Hot wax is recommended to be used on smaller sensitive areas of your body, where hairs tend to be thicker. It ensures an almost pain-free experience, with the benefit of lasting results and minimised hair in-growth, due to the reduced risk of hair breakage. Strip wax is generally the preferred option for larger and less sensitive body parts.

Q: How long can the waxing results last, on average?

A: Your hair-free experience can last up to six weeks until you feel the need to book another appointment (which is always recommended, in terms of not opting for another type of hair removal solution). Still, you'll probably notice delicate hair growth in about 3-4 weeks, depending on the body part.
Q: Can I have a waxing treatment on skin that's been spray tanned?

A: This will pose the risk of removing your fake tan, for sure. Also, as mentioned earlier, tanning after waxing is also contraindicated for 24 hours, because the spray tan may irritate your skin, as well as appear uneven, due to the open pores that waxing may cause.

Q: Where can I book a mobile waxing session?

A: Whether you're residing in London or just visiting the capital for a few days, you can have a mobile hair removal treatment anywhere within zones 1-6, in your own home, rental, short-let accommodation or hotel room.
Book a time-saving and stress-free mobile waxing treatment in London!