Get the perfect look with an at-home eyelash & brow treatment in London
Saving you time and hassle with a convenient visit from a qualified beautician at your home or office.
A range of fashionable beauty treatments for your eyes and brows
Experienced beauty therapists, bringing only quality products
Convenient online booking system and 7-days availability
Full coverage of London (1-6 zones), from 7 am to 10.30 pm
Check Prices & Availability
Become even prettier in 4 easy-to-follow steps
1.
Select your eyelash or brow treatment
From expert tint & shape and eyelash extensions application to an amazing lash lift - just share your request with us!
Specify your location by entering your London postcode, we operate anywhere within the M25 zone.
3.
Pick the most suitable day and time
Select the date and time that suits you best and we'll send a mobile beauty therapist to your address to do their magic.
4.
And now smile for the camera
Feeling in a selfie mood? We don't blame you with that new eyes-and-brows dramatic look!
What eyebrows and eyelash at-home treatments you can have
Eyelash Extensions
Choose from classic or volume eyelash extensions, as well as infills to maintain your existing lash extensions for long-lasting results! Your eye-emphasising beauty treatment will be done in the comfort of your home by a mobile eyelash technician, who will bring a fine selection of mink or silk lashes for you. Lie down and relax, while the beautician applies one or two lash extensions per 1 of your natural eyelashes, depending on which treatment option you select. Your lash technician will also advise you on all the post-service dos and don'ts that you need to observe, in order to keep your extensions in top condition (up to 6 weeks).
Lash Lift
Enjoy amazing-looking eyelashes, which will appear longer and fuller in the most natural way! The lash lift treatment will take about 50 minutes but the results can last a good 4 to 6 weeks with the right aftercare. Your mobile eyelash technician will gently comb and lift your eyelashes by fixing them into place. A perming product will be then used that will stay on for about 10 minutes before being removed. Then, the beauty therapist will apply a softening lotion that will help your lashes look natural and supple, yet, nicely volumised. Add a lash tint treatment if your existing eyelashes are very light in colour.
Brow Lamination
Brow lamination is a trendy treatment, due to its effective and natural-looking results. The at-home eyebrow-beautifying session is done only with branded products. The beauty therapist will lift and brush your brows, then, gently sculpt them by using a special lifting cream. To set them in place, with every hair in the same direction of growth, the expert will use a setting lotion and then, oil to keep their natural soft look. This temporary treatment is ideal for both people with unruly, thick brows or with thin and sparse-looking eyebrows. You can add a tint treatment if your brows are light-coloured, as well as ask for your brows to be shaped via threading or waxing.
Tint & Shape
You can also go for a tint and shape only brow-definition treatment, which brings out naturally the attention to your eyes and upper part of your face. Your mobile beauty technician will use the waxing or threading brow-forming technique, the latter of which is often combined with the tweezing method. The eyebrow-shaping procedures are always followed by a soothing cream application for maximum comfort. Upon request, you can have your brows tinted, as well. Lash tinting is also available for that improved natural-eyes look, however, without achieving any extra volume.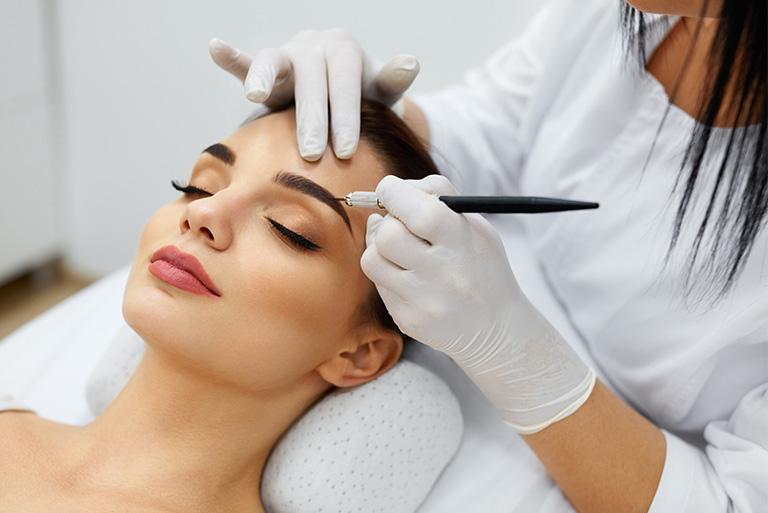 What to expect during your eyelash & brow beauty session
Once, you've set your at-home lash and brow treatment with a professional and fully qualified mobile beautician (assigned by our trusted partners in London), you can expect the following:
Short consultation - You'll have a short discussion with your beauty therapist, first, in order to specify your needs and expectations. You can count on the beautician's professional advice, regarding the best brows' shape or eyelash treatment that will suit you the most and give you that desired look.
Trusted and experienced mobile beauty therapists - All beauticians are fully trained and experienced in their field, as well as hold comprehensive insurance to offer their expertise. Please, rest assured that they've been thoroughly vetted for their credentials.
A versatile range of eyelash and brow treatments - Designed to achieve the best shape, colour, volume and definition of your eyelashes and eyebrows, we offer a variety of treatments to choose from. You can add extras or not and this way, tailor your service to get the most of it for that perfect look.
Aftercare advice - Be it an eyelash extensions application or brow lamination treatment, the results of your beautifying procedures can last, often, up to 6 weeks with the right aftercare. Your eyes and brows technician will advise you on everything you need to know so that you can enjoy your investment for as long as possible.
Frequently asked questions
Q: How experienced are the mobile eyelash technicians?

A: Every single mobile beauty therapist and eyelash technician has been background checked for their experience, qualifications and skills.

Q: How long does an eyelash extensions application take?

A: Your eyelash extensions treatment can take up to 2 and a half hours, depending on whether you choose the classic or volume set option. If you go for the lash extensions maintenance treatment, a.ka. infills application, your session can last from 60 to 90 minutes.

Q: What about the lash lift treatment?

A: A lash lift treatment doesn't take that long in comparison - about 40 minutes, on average. Remember, that you can add a lash tint, too, for a small additional charge.

Q: How do I prepare for an eyelash & brow treatment session?

A: Please, designate a room with a comfortable sofa or settee to sit/lie down on. Remove all makeup from your face, as well, and simply relax.
Q: Where in London can I have a mobile beauty treatment for my eyes and brows?

A: We cover the entire London area (zones 1-6), from 7 am till 10.30 pm.

Q: What happens if I'm not satisfied with the results?

A: You can send us your feedback and concerns in a written form. Note that for quality control purposes, the beautician will take a picture of your eyes and brows after the service. Please, follow strictly their aftercare recommendations, such as not using oil-based creams near your eyes, avoiding getting your lashes or eyebrows wet in the next 48 hours after your treatment, etc.
Beautify your eyes & brows in London without leaving your comfortable home!