Kitchen refurbishment in London of fantastic workmanship
Have all your kitchen renovation needs solved by one service
Complete kitchen refurbishment (electrics, tiling, installation)
Done by qualified & insured tradesmen
You get personalised quote after a survey
Detailed report of all costs (labour & materials)
Have your kitchen renovation done in 4 simple steps!
1.
Schedule your on-site survey online
2.
A kitchen remodel surveyor will come to consult you
3.
All costs are calculated and we offer you a final quote
4.
A fully equipped team of tradesmen will come to complete the job
Here's how we make kitchen makeovers truly Fantastic!
Professionals you can count on
Your home refurbishment service is handled by tradesmen who are experienced and fully dedicated to their field of work. They also carry public liability insurance which means that any issue that might happen during your service will be covered.
All done by qualified & experienced tradespeople
Let's say that your kitchen needs some electrical repairs. This will be handled by a professional electrician who will make sure that the safety and functionality of the electrical installation are restored. And when we're talking about kitchen fitting and installation, just leave it to the skilled kitchen fitter and expect a sturdy job. Also, for your peace of mind, all tradesmen have public liability insurance so we've got everything covered.
High-quality workmanship guaranteed
Fantastic Services is more than just a brand name, it's a promise for a job done well. And we want to hear about your ideas and exactly what you want from your home improvement project because we can definitely make it happen.
Cost transparency
After the viewing of your place and carefully considering all your needs, we'll give you a final estimate for your kitchen renovation. We have a strict transparent pricing policy and we'll provide you with a detailed report including all costs for materials and labour.
What can we do as part of your kitchen renovation project
Right now you might be a bit confused about how to even approach the renewal of your kitchen space. Sure, it's a time-consuming home improvement project and it doesn't just happen in a day. But hey, don't stress about it! We've renovated countless places of all sizes and the results are always great. So when you have a general idea of what you want, just let us know and leave all the work to the pros.
For easy reference, here are some of the basic repairs and improvements that can be done:
Replacement of kitchen cabinet (doors, drawers, and hardware fitting)
Painting walls and repainting existing kitchen units
Electrical work (lighting, wiring, power outlets, appliance installation)
Wood floor sanding and installation
Plumbing (pipe tightening and replacement)
Installation of new faucets and sinks
Splashback
Replacement and installation of worktops
Frequently asked questions about kitchen makeovers
Q: If I don't require your services anymore, how do I cancel my booking?

A: You can cancel the appointment by logging in your Fantastic account and visiting the dashboard. From then on all you need to do is follow the shown steps.

Q: Is there a discount option available?

A: Yes, there is. To get a discount on your service, all you have to do is join our Fantastic Club. Not only that, but as a member you'll have the chance to use priority booking options and special seasonal deals.

Q: Do you clean up the property when the service is over?

A: The tradesmen make sure to tidy up the place when they are done with the work. However, if you require a deep cleaning to remove even the tiniest specs of dust, then we can offer you a comprehensive After Builders Cleaning. Note that this is a separate service which you will have to book separately.

Q: Approximately how much time does the refurbishing process take?

A: It depends on a few things such as the size of your property, as well as the complexity of the repairs and improvements that need to be carried out. However, we'll be able to give you a time estimate after the survey has been completed.
Q: Can you handle the supply of all products and materials for my service?

A: Yes, we can do this if you request in advance. The costs of the materials will be added on top of the final price for your service.

Q: Can you dispose of all the refuse and old kitchen units?

A: Yes, we provide a Waste Collection & Disposal service so we can take care of all the generated rubbish.

Q: What is your area coverage and availability?

A: As of right now, this service can be booked only in the M25 London zone. As for our availability, you can make an appointment for any day from Monday to Saturday. Also, our regular work hours are from 9am to 5pm.

Q: Usually what are the kitchen refurbishment costs?

A: Again, this depends on several factors. However, after the viewing is done, we will be able to provide you with an estimate that will include a list of all the costs.

Q: I have purchased my new kitchen units, can you just come and install them?

A: Of course. If all you need is a fitting service, then consider it done!
Kitchen refurbishment services available across London
Central London
East London
North London
South London
West London
View all areas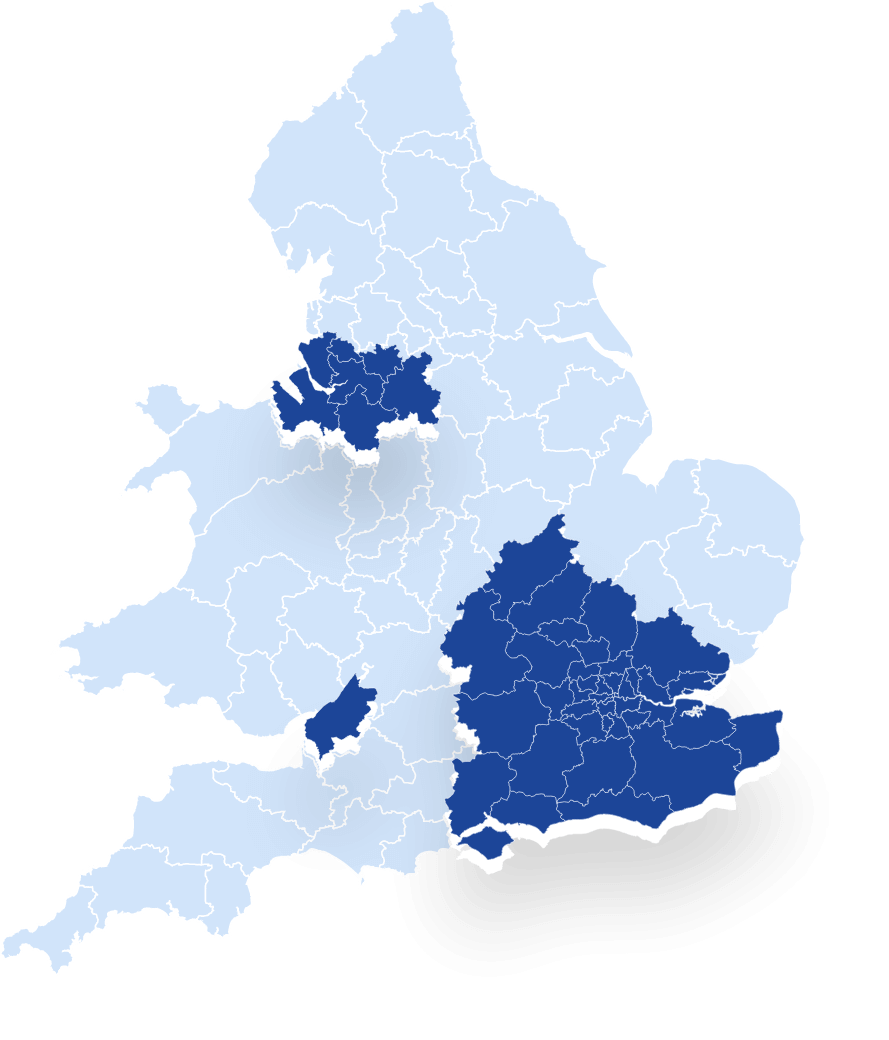 Have your kitchen refurbished just the way you want it!