Get ready for your meeting or date with the help of a mobile hair stylist in London
Bringing the mobile hair salon right to your home, office or hotel room!
Skilled and experienced mobile hairdressers with proven qualifications
Various haircut & styling services at home with quality hair products
Available all week round, for both ladies and gents
Handy online booking options and complete London coverage
Check Prices & Availability
Your mobile hair & makeup service in 4 simple steps
1.
Choose your hair styling service
Pick the desired hair service, be it an express men's haircut, Keratin hair blow dry or an elegant up-do.
Choose your location in London (within the M25 zone) by filling your postcode in the online booking form.
3.
Select the time and date
Tell us your preferred day and time, we operate all week round from as early as 7 o'clock in the morning until 10.30 pm.
4.
Feeling all set-up for your special event?
Don't be shy to share your feedback with us and spread the word about how convenient it is to have your hair done without leaving your doorstep!
A range of time-saving mobile hair salon services - for that perfect look
Hair Blow Dry
Choose from a professional hair blow dry to transform your hair and achieve a bouncy blow-dry hairstyle or opt for removing any hard-to-manage hair frizz with the Brazilian Keratin blow dry treatment for a sleek and shiny look. The seasoned visiting hairdresser will use a selection of Oribe styling products to set your hairdo so that you can confidently show it off without any worries.
Hair & Makeup
The hair & makeup package is an all-in-one service that can be easily customised to your individual needs. Go for a 30-minutes makeup session and a blow dry, or choose an hour's worth of pampering to get a full coverage makeup and hair blow dry treatment. Depending on the length of your hair (say, it's below shoulder length), we recommend that you select and add the appropriate extras.
Ladies' Hair Cut & Blow Dry
Again, you can choose this complete hair treatment session and enjoy a chic haircut, with your dream style, shape and form in mind, and then a professional hair blow dry for that desired confident and beautiful look. The great thing about having all this done at home is that you'll feel immediately the expert's custom-oriented approach during your consultation, when you can discuss what will best suit you and how it will be done.
Men's Express Hair Cut
You can opt for an express men's haircut and get ready for that important zoom meeting in no time. The professional hairdresser will bring all the necessary equipment to give you a trendy trim that follows the shape and form of your original hairstyle. Or in other words, the service is suitable for you if you wish to maintain the same haircut you've had before or you want it a bit shorter if you fancy a slightly new look.
Men's Hair Cut & Style
Gents with longer hair can go for the man's haircut & style treatment and take advantage of a professional styling with clippers and scissors, and the use of quality hair styling products. You can also add a hair blow dry if that's how you envisage your new look. Just specify your exact requirements to your mobile hair stylist during the pre-treatment consultation and feel free to seek the specialist's advice at any time, of course.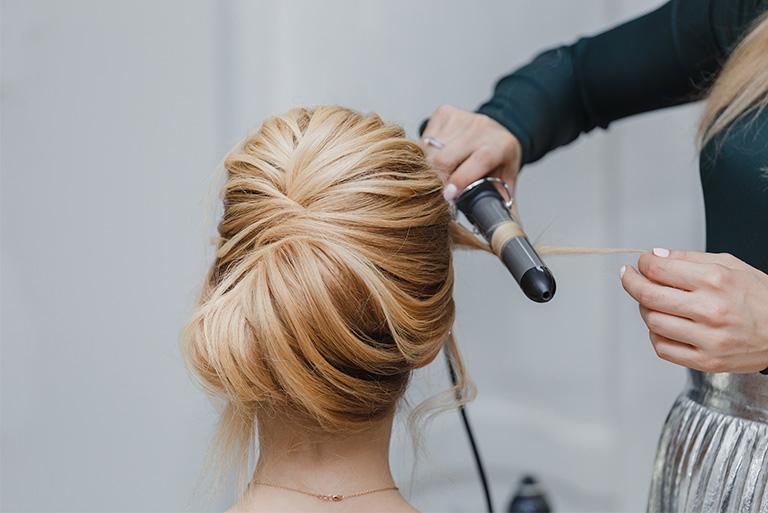 Your at-home hair styling/makeup session in more detail
Opting for a mobile hair salon service, done in the comfort of your home, office or hotel room is not only a convenient and stress-free experience, but it also saves you time. The best part is that both men and women can take advantage of an at-home haircut or styling, be it for a special evening event, a wedding or birthday party, or just to get a different look to surprise their partner.
A selection of at-home hair services for any occasion - From a fashionable sleek haircut or trendy hairstyle for the gents to an evening glam hairdo, professional blow dry, bouncy curls, chic braids or taming frizzy hair for the ladies, the choice is simply vast.
Expert consultation - Each mobile hair salon session begins with a professional consultation, so don't hesitate to share your specific requests and vision of that dream look you wish to achieve as a result.
Professional mobile hair stylists and makeup artists - Your mobile hair/makeup service will be performed by experienced, skilled and insured hair stylists and makeup artists, who will carefully listen to your requirements, in order to meet and exceed your expectations.
Top-quality hair products from leading brands - The mobile hair stylist will bring high-end hair products from premium brands, such as Oribe and Kérastase, as well as professional hairdressing tools and equipment.
Frequently asked questions
Q: How to prepare for your hair styling service at home?

A: Please, ensure that your hair has been washed prior to your at-home hair service. Do not dry it but leave it damp, so it's more manageable. Also, designate a comfortable area for the hairdresser to work in with ease.

Q: How do you check the qualifications of the hairdressers?

A: Our trusted partners have a rigorous vetting process, so all mobile hair stylists are checked for their experience, qualifications and skills.

Q: Can you do wedding hairstyles?

A: Absolutely. We offer complete bridal care services, including wedding hairstyles and bridal makeup.

Q: I need an express men's haircut. Can I book a service on the same day?

A: Yes, of course, although, we do recommend to book a day in advance if you reside outside zone 2 in London.
Q: Where about in London can I book your mobile hair salon services?

A: If you are located anywhere in Greater London (zones 1-6), feel free to book a mobile hair stylist or makeup artist between 7 am and 10.30 pm.

Q: What should I do if I have any concerns with the results?

A: In the unlikely event of you not being happy with your haircut or hair styling treatment, please, write to us and share your concerns. Note that for quality purposes, your visiting hairdresser will take a picture of your new hairstyle after the service.
Special occasion coming? Book a professional mobile hair stylist for that glam look!