Professional Saniflo installation and repair services done by local experts
Update your home with a new macerator or get your old one repaired
Performed by certified plumbing specialists
All tools and equipment included in the price
Convenient booking process
Lower price rates with our Fantastic Club
Organise your Saniflo installation or repair service in 4 easy steps
1.
Contact us and request a quote
2.
An experienced plumber will arrive at your property to install the new system or to repair your current one
3.
The technician will test the macerator to make sure it works properly
4.
Get to enjoy the Fantastic service results!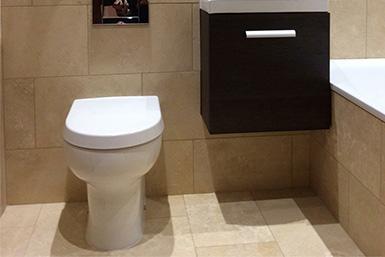 Why book our Saniflo services for your property in London
The service is performed by trained Saniflo engineers
Installing or fixing a Saniflo is a process that requires a lot of skill and experience in plumbing. Fantastic Services works with trained specialists that possess those exact qualities. The professionals can take care of almost any Saniflo problem you might have or update your bathroom with a new macerator unit, if you don't have one. By leaving the Saniflo repair or installation to us, you guarantee yourself a perfectly working macerator system and zero problems.
We bring everything for the job
You don't have to go running to buy special tools and gadgets - the experts we work with come fully-equipped for the service. The professionals will arrive at your property ready with all the necessary machines and instruments to install or repair your Saniflo system. Also, if your Saniflo gets blocked, you can always rely on our fast and affordable plumbing services.
Convenient online booking
Booking a plumbing service has never been easier! Use our nifty online booking form and make your Saniflo installation service appointment in just under a minute or you organise the whole thing on the awesome GoFantastic app, which you can download and install for free! Note that you have to set up a Fantastic account for both online booking options.
Our availability
The professional plumbers we work with have a very flexible work schedule, so you have the option to book your Saniflo installation or repair service for a day and time most convenient for your busy schedule. This includes Saturdays, Sundays and even public holidays! How Fantastic is that?
Even lower service prices with our Fantastic Club
Want to save a couple of pounds from your plumbing service? Well, you can do so much more than that by just entering our amazing Fantastic Club! By becoming a part of the Fantastic family, you also get to benefit from a long list of perks like seasonal deals, special discounts and priority booking. Contact us or visit our website for more information about the club.
Advantages of having a Saniflo system professionally installed or repaired
No matter, if you have decided to upgrade to a Saniflo or your current one, has started making weird noises and needs to be repaired, Fantastic Services is here to help! That said, here are just a couple of the many reasons why you should get a Saniflo system for your home:
You can get it installed in any bathroom in the property. Basically, if you decide on a Saniflo, you don't have to bang your head against the wall, trying to figure out where to place your toilet. Other toilets require you to have a drain line to work properly, but not when you have a macerator unit - you could even install it in a basement bathroom if you wanted to.
It has the same life-span as a regular toilet. A Saniflo toilet can last you up to 15 years and if you take the time to properly maintain it, like making small repairs when needed, it can last you even longer than that.
The system is portable. Due to the fact that installing or moving the macerator system doesn't require any digging or breaking, you can take it with you if you decide to move to another property.
Saniflos are resource-efficient. If you decide on a macerator system, you can save up to 70% of water usage, making your water bill smaller.
Frequently asked questions
Q: Does installing a Saniflo system require digging up my floor?

A: No, it doesn't. The macerating system can be installed on top of any floor.

Q: Can I get a Saniflo installed on my kitchen sink?

A: Yes, you can, but you have to be very careful when picking a model. Some unit options can't properly process large food particles and grease, which can result in blockage. Make sure to buy a model suitable for kitchen sinks.

Q: Do I need to provide anything for the service?

A: The plumbing specialists will arrive fully-equipped with everything that the service requires, so you don't have to buy any additional tools, parts, or machines.

Q: My macerating system is making weird noises. How soon can you come?

A: It really does depend on our availability at the moment. That being said, we will do everything possible to send you a plumbing technician for the requested day and time.
Q: What is your area coverage?

A: You can book our services for all areas within the M25 zone of London.

Q: Is there a way to get a discount on my service?

A: Yes! All you have to do is become a part of our Fantastic Club. All of our members get to benefit from lower price rates, special deals, priority booking slots - the list goes on! Click here for more details on how to join today!
Saniflo services available across London!
Central London
East London
North London
South London
West London
View all areas