Save time and get a convenient mobile car wash service in London
Choose from a wide range of mobile exterior and interior car washing and valeting services!
Next day availability & immediate booking confirmation
Highly skilled mobile car valeters near you 7 days a week
All packages have water and waterless option
We do not need access to water or electricity, our vans are fully equipped

Price for Fantastic Club members starts from £0 instead of £18
Your mobile car wash service in London in 3 simple steps
1.
Provide your car's location
Specify the exact location of your vehicle so that the fully trained mobile car cleaner can get to it without any delays.
2.
Add any specific car details
Please, choose a convenient time and add some extra information about your car, then pay securely and relax!
Your car cleaning service will be assigned to a vetted and experienced mobile car washing pro, who will expertly complete the job (before and after pictures, included).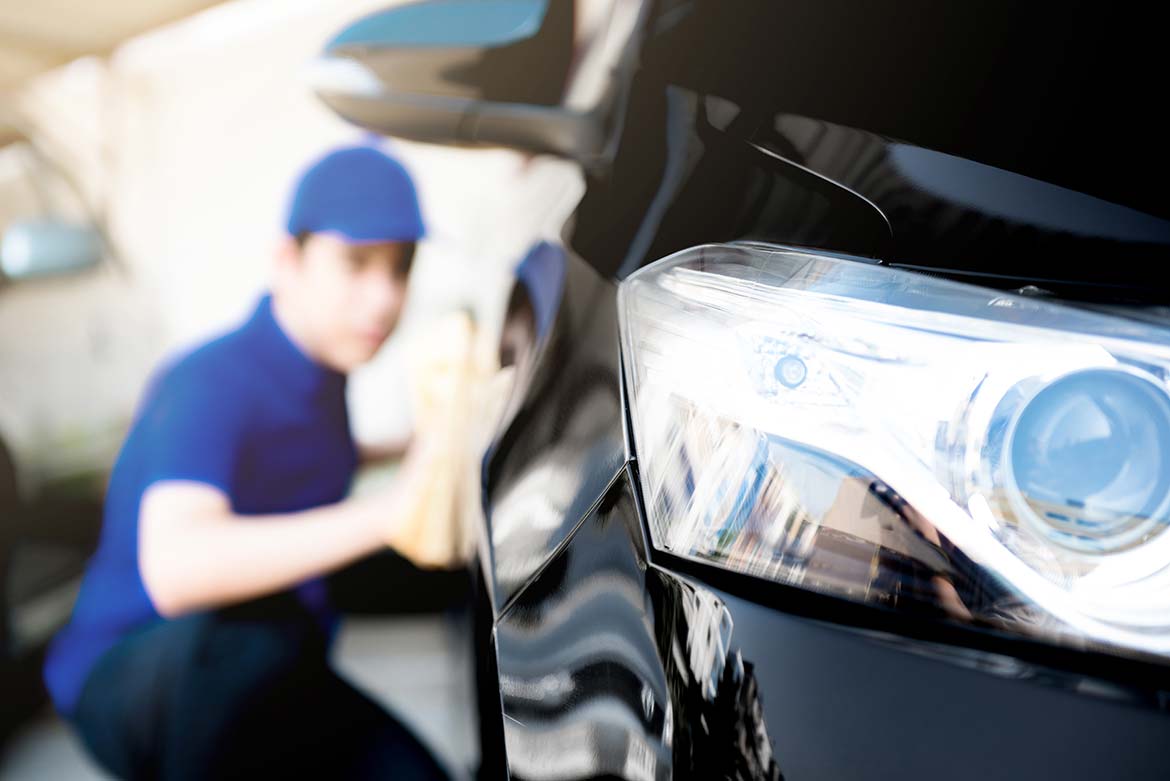 Choose from a range of mobile car wash services in London
Get a professional mobile car wash service in London and save precious time instead of queueing for ages at a car wash facility!
Whether you are enjoying a workout at the gym or some fun time with your kids in the park, you can easily have your car washed at the same time and cross this job off your list.
You can book a next-day appointment online by simply providing a few details about your vehicle and its location. We work with background-checked mobile car cleaners and valeters, who use professional products and tools.
You can select from the following car washing services:
Exterior car wash

- Includes washing the body of your vehicle, the windows and the wheels. The service also comes with professional tyre dressing.

Interior car wash

- The qualified London car valeter will clean the dashboard, centre console and door shuts, as well as vacuum the floor mats and the boot area.

Combined valeting and sanitisation

- Combine interior/exterior car wash and professional car sanitisation to eliminate harmful pathogens and stale odours! High-touch areas and surfaces in your vehicle will be addressed to remove viruses, bacteria and other contaminants with high-end thermal fogging equipment.
NOTE: Furthermore, you can add different extras to your service, such as pet hair clean, body wax, screen wash refill, deep seat clean, alloy wheels sealant and more.
Mobile car valeting service packages we offer in London
You can also benefit from various mobile car valeting services to make your vehicle look as new. From detailed leather upholstery conditioning and soft top reproofing to machine paint correction, buffing and waxing, your mobile car valeting service provider will handle the job with attention to detail and your complete satisfaction in mind.
Check out below the full list of valeting packages:
Exterior car valeting

- Includes an exterior wash of the car body, windows and wheels, drying, tyre dressing and car body waxing.

Interior car valeting

- The interior of your car will be cleaned in great detail. The mobile valeter will wash the interior windows, clean the door caps, centre console and dash, condition the leather or shampoo the fabric upholstery, vacuum the carpets and mats, as well as the boot and spare tyre area.

Soft top reproofing

- Your soft top convertible can look amazing again with an expert soft top reproofing service. It includes an exterior wash, rinse and dry, as well as mould and mildew removal if needs be. To finish off, the technician will apply a quality fabric sealant to protect your car soft top and prolong its life.

Ultra car valeting

- Give your vehicle the ultimate treatment! The ultra car valeting package includes a complete wash, wax and buff of the car exterior, tyre dressing, window clean inside and out; deep cleaning of the wheel arches, upholstery shampooing and sealing, leather conditioning, deep cleaning of the engine bay, detailed cleaning of the dashboard and vacuuming of the interior surfaces.

Body protect

- The package includes a car wash, tyre dressing, wheel protection, hybrid ceramic waxing, and interior vacuuming and protection.

Gold valeting

- This package is similar to the above Ultra valet option and excludes only engine bay cleaning. So, you can expect a full wash of your vehicle, waxing and buffing, tyre shine, an exterior and interior window polish, deep upholstery cleaning (a sealant or leather conditioner application is included, whichever is needed). The technician will also vacuum thoroughly the interior and deep clean the dashboard, too.

Paint protection

- Get your car's paintwork safeguarded by a professional paint protection application. The technician will add an invisible layer of protective coating, which will ensure that your car's shiny look remains intact if stones or birds' droppings come accidentally into contact with the paintwork.

Clay bar & machine polish

- The clay bar detailing service involves the use of special polishing equipment, which removes dirt and grime from the paintwork of your car that standart cleaning cannot. The polishing product is worked into the layer of paint with amazing results.
What else you need to know about your mobile car wash service in London
The following specifics should be taken into consideration, in order for the mobile car cleaning and valeting service to go ahead:
Ensure that you

provide easy access to your vehicle

in a timely manner if you've booked an interior car valeting service.
The car cleaning technician will also need to park near your car without any obstructions, in order for them to be able to use equipment, which may need to be connected to a water/power supply in their van.
Note that the service can be provided by one valeter or a team of two professionals, depending on what service or package you have booked.
Please,

provide any important details about your vehicle and your requirements

during the booking process to ensure the smooth completion of the job.
Frequently Asked Questions
Q: Do I need to be present and meet the mobile car washing technician?

A: You don't need to be present for an exterior car wash. However, for an interior washing and valeting, it's your responsibility to provide access to your car. Important: In the case of remote provision of access to your vehicle, it is your responsibility to lock/unlock it in a timely manner. Additional charges apply if the cleaning operative is unable to get in touch with you to lock the car remotely. Maximum of 30 min of waiting time applies. If your vehicle is not present at the specified location or you fail to provide access to it within 30 min of the appointment time, 50% of the service price will be charged.

Q: Where can my car be, in order for the service to take place?

A: You can park your car anywhere publically accessible. It's your responsibility, however, to ensure that the service can be performed (ex: underground parking). Also, if your vehicle is parked on the street, please ensure that the technician's van can be parked within 10 m of your car. Please, allow sufficient access. Furthermore, if for any reason the location of your vehicle makes it impossible for the service to take place, the technician will contact you and ask you to change the location of your car.

Q: What are your working hours?

A: You can book a service in advance for any day of the week (Mon - Sun), from 7am to 7pm.

Q: Do I need to provide access to electricity and water if the service takes place outside my property?

A: No. The technicians arrive in fully equipped vans that have everything required to perform the service to the highest standard.
Q: What happens if it rains?

A: Please, get in touch as soon as possible to reschedule your service if bad weather is expected on the day of your appointment.

Q: Is there anything else I should keep in mind?

A: If you've ordered an interior car wash, please, make sure to remove any detachable items, such as car seats and booster seats.
Find our mobile car wash services all over London
We always aim to expand our services and constantly add new areas to our coverage. Please use the pink buttons on this page if you don't find your area in the list below.
Barking
Bexley
Camden
Central London
East London
Greenwich
Hackney
Hammersmith and Fulham
Islington
Kensington and Chelsea
Lambeth
Lewisham
North London
South London
Southwark
West London
View all areas