Have your property professionally deep cleaned and sanitised in 3 simple steps
1.

Book online antiviral service for your address

2.

We will send a fully equipped and protected technician or a team

3.

They will treat the risky areas with a CERTIFIED virucidal cleaner
Specialist surface sanitisation with CERTIFIED virucidal cleaner
This sanitising service is available within the M25 London zone and also AL, BS, CV, GL, GU, HP, LU, MK, NN, OX, RG, SG, SL, SN postcodes
BS EN 1276 is the European standard for the bactericidal activity of chemical disinfectants. To pass this standard, products must prove a germ kill rate of 99.999% with a 5 minutes of contact.
Realising the importance of slowing down the spread of COVID-19, we developed a service based on guidelines by Public Health England. It is suitable for all non-health care premises and can be used as a precautionary measure.
This type of virus control against spreading infection is carried out with a highly effective and independently-certified virucidal cleaner that is used for infection control and eliminates dangerous viruses, microscopic bacteria, fungi, and protozoa that can cause disease.
Based on the method used all technicians are wearing protective gear including masks, gloves, goggles and protective overshoes.
The treatment has an immediate effect when it comes to surface sanitizing and decontamination and it is:
100% SAFE for children and pets
Non toxic
Non-hazardous
All detergents used are EN 1276
The treatment includes all surfaces such as hard floors, walls, cupboards, kitchen tops, tables, doors, as well as carpeting, furniture, desks, equipment, computers, door handles, control panels, etc. Overall, any highly touched area or surface you can think of.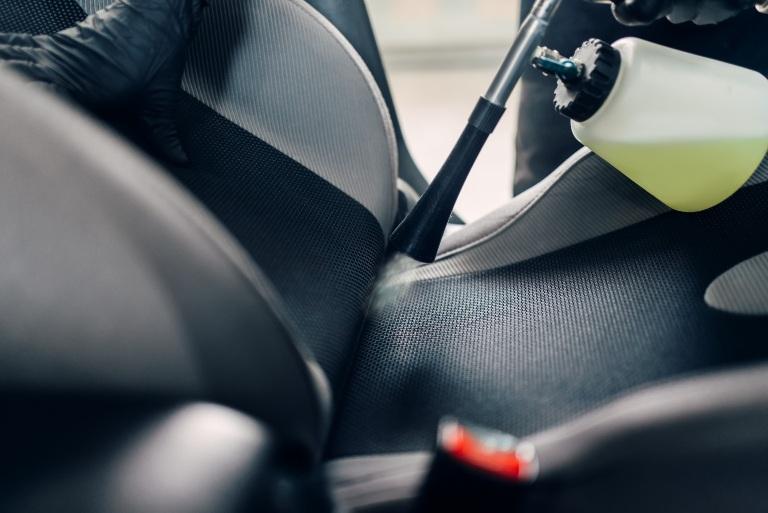 Car, SUV, and vehicle sanitisation against Coronavirus
COVID-19 can land on any surface through coughing, sneezing, or touch, and remain there for up to 72 hours. That is why we offer Antiviral Sanitisation cleaning for vehicles as well. You can have any vehicle professionally sanitised to help slow down the spread of the coronavirus. Here's how we do it:
1. The technician carefully vacuum cleans all reachable interior surfaces of the vehicle.
2. All interior surfaces (including the seats, mats, dashboard, etc.) are sprayed with the same BS EN 1276 certified detergent to ensure all germs are eradicated.
3. The exterior side of the door handles and the vehicle's trunk handle are sprayed as well.
4. There is no need to have the surfaces rinsed as the detergent used is non-toxic and completely safe.
5. The treatment of a single-vehicle takes up to 30 minutes.
Professional Disinfecting Service with Fogging against COVID-19
If your property has been visited by a person with confirmed COVID-19, then we recommend decontamination through fogging.
Here is how we perform the service:
The technician fills the tank of a fogging machine with a disinfecting solution which is dispersed into the air in the form of microscopic droplets. This way, all surfaces within the space, even the most secluded areas, are evenly disinfected. This specialist disinfection service is used for office and facility disinfection. However, the method is suitable for residential properties, too.
Certified by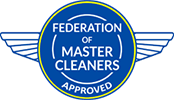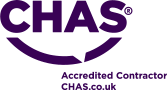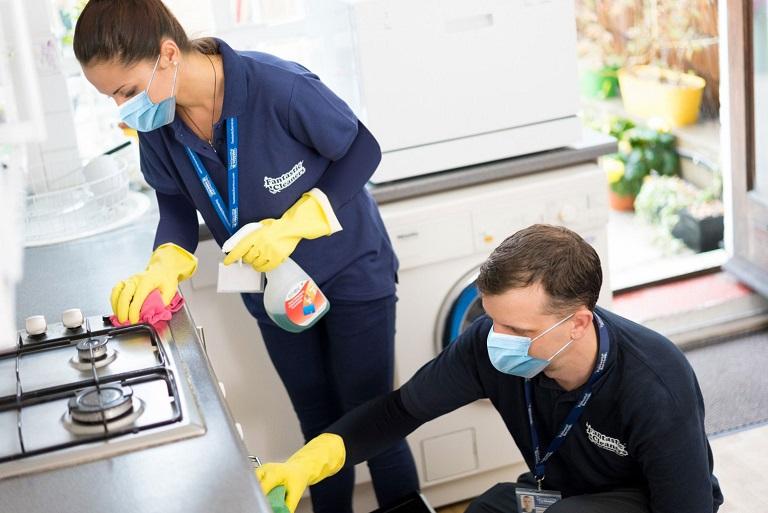 Home deep cleaning and sanitizing services
All cleaners have protective equipment incuding masks, goggles, disposable gloves, etc.
In addition, you can book any of our standard cleaning services with added antiviral sanitisation. This applies for our:
Professional oven and kitchen cleaning
Guaranteed end of tenancy cleaning and after builders deep cleaning
Hot water extraction carpet and upholstery cleaning
One-off and regular domestic cleaning
Slowing down COVID-19 with specialist disinfection cleaning
Our sanitation and disinfection services are done with BS EN 1276 certified virucides. This means that they have been lab-tested against a variety of viruses and proven to be effective.
According to the CDC and the World Health Organisation, the coronavirus can be contracted through highly touched areas and surfaces. The virucides we use are non-toxic and they can be safely applied to all sorts of surfaces, effectively reducing the risk of infection.
Slowing down the spread of the COVID-19 is crucial. Proper sanitisation and following the recommended guidelines are the only measures that can be taken right now to limit the spreading of the virus.
Frequently asked questions
Q: Who will carry out the treatment?

A: This service is provided by professional sanitisation technicians who use equipment and protection gear such as masks gloves, glasses and even hazmat suits if needed.

Q: Is this treatment safe for my home?

A: Yes. The treatment uses a certified antiviral product that eliminates bacteria, germs, and fungi. It is non-toxic and 100% safe for domestic use.

Q: Is the treatment effective against coronavirus (COVID-19)?

A: We use BS EN 1276 certified virucides. This means that they have been lab-tested against a wide variety of germs and proven to destroy 99.999% of pathogens found on surfaces.

Q: What is the coverage of this service?

A: You can book this service for properties within M25 London zone and also AL, BS, CV, GL, GU, HP, LU, MK, NN, OX, RG, SG, SL, SN postcodes.
Q: Do I need to prepare the property in advance?

A: Hoover affected areas and remove all pets, including any fish, from the property prior to the treatment and keep them away for around 60 minutes after the sanitisation. Please, make sure that the technicians will have unobstructed access to the areas that need to be sanitised.

Q: When can I clean the areas again after the treatment?

A: You can have the areas cleaned as soon as the next day.

Q: What is the difference between cleaning, sanitizing and disinfection?

A: We have explained the difference between cleaning, sanitizing and disinfection in detail in our post here.
Areas where you can use the antiviral sanitisation service:
Bristol
Central London
Coventry
East London
Guildford
Liverpool
Manchester
North London
Oxford
Reading
South London
Swindon
West London
View all areas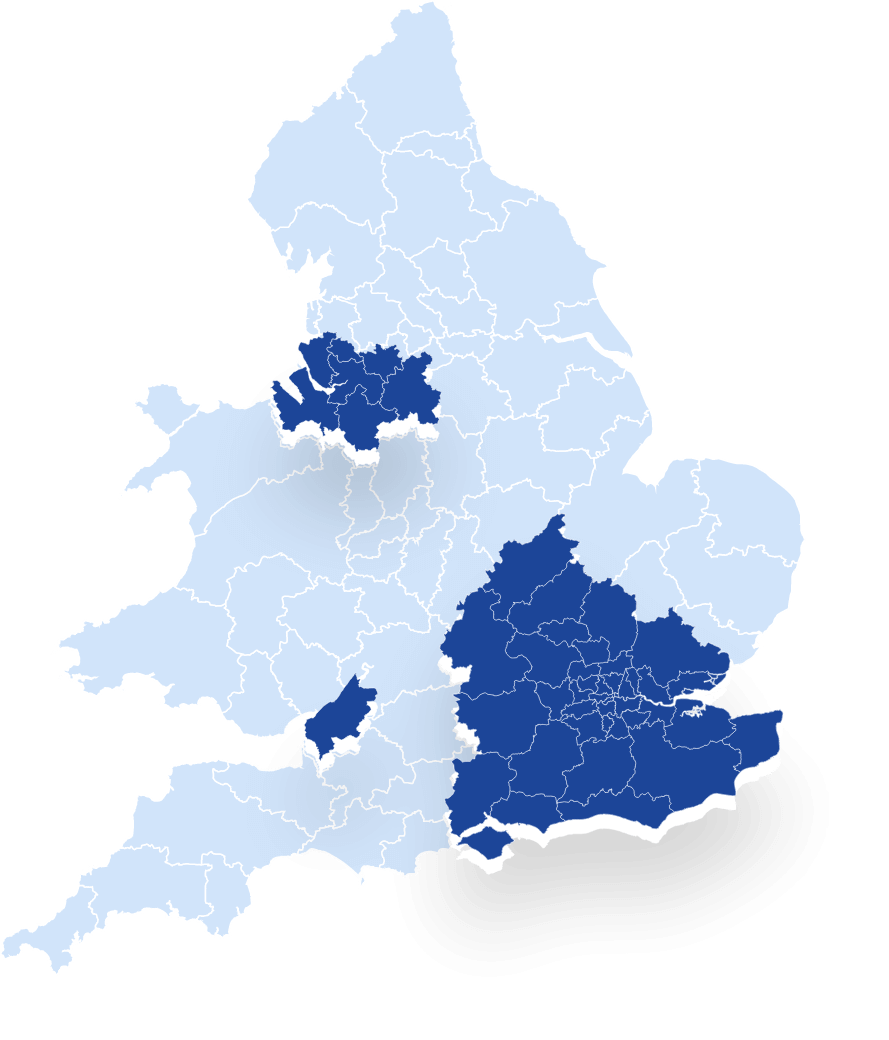 Stay safe. Choose prevention.