Hire a local handyman in Luton
Have your to-do list handled by an equipped & skilled technician from

£55/h
Easy to book for your home & office
Done by a fully insured specialist
Bringing all necessary tools
Following your specific instructions
How to make use of our Handyman Services in Luton
Book online
Check the Prices & Availability for your area and arrange your service
We send the right pro
Your service will be handled by a specialist who has all the necessary equipment and skills
Enjoy a job well done
The technician will follow your instructions and complete the tasks for you
Check out our range of tradesmen services available in Luton
Did you know about the Fantastic Club? All members enjoy priority booking slots and lower rates for all our services. Learn more about the Fantastic Club and how you can benefit as well.
Enjoy priority booking & discounted prices with the Fantastic Club
Did you know about the Fantastic Club? All members enjoy priority booking slots and lower rates for all our services. Learn more about the Fantastic Club and how you can benefit as well.
Services available in Luton
Meet your handyman service provider in Luton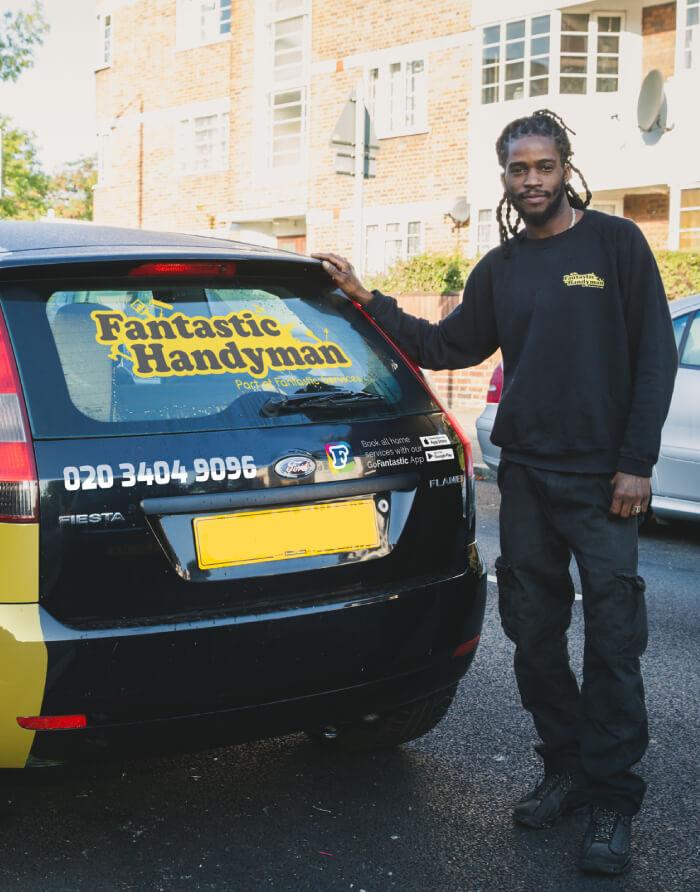 James Robinson
Handyman, electrical repairs and installations, plumbing, painting and home renovations

Teams:

3

Franchisee since:

January 2017
Let us introduce one of the service providers we work with in Luton. This is James Robinson and he's been part of Fantastic Services for 2 years. We are very lucky to be working with such a dedicated specialist with such a wide set of skills. Today James Robinson is in charge of 3 teams and he provides prompt and hassle-free services in the area.
James Robinson was able to grow his local business thanks to Fantastic Services. We make sure our handyman services are accessible as possible to the local customers. And we love to work with local service providers because they are part of the community that they serve to and they know best how to help the people of Luton who need some professional help.
"Excellent service. Everything was done quickly and efficiently. I booked a handyman for a blinds fitting service and he was very polite and completed the job with great attention to the details." - S. Jones, LU2
Do you happen to be a tradesman who operates in Luton? Then Fantastic Services would like to hear from you! We work with local services providers and grant them access to our technology so they can grow their local businesses. Now you can take advantage of our franchise program. Contact us today and we'll tell you all about our flexible franchise approach.
Full coverage
Are your looking for a handyman service in Luton
Just choose the service you need and enter your postcode to begin the booking process! It takes just a few moments to arrange your service.
Working hours: Mon - Sun
Monday

8am - 6pm

Tuesday

8am - 6pm

Wednesday

8am - 6pm

Thursday

8am - 6pm

Friday

8am - 6pm

Saturday

8am - 6pm

Sunday

8am - 6pm
Other locations we cover nearby Luton
Close
Our coverage in Luton:
Postcodes: LU1, LU2 ,LU3 and LU4.
Areas we cover within the city: Barnfield Biscot, Bramingham, Bury Park, Bushmead, Butterfield Green, Capability Green, Challney, Crawley Green, Dallow, Farley Hill, High Town, Hockwell Ring, Icknield, Leagrave, Lewsey, Limbury-cum-Biscot, Marsh Farm, Napier Park, New Town, Northwell, Putteridge, Putteridge Bury, Round Green, Saints, South ward, Stopsley, Sundon Park, Warden Hills and Wigmore.
Other locations near by: Aley Green, Caddington, Chalton, Chiltern Green, Cockernhoe, East Hyde, Lawrence End, Leagrave, Lilley, Lower Sundon, Lower Woodside, New Mill End, Pepperstock, Peters Green, Skimpot, Slip End, Streatley, Sundon, Tea Green, The Hyde, Wandon End, Wandon Green, Winch Hill and Woodside.
Frequently asked questions
Q: I don't have any tools at home, is this a problem?

A: No worries, the handymen bring all the necessary tools and equipment to complete your service.

Q: Do you guarantee the quality of the work done?

A: Yes, Fantastic Services stands for quality work. We work with experienced and masterful tradespeople who always aim to bring the best possible results.

Q: Do you have insurance against property damage?

A: Yes, every handyman has public liability insurance so you have nothing to worry about.

Q: How do I pay for the service?

A: You can pay with a card online upon booking confirmation.
Q: Can I arrange a same-day service for my address?

A: This is a subject to availability but it can be arranged in case there is a free handyman for your preferred time slot.

Q: Can the handyman consult me on some home improvement matters?

A: Sure, you can ask the technician whatever you want while they are on site and working.
Other services available in Luton
UPDATE: We remain open for business during the national lockdown.