How the rental property cleaning works
2.
We send a professional to clean up the place
3.
The rooms will be prepared & restocked for the next renters
4.
Enjoy great results & happy tenants
Perfect for your AirBnB cleaning needs
So, your property is listed on the online marketplace and there's a steady stream of visitors to the capital who take advantage of the place every month. Be it an apartment, a house, or a room with a single bed, you can take advantage of our London-wide service which is just great for AirBnB cleaning. We aim to provide you with a time-saving alternative that easily tackles one of the hassles that come with rentals so you can focus on more important things.
What to expect from your vacation rental cleaning service
When your renters leave, we will send a cleaner to spruce up the place and prepare it for your next guests. The maid will pay particular attention to the bathroom and kitchen area, making sure all surfaces are left spotless. Also, if you have any specific requirements, please make sure to state them in advance and they will be taken care of. Check-in and check-out reports with before-and-after pictures will be made so you can see that the property has been cleaned and readied property.
Cleaning and polishing the front door
Vacuum clean and mopping the floor
Dusting picture frames, mirrors, furniture, skirting boards
Dust all reachable surfaces and skirting boards
Wipe doors and handles, light switches
Clean blind and windows on the inside
Vacuum behind/under furniture and mop the floor
Washing of all surfaces
Polishing the tiles, toilet bowl, bathtub, shower cabin, mirror, sink
Mopping the floor
Vacuum and mop the floor
Washing the dishes
Wipe the appliances
Dust and polish cupboards and surfaces
Washing of all surfaces
Polishing the tiles, toilet bowl, bathtub, shower cabin, mirror, sink
Mopping the floor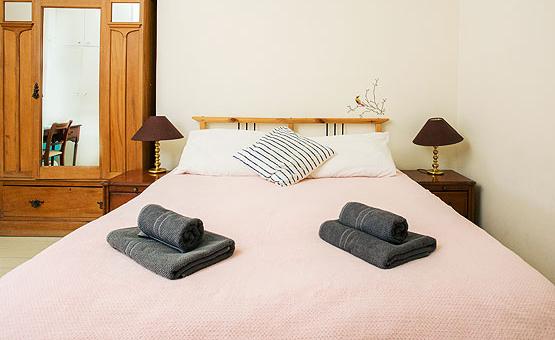 Linen hire & resupplying toiletries
The cleaner can bring two packs of freshly washed and ironed linen for each bed at the property—wait, you are probably wondering how come there are two packs per person. Well, this is simply because one is to be used and a spare one will be available for the person just in case it is needed. On the next service, all used linen will be collected and replaced with fresh packs to be used by the next visitors. The packs contain bed sheets, pillow cases, towels and bath mats.
In addition, the cleaner brings packs of toiletries that include. Each includes:
2 x bin bag liners
2 x toilet rolls
1 x tea towel
1 x kitchen roll
1 x shower cap
1 x 30ml bottle shampoo
1 x 30ml bottle conditioner
1 x 30ml bottle bath & shower gel
1 x 30ml bottle body lotion
1 x 20g pleat wrapped soap
Frequently asked questions
Q: What is the service coverage of the holiday rental cleaning?

A: Right now this service is available for rentals within the M25 zone of the capital.

Q: When will the cleaner come to the address?

A: Around noon. Please note that the property needs to be vacated and all personal belongings should be collected.

Q: Is this an insured service?

A: Yes, all holiday rental cleaners have public liability insurance.

Q: Can I cancel a service?

A: Yes, just please make sure to do it a few days in advance.