Have your IKEA furniture picked up and delivered in 4 steps
Visit the online store of your local IKEA and check if the furniture or other household items you want are in stock.
2.
Send us the desired items
Add the household items you want to your shopping cart and download the shopping list. Send it to us, and we can give you a quote on the service price.
In order to be able to pay for your desired products, you will need to make a deposit to our account equal to the price of all furniture & other items you want to be bought from IKEA.
4.
Furniture collection and delivery
A diligent removals team will visit the IKEA store to purchase your furniture, load them, and deliver them to your place.
Furniture collection and delivery prices
| Total purchase value | Price |
| --- | --- |
| £0 – £250 | £75 |
| £250 – £750 | £95 |
| £750 – £1500 | £155 |
| £1500 – £2500 | £195 |
| £2500 – £3500 | £270 |
T&C and Minimum Charges apply. When we calculate the price, we take into consideration the area dimensions and the time of the appointment. All deals are valid for areas within M25. Prices are subject to availability. Congestion charges are excluded (when applicable).
What our IKEA furniture collection and delivery includes
Waiting on your IKEA furniture to arrive can be a frustrating experience, especially if your delivery is pushed back by days or even weeks. Fantastic Removals can deliver your flat packs as early as on the next day, no matter if you ordered a mattress, a sofa, or a modular kitchen.
When they arrive at the London store, the furniture removal specialists will give your shopping list to the local staff. Your items will be then safely loaded in their van and dropped off at your address. Keep in mind that we require a deposit equal to the price of the furniture and household items you want to be delivered. The price of the service can be paid after the delivery is complete.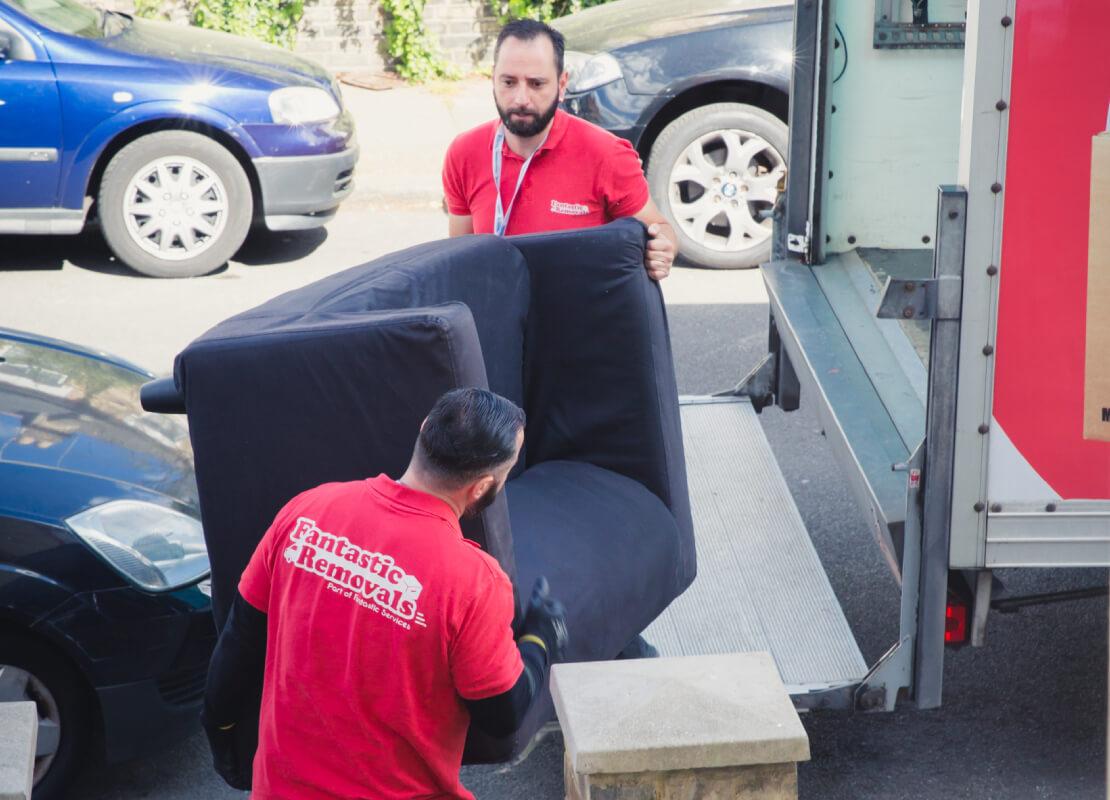 Save even more precious time with these extra services
Enjoy your furniture from day one by letting the professionals go through the assembly process for you. They carry drills, screwdrivers and other tools to put together a variety of flat pack items, from tables and desks to shelving and kitchen units, in line with the manufacturer's instructions.

Upon request, we can dispose of your old furniture in a safe and environmentally-conscious manner. Almost any household item is suitable for collection, including sofas, desks, beds, etc.
Frequently asked questions
Q: Can you visit IKEA's website and order the items for me?

A: No, we can only assist you in purchasing and delivering your furniture. Please make sure to provide us with a detailed shopping list when booking, otherwise we will be unable to help.

Q: How long will I have to wait for the items to arrive?

A: This depends on the number of items you ordered from your nearest IKEA store. Since most stores open up at 10:00 a.m., we are also only able to carry out afternoon deliveries.

Q: How much do you charge for furniture delivery?

A: The price is fixed and is calculated based on the total value of the items on your shopping list. However, please make sure to transfer the money for the furniture to us at least a day before your delivery. This will allow us to run an availability check and confirm your price with you.

Q: Can I combine your delivery with your assembly service?

A: Yes, you can! If you have a more specific project in mind, for example wall-mounting of a kitchen shelf, please let us know in advance so that the movers can arrive with the right tools for the job. They can even help you assemble furniture sold on Ebay or by private sellers!
Q: Can you deliver furniture by other brands besides IKEA?

A: For the moment we can only offer Furniture delivery services from IKEA stores within London M25 area.

Q: Do you offer same-day delivery and, if so, how much does it cost?

A: Unfortunately, we can only provide you with a next-day service at the earliest. However, we can also deliver furniture on weekends, bank holidays and, of course, on regular workdays.
We can also help you with: