Swindon's top-rated domestic cleaning services
Experience top-notch local cleaning by Fantastic Services
Expert cleaning professionals at your service
Utilising eco-conscious products & cutting-edge gear
Effortless online customisation & booking


Effortlessly schedule a cleaning service in Swindon
01
Input your postcode
Just type your local postcode into our booking form.
02
Tailor your service
Personalise the cleaning service to suit your preferences.
03
Pick date & time
Decide when our expert cleaner(s) should arrive.
Trust the experts to handle the job
Introducing Swindon's top local cleaning specialists
The Fantastic Services cleaners boast professional training, having completed hundreds of hours before their first on-site job. Rest assured, your service is in the hands of skilled and experienced teams. The cleaners are:
Insured & background-checked
Well-equipped & knowledgable
Courteous & punctual
Certified by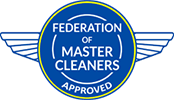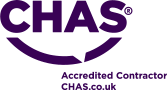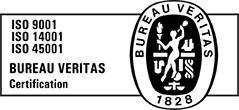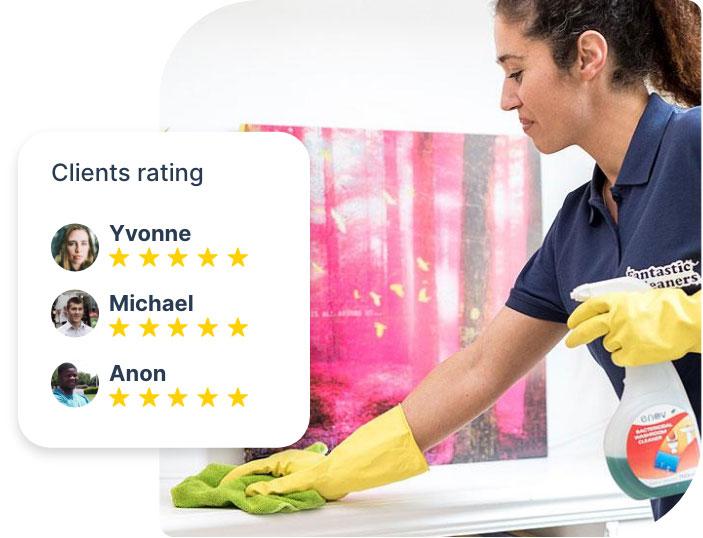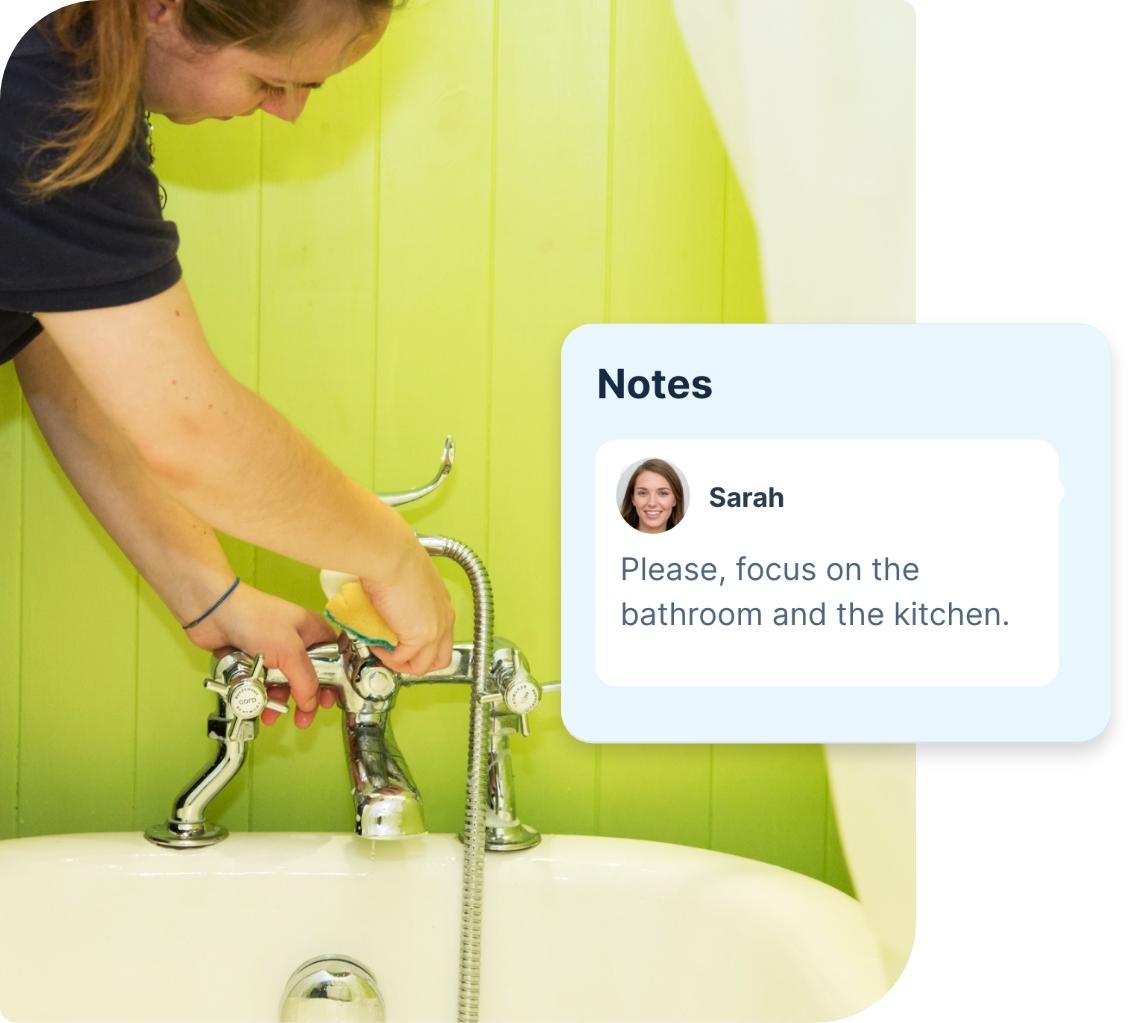 Here are our Swindon diverse cleaning services
Delve into our array of top-notch cleaning services in Swindon. Regardless of your chosen service, expect utmost care and diligence for total satisfaction and remarkable outcomes. Our reputation as a top-rated UK cleaning provider speaks for itself!
End of Tenancy Cleaning

One-Off Cleaning

After builders cleaning

Antiviral sanitisation

Upholstery cleaning

Window Cleaning

Gutter Cleaning

Regular Cleaning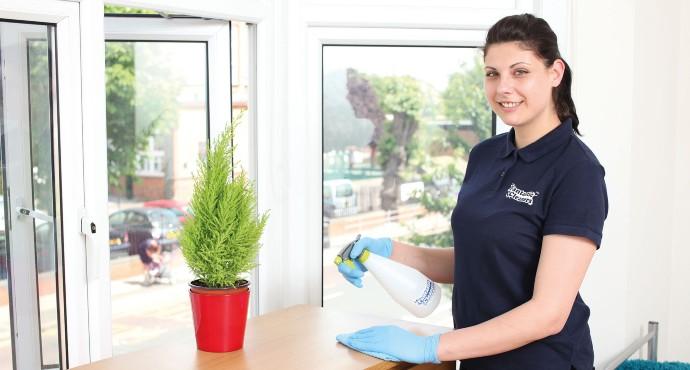 End of Tenancy Cleaning
So here is how our fantastic move-out cleaning in Swindon goes down. First off, the super-dedicated tenancy cleaning team will give the whole property a good look to spot any areas that might need a little extra love.
Once they've got that sorted, they'll gather up all the cleaning gear and supplies they need and dive right into the process. Typically, they'll kick things off with the kitchen, since that's a hotspot for needing some extra care. They'll give the oven, hob, extractor fan, fridge, and other appliances a thorough clean, making them look as good as new. They won't forget about the cupboards, work surfaces, and sink either!
Next up is the bathroom, where they'll scrub the toilet, shower, bath, sink, and tiles until they sparkle. They'll also polish the mirrors and any other fixtures that need a little shine. After that, they'll head to the living room and bedrooms, where they'll dust all surfaces, vacuum carpets and upholstery, and make sure the mirrors and windows are gleaming.
Once they've worked their magic, the team will do a final walk-through to make sure everything is spotless and looking its best. Finally, they'll hand the keys over to the landlord or tenant, leaving them with a property that's in tip-top shape. Trust us, you'll be amazed at the transformation!
One-Off Cleaning
Imagine the feeling of walking into a pristine, freshly cleaned home after a long day, without lifting a finger to make it happen. Sounds amazing, right? The team of expert cleaners at Swindon is here to turn that dream into reality. We're passionate about providing a one-off deep cleaning service that will leave your home looking and feeling brand new.
Whether you're prepping for a special event, embracing the spirit of spring cleaning, or simply needing a top-to-bottom refresh, our bespoke one-off cleaning service is your ultimate solution. We listen to your unique needs and craft a customised cleaning plan just for you. Plus, we use cutting-edge cleaning techniques and eco-friendly products, ensuring every nook and cranny of your home is spotless and sanitised.
Why trust us with your home? The fully trained, insured, and well-equipped team consistently delivers exceptional cleaning results. We have an eagle eye for detail and won't rest until your home meets the highest possible standards. We know your time is precious, which is why we offer flexible scheduling options to fit your busy lifestyle. By choosing our one-off cleaning service, you can sit back, relax, and bask in the comfort of a clean, healthy home without breaking a sweat. Don't miss out on this opportunity to transform your living space.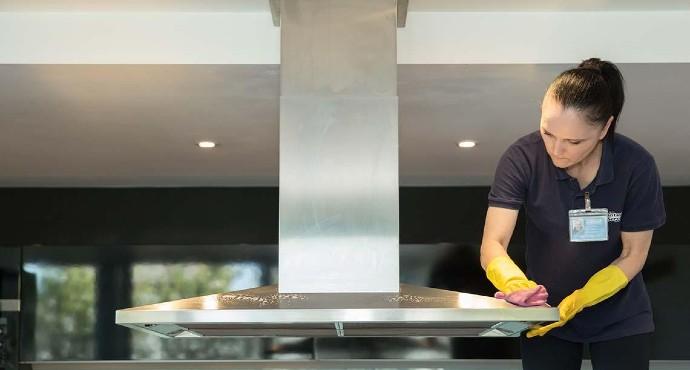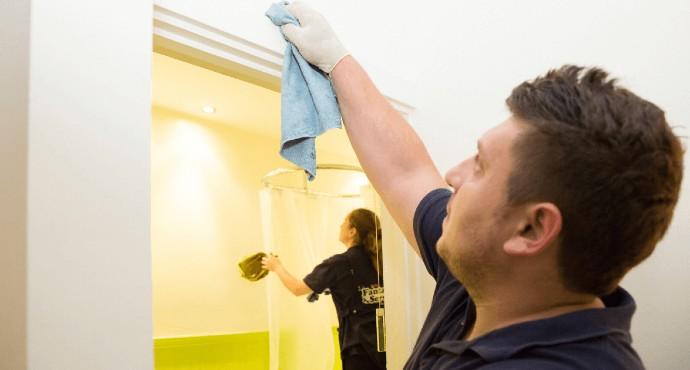 After Builders Cleaning
Imagine stepping into a beautifully restored home or commercial property after a construction or renovation project, free from dust, debris, and other residues. Sounds too good to be true? With our specialised after-builders cleaning service in Swindon, we make it happen!
The expert team understands the importance of a thorough clean-up after a construction project. We ensure that your property is spotless and safe, eliminating potential hazards and creating a healthy environment for everyone. Trust us to transform your space, making it look even better than before the project started.
Why choose our after-builders cleaning service? The professional cleaners are equipped with advanced techniques and tools to tackle even the toughest of residues, including paint, dust, and other building materials.
We don't just clean; we cleanse! – Leaving your property free from dust. Don't let the aftermath of a construction project dampen your excitement for your newly renovated space.
Antiviral Sanitisation
Concerned about pesky germs lurking in your home or office? Fear no more! We've got the perfect solution for you in Swindon – our top-notch antiviral sanitisation service. Say goodbye to viruses and enjoy a safer, cleaner environment!
From floors to walls and ceilings, nothing escapes our thorough treatment. The process is simple but highly effective. We first assess your space to determine the best approach, prepare the virucide according to the manufacturer's guidelines, and then use our dispersing equipment to deliver the virucide throughout your area.
We leave the virucide to work its magic, effectively killing any viruses present on surfaces or in the air. Antiviral sanitisation is crucial for maintaining a clean and safe environment, especially in high-risk areas such as hospitals, schools, and public transport. Our service offers you peace of mind, knowing that you're significantly reducing the risk of infection in your home or office. Don't leave your safety to chance. Book our exceptional antiviral sanitisation service today and experience the benefits of a virus-free environment. Your health and well-being are more than worth it!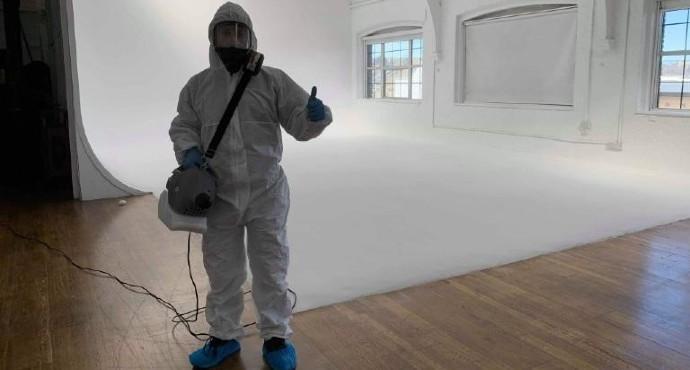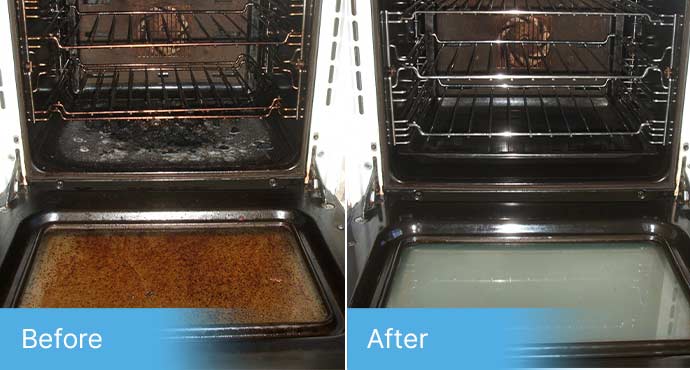 Oven Cleaning
Has your oven seen better days? Let us transform it for you with our exceptional oven-cleaning service in Swindon! The skilled and experienced cleaning professionals will make your oven shine like new and ensure it's both clean and hygienic. Say goodbye to stubborn dirt, grease, and food residue, thanks to our specialised equipment and non-toxic cleaning agents. We start by removing any loose debris and disassembling the removable parts, such as racks, trays, and oven door. We then soak these parts in a cleaning solution to dissolve all that baked-on grime. Next, the team tackles the oven interior, using a combination of scraping, scrubbing, and wiping to eliminate every last bit of dirt. You can trust that our cleaning solution is safe, leaving no harmful chemicals behind in your oven.
Once everything is spick and span, we reassemble the removable parts and conduct a thorough inspection, ensuring your oven is not only clean but functioning perfectly. With our Swindon oven cleaning service, you can enjoy the benefits of a pristine oven, helping to extend its lifespan and reduce the risk of fire caused by built-up grease and grime.
Don't settle for a subpar oven! Choose our convenient and affordable oven cleaning service in Swindon, and watch as we restore your cooking appliance to top condition. Give your oven the care it deserves – and your cooking will thank you!
Carpet Cleaning
Are you tired of looking at dingy, stained carpets? It's time to breathe new life into them with our professional carpet cleaning service, featuring hot water extraction machines! This specialised service uses powerful equipment to deep clean your carpets, removing dirt, grime, and stains, all while preserving the fibres and making them look and feel like new.
The expert carpet cleaner starts by inspecting your carpet to determine the level of soiling and the type of stains that need treatment. We remove any loose debris and dirt before diving into the cleaning process. The hot water extraction machine works wonders, combining hot water and a cleaning solution to penetrate deep into the carpet fibres, breaking down dirt and stains. The machine then extracts the dirty water, leaving your carpet refreshed and rejuvenated.
And don't worry – our cleaning solution is non-toxic and eco-friendly, ensuring the safety of your pets, children, and anyone with allergies or sensitivities. Perfect for both homes and businesses with high-traffic carpeted areas, as well as for households with pets and children, our professional carpet cleaning service is the ultimate solution for revitalising your carpeted floors.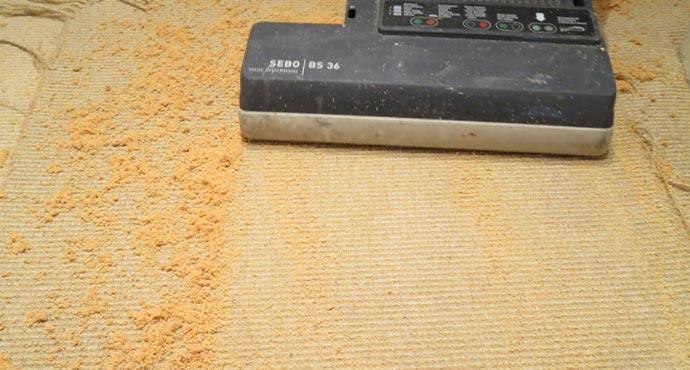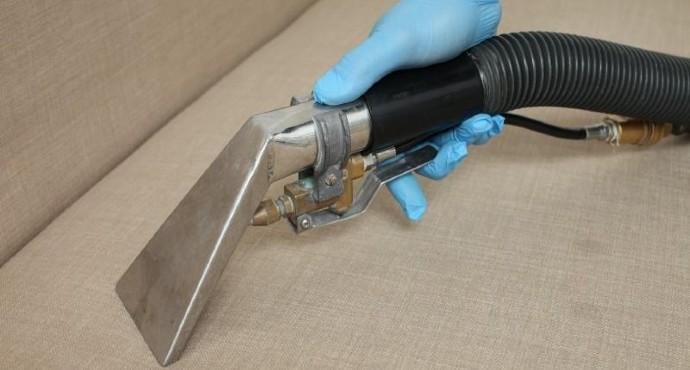 Upholstery Cleaning
Get ready to fall in love with your furniture again because it too can look almost brand new! We offer highly effective and convenient upholstery cleaning in Swindon, using the same professional hot water extraction machines that work wonders on your carpets. Our service is perfect for refreshing your sofas and upholstered seats.
Yes, we can tackle even the toughest of household stains on your upholstery, even those from greasy food and pet accidents! The skilled deep cleaning technician will arrive at your property fully equipped with all necessary equipment and detergents. After examining your furniture and determining the best cleaning approach, the technician will vacuum the upholstery and pre-treat any existing stains with targeted detergents.
Next, they'll deep clean the furniture using the hot water extraction machine and a special attachment designed for upholstery cleaning. This guarantees your furniture remains pristine during the cleaning process. But wait, what about leather upholstery? Fear not – we've got you covered! We also offer dry cleaning methods for delicate upholstery that can't be subjected to wet cleaning techniques.
Gutter Cleaning
Are clogged gutters causing you headaches? Our state-of-the-art gutter cleaning service in Swindon is here to save the day! We use special cleaning robots that work from the ground level, eliminating the need for dangerous ladders and time-consuming equipment.
With our innovative cleaning robots, we can clean gutters quickly and efficiently, without any risk to our technicians or damage to your property. Our cutting-edge robots are equipped with high-pressure water jets and cameras, allowing us to see inside the gutters and ensure they are spotless. Designed to work in all weather conditions, these robots are a reliable solution for gutter cleaning all year round.
With our gutter cleaning service, you can be confident that your gutters will be free of debris, leaves, and blockages. This is crucial for maintaining your roof's integrity and ensuring water flows freely through your gutters, preventing property damage and costly repairs. Not only is our gutter cleaning service safe and efficient, but it's also eco-friendly. By using high-pressure water jets, we clean gutters without harmful chemicals or pollutants, reducing our impact on the environment.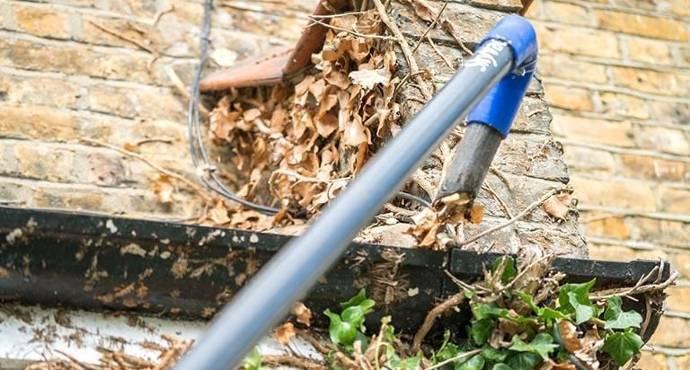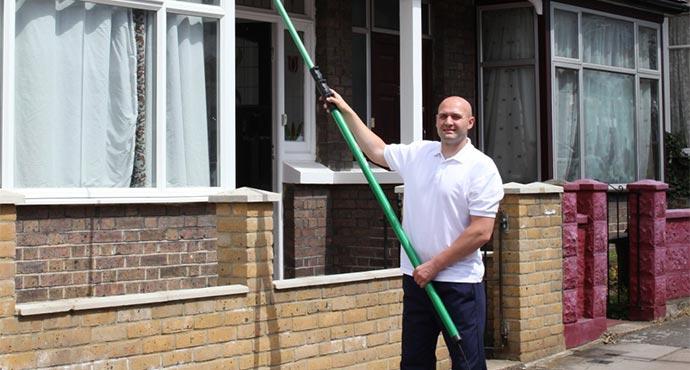 Window Cleaning
Are your windows looking a bit grimy and out of reach? Our professional window cleaning service, using an extendable pole system, is the perfect solution for sparkling clean windows – even on high-rise buildings or those hard-to-reach spots! We can reach up to the 4th storey of a building from ground level, making this method both highly effective and safe.
Our innovative telescoping pole system allows the cleaners to access and clean windows without the need for climbing or ladders, significantly reducing the risk of accidents and injuries. This approach is ideal for tall buildings with limited or restricted access, offering a cost-effective and efficient way to maintain the exterior appearance of your building or home.
But wait – there's more! Our equipment is so effective that there's no need for detergents. We clean your windows with purified water only, and the results are simply mesmerising! Don't let dirty windows dull the shine of your building or home. Choose our professional window cleaning service with an extendable pole system, and let us bring the sparkle back to your windows. Experience the dazzling difference today!
Regular Cleaning
Are you struggling to keep your Swindon home spick and span? Look no further! Our convenient regular domestic cleaning service is the answer to your prayers. What sets us apart is the hassle-free experience – no contracts or agreements to stress over.
Just choose the frequency of visits that suits you best: weekly, bi-weekly, fortnightly, or monthly, and your domestic cleaner will take care of the rest. Simply let us know your domestic cleaning priorities, and your cleaner will handle everything.
Need help with common household chores? No problem! The domestic cleaners can assist with dishwashing, laundry collection, ironing, and folding – it's all about meeting your specific needs and making life easier for you.
Book as many hours as you need, and your dedicated cleaner will follow your priorities to ensure our service is tailored to your requirements. Don't let the stress of cleaning weigh you down – try our flexible regular domestic cleaning service and enjoy a cleaner, happier home today!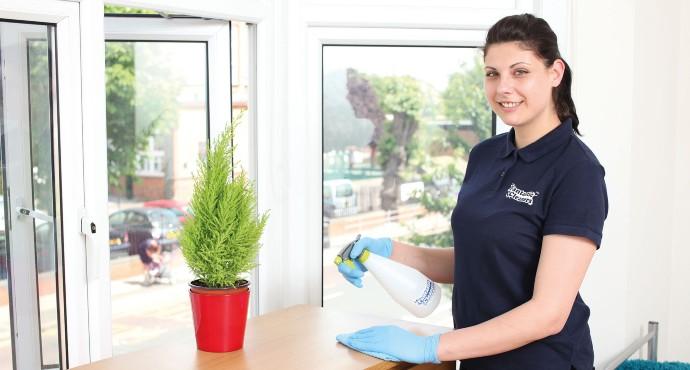 Cleaning services coverage around Swindon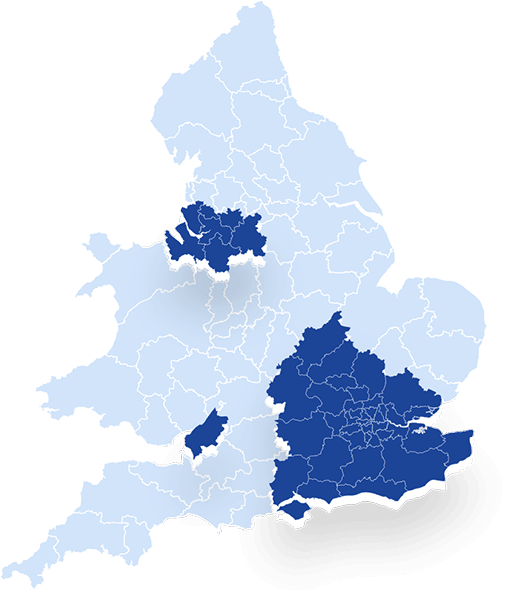 Swindon cleaning services – Frequently Asked Questions
How long does the cleaning service take?
Cleaning duration varies based on the type of service, the property size and the job complexity. Generally, you can expect a duration from a couple to several hours.
How many cleaners will come to carry out the service?
The number of cleaners depends on the booked service, ranging from one professional cleaner for regular cleaning to a team of two or more professionals for more extensive services such as End of Tenancy, or After Builders.
How can I modify my booking?
Log in to your Fantastic Account to make changes to an existing cleaning service booking. It is very easy and it will take you only a few minutes.
Do I need to arrange parking for the cleaners?
Yes, please secure a nearby parking spot beforehand because some of our services require professional equipment, so please ensure easy access for the cleaning team. However, this does not apply for regular cleaning.
Must I be present during cleaning?
Your presence is optional. We offer flexible scheduling, so you can choose whether to stay or return after the cleaning is done. We also do key pick-up and delivery.
Can't find the answer you're looking for?
Visit our Help Center.
Get the cleaning service you need for your property in Swindon today

Vanya and Hristo
Meet Vanya and Hristo, who have been serving local clients in Swindon. for 5 years. They run several teams of 30+ insured and vetted experts near you, who deliver a wide range of property maintenance solutions, including cleaning services and gardening.
ELEVATE YOUR BUSINESS VENTURE
Join a leading UK franchise – Fantastic Services!
Fantastic Services operates as a franchise, empowering you to run your service delivery business in Swindon. We've innovated ground-breaking technology, streamlining customer reach and optimising work schedules for efficiency. Take advantage of our low-entry opportunities and begin the next chapter of your life as an entrepreneur!